Council for Justice and Peace of the Irish Catholic Bishops' Conference
This Council comes under the Episcopal Commission for Social Issues and International Affairs
About
Mission statement
To promote the social dimension of the Gospel with a view to building the civilisation of love.
Role
The role of the Council for Justice and Peace is to support the Irish Catholic Bishops' Conference in promoting the social teaching of the Church and to advise on issues of social concern, both nationally and internationally.
Established in 2005 by the Irish Bishops' Conference, the newly formed ICJSA, as the Council was formerly known, combined the Bishops' Council for Social Welfare and the Irish Commission for Justice and Peace.
NICCOSA is a northern sub-committee of the Irish Council for Justice and Peace, made up largely of lay people with relevant expertise and experience who provide advice on social, political and legislative matters to the Catholic Bishops of Northern Ireland.
Contact details
Dr Gary Carville
Research Coordinator
Council for Justice and Peace
Columba Centre
Maynooth
Co Kildare
W23 P6D3
Tel: +353 (0)1 505 3016
Email: [email protected]
Website: www.justiceandpeace.ie
Twitter: @CJPIreland
Related Content
Publications of the Council for Justice and Peace
Press Releases of the Council for Justice and Peace
Statements of the Council for Justice and Peace
To view all content relating to the Council for Justice and Peace on the site, click on the following tag
Members
Episcopal membership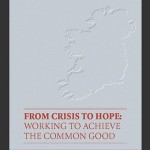 Bishop Alan McGuckian SJ (Chair)
Bishop Kevin Doran
Non-Episcopal Members
Ms Anne Cawley
Sr Sheila Curran
Ms Caoimhe de Barra
Ms Concepta de Brún
Mr Gerard Forde
Deacon Michael Giblin
Fr. Thomas Healy
Sr Geraldine Henry
Mr Martin Long
Ms Ciara Murphy
Books on Catholic Social Teaching
The following publications on the Social Teaching of the Catholic Church have been produced by the ICJSA and are available from Veritas
Eoin G. Cassidy (ed), Who is my Neighbour?: Deus Caritas Est: An Encyclical for Our Times? (Dublin:Veritas, 2009) ISBN 978 1 84730 188 8
Pontifical Council for Justice and Peace, Compendium of the Social Doctrine of the Church (Dublin: Veritas, 2005) ISBN 1 85390 839 8
Pádraig Corkery, Companion to the Compendium of the Social Doctrine of the Church (Dublin:Veritas, 2007) ISBN: 978 1 85390 959 7
Eoin G. Cassidy (ed.), The Common Good in an Unequal World: Reflections on the Compendium of the Social Doctrine of the Church (Dublin: Veritas, 2007) ISBN 1 84730 056 1