Tag Archives: Emigrants
Subscribe to our Newsletter!
Emigrant pack contains practical information to assist emigrants.
Emigrant Information Pack 2016
The Emigrant Information Pack 2015, produced by the Irish Episcopal Council for Emigrants contains practical information which will assist emigrants in making informed decisions and support them while they are away.
The Council for Emigrants and Council for Immigrants of the Irish Bishops' Conference have produced a Migrant Resource Pack, which includes the Pope's Message for Migrant and Refugee Sunday, Prayers for Migrants and Tips for Remembering Migrants in the Parish and at Home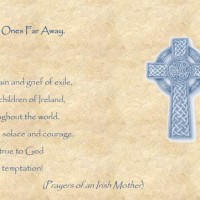 The Irish Episcopal Council for Emigrants has produced an Emigrant Information Pack to assist those considering emigration. This pack includes a section on each of the main receiving countries, with information about visa and immigration requirements, advice on obtaining accommodation, employment and healthcare, and contact details for relevant organisations.
Today the Irish Catholic Bishops' Councils for Immigrants and Emigrants jointly hosted a conference in Jury's Inn, Custom House Quay, Dublin, entitled Journeying Together: Challenges Facing the Migrant Today.
The conference will provide a unique opportunity to explore both emigration and immigration in a global, European and Irish context. It will also offer a platform to discuss the effects of migration on the undocumented, families, prisoners and trafficking.
"Migrants and refugees are not pawns on the chessboard of humanity. They are children, women and men who leave or who are forced to leave their homes for various reasons, who share a legitimate desire for knowing and having, but above all for being more." – Pope Francis
The Irish Chaplaincy has organised its third annual Mayo Walk – "In the Footsteps of Irish Emigrants" – from Mulranny to Newport via the beautiful Great Western Greenway on Saturday 17 August. This year's walk is taking place as part of the celebrations of the Year of Faith, National Heritage Week and The Gathering Ireland.
Address by Bishop John Kirby at the Irish Episcopal Council for Emigrants Symposium: 'Migration, Spirituality and the Human Journey' held on 14 March at the Capuchin Friary Dublin
Other Related Sites