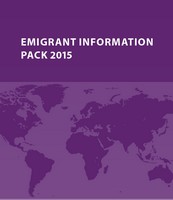 Although the number of people leaving Ireland remains high – 81,900 people left our shores between April 2013 and April 2014 – it appears the tide is turning and the number of people emigrating has begun to fall.
A report released by the Central Statistics Office (CSO) in August 2014 found that Ireland continues to experience net outward migration – albeit at a lower level than the previous year. Tens of thousands continue to depart our shores in search of fresh hope and new opportunities. In the period April 2013 to April 2014, 81,900 people emigrated from Ireland. Of these, 41,700 were Irish nationals. There has been a slight increase in the number of people immigrating to Ireland this year at 60,600 (up from 55,900 the previous year). Of these, 19.2 per cent are Irish citizens.
While this is welcome news, emigration continues to have a profound effect on Irish society as many well-educated, enthusiastic young people travel abroad in search of new opportunities. It is vital that those considering emigration are prepared for the experience. We hope that the practical information in this pack will assist emigrants in making informed decisions and support them while they are away.
This information pack also aims to make emigrants aware of the importance of taking care of their mental health. For many people, living abroad will be a very positive experience but others may struggle with feelings of isolation and find it difficult to ask for help. Drug and alcohol abuse, depression and suicide are serious issues that affect Irish communities overseas. For example, Irish charity Console reported that its British helpline receives hundreds of calls annually from Irish immigrants who were deemed to be at immediate risk of taking their own lives. We hope the information provided in this pack will help raise awareness of the supports that are available for Irish emigrants and encourage people to talk about this important issue.
While emigration remains high, each year a significant number of people also make the decision to come home. No matter how long an emigrant has been away, it is important that they plan ahead for their return.
We hope this information pack will also assist those who are returning to Ireland in accessing the supports they require.
In addition to practical assistance, emigrants need spiritual and emotional support. The Council for Emigrants, through its chaplaincies overseas, continues to provide essential pastoral outreach to Irish emigrants as they strive to build a new life for themselves far from home.
To download the Pack, please click here.
To download the Pack as gaelige, please click here.