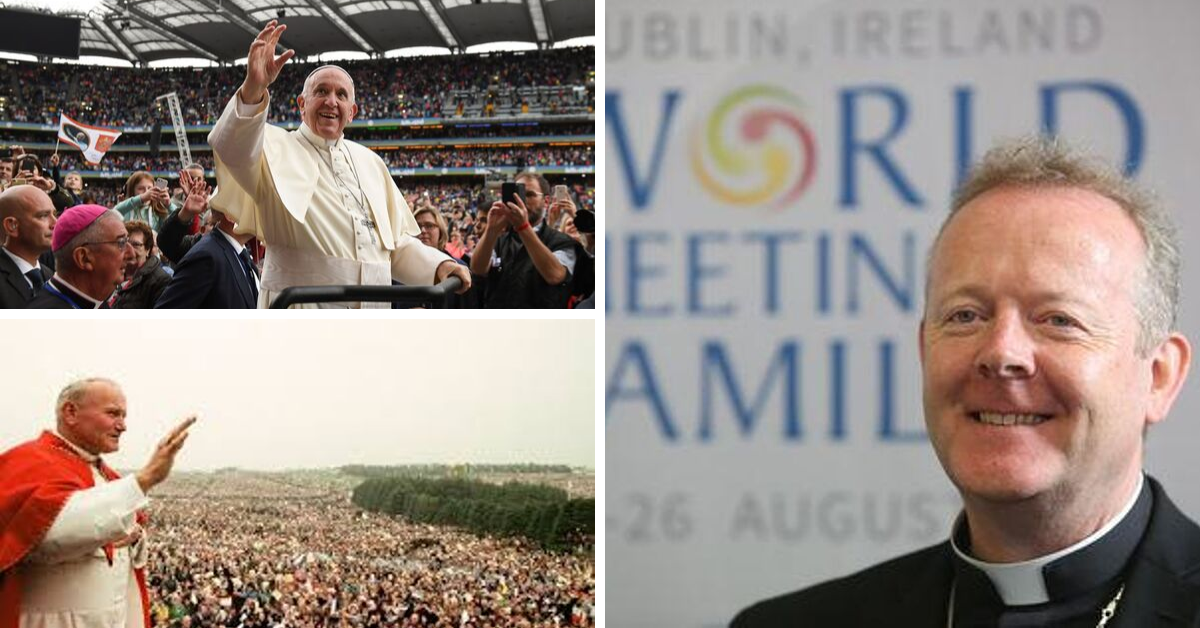 "I came here to proclaim peace and love, to speak to you about the Son of God, made man, about your life in Christ." – Pope Saint John Paul II
On Sunday 29 September, Archbishop Eamon Martin, Archbishop of Armagh and Apostolic Administrator of Dromore Diocese, will lead a special prayer service 'For Ireland and Humanity' at the Papal Cross near Drogheda, Co Louth. The service is taking place to commemorate the first anniversary of the visit of the Holy Father Pope Francis and the 40th anniversary of the visit of Pope Saint John Paul II to Ireland.
Speaking ahead of the prayer service, Archbishop Eamon said, "The tragedy of violence and conflict continues in many parts of the world today. In particular, Ireland, north and south, is going through a period of political and economic uncertainty and the imminent introduction of very liberal abortion legislation in Northern Ireland continues to give grave cause for concern. We will use the same prayer service that Pope Saint John Paul II used to pray for peace and reconciliation in Drogheda, forty years ago. It is the perfect prayer for us during these troubled and uncertain times."
Archbishop Eamon has invited parishioners from across the dioceses of Armagh, Dromore and across Ireland to join with him at the same time in their own parishes to pray for peace and for the protection of life and humanity.
The prayer service will be live-streamed on the Armagh Diocesan Facebook Page – https://www.facebook.com/ArchdioceseOfArmagh/
Addresses and Homilies
Click here to read the texts of the addresses and homilies given by Pope Francis when he visited Ireland for the World Meeting of Families 2018.
Click below to listen to the address given Pope Saint John Paul II in Drogheda on 29 September 1979
To "forgive" means to "give" something of yourself. Jesus always forgives us. By the power of his forgiveness, we too can forgive others, if we really want to. Isn't that what we pray for, when we say the Our Father? Children learn to forgive when they see their parents forgiving one another. – Pope Francis, Festival of Families, Croke Park, 25 August 2018
Commemorative Publications from Veritas
Veritas has published an updated collection of the addresses and homilies delivered by Pope Saint John Paul II when he visited Ireland in 1979. The book The Visit of a Saint is available now.
Veritas also published a commemorative book compiling the addresses and homilies of Pope Francis from his visit to Ireland for the WMOF2018.
Both books are available from www.veritasbooksonline.com
ENDS