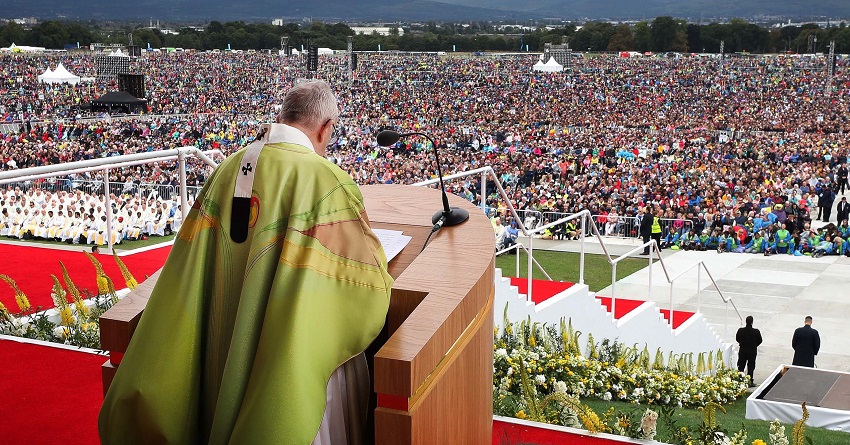 Next weekend marks the first anniversary of Pope Francis' visit to Ireland for the World Meeting of Families 2018.
Dublin, Ireland, was chosen by Pope Francis to host the 9th World Meeting of Families from 21-26 August 2018, guided by the theme "The Gospel of the Family: Joy for the World".
Held every three years, this major international event brings together families from across the world to celebrate, pray and reflect upon the central importance of marriage and the family as the cornerstone of our lives, of society and of the Church.
The WMOF2018 had the following key moments:
21 August 2018, a National Opening of WMOF2018, which took place simultaneously in all the different dioceses of Ireland.
22 to the 24 August 2018, a three-day Congress in the RDS which included an enriching programme for adults of keynote speakers, workshops, talks, testimonies and discussions; an engaging and exciting programme for young people as well as fun activities for children. The Congress will also include daily celebration of the Eucharist, prayerful activities, exhibitions, cultural events and musical performances.
The Festival of Families on Saturday 25 August 2018, which comprised a reflective concert style event within a prayerful and joyful atmosphere, in which personal stories of faith were shared by families from all continents.
The Closing Mass of WMOF2018 on Sunday 26 August 2018 in the Phoenix Park, Dublin which gathered thousands of people from Ireland and all over the world.
Pope Francis arrived in Ireland on Saturday 25 August and departed again on Sunday 26 August. His itinerary and the homily and other addresses he delivered whilst he was in Ireland are available below:
Saturday, 25 August 2018
ROME-DUBLIN
Sunday, 26 August 2018
DUBLIN-KNOCK-DUBLIN-ROME
8:40
Departure by plane for Knock
9:20
Arrival at the Airport in Knock
Immediate transfer to the Shrine
9:45
Arrival at Knock Shrine
Visit to the Chapel of Knock Shrine
Angelus on the square in front of the Shrine
10:45
Transfer to the airport in Knock
11:10
Arrival at the airport in Knock
11:15
Departure by plane for Dublin
11:50
Arrival at Dublin International Airport
Lunch with the Papal Delegation
14:30
Arrival at Phoenix Park
15:00
Holy Mass in Phoenix Park
Meeting with the Bishops in the Convent of the Dominican Sisters
18:30
Arrival at Dublin International Airport
Farewell ceremony
18:45
Departure by plane for Roma/Ciampino
Press Conference on the return flight from Dublin to Rome
23:00
Arrival at the Airport of Roma/Ciampino
10 Takeaways from Pope Francis in Ireland
Families from 116 countries participated in the WMOF2018 and went home with much food for thought from the words and actions of Pope Francis while he was with us in Ireland.
We have put together '10 Takeaways for Families' from the words Pope Francis spoke to us during the WMOF2018.
Click here to download the PDF document: 10 takeaways Pope in Ireland