"for I was hungry and you gave me food, I was thirsty and you gave me drink, I was a stranger and you welcomed me"  Mt.25:35
Pope Francis on the refugee crisis
Pope Francis calls for peaceful solution to wars in Syria and Iraq
Pope Francis has called for a peaceful solution to the conflicts in Syria and Iraq. Speaking today (Thursday 17 September) to participants of a meeting in the Vatican on the Iraqi-Syrian humanitarian crisis, the Pope points out that "the international community seems unable to find adequate solutions while the arms dealers continue to achieve their interests".
The meeting, promoted by The Pontifical Council "Cor Unum" is attended by Catholic charities that are active in the Middle East and by the bishops of the region.
Describing the consequences of the conflicts in Iraq and Syria as "one of the most overwhelming human tragedies of recent decades, the Pope says that "Millions of people are in distressing state of urgent need".
He highlights the particularly cruel predicament of Christians in the war-torn nations  "where many brothers and sisters are oppressed because of their faith, driven from their land, kept in prison or even killed".
Pointing out that today's media broadcasts live the images and the stories pertaining to the catastrophe, Francis said: "No one can pretend not to know! Everyone is aware that this war weighs in an increasingly unbearable way on the shoulders of the poor. We need to find a solution, which is never a violent one, because violence only creates new wounds".
Click here to read the full text of the Pope's address.
Pope Francis' appeal to the dioceses of Europe to welcome refugee families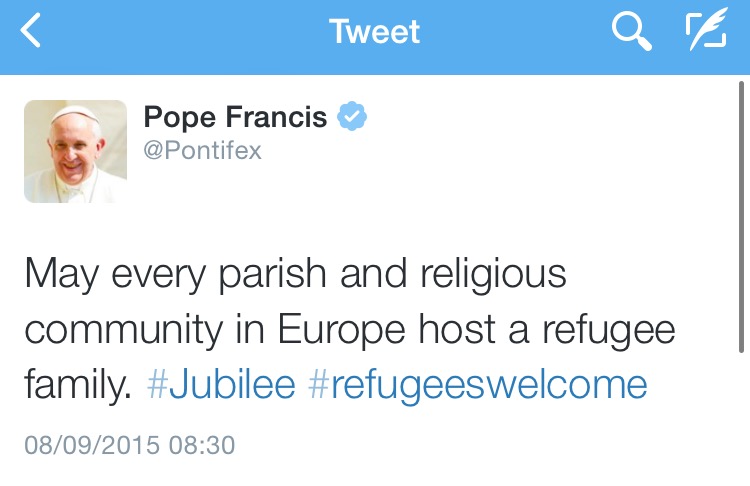 Vatican City, 6 September 2015 (VIS) – After praying the Angelus, Francis launched a heartfelt appeal to all the dioceses of Europe to welcome families among the tens of thousands of refugees seeking to flee the horrors of war and persecution.
"We recognise God's mercy through our works, as is shown by the life of Blessed Mother Teresa of Calcutta, the anniversary of whose death we commemorated yesterday".
"Faced with the tragedy of tens of thousands of refugees who flee death from war or hunger, on a journey towards the hope of life, the Gospel calls to us and asks us to be close to them, to the smallest and the abandoned; to give them real hope. Not merely to say; 'be brave, be patient'. Christian hope is assertive, with the tenacity of those who go towards a certain destination".
"Therefore, as we near the Jubilee of Mercy, I wish to address an appeal to the parishes, religious communities, monasteries and shrines throughout Europe to express the concreteness of the Gospel and to welcome a family of refugees. A concrete gesture in preparation for the Holy Year of Mercy. May every parish, every religious community, every monastery and every shrine in Europe host a family, starting with my diocese of Rome",
"I address my brother bishops in Europe, true pastors, so that in their dioceses they may hear my appeal, recalling that Mercy is the second name of Love: 'as you did it to one of the least of these my brothers, you did it to me'. The two parishes of the Vatican will also welcome two families of refugees in these days".
Ends
News
Walk and Vigil of Solidarity: Join Bishop Crean and the people of Cobh parish to continue to raise awareness of the current refugee crisis and to remember those people who have lost their lives crossing the seas in search of a better life. Mass will be celebrated by Bishop Crean on Sunday 13 September at 7.00pm in Saint Colman's Cathedral, Cobh. This will be followed by a candle-lit vigil at 7.45pm from the Cathedral to the Promenade on the Harbour. All are welcome.
Statements
Please find here statements and resources in relation to the current refugee crisis in Syria, Iraq and North Africa:
Related statements on persecution of Christians: 
16 September 2015: Cardinal Vincent Nichols and Archbishop Eamon Martin joint statement in support of Christians of the Holy Land
14 August 2015: Bishop McAreavey supports 'Christian Bells' initiative in solidarity with persecuted Christians
A Prayer for Refugees
Almighty and merciful God,
Whose Son became a refugee
And had no place to call his own.
Look with mercy on those who today
Are fleeing from danger,
Homeless and hungry.
Bless those who work to bring them relief;
Inspire generosity and compassion in all our hearts;
And guide the nations of Europe towards that day
When all will rejoice in your Kingdom of justice and peace.
We make our prayer through Christ our Lord. Amen.
Ends
Trócaire's work with refugees