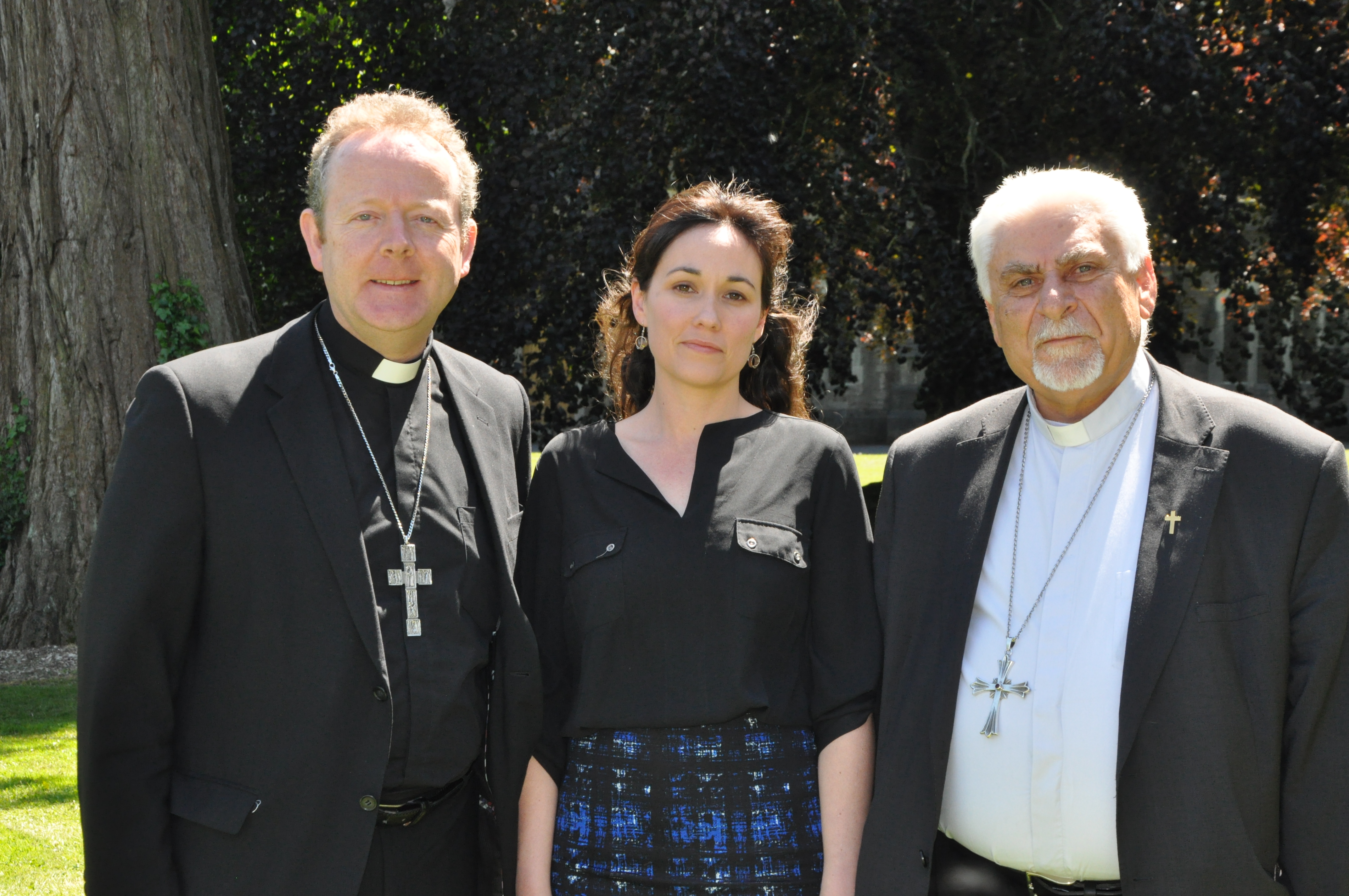 Pictured above: Archbishop Eamon Martin, Archbishop of Armagh, Dr Nicola Brady, Bishops' Council for Justice and Peace and the-Syrian Catholic Archbishop of Mosul Yohanna Petros Mouche.

Trócaire has called for the Dáil to be recalled early to "establish an immediate and effective response" from Ireland to the European refugee crisis.
Éamonn Meehan, Executive Director of Trócaire said: "A week has passed and there is still no concrete commitment from some EU members including Ireland to respond to the refugee crisis in a way that reflects its scale and severity.
"Trócaire is calling on the Dáil to be recalled early to establish an immediate and effective response from Ireland. The people of Ireland have made it clear that they want to help distraught refugees arriving in Europe and are looking for leadership on how we as a nation can act.
"Many have seen and are distressed by the tragic image of three-year-old Aylan Kurdi's body washed ashore in Turkey, as he drowned trying to reach the island of Kos. How can we continue to turn our backs and close our borders to children like him?
"As EU Member States continue to disagree over refugee quotas and a common position to this crisis, innocent lives are being lost. These people cannot wait any longer for the safety and security they hoped for on reaching Europe. Instead of facing militarised responses and razor wire fences, they should be treated with compassion and in a way that respects their rights and entitlements as refugees fleeing war.
"In light of the forthcoming extraordinary EU Justice and Home Affairs meeting on the 14th September, we ask that the Dáil be immediately recalled to agree a firm plan of action on how Ireland intends to respond to this unprecedented crisis.
"The Irish Government should show courage and leadership within the EU by making a definite commitment to increase the numbers of refugees it will receive. Across the country, Irish people are calling for this and the Government must listen.
"Our own people have a long history of being welcomed into other countries during our toughest times and there are currently millions of people living overseas who are Irish by birth or descent. Given our own heritage, we have a responsibility to show solidarity."
Éamonn Meehan continued: "EU Member States must agree a coordinated approach urgently, that respects the legal rights of refugees and responds to their plight. It must provide safe and regular channels of migration and accelerated resettlement processes.
"Refugees should be provided with assistance and protection to which they are legally entitled including shelter, food, sanitation, protection from further conflict and clear information.
"In the past year, 3,573 people have died attempting to reach Italy, Greece and Spain by sea, an average of ten people a day. This is both a humanitarian crisis and a crisis of humanity. The EU must apply humanitarian standards to save lives, protect those most vulnerable and reduce the scandalous suffering being met by refugees reaching European borders."
Trócaire is responding to the growing needs of extremely vulnerable refugees in partnership with Caritas Serbia and has allocated €50,000 so far to provide sleeping bags and raincoats, hygiene kits, health services and psychosocial support. Trócaire also works with partners in Syria, Iraq, South Sudan and Somalia, which are burdened by protracted conflicts and in Jordan and Lebanon, countries which are hosting 1.75 million Syrian refugees.
Ends
For further information contact:
Meabh Smith
Trócaire
Press Officer
01 505 3238/ 0862776064
Editors notes:
1. Trócaire's policy briefing on the European refugee crisis can be found here: https://www.trocaire.org/sites/trocaire/files/resources/policy/migration-policy-briefing-2015.pdf