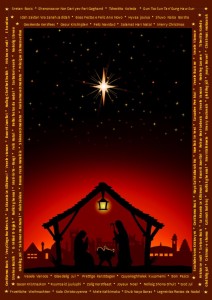 Candle Lighting Prayer Cards
The Irish Episcopal Council for Immigrants has produced cards with a prayer for lighting candles in a variety of European languages. Please click here to view the cards.
Parish Resources from IECI
Please click here to access to access Parish Resources prepared by the IECI
Related Content
To view more resources prapared by IECI on the site, click on the following tag
Mass Readings for Sunday and Feast Days in different languages
For each Sunday and Feast day of the year, the Vienna International Religious Centre (VIRC) provide, in many languages, the respective readings and gospels (according to the cycle of readings used in the Catholic church) as well as short contemplative tracts.
The texts are in the pdf-format (approx. 50kB). To be able to read or download it, you will require an Acrobat Reader. You can print out each page in A4 format.
For practical purposes they recommend that a print-out of the texts be reduced (from A4>A5) and printed on both sides of the paper, so that you have a handy final product that you can bring either for your own use at the Mass service or can put out at a service for your visitors in the church.
If you require several languages, it is better to use a separate colour sheet for each language.
The languages available are as follows (please click on link to access mass readings):