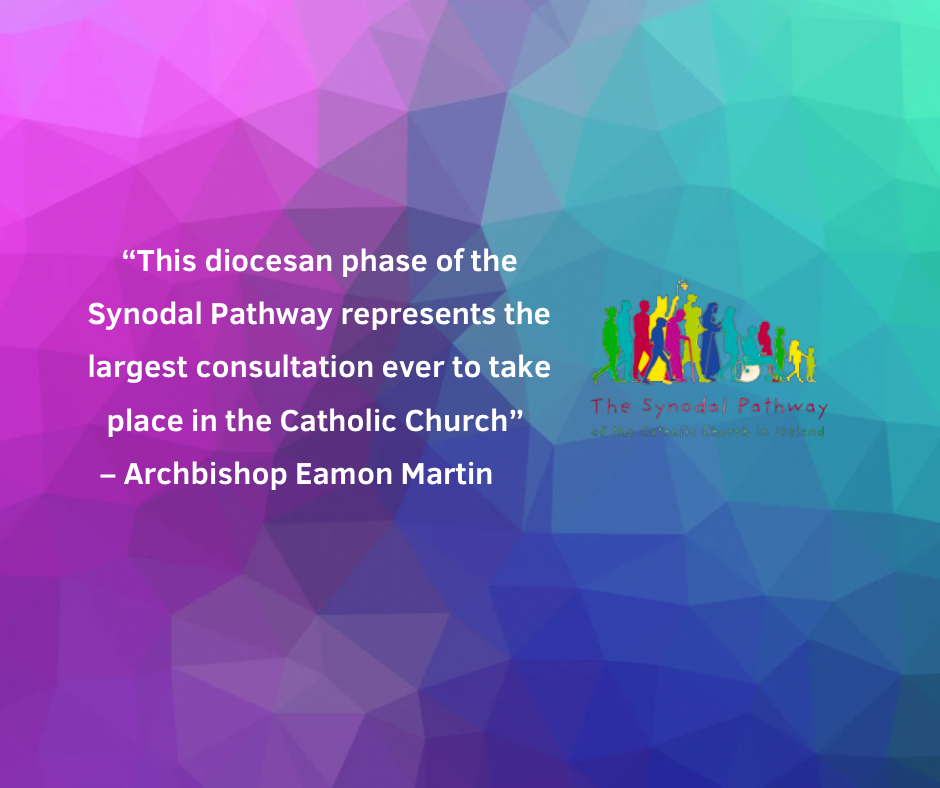 Pentecost Sunday marks Day of Prayer in dioceses for Synodal Pathway 
This weekend in parishes across the island of Ireland, prayers will be offered in thanksgiving for the diocesan phase of the Universal Synod.  This phase has involved individuals and groups coming together to listen, discern and engage in meaningful sharing, and a renewed commitment to being a missionary Church.  All dioceses have now compiled feedback reports based on their local listening sessions.  This initiative is part of the Synodal Pathway process of renewal which the Catholic Church in Ireland, and around the world, is currently undertaking at the invitation of Pope Francis.
Dr Nicola Brady, the Chair of the Steering Committee of the Irish Synodal Pathway said, "It has been very encouraging to see the depth of engagement from dioceses and other groups with the local listening phase of the Universal Synod.  There is much to reflect on as we offer these experiences and perspectives from Ireland to the wider global synodal process.  The learning from this experience, and the very honest and wide-ranging sharing that has been offered, provides a strong foundation to build upon in the years ahead as we develop our own national Synodal Pathway."
Primate of All Ireland Archbishop Eamon Martin said, "This Pentecost Sunday we thank God for the prayerful and Synodal engagement and listening that has taken place across Ireland over the past eight months.  I am grateful to all who participated  for their constructive engagement in the many local listening sessions, and for their timely submissions.  This initial diocesan phase of the Synodal Pathway represents the largest consultation ever to take place in the Catholic Church as we seek to discover what the Holy Spirit is saying to the Church at this time.  May that same Spirit, who descended upon the apostles on Pentecost day continue to guide our Synodal journey ahead.  I encourage everyone to avail of the prepared prayer resources on www.synod.ie and on www.catholicbishops.ie".
ENDS
For media contact: Catholic Communications Office Maynooth: Martin Long +353 (0) 86 1727678 and Brenda Drumm +353 (0) 87 310 4444.