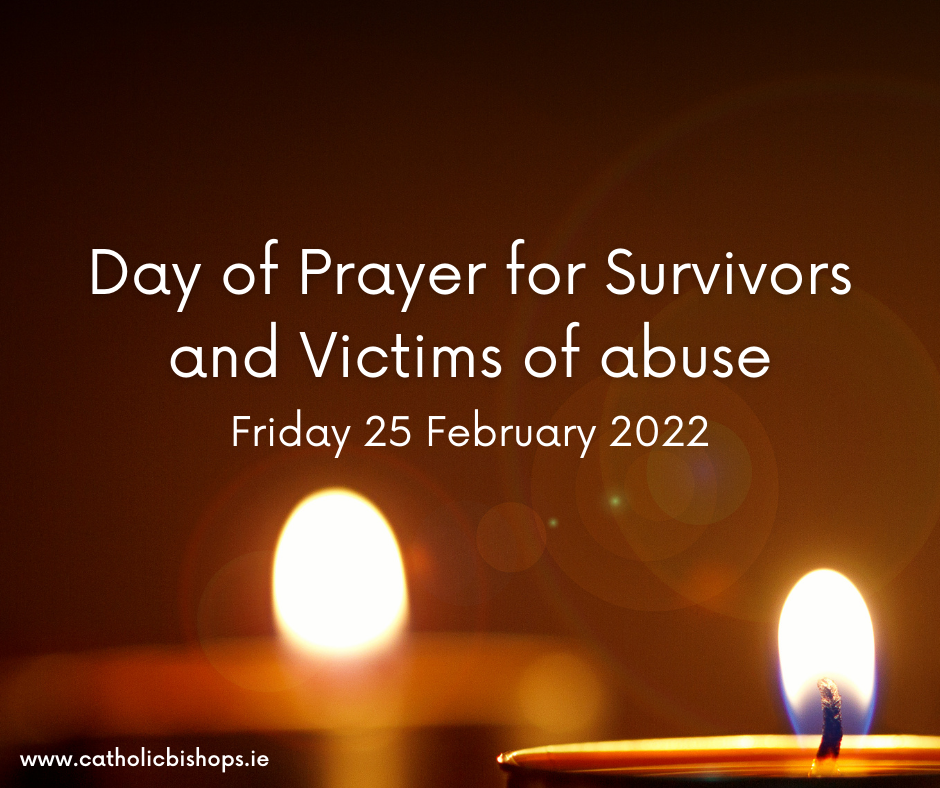 The annual Day of Prayer for Survivors and Victims of abuse will take place on Friday 25 February 2022. The Day of Prayer has been marked in Irish dioceses and parishes since 2017. Below are some resources for use on the day:
Candle of Atonement
The bishops of Ireland have blessed and dedicated Candles of Atonement for use in cathedrals and parishes throughout the country on the Day of Prayer and thereafter during the celebration of Mass and other liturgies.
Introducing the Candles of Atonement in 2019, Archbishop Eamon Martin said, "In lighting these candles we will bring to mind our brothers and sisters, and their families, who have been left with a lifelong suffering as a result of abuse, whose trust was so deeply betrayed and whose faith has been so cruelly tested within the sanctity of the Church by perpetrators of abuse.
"I have been privileged to meet with victims and survivors of abuse and members of their families in the four provinces of Ireland. Many have spoken to me about the importance of prayer for survivors, and for the need for the Church to be open to justice, to atone and never forget them. I have been humbled by their courage and overwhelmed by their generosity of spirit.
"I encourage dioceses and parishes to undertake this prayer initiative and to light the 'Candle of Atonement' in Cathedrals and churches across Ireland again this year. It would mean a lot to survivors if the 'Candle of Atonement' was a permanent feature in our Cathedrals and parish churches. People visiting the church for quiet prayer might light the 'Candle of Atonement', pray the prayer, and bring to mind someone they know who has been directly impacted or affected by abuse. I am convinced that prayer and outreach to survivors of abuse is a modern-day corporal and spiritual work of mercy."
The simple prayer ritual for the dedication and lighting of the 'Candle of Atonement' in Cathedrals and parish churches is based on the very moving Penitential Rite composed and prayed by Pope Francis at the final Mass of the World Meeting of Families 2018 in Phoenix Park when he implored the Lord's mercy for the crimes of abuse and asked for forgiveness.
The 'Candle of Atonement' and accompanying prayer are offered as a reminder to all of the need for us to atone, to ask forgiveness as a Church for the suffering caused by abuse. My hope is that these candles will be lit in Cathedrals and parishes across the country as a reminder of the need for atonement and that they will symbolise repentance, light in the darkness and hope.
Liturgical Resources for the Day of Prayer for Survivors and Victims of Abuse
Resources for the Day of Prayer for Survivors and Victims of abuse, including the text for the Blessing and Dedication of the 'Candle of Atonement' for Cathedrals and churches, are available below:
Candle of Atonement Prayer
Lord, forgive us our many sins.
We grieve and repent with all our hearts for having offended you, for our great failings and neglect of the young and vulnerable.
We place all of those who have been hurt by the Church in any way into your loving hands and under the protection of Our Blessed Mother.
Lord, bring peace to their broken lives and show us all the way out of darkness and into the light of your Word.
May we as the people of God be more fully human, more fully Christ-like and more fully your people, that we may see the errors of the past and go forward with renewed hope and faith in Christ and in our Church.
Amen.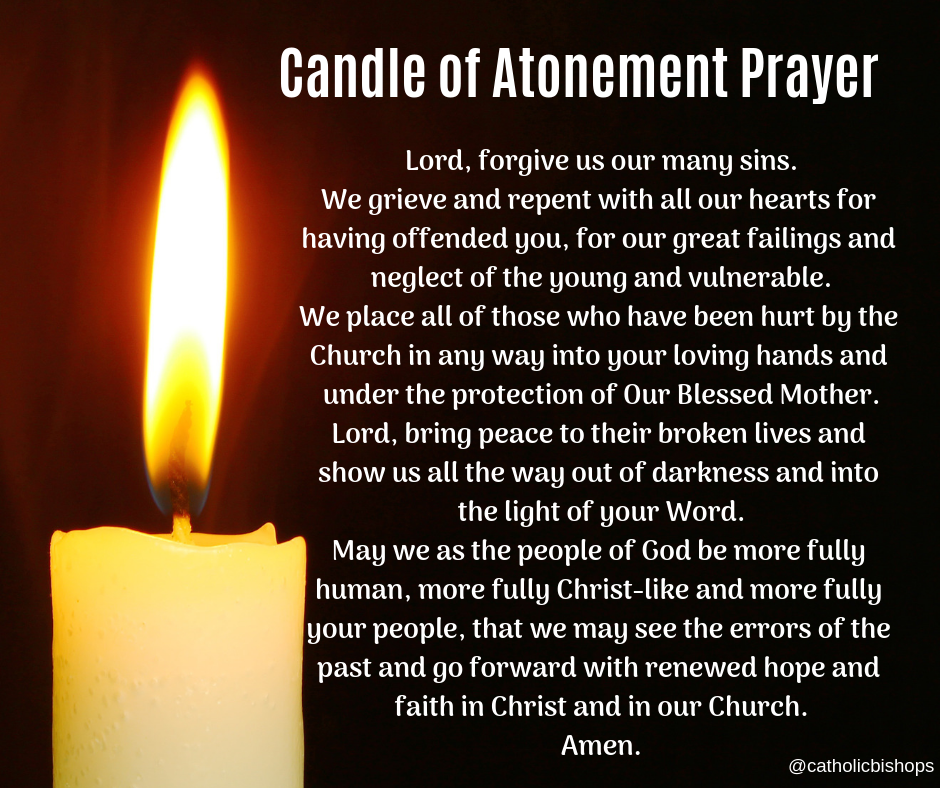 Liturgy for Blessing and Dedication of Candle of Atonement
Click below to download an MS Word version of the liturgy of Blessing and Dedication of the Candle of Atonement Day of Prayer for Survivors – Liturgy for blessing of candle
The following text for prayer was sent to Archbishop Diarmuid Martin by a person who suffered abuse so that it could be shared in parishes. This prayer was inscribed on the healing stone which was unveiled at the 50th International Eucharistic Congress 2012 and now has its permanent home at Lough Derg, Co Donegal.
Lord, we are so sorry
for what some of us did to your children:
treated them so cruelly,
especially in their hour of need.
We have left them with a lifelong suffering.
This was not your plan for them or us.
Please help us to help them.
Guide us, Lord, Amen.
Paidreacha dIdirghui
A Dhia, tá aiféal orainn
as ucht na rudaí a rinne cuid dúinn dod phaistí:
gur caitheadh leo chomh chrualach,
in am a gátar ach go háirithe.
Dfhágamar iad le cruatan saoil.
Níorbh é seo do scéim dóibh súid ná dúinne.
Cabhraigh linn le cabhair a thabhairt dóibh súid.
Treoraí sinn, a Thiarna, Amen.
Prayers of Intercession

Introduction
With humility of heart, we pray to God,
whose love and faithfulness endures forever.
We pray for people who have been abused
that the Lord of all tenderness and compassion
will restore them and give them peace.
We pray that we become more and more a community
that actively protects the most vulnerable people of society, particularly our children.
We pray that the Spirit of Wisdom enlightens people
to put an end to acts of violence and abuse.
We pray for the healing professions
who minister to those who suffer violence and abuse,
that God will give them an abundance of wisdom, compassion and love.
Concluding Prayer
God our rock and our strength on whom we lean,
help us to create an atmosphere of trust
which allows the unspeakable to be said.
Help us to live with our painful memories.
May we support each other and be safe places for each other.
Through Christ, our Lord.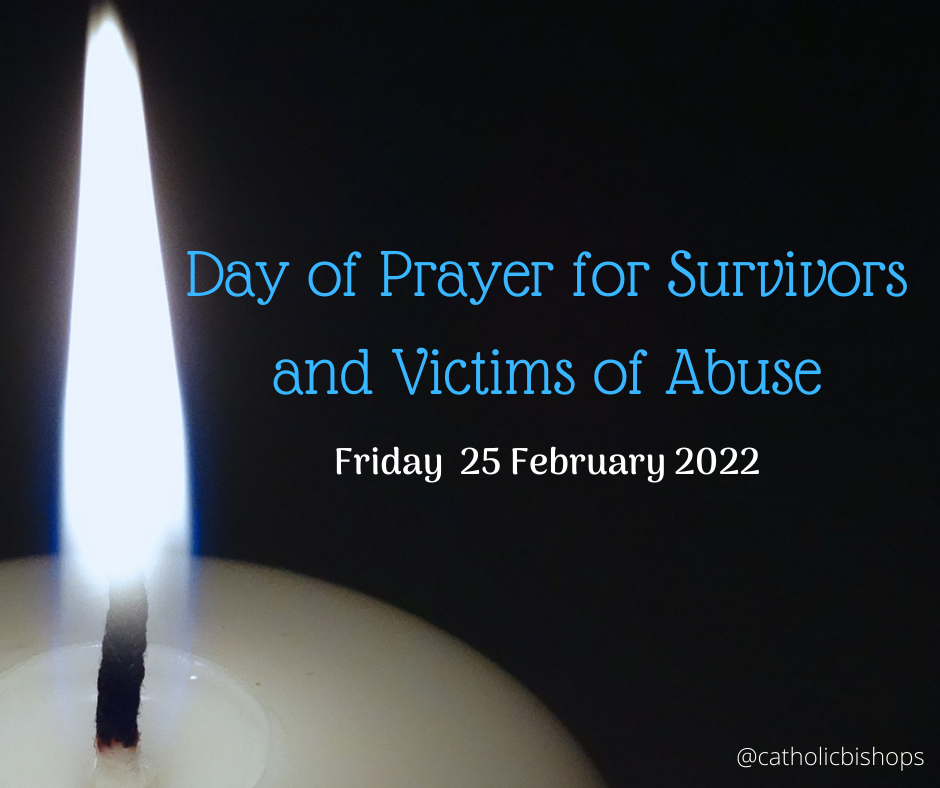 Prayers and Reflections

God of endless love,
ever caring, ever strong,
always present, always just:
You gave your only Son
to save us by the blood of his cross.
Gentle Jesus, shepherd of peace,
join to your own suffering
the pain of all who have been hurt
in body, mind, and spirit
by those who betrayed the trust placed in them.
Hear our cries of distress
over the harm done to our brothers and sisters.
Breathe wisdom into our prayers,
soothe restless hearts with hope,
steady shaken spirits with faith:
Show us the way to justice and wholeness,
enlightened by truth and enfolded in your mercy.
Holy Spirit, comforter of hearts,
heal your peoples wounds
and transform our brokenness.
Grant us courage and wisdom, humility and grace
so that we may act with justice
and find peace in you.
We ask this through Christ, our Lord.
Amen.
From a prayer produced by the United States Catholic Conference of Bishops
Praise to you, Father of our Lord Jesus Christ,
source of all consolation and hope.
By your Son's dying and rising
he remains our light in every darkness,
our strength in every weakness.
Be the refuge and guardian
of all who suffer from abuse and violence.
Comfort them and send healing
for their wounds of body, soul and spirit.
Rescue them from bitterness and shame
and refresh them with your love.
Heal the brokenness in all victims of abuse
and revive the spirits of all who lament this sin.
Help us to follow Jesus
in drawing good from evil, life from death.
Make us one with you in your love for justice
as we deepen our respect
for the dignity of every human life.
Giver of peace, make us one in celebrating your praise,
both now and forever. Amen.
Bishop of St Cloud, USA
Prayer for the Healing of Memories by Liam Lawton
Lord, I cannot find the words that I should say,
nor will I ever know the pain nor know the deep despair
of souls who have been hurt for lack of love and care.
This is a prayer, a plea, that you would come
and gently heal the souls of all whose hearts still bleed.
Heal the silent scream of those who cry through nights and years.
The child who forever weeps and wakes in adult dreams.
Heal the pain that never seems to fade,
replace with love the guilt of endless shame.
Hear the voice that longs to tell its tale,
hear the words where integrity prevails,
hear the truth where honesty has failed.
Hear us now we call upon your name.
Heal all hidden memories in the deepest painful place,
suppressed through years of suffering.
From memories erase all thoughts of fear and failure
with tears that wash each face.
You Lord were stripped,
bruised and beaten, unprotected,
so vulnerable, derided, mocked, betrayed,
and in the tomb where you were laid,
we place the hurt, the hate, the wounds of history.
Visuals for use on websites and social media pages
Click below to download visuals for use in parish newsletter, on websites and social media pages.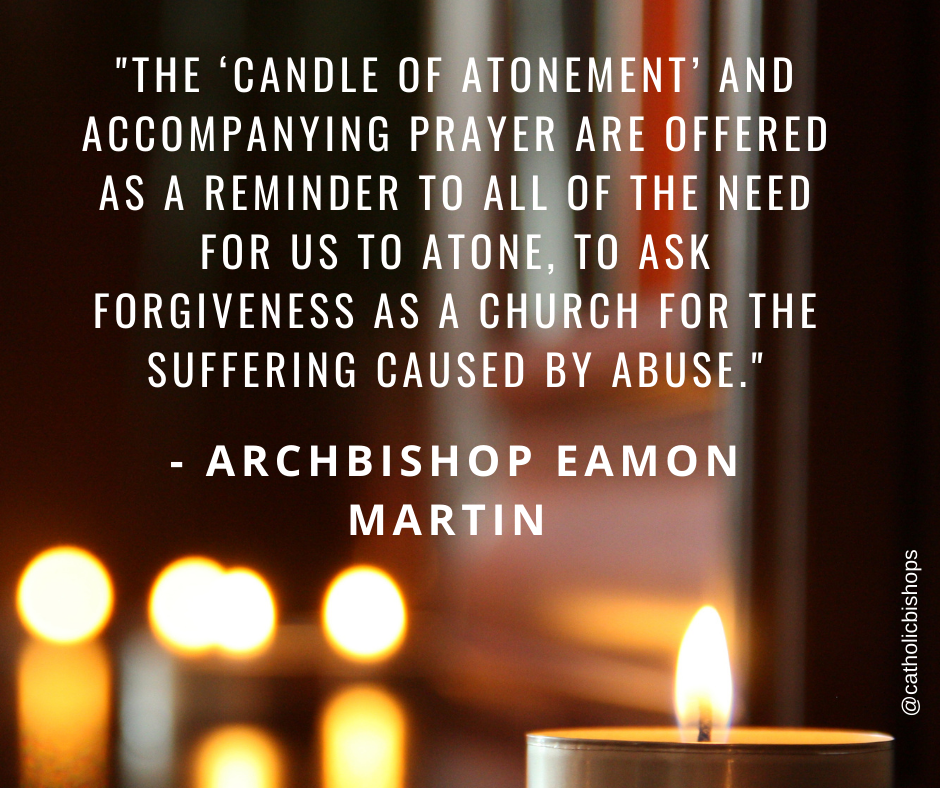 Towards Peace Spiritual Support Service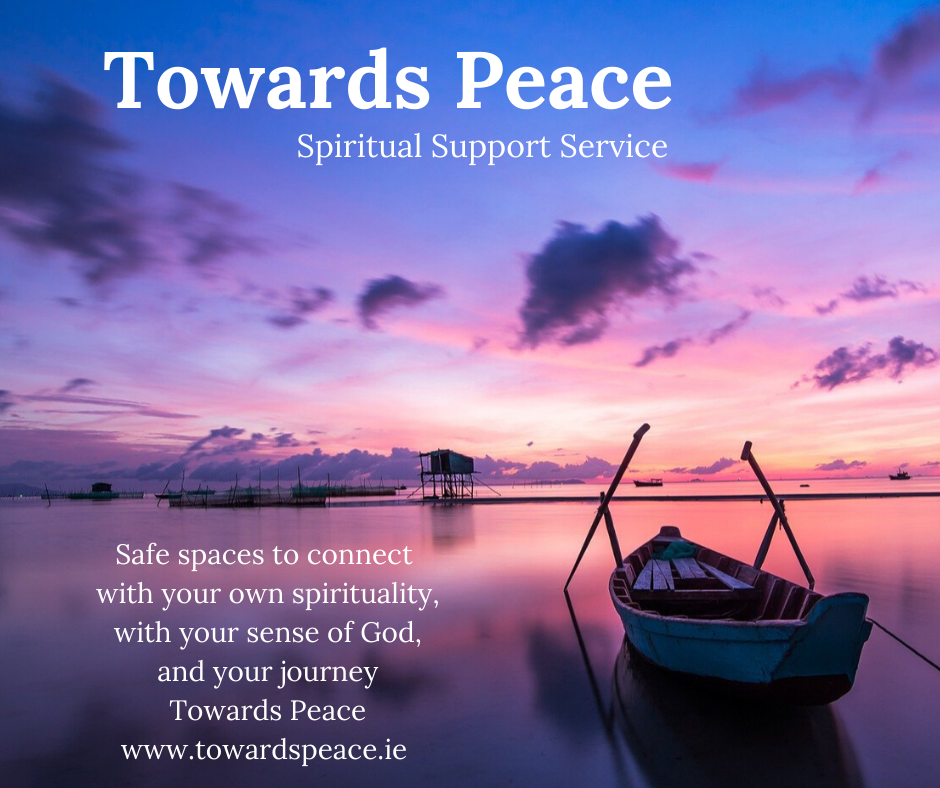 Towards Peace is a spiritual support service for survivors of physical, emotional, sexual and spiritual abuse. Funded by the Irish Catholic Bishop's Conference and the Association of Missionary and Religious in Ireland.
The vision of Towards Peace is to provide a safe supportive space for people and their families, whose spiritual life has been damaged by abuse.
Through spiritual accompaniment with a qualified spiritual director, Towards Peace endeavours to accompany people as they seek their own experience of spiritual peace, one step at a time.
The service is free of charge. Towards Peace is also a response to the continually growing understanding of the spiritual impact of the trauma of abuse and seeks to raise awareness about this within the Church.
For more information see www.towardspeace.ie
Towards Healing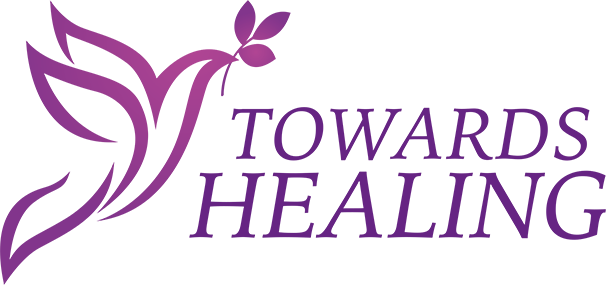 Towards Healing is an independent organization providing professional support for people who have experienced institutional, clerical or religious abuse in Ireland.
They offer counselling and other support services, appropriate to needs, in a timely manner which are safe, respectful, cost effective, and of the highest quality.
For more see www.towardshealing.ie.
ENDS