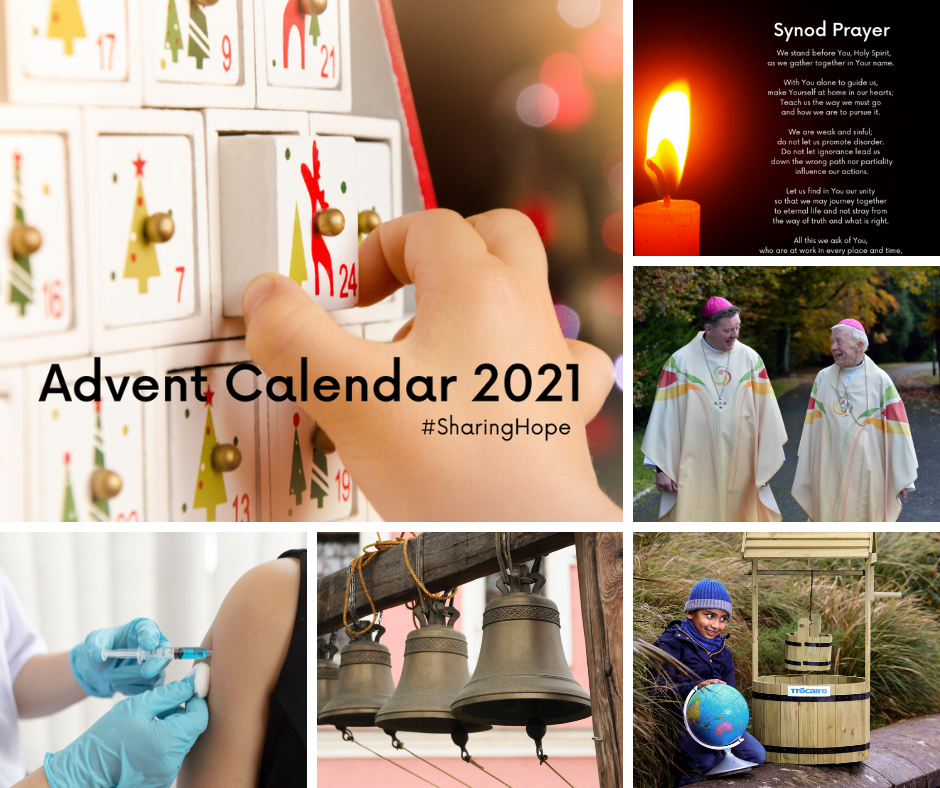 In accordance with public health guidance to help prevent the spread of Covid-19, members of the Irish Catholic Bishops' Conference gathered remotely this week for their Winter 2021 General Meeting via video-link, instead of the usual location at Saint Patrick's College, Maynooth. Although the Autumn 2021 General Meeting was held in-person, this week's meeting was the bishops' sixth plenary meeting to be held in this way. The President of the Bishops' Conference is Archbishop Eamon Martin of Armagh and the Vice-President is Archbishop Dermot Farrell of Dublin.
During their Winter Conference, bishops prayed for the repose of the souls of those who died during the pandemic and for bereaved families and loved ones. Topics discussed included:
Advent 2021 – the Season of Hope and Preparation. Church bells to ring for hope at 9.00am on 12 December for Gaudate (Rejoicing) Sunday, 3rd Sunday of Advent
Support from the Bishops' Council for Healthcare for the COVID-19 Vaccine Programme
(i) Universal Synod (ii) Update on Synodal Pathway in the Church in Ireland
Safeguarding children in the Church
Trocáire's 'Christmas Gifts of Love' to support communities in crisis
Appointments
Advent 2021 – the Season of Hope and Preparation. Church bells to ring for hope at 9.00am on 12 December for Gaudate (Rejoicing) Sunday, 3rd Sunday of Advent
We have now begun our Advent journey, a time of patient waiting and joyful hope. We look forward to the celebration of Christmas with quiet expectation and turn our hearts to the Lord with confidence and trust.
Although the Covid-19 pandemic continues, there are many reasons to be both thankful and hopeful. We are grateful to all who have worked tirelessly to protect our health and have cared for those who have fallen ill. We welcome and encourage the ongoing programme of vaccination. It has provided greater protection for people's health, especially that of the most vulnerable. It has also helped to ease the restrictions placed on the social and religious life of our communities and to keep hospital beds free for other essential and urgent medical needs.
We are thankful too for the continuing commitment of so many in our parishes to ensuring that our churches remain safe places where people can gather in confidence to worship. It is important that we remain vigilant, conscious of the threat still posed by the virus and any new variants which may emerge, and continue to take the steps we know will protect our own health and the health of others. Face-coverings should continue to be worn at all gatherings in our churches and parish buildings. High standards of hygiene and ventilation in our churches, and allowing space between ourselves and others, are essential ways in which we can contribute to the health of our parish communities. Around Christmas time, when people come to churches in larger numbers, careful planning will be needed in our parishes and sensible precautions should be put in place, in line with public health guidance.
The coming of Christ that we celebrate at Christmas brought light into a darkened world, 'a light that darkness could not overpower'. In the dark days of the pandemic, we can be bearers of that light, bringing it into the lives of those who may be living in the shadow of sickness, poverty, homelessness or isolation. We best express our thankfulness through personal thoughtfulness and kindness, and support given to organisations which do so much to help those in need. We urge people to respond generously to the Christmas appeals of Trócaire, Society of Saint Vincent de Paul, Crosscare and other charities which bring hope into the lives of many people.
As Christmas approaches, we keep especially in our thoughts those who have been bereaved in the past year, and we pray for the gifts of healing and hope for all. In that prayerful hope, we ask that the bells of our churches be rung at 9.00am on the Third Sunday of Advent, Gaudete ("Rejoicing") Sunday, 12 December 2021. Through the coming days of Advent may our hearts be open to the grace and power of the Lord and filled with joy when we celebrate His birth.
Digital Advent Calendar
A popular resource for prayer and reflection during Advent is the interactive digital calendar which is now available on www.catholicbishops.ie. This year's calendar theme focuses on the theme of 'Hope'. Each day during Advent a virtual door can be opened on the calendar containing faith content, including an audio/video reflection. Now in its eighth year, this digital calendar is a well-received resource for families, schools and parishes as it offers suggestions for prayer, charity and penance during this special liturgical season.
Support from the Bishops' Council for Healthcare for the COVID-19 Vaccine Programme
In December 2020 the Bishops' Conference published a statement encouraging Catholics to support the programme of vaccination. In August of this year, Pope Francis said that getting a Covid vaccine is "an act of love", and that "getting vaccinated is a simple yet profound way to care for one another, especially the most vulnerable".
The Council for Healthcare of the Bishops' Conference welcomes the fact that, since the summer, the vast majority of the population of this island have received their vaccinations and that booster vaccines are now being administered. The Council urges everyone to continue to support the vaccination programmes currently in place in both jurisdictions on the island. Vaccination has demonstrated its effectiveness in limiting infection and in curbing the serious effects of the infection when it occurs.
The Council asks that all Catholics continue to advocate for the availability of ethically developed vaccines. In that way they bear witness that biomedical research should always be conducted in a manner which is consistent with respect for life and for human dignity. We ask that the Departments of Health, North and South, would actively promote the development, sourcing, and supply of vaccines which do not have a historical link with abortion. Anyone who, for reasons of conscience, chooses not to be vaccinated must, nevertheless, do their utmost to avoid, by other means and by appropriate behaviour, becoming vehicles for the transmission of the infection.
We also ask the governments of both jurisdictions, and urge each individual, to support efforts to provide vaccines for those in the developing world. Unless every person around the world has access to vaccines then we will all be vulnerable to Covid-19 for many years to come.
The Council for Healthcare wishes to reiterate its gratitude to all those who are working on the frontline in hospitals, nursing homes and as carers during this pandemic. They have contributed significantly to the health and safety of so many and have given us all cause for hope.
Trustworthy and updated information on vaccines is available on https://www2.hse.ie/covid-19-vaccine/ in the Republic of Ireland and https://www.publichealth.hscni.net/covid-19-coronavirus/northern-ireland-covid-19-vaccination-programme in Northern Ireland.
(i) Universal Synod (ii) Update on Synodal Pathway in the Church in Ireland
In October the Holy Father Pope Francis opened the Universal Synod and since that time bishops around the country have launched 'synodal pathways' in their own dioceses based on prayer and discussion about faith. The following statement by the Bishops' Conference gives an update on how the Catholic Church in Ireland is engaging in the Universal Synod as it pursues its own Synodal Pathway across the island:
'Look, behold I am doing something new' (Is 43:19) are words from the Prophet Isaiah, a prophet whose writings we often hear during Advent. We are grateful to the Holy Spirit for a new lifting up of hearts among the People of God in Ireland as we embark on the Synodal Pathway. Synodality is about how we journey together, helping each other to listen to what the Holy Spirit is saying to the Church.
In updating one another on initiatives across the dioceses of Ireland, we are grateful for the many developments already experienced in the first stage of the Synodal Pathway. A wide range of people have indicated their interest in, and support for, the process including webinars and retreats based on the theme of synodality. In particular, the active encouragement and engagement on the part of the Association of Leaders of Missionaries and Religious of Ireland (AMRI) has helped the synodal process get off to a good start.
We particularly wish to highlight the significance of prayer for the whole Synodal Pathway. We note that the Synodal Prayer to the Holy Spirit* is often recited at gatherings and during liturgies. Prayer cards with the text of the prayer have been printed.
Since the opening moments of liturgical celebration and prayers in October, dioceses have begun engaging actively and creatively with the topics of the first phase of the national synodal pathway that coincides with the universal synodal process with its focus on Communion-Participation-Mission. Diocesan synodal delegates and teams have been established. Training is being put in place for local parish synodal representatives. Local parishes are beginning to hold listening sessions. We commend the creative plans that are afoot to devise other ways (for instance, pop-up cafés in a shopping centre) to meet people who might not come regularly to Church.
Under the stewardship of the Steering Committee and the Task Group, regional meetings of the diocesan delegates have taken place, a website will very shortly be in place and further resources provided. The Steering Committee and Task Group also intend to engage actively with other bodies that operate beyond diocesan boundaries such as religious orders, associations and other groupings. In particular, we wish to involve sisters and brothers of other Churches in reflecting with us on our 'journeying together' as disciples of Christ.
The first phase of the Synodal Pathway will continue until June 2022. It will see the diocesan, parish and other initiatives continue and gain momentum, especially during the season of Lent. After Easter next year, dioceses will begin to gather up the fruits of this first phase by holding diocesan pre-synodal gatherings to listen together in a spirit of prayer and sharing to what their diocese has heard and to discern what they would want to feed into the universal synodal process. This will lead to the composition of a report from each diocese for the Bishops' Conference. This report will also be a summary of the first phase in the diocese of the national Synodal Pathway with its focus on how we are 'journeying together'.
Upon receiving the diocesan reports, the Bishops' Conference will then proceed in synodal style to draw up its report to be submitted in August to the Holy See.
We look forward to hearing "what the Spirit is saying to the churches" (Rev 2:7) and encourage all interested in participating in this moment to pray for the success of the synodal process and to support local parishes in this endeavor.
Safeguarding Children in the Church
Mr John Morgan, chairperson, and Ms Teresa Devlin, chief executive of the National Board for Safeguarding Children in the Catholic Church in Ireland, advised the Bishops' Conference on activities engaging the current work of the Board. In particular, they referenced the review of the Safeguarding Children policy, which is in process and will reflect changes in civil and canon law. The National Board also updated the bishops on its current project to examine policy, procedures, training standards and support for the safeguarding of vulnerable persons in the Church in Ireland. Mindful of the significant work that has taken place across the Church to ensure the best standards of safeguarding practice, the National Board emphasised the need to maintain vigilance and guard against complacency.
Trocáire's 'Christmas Gifts of Love' to support communities in crisis
Bishops urged support for Trócaire's 'Christmas Appeal of Love' to help displaced people and those in war-torn countries, with a particular emphasis on vulnerable communities who have suffered conflict, the devastating impacts of climate change and the Covid-19 pandemic. Currently an estimated 235 million people around the world – 47 times the population of Ireland – need humanitarian assistance.
Bishops said, "Amidst the consumerism and spending associated with Christmas, Trócaire's 'Gifts of Love' give people in parishes an opportunity to buy a meaningful present that will change the life of somebody in real need, and give families the opportunity to look forward to a brighter future where they are not dependent on aid."
New Gifts of Love in this year's collection include water filters (€40) and emergency water supply (€20) to support communities in developing countries hit by ongoing drought; dignity packs to help young girls out of period poverty (€10) and mental health support for women and children traumatised by the ongoing conflict in Gaza (€50).
Other popular gifts that feature again this year include irrigation systems that will help families grow fruit, grains and vegetables; seeds and tools to allow struggling families to feed themselves, and bees that will produce honey that can be sold to earn an income. The Gifts of Love can be purchased online at trocaire.org/gifts
East Africa Church Appeal
Bishops thanked parishes all over Ireland for their support and generosity for the East Africa Church appeal in November. Noting that donations are still coming in, bishops said, "At a time when our people are facing increasing day-to-day financial demands, we thank you for your support for communities in East Africa where up to 30 million people are currently face life-threatening food shortages."
Bishops thanked Archbishop Michael Neary and Father Richard Gibbons, rector of the International Eucharistic and Marian Shrine, Knock, for hosting and leading the celebration on Sunday 14 November of the 'Mass of Remembrance for those who died since the onset of the Covid-19 pandemic, for their families, loved ones and front-line workers'.
Bishops paid tribute to Archbishop Michael Neary, who will be retiring soon as the Archbishop of Tuam. Bishops thanked the Archbishop for his successful tenure as a long time senior member of the Bishops' Conference. Bishops acknowledged Archbishop Neary's pastoral leadership to pilgrims from across Ireland and abroad as well as his significant contributions and interventions at Conference over the years especially on issues of theology and faith, as well as on matters pertaining to the common good of society. Bishops offered their prayerful good wishes to Archbishop Neary for a happy and healthy retirement.
Bishops congratulated the new Archbishop of Tuam, Archbishop-elect Francis Duffy, following his appointment by Pope Francis on 10 November. Archbishop-elect Duffy will be installed as Archbishop of Tuam on Sunday 9 January 2022, the Feast of the Baptism of Our Lord, in the Cathedral of the Assumption of the Blessed Virgin Mary, Tuam, Co Galway.
* Synodal Prayer to the Holy Spirit
We stand before You, Holy Spirit,
as we gather together in Your name
With You alone to guide us,
make Yourself at home in our hearts
Teach us the way we must go
and how we are to pursue it.
We are weak and sinful;
do not let us promote disorder.
Do not let ignorance lead us
down the wrong path nor partiality
influence our actions.
Let us find in You our unity
so that we may journey together
to eternal life and not stray from
the way of truth and what is right.
All this we ask of You,
who are at work in every place and time,
in the communion of the Father and the Son,
forever and ever.
Amen.
For media contact: Catholic Communications Office Maynooth: Martin Long +353 (0) 86 172 7678 and Brenda Drumm +353 (0) 87 310 4444.