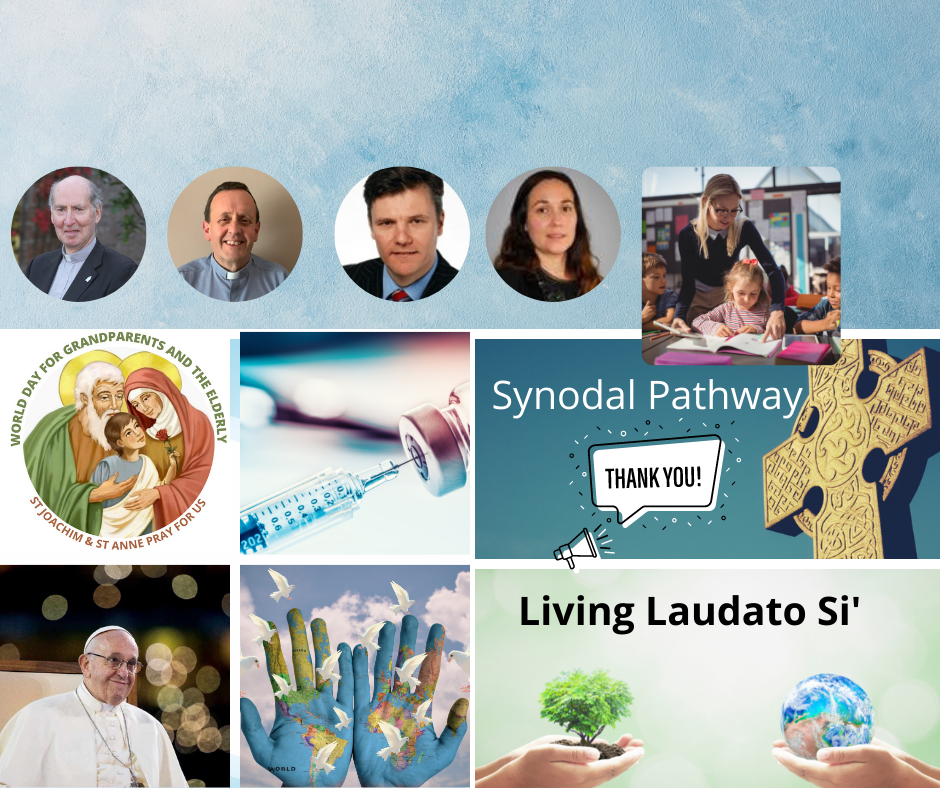 In accordance with the public health restrictions to help prevent the spread of Covid-19, members of the Irish Catholic Bishops' Conference gathered remotely this week for their Summer 2021 General Meeting via video-link, instead of the usual location at Saint Patrick's College, Maynooth. This was the fifth plenary meeting of bishops hosted using this medium. The President of the Conference is Archbishop Eamon Martin of Armagh and the Vice-President is Archbishop Dermot Farrell of Dublin.
During their meeting bishops acknowledged the depth of pain experienced by people whose loved ones have died during this difficult time and offered their prayerful support to families who have suffered due to the restrictions placed on funeral rites and attendance. Bishops also expressed their thanks to the faithful for their prayers, sacrifice and perseverance and for adhering to the public health restrictions due to the Covid-19 pandemic. This commitment has successfully served to protect life and health.
The main issues discussed by the bishops during their Summer General Meeting included:
Bishops express thanks for over 550 submissions received for Synodal Pathway
Safeguarding children in the Catholic Church
Northern Ireland
Vaccine ethics and equity
Proactively engaging with the Department of Education in relation to reconfiguration of patronage
Birth Information and Tracing Heads of Bill
Welcome to Pope Francis instituting the Ministry of Catechist
First World Day for Grandparents & the Elderly
Laudato Si' on care for our common home
Prisoner Repatriation
Bishops thank public for generosity to Trócaire
Call on Government to recognize the State of Palestine
Brutality in Myanmar
UN Food Systems Summit
Appointments
Bishops express thanks for over 550 submissions received for Synodal Pathway
During their 2020 Winter General Meeting, bishops decided to proceed along a Synodal Pathway and, since then, have been assisted and greatly encouraged by Cardinal Mario Grech and Sr Natalie Becquart, of the General Secretariat for the Synod of Bishops in Rome, who addressed the Irish bishops on the theme of synodality on 3 February. Following the Spring 2021 General Meeting, bishops announced that a new Synodal Pathway for the Catholic Church in Ireland is to take place which will lead to the holding of a national synodal assembly, or assemblies, within the next five years. At their meeting this week, bishops expressed their thanks for the over 550 submissions received from the public as part of the initial phase of the Synodal Pathway.
By a happy coincidence, these first two years of our Synodal Pathway in Ireland will complement the Catholic Church's worldwide journey towards the XVI Ordinary General Assembly of Bishops in Rome entitled, For a synodal Church: communion, participation and mission. This 9 and 10 October Pope Francis will officially launch the Universal Synod and has asked that the whole Church prepare for this Synod which is scheduled to take place in Rome in October 2023.
Bishops decided to establish a Synodal Steering Committee and a Synodal Task Group to help move forward the Synodal Pathway process for Ireland. Bishops announced that Dr Nicola Brady has been appointed as chair of the Synodal Steering Committee and the vice-chairs appointed are Mr Andrew O'Callaghan and Bishop Brendan Leahy of Limerick (see biographies below). The full membership of the Steering Committee and of the Synodal Task Group will be published as part of the official launch of the Synodal Pathway in the coming months.
Following her appointment Dr Brady said, "The Synodal Pathway is an important and hope-filled development in the life of the Catholic Church in Ireland and I am grateful for the opportunity to help guide and shape this work."
Safeguarding children in the Catholic Church
Mr John Morgan, chairperson, and Ms Teresa Devlin, chief executive of the National Board for Safeguarding Children in the Catholic Church in Ireland, advised the Bishops' Conference on activities engaging the current work of the Board particularly since the onset of the coronavirus pandemic. The discussion included the National Board's forthcoming annual report.
Theology of Child Safeguarding
Throughout 2021 and leading up to the NBSCCCI's national conference in October, the National Board has commissioned theologians, spiritual directors and other experts to produce a video every month on various aspects of a theology of child safeguarding. To view the videos please follow this link https://www.safeguarding.ie/national-conference-2021.
Bishops expressed their concern about rising tensions in Northern Ireland and noted that the stresses in political Unionism, as well as the continued public policy and economic reaction to Brexit and to the Northern Ireland Protocol, are having a very significant impact on the social cohesion of the whole island community. As it is in times of tension that the disadvantaged suffer most, bishops called on political and civic leaders to avoid harsh words and to act instead through dialogue to provide ways to offer everyone hope for the future. Political leaders were urged to be constructive in their engagement during negotiations over the coming days and, as a priority, to apply their skill and experience to maintain the continued functioning of the Assembly. Alongside other Church representatives, bishops will continue to work for the common good and facilitate dealing with outstanding legacy issues.
Vaccine ethics and equity
Bishops have encouraged Catholics to support a programme of vaccination, not only for their own good, but for the protection of life and the health of those who are vulnerable. In renewing that message, bishops acknowledged the hard work that has been done in both jurisdictions in Ireland to implement the Covid-19 vaccination programme and offered their appreciation to all who have been involved in the process. It was also noted that many people have expressed their appreciation of the professionalism and courtesy that they have experienced at the vaccination centres.
Last December, bishops wrote to the relevant authorities* in both jurisdictions in Ireland, and also in Westminster, expressing concern at the dependence of some vaccines on human foetal cell lines and asking that, in the future, the focus be placed on developing ethically untainted vaccines, and this appeal was renewed today.
Recognising the urgent need to address the huge shortfall of vaccine supply to developing countries, bishops welcomed commitments made by the G7 group of nations, during its meeting last week on 11 – 13 June, to make large quantities of COVID-19 vaccines available to developing countries and by the EU to support the expansion of vaccine production in Africa. While the quantity offered is in no way adequate, bishops stated that vaccine equity is a very serious moral test for the global community, and that wealthy nations have an obligation to ensure access to vaccines for poorer countries, as none of us are safe until all of us are safe. Hope was expressed that the G7 commitments will be implemented quickly.
*Professor Brian MacCraith, chair of the High Level Task Force on Covid-19 Vaccination, Department of Health, Dublin
*Mr Robin Swann MLA, NI Minister for Health
*Mr Matt Hancock MP, UK Secretary of State for Health
Proactively engaging with the Department of Education in relation to reconfiguration of patronage
Bishops reconvened in their role as patrons and reaffirmed their commitment to the reconfiguration of patronage at primary school level. Bishops, as patrons, are committed to proactively engaging with the Department of Education in relation to reconfiguration of patronage. Bishops are supportive of an educational landscape which reflects the reality of the increasingly diverse society in our country. A true plurality of patronage across the country should ensure parental choice whilst enabling patrons to be true to their own ethos and characteristic spirit.
Parents are the first and primary educators of their children. It follows that the State should be responsive to the rights of parents to have their philosophical and religious beliefs supported during their children's education. One of the great strengths of faith-based primary schools has been their rootedness in local communities. Bishops as patrons are very conscious therefore that any move to divest must involve a meaningful engagement at local level, supported by the Department of Education, with parents, teachers and the wider parish communities served by existing Catholic schools. Parental choice is paramount, and that choice must be given full expression in any reconfiguration process. Within any new provision, parents who choose it should have access to an appropriate number of schools under Catholic patronage, which are enabled and supported in their Catholic ethos.
Bishops would like to move as quickly as possible to a situation in which the State supports parents with the provision of schools whose ethos genuinely reflects what they want for their children. Going forward, bishops wish to have a fruitful dialogue about the best way of ensuring that our school system reflects a diversity of provision.
Birth Information and Tracing Heads of Bill
Bishops welcomed the publication of the Birth Information and Tracing Heads of Bill on 11 May last, by Minister Roderic O'Gorman TD, Minister for Children, Equality, Disability Integration and Youth, and reiterated their commitment to ensuring that dioceses can legally share whatever information they have in relation to adopted persons. To that end the Bishops' Conference will write to the Minister in the coming days to request a meeting to discuss how this may be achieved in the drafting of the legislation.
Welcome to Pope Francis instituting the Ministry of Catechist
Bishops welcomed Pope Francis' Apostolic Letter Antiquum ministerium of 10 May formally instituting the ministry of catechist, a ministry present in the Church from its earliest times. In various parts of the world, lay men and women Catechists are often those who preside over the communities and keep them rooted in the faith with the priest able to visit every month or so. In encouraging a formal institution of this ministry, Pope Francis is reminding the faithful that there is a variety of lay ministries in the Church, new ways lay men and women can formally offer their service for the benefit of many. Catechesis can be a privileged form of evangelization. It is clear that in Ireland there is a growing recognition of how much we need Catechists in pastoral areas and dioceses to assist in the handing on of the faith not least using the new means of communication available today. Bishops look forward to a growth in the numbers exercising this ministry across Ireland.
First World Day for Grandparents & the Elderly
Bishops welcomed the introduction by Pope Francis of a new World Day for Grandparents & the Elderly, which will be celebrated for the first time this year by the Universal Church on Sunday 25 July, while noting that yesterday was World Elder Abuse Awareness Day.
Throughout his papacy Pope Francis has reminded us to value the many gifts of our grandparents and elderly and, in recognition of their role, the Holy Father has now instituted an annual World Day into the Church calendar to be celebrated on the Sunday closest to the Feast of Saint Joachim and Saint Anne, parents of Mary and grandparents of Jesus.
A new dedicated World Day offers a welcome focus by the Church on grandparents and elders, a cohort of people who have particularly suffered during the Covid-19 pandemic. Many older people succumbed to the virus, while others had to cocoon for several months unable to see their grandchildren and families. The theme chosen for this inaugural year is 'I am with you always' (Mt 28:20), highlighting that promise of closeness that generations share with each other. Not only are our young people called to be present in the lives of older people, but so too grandparents and elders have a mission to encourage young people on their faith journey.
Across the country, parishes are invited to celebrate grandparents, elders, older priests and religious, who have given lives of dedicated service to their families and communities. Parishes are also asked to ensure that their local nursing care home is included in this annual celebration. The Bishops' Council for Marriage & Family is providing resources for parishes on www.catholicbishops.ie.
Laudato Si' on care for our common home
A discussion was held on how the 2015 encyclical letter of Pope Francis Laudato Si', on care for our common home, can best inform the Church in Ireland, starting at parish level, so as to promote actions on climate change in accordance with the social teaching of the Church through:
– the Laudato Si' Action Platform (https://laudatosiactionplatform.org);
– the provision of Season of Creation (1 September – 4 October 2021) resources; and,
– the ongoing divestment of Bishops' Conference funds from the fossil industry.
Bishops welcomed the Government's Climate Action Bill, with its emphasis on the importance of effecting a "just transition" and highlighted the importance of constructive dialogue in achieving it for the well-being of all. Bishops also acknowledged the efforts of all, including Trócaire and Eco-Congregation Ireland, who continue to address the impact of climate change on the Earth and on the poorest people throughout the world. In the words of Pope Francis:
"We have to realize that a true ecological approach always becomes a social approach; it must integrate questions of justice in debates on the environment, so as to hear both the cry of the earth and the cry of the poor." (Laudato Si', #49).
The recent report from the Minister for Justice and Equality regarding prisoner repatriation for 2020 reveals that for a fourth consecutive year no Irish prisoners were repatriated. This appears to contradict the Government's stated policy that prisoners should be permitted to serve their sentences close to their families. Problems with the current legislation governing the repatriation of prisoners (Transfer of Sentenced Persons Acts) were highlighted by a Supreme Court decision in 2016 and amendments are required in order to deal with these issues. Bishops understand that some progress is now being made in relation to this.
In view of the significant impact that the lack of repatriation has on prisoners and their families – and the positive societal benefit that can result from repatriation in the context of more positive resettlement outcomes – bishops urge Government to expedite this overdue but vitally important legislation in the interest of the common good.
Bishops thank public for generosity to Trócaire
Bishops thanked the public for its continued generosity to Trócaire which works in support of people affected by poverty, conflict and injustice worldwide. Bishops noted that Trócaire's support brought positive change to the lives of 2.7 million people in 25 countries over the course of the last challenging year. Bishops acknowledged that the Lenten campaign is essential to enabling Trócaire carry out this work and, in expressing their gratitude, noted that Covid-19, combined with the threats of climate change and conflict, have put many more millions of lives at risk of extreme poverty. Bishops encouraged all individuals to make their Lenten return either through their parishes, or by donating by post, phone or online at trocaire.org/donations/now/
Call on Government to recognize the State of Palestine
Bishops discussed the humanitarian crisis that exists due to violence between Israel and Palestine, and offered prayers for peace in the Holy Land. The meeting called for an end to violence on all sides and for a just and lasting peace between the two States, based on respect for international humanitarian and human rights law, accountability for war crimes, an end to the illegal occupation of Palestinian territories and for an end to the blockade of Gaza.
Bishops commended the unanimous passing of the motion in Dáil Éireann that condemned Israel's "de facto annexation" of Palestinian territory as a violation of the fundamental principles of international law. Noting that the Holy See recognised the State of Palestine in February 2013, bishops called on the Government of Ireland to progress the Occupied Territories Bill to recognise the State of Palestine.
Bishops expressed their deep concern about the ongoing repression and brutality inflicted on civilians in Myanmar. Since February, people in Myanmar have peacefully called for democracy in their country while being brutally suppressed by the military. Many people have lost their lives, many others have been imprisoned. There is now a climate of fear and intimidation in Myanmar and the courageous people need to know that the international community stands with them in solidarity. Bishops echo calls made by Cardinal Charles Maung Bo, Archbishop of Yangon, who has called for the killings to stop and for dialogue to replace violence. Pope Francis, too, has called for dialogue and peace while also expressing solidarity with the people's legitimate demand to reinstate democracy. Bishops called for an end to oppression and violence, and for respect for the voices of the people of Myanmar, stating that peace and dialogue must prevail.
Bishops welcomed Ireland's ambition to play a leadership role in the UN Food Systems Summit in September. As the pre-Summit approaches (26-28 July), bishops expressed the hope that the much needed transformation of food systems is driven by the prioritisation of social equity and environmental justice objectives. Noting the central role that small-scale food producers, women farmers, indigenous peoples and other marginalised communities have in sustainable food systems transformation, bishops encouraged the Irish, and other governments, to ensure Summit outcomes are addressed through the Committee on World Food Security, the foremost inclusive international platform on food security and nutrition.
Bishops thanked and offered their prayerful good wishes to Bishop Denis Brennan, Bishop of Ferns, who will be retiring shortly. Congratulations were extended to Bishop Brennan's successor, Bishop-elect Ger Nash, following the announcement by Pope Francis of his appointment on 11 June. Bishops welcomed the appointment of Dr Gary Carville as the new Research Coordinator with the Council for Justice and Peace of the Bishops' Conference.
ENDS
Notes for Editors
Biographies of Nicola Brady and Andrew O'Callaghan
Dr Nicola Brady is the General Secretary of the Irish Council of Churches and Joint Secretary of the Irish Inter-Church Meeting where she facilitates relationship-building between Christian Churches on the island of Ireland and collaborative action on issues of shared concern to member Churches. Nicola holds a BA in European Studies from Trinity College Dublin. Her PhD, also from Trinity, examined the response of the Catholic hierarchy to political violence in Northern Ireland (1921-1973) and to the Basque Country (1936-1975). Nicola has particular expertise in the area of faith-based peace-building on the island of Ireland and internationally, including human rights advocacy, support to victims/survivors, facilitation of civic dialogue, community engagement with policing, and research across a broad range of issues relevant to reconciliation. Nicola is a Director of Christian Aid Ireland and the Maximilian Kolbe Foundation, which works to extend the lessons of German-Polish reconciliation post-World War II to other conflict areas. In 2017 Nicola took part in an international workshop organised by the Catholic Bishops of Germany and Colombia to support the peace process in Colombia, engaging with victims and survivors, armed actors, NGOs and faith communities. In 2019 Nicola became an Eisenhower Fellow and undertook a professional development programme in the US with a focus on developing the capacity of the faith sector to promote social cohesion in communities divided by race, violence, political polarisation and socio-economic inequality. Recent publications include The Churches, Reconciliation and Addressing the Legacy of Intercommunal Violence in Northern Ireland, Glencree Journal (2021), 92-102 — co-authored with Dr Gladys Ganiel, Queen's University Belfast; and Pulling Together or Pulling Apart: Perspectives on Nationhood, Identity and Belonging in Europe (Peter Lang, 2019) — co-edited with Dr Susana Bayó Belenguer, Trinity College Dublin.
Andrew O'Callaghan was born in Dublin and is married to Helena Smith, they have four children. Andrew was educated at Moyle Park College, Dublin, and studied as an undergraduate in University College Dublin, receiving an honours Bachelor of Commerce degree. Andrew is a member of the Chartered Accountants of Ireland and the Institute of Chartered Accountants, England & Wales.
Since 2001, Andrew has worked as a partner in PwC, the professional services firm providing services across audit, tax and advisory, and is its Global Advisory Leader (Asset Management). Andrew has held various leadership roles and responsibilities over his professional career of over 28 years – working in the UK, the United States and in Ireland. Andrew's voluntary interests include as current chair of the Monkstown Parish Pastoral Council, Dublin and as co-founder of '2nd Chance Saturday' – an initiative to encourage Catholics who may not currently practice to return and attend Mass – in Saint Andrew's Parish, Westland Row, Dublin. Andrew has also served as chair of Saint Patrick's Athletic Football Club, Dublin; as a board member of Saint Andrew's Community Resource Centre, Dublin; and is secretary, Juvenile Section of Cuala GAA Club, Dun Laoghaire, Co Dublin
For media contact: Catholic Communications Office Maynooth: Martin Long +353 (0) 86 172 7678 and Brenda Drumm +353 (0) 87 310 4444.