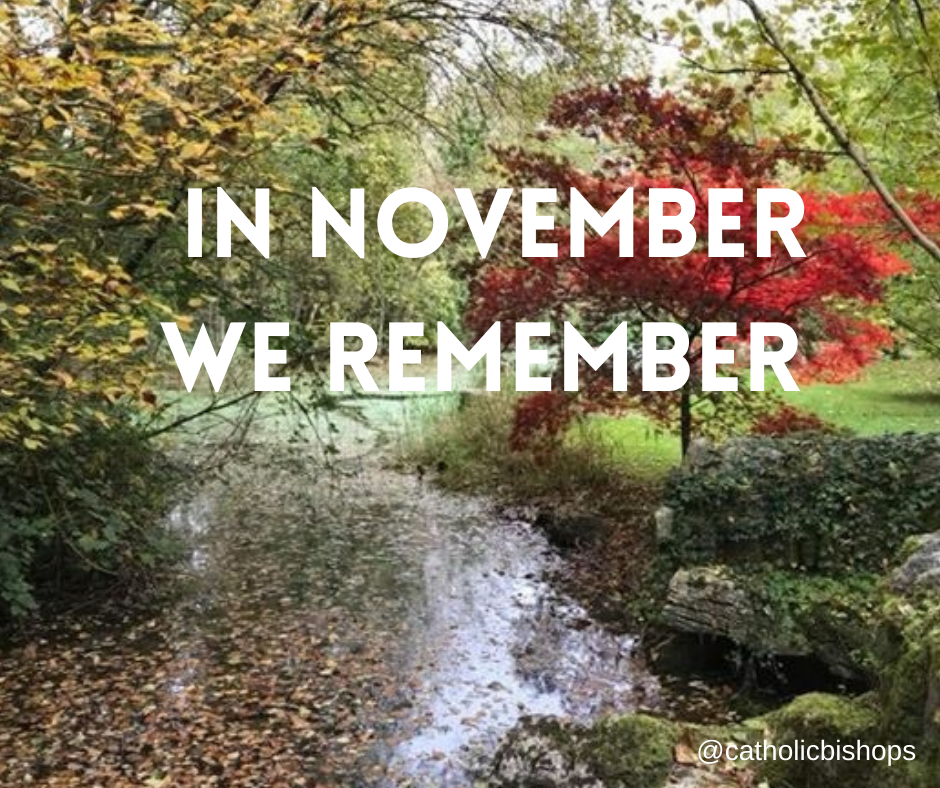 Ní imithe uainn atá siad, ach imithe romhainn.
They are not gone from us, but gone before us.
November is a time for remembering and praying for our loved ones who have gone before us and whose loss we feel. It is a time when we are particularly conscious of those in our parishes who are grieving and all those families who have lost loved ones in the past year. More than most years, this November will be especially poignant as we remember all those who have died during the COVID-19 pandemic.
We mark this time of year in our parishes with events like the blessing of the graves, the celebration of remembrance services as well as commemorating All Saints' and All Souls' Day. As a result of the current Covid-19 restrictions, it will not be possible for us to gather together for these annual events.
'We will reach out in November, a month we traditionally pray for our dead, to offer spiritual support to the bereaved' – Bishops
On Sunday 1 November, the eve of All Souls' Day, the bishops and priests of Ireland led a short service of prayer to dedicate the month of November to 'Remembrance of the Dead and Prayer for the Bereaved'. Bishops invited the whole country to unite in this moment which will be followed by parish liturgies throughout the month of November, reaching out as much as possible to those who cannot be physically present.
Please find below some resources for use in the parish, school and home throughout the month of November.
Families and the month of November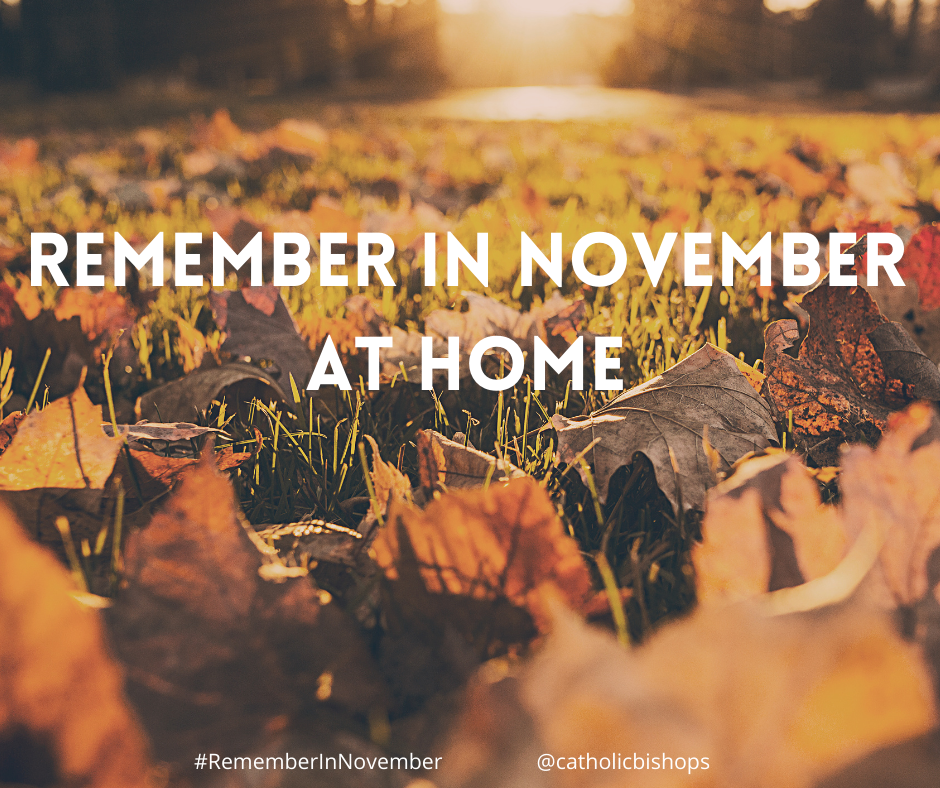 We are particularly conscious of families who have lost loved ones in the past year. As families are not able to attend remembrance services in person this year, we offer this prayer resource for use at home. We would suggest that the prayer service be used for the first time on the evening of Sunday 1 November, the eve of All Souls' Day and then throughout the month of November as a way to remember our loved ones who are no longer with us.
Click below to download the prayer service or to open it on your phone.
Family Prayer Service at Home in November
Parishes and the month of November
We would usually mark this time of year in our parishes with events like the blessing of the graves, the celebration of remembrance services as well as commemorating All Saints' and All Souls' Day. While much of what we would usually do together will not be possible this year, parishes are still inviting people to be part of the parish remembrance of those who have died.
Many parishes will create a sacred space within the church. This is usually a suitable place in the sanctuary area which will be left in place for the whole month of November. While public worship is not possible during Level 5 restrictions, churches are open for private prayer which could focus on November intentions. Parishes will still have a November list of the dead; a remembrance tree and a remembrance candle.
Please check in with your local parish/diocese for November remembrance initiatives.
Please find below some resources from parishes and dioceses to assist with remembrance in November:
Dublin Diocese Resources for Remembrance
November Resources from the Diocese of Kildare and Leighlin
Northern Pastoral Area Network Resource November A Month to Remember – NPN
This section will be updated as more diocesan and parish resources are made available.
Catholic Schools and the Month of November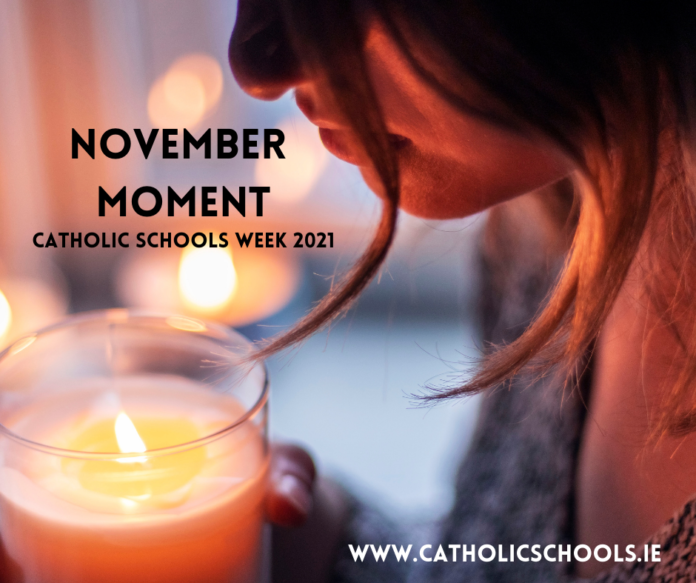 The theme for Catholic Schools Week 2021 is 'Catholic Schools: Communities of Faith and Resilience'. As we look forward to and begin our preparations for celebrating CSW2021, it is important for each of us to remember those who have gone before us in the hope of the resurrection promised by Jesus. More than most years, this November will be especially poignant as we remember all those who have died during the COVID-19 pandemic. In light of this, the Catholic Schools Moment of November recalls to us God's love for us, a love that conquers all things, even death.
These resources aim to assist primary and post-primary schools with activities and lesson ideas for 'The Month of the Holy Souls', and they are available to download here.
Pastoral Letters for the month of November
Bishop Dermot Farrell – Remembrance of the Dead
As the intangible coronavirus spreads, its effects make themselves felt in every corner of this land, and in every land across the globe. Its power and danger leave us in no doubt: on this island alone it has robbed us of 2,600 lives. Lives cut short, families brought face-to-face with helplessness and grief, in exceedingly difficult circumstances, without the usual supports at times of loss, distanced in all senses of the word from family, friends, and neighbours.
Click here to read the full text of the pastoral letter
Bishop Francis Duffy – 'Remember In November' pastoral letter
November is a time to remember and pray for family members, colleagues, neighbours and friends who have died since this time last year. Those who have gone before us, those who were so much present with us, so central to our lives, have left us with a deep sense of loss. We look for peace, for healing of heartache, and for hope.

This year is particularly difficult for those who have been bereaved since March. Those profound feelings of loss have been heightened by not being able to be present at a time of death and by the absence of the familiar family and community supports.
Click here to read the full text of the pastoral letter.
Hospital Chaplains reflecting during the month of November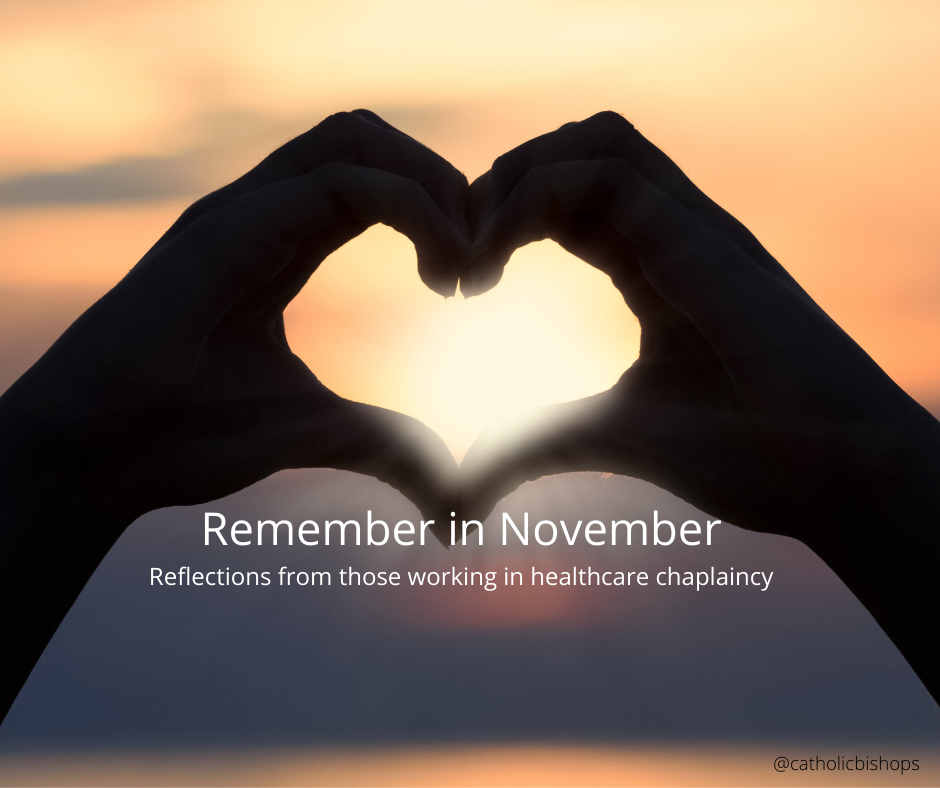 We have invited four hospital chaplains to share a weekly reflection with us for the month of November. Our hospital chaplains have been on the frontline of providing care and spiritual support to those at the end of life and to their families. This past year has been more challenging than most with the added impact of the Covid-19 pandemic.
Week 1 reflection: Father John Kelly
Father John Kelly is a priest of the Archdiocese of Dublin. He is Chair of the Healthcare Chaplaincy Board and Director of Pastoral Care at Tallaght University Hospital. In this piece Father Kelly shares how the pandemic has awakened in us a desire to do the right thing in new ways. He says, "Communities of people gathered in candlelight vigils, neighbours lining the streets to wave farewell, the written and the spoken words that bring great consolation. These encounters have transformed how we reach out to each other and how a compassionate heart can make a difference."
Click here to read the full article.
Week 2 reflection: Sister Dervilla O'Donnell
Sister Dervilla O'Donnell belongs to the Medical Missionaries of Mary Order. She is Healthcare Chaplain in Our Lady of Lourdes Hospital, Drogheda, Co Lough. In this piece Sister O'Donnell speaks about her work as a chaplain and how it is underpinned by the values of her particular religious order. She says, "It may not always feel like God is close to the broken hearted in a hospital setting when for example, a family's equilibrium is rocked to its core by the diagnosis of an aggressive cancer, in a young mother or father, or there is a sudden devastating road traffic accident, a stroke, a still birth, … it is then that the words from the Constitutions of my way of life encourages me, "Understand what Jesus has done… Know how to be present. Know how to care, to share others' joys and pains and to touch their wounds with a tender hand, at times to be silent, helpless." (MMM Constitutions 5.5)
Click here to read the full article.
Week 3 reflection: Father Robert Sloan
Fr Robert Sloan is Chaplain at the Royal Victoria Hospital in Belfast. He is also the President of the Northern Ireland Healthcare Chaplains Association. In this piece Father Robert shares how despite Covid-19 and the restrictions that chaplains, nurses and auxiliaries stayed by bedsides of those who were ill and kept vigil as people slowly breathed their last. He says, "Chaplains and parish priests did their utmost to pray and comfort families over the phone. Indeed, for all of us, many more than we will ever know will have been close to us in prayer."
Click here to read the full article from Father Robert.
Week 4 reflection: Father Pierce Cormac
Father Pierce Cormac is Chaplain in Cork University Hospital. In this piece Father Pierce reflects on how our world globally and to varying degrees individually has been turned upside down. There are many instances of this as people struggle to keep premises open, to pay wages, to move to online systems, to keep safe, to name but a few. He says, "The greatest impact surely has to be on our bereaved: what we have always done so well has been taken from us. It was always so heartening to visit a patient in their final days or hours and to see them being supported by their loving family, neighbours, and friends in what Pope St. John Paul II used to call the prayer of presence. Now that great support has been diminished and too many people have died and continue to die without the chance to see all of their family or life-long friends. Even our funeral liturgies are private and the bereaved families who could not visit their loved ones are once more on their own as they miss the support of community, the never ending handshake of support, the hug that spoke what words couldn't say, the presence as opposed to the absence; these surely are strange times"
Click here to read the full article from Father Pierce which includes a beautiful piece of poetry which he himself has penned.
Prayers and Reflections for the month of November
Prayers of Intercession
On this feast of All Saints,
we pray that the Church may be blessed
by the example of goodness and holiness in its members,
from the most hidden to the most prominent.
Lord, hear us
The saints celebrate the victory of Christ
over everything that oppresses God's children.
May our communities be places where believers work confidently
for that victory.
Lord, hear us
We pray for those who are in mourning.
May they find real hope in the conviction
that God is the God of the living,
and that to him all people are alive.
Lord, hear us
May our faithful department
find a merciful judge and cleansing of their sins.
Lord, hear us
We pray for all young people in the parish who have died. We remember especially those who have died suddenly, those who have died in tragedy. May the Lord bring them to a place of light, peace and healing.
Lord, hear us.
We pray for places in our world where people face death on a daily basis because of violence, hunger, war, or disease. We pray for an end to violence and injustice in our world and that God may turn our hearts in compassion towards those in need.
Lord, hear us.
For all the faithful departed,
especially those who suffered during their life
on account of their faith and their integrity.
May their courage be rewarded
and may they intercede for us from heaven.
Lord, hear us
For those who have died.
May they hear the Lord inviting them
to enter into the joy of their Master.
Lord, hear us
Lord God,
whose days are without end and whose mercies beyond counting,
keep us mindful that life is short and the hour of death unknown.
Let your Spirit guide our days on earth in the ways of holiness and justice,
that we may serve you in union with the whole Church,
sure in faith, strong in hope, perfect in love.
And when our earthly journey is ended,
lead us rejoicing into your kingdom,
where you live forever and ever.
AMEN
(Order of Christian Funerals, 332)
A Prayer of Remembrance
God, thank you for the special people in our lives whom we are remembering in a special way during the month of November. We thank you for being a compassionate God who walks with us
in the our dark moments of grief and loneliness. We are thankful for all who continue to love and
support us through our grief. Lord, continue to be a light for us, giving us hope, direction and
courage. May we now live our lives treasuring the memories of those special people we have known
and loved and help us to bring light and hope to others. We make this prayer through Christ our
Lord, Amen.
Prayer for the Dead
Into your hands, O Lord,
We humbly entrust our brothers and sisters.
In this life you embraced them with your tender love;
deliver them now from every evil
and bid them enter eternal rest.
The old order has passed away:
welcome them into paradise,
where there will be no sorrow,
no weeping nor pain,
but fullness of peace and joy
with your Son and the Holy Spirit
forever and ever.
Amen
Prayer for a Father who has died
I thank you God for my father. He was
my inspiration, my strength, my teacher
and I loved him dearly.
Grant him peace and happiness
in your kingdom.
Amen
Prayer for a Mother who has died
I commit my mother to your care, O Lord.
She was my inspiration, my carer, a dear friend,
and a constant source of live and affection.
Grant to her Lord, eternal rest.
Amen
A Blessing Prayer for Graves
Let us pray:
God of Abraham and God of Moses, Lord of the living, who visited Jesus within his grave And filled him with the fullness of eternal life, Hear our prayers this day as we come to this cemetery, this holy place of burial. With reverence, we visit here where the sacred bodies of our loved ones have been placed in the womb of the earth to await the final day of glory. We pause in silence to be united with our loved one.
Lord, we have come on this pilgrimage of prayer in order to keep the flame of love alive in our hearts. As we bless these graves with our prayers and with holy water and incense, we give thanks that the names of these loved ones buried here have been written for all ages in the palm of your hand. May the breath of creation that surrounds these holy graves – the trees, the grass, the birds, the wind, and the sun – join us today in prayer. May this pilgrimage remind us of what our faith teaches us – that our souls do not die, but rather are transformed into new life through Christ. Holy are these resting places. Holy is this earth that has held in gentle embrace the bodies of all who are buried in this cemetery.
Lord, with reverence, we leave our prayers and our love at these graves, and we remember in faith the reality of that earthen Easter morning when all the holy dead shall rise in the splendour of your glory. Until that day, eternal rest be to those whose graves we visit today, and to all the holy dead. We place this prayer before you through Christ our Lord.
Amen.
The Blessing of St. Francis of Assisi
The Lord bless you
and keep you.
May He show His face
to you and have mercy.
May He turn His countenance
to you and give you peace.
The Lord bless you!
Enter
slowly,
and with reverence,
the golden
autumnal woods,
and then,
stopping
beneath
its vaulted
sylvan sanctuary,
allow its
burnished beauty
of
bronzed leaf,
polished nut,
and,
shining fruit
to reflect deep
eternal richness
of
Divine generosity,
always
gifting grace
in each moment,
of Heaven's harvesting,
to breathe its blessing
through you.
Then,
accepting its
annual invitation to
stillness,
you will
hear
the slowing
heartbeat of the earth
as she moves towards
her
yearned for yearly
time
of
maternal meditation,
and feel her
ever deepening breaths
appear as
mother-mists,
exhaled
between branches
slowly releasing
leaf's attachment
into wind's wildness,
beckoning you
into the stillness
that bears
always
the slow fruiting
berry
of
prayer,
whose sweet taste
is
wisdom.
by Brother Richard Hendrick Ofm Cap
Love Lives On
Those we love remain with us
for love itself lives on,
and cherished memories never fade
because a loved one's gone.
Those we love can never be
more than a thought apart,
far as long as there is memory,
they'll live on in the heart.
Remember
Remember those who kept the Faith
Who always turned to pray,
who showed the Love of Jesus
In their lives from day to day.
Remember those this special time,
Who live with God above,
All Saints, all Souls and all our own
Who live with God in Love.
Amen
Liturgical Notes on the month of November
Belief in the resurrection of the dead is an essential part of Christian revelation. It implies a particular understanding of the ineluctable mystery of death. Death is the end of our earthly life, but 'not of our existence' (St Ambrose) since the soul is immortal. 'Our lives are measured by time, in the course of which we change, grow old and, as with all living beings on earth, death seems like the normal end of life' (CCC, 1007). Seen from the perspective of the faith, 'death is the end of man's earthly pilgrimage, of the time of grace and mercy which God offers him so as to work out his earthly life in keeping with the divine plan, and to decide his ultimate destiny' (CCC, 1013).
Death is the passage to the fullness of true life. Death is the prolongation, in a new way, of life as the liturgy says: 'For your faithful, O Lord, life has changed not ended; while our earthly dwelling is destroyed, a new and eternal dwelling is prepared for us in Heaven' (Missal, Preface). The death of a Christian is an event of grace, having as it does, a positive value and significance in Christ and through Christ. According to the faith of the Church, 'to die in Christ' begins at baptism. In Baptism, the Lord's disciples sacramentally die in Christ so as to live a new life.
From the earliest days of the Christian religion the Church has honoured with great respect the memory of the dead. The whole month of November is an interesting time of prayer in the Church as it is filled with many important feast days and it includes the days on which we commemorate all the saints and all the faithful departed.
1 November – All Saints Day
All Saints' Day, also known as the Feast or Solemnity of All Saints, is celebrated every year on 1 November. On this day, which is a Holy Day of Obligation, we honour all of the Saints and ask them to pray for us.
2 November – All Souls' Day
All Souls' Day or more formally 'the Commemoration of the Faithful Departed' is a solemn celebration commemorating all of those who have died and is observed on 2 November.
'Indeed, the Church in its pilgrim members, from the very earliest days of the Christian religion, has honoured with great respect the memory of the dead; and "because it is a holy and a wholesome thought to pray for the dead that they may be loosed from their sins" (2 Mac 12, 46) she offers her suffrages for them. These consist, primarily, in the celebration of the holy sacrifice of the Eucharist, mercy, and the application of indulgences to the souls of the faithful departed' (Directory on Popular Piety and the Liturgy, 251).
Vatican announces changes to Plenary Indulgence for the Month of November
The Apostolic Penitentiary has announced modifications to the Plenary Indulgence for the deceased during the month of November by the special mandate of His Holiness Pope Francis.
Plenary Indulgence during month of November
Due to the coronavirus pandemic and the need to avoid large groups from forming where prohibited, the Plenary Indulgence applicable to thedeceased by those who visit a cemetery has been extended beyond the normal dates of 1 to 8 November. This year, the indulgence can be obtained by anyone who visits a cemetery, even if only mentally, on any day in November, and devoutly prays for the faithful departed.
Plenary Indulgence for Feast of All Souls' Day
Regarding the Plenary Indulgence attached to All Souls' Day, 2 November, this year, it can be obtained not only on the preceding or succeeding Sunday, or on the actual Feast day, but on any other day of the month chosen by each member of the faithful. In this case, the indulgence is obtained by "devoutly visiting a church or an oratory", along with the recitation of the Our Father and the Creed, and the other requirements associated with a Plenary Indulgence.
The homebound
For anyone who cannot leave their home for various reasons, including anti-Covid restrictions, they too can obtain the Plenary Indulgence by "uniting themselves spiritually to other members of the faithful". In this case, the condition of being "completely detached from sin" and the intention of completing the other requirements for obtaining a Plenary Indulgence remain. These conditions are Sacramental Confession, reception of Holy Communion and a prayer for the Holy Father's intentions.
The Decree suggests that such prayer take place before an "image of Jesus or the Blessed Virgin Mary". Among the various prayers that are recommended are "prayers for the deceased, Morning or Evening Prayer from the Office of the Dead, the Rosary, the Divine Mercy Chaplet, meditating on various Gospel passages proposed for the liturgy of the Dead, or completing a work of mercy by offering to God the suffering and discomforts of one's own life".
Invitation to Priests
Directing a word to priests, the Decree asks that they make the Sacrament of Confession generously available and that they make Holy Communion available to the sick. In addition, all priests are invited to offer three Masses on All Souls' Day.
ENDS