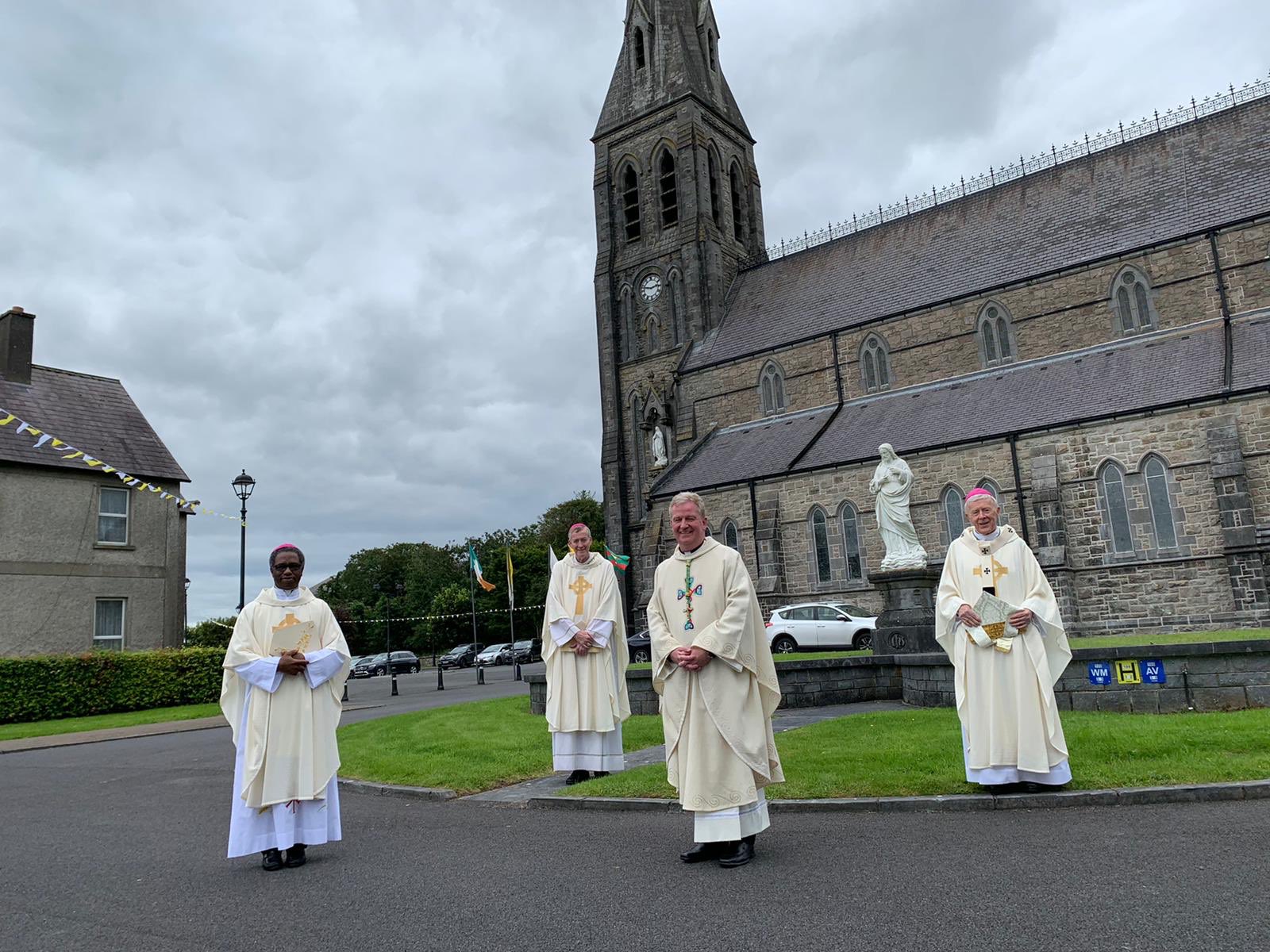 Media information for the Episcopal Ordination of Father Paul Dempsey as Bishop of Achonry
Contents:
Background
Introductory remarks of Archbishop Michael Neary, Archbishop of Tuam
Liturgy
Address of Bishop Paul Dempsey
Bishop-elect Paul Dempsey's Episcopal Ordination will take place at 3.00pm today in the Cathedral of the Annunciation and Saint Nathy, Ballaghaderreen, Co Roscommon, Diocese of Achonry. Archbishop Michael Neary of Tuam will be the Principal Consecrator, and His Excellency Archbishop Jude Thaddeus Okolo, Apostolic Nuncio to Ireland, and Bishop Denis Nulty of Kildare & Leighlin, will be the co-consecrators. Father Vincent Sherlock, Parish Priest of Kilmovee, Co Mayo, in the Diocese of Achonry, will preach the homily during the Ordination Mass. Please see below background information on the Bishop's Coat of Arms, Bishop's Motto, detailed information on the liturgy, including the homily, and further information on the Diocese of Achonry.
Bishop's Coat of Arms
In the right side of the shield (in heraldic shield, right and left are exchanged from the observer point of view since we have to consider the right and the left of the soldier who, in ancient times, holds his own shield) we find the Saint Brigid's Cross, associated with Brigid of Kildare, reminding us that Bishop-Elect Dempsey served as priest in Kildare & Leighlin Diocese.
The shell is the well-known symbol of the Pilgrim. The Bishop leads the earthly pilgrimage of the flock entrusted to his pastoral care as fellow pilgrims towards the homeland of heaven.
The lion symbolises strength and courage. The sword in classical iconography of the Roman Catholic Church is the symbol of Saint Paul. These two symbols, the lion and the sword, appear on the Dempsey family Coat of Arms.
The silver (Argent) is the colour of transparency, truth and justice, fundamental qualities for the Bishop's pastoral service.
The green (Sinople) in heraldry signifies abundance, joy, hope and loyalty in love. It is associated with St. Patrick and is the national colour of Ireland.
The red, is the colour of love, of blood, a reminder of the infinite love of the Father who sent the Son to shed His blood for us on the cross in a profound act of love.
Bishop's motto – Duc in Altum – Put out into the deep (Luke 5:4)
For his motto Bishop-Elect Dempsey has chosen "Duc in Altum," coming from the miraculous fishing event, narrated in Luke's Gospel, where Jesus invites Simon, disappointed after a poor night's fishing on Lake Gennesaret, to try again; "Put out into the deep, and let down the nets for a catch."- "Duc in altum et laxate retia vestra in capturam". Simon is completely overcome by the catch they make. Jesus then invites Simon, despite his unworthiness, to follow him and to become a "fisher of men." Simon "left everything and followed Him…"
Life and Ministry
Father Paul Dempsey was born in Carlow Town on 20 April 1971.
In 1978 his family moved to Athy, Co Kildare where he was educated by the Christian Brothers at primary and secondary level. In 1989, he began his studies for the priesthood and was ordained in the Cathedral of the Assumption, Carlow by Bishop Laurence Ryan, on 6 July 1997.
Father Paul's first appointment was as curate in Clane & Rathcoffey Parish, Co Kildare. In 2004 he moved to Kildare Town as curate and was also appointed Youth Director and Vocations Director for the diocese by Bishop Jim Moriarty.
In 2008, he pursued further studies in the Milltown Institute, Dublin where he completed an Honours Master's Degree in Theology in the area of Faith & Culture. His thesis was entitled "The Contemporary Irish Catholic Church – A Church in Crisis or in Question?"
On completion of his studies, Father Paul took up his appointment as curate in the parish cluster of Naas, Sallins and Two-Mile-House in 2009. In August, 2014, he was appointed to Newbridge Parish and also as Vicar Forane for the Kildare & Leighlin North Deanery consisting of 17 parishes.
On 1 September 2015, he was appointed Parish Priest of Newbridge and Administrator of Caragh and Prosperous Parishes.
On 27 January 2020, he was appointed Bishop of Achonry by His Holiness, Pope Francis.
Today, Sunday 30 August 2020, he is to be ordained as Bishop of Achonry. He is wished every blessing for this new chapter of his ministry and is assured of the welcome and support of the people, religious and priests of our diocese.
Ad multos annos!
Introductory remarks of Archbishop Michael Neary, Archbishop of Tuam
Joining with the welcome already extended to you it is my privilege to extend a Céad Míle Fáilte to you all on this wonderful occasion. I reserve a very special welcome to His Excellency, Archbishop Jude Thaddeus Okolo, our Apostolic Nuncio, representing the Holy Father. Welcome to Fr. Paul Dempsey and members of his family, to the Diocesan Administrator, Fr. Dermot Meehan – and I avail of the opportunity to acknowledge and express our gratitude to him for the great work that he has done since the transfer of Bishop Brendan Kelly to Galway. Welcome to the people, religious and priests of the Diocese of Achonry and I warmly congratulate you on the Ordination of your new bishop. Welcome to Bishop Denis Nulty, to my brother Bishops from the Tuam Metropolitan Province, to Canon Andrea Wills, representing Bishop Patrick Rooke of the Church of Ireland and all who join us for this sacred occasion on the webcam.
Two days ago we celebrated the feast of St. Augustine. On the occasion of his Episcopal Ordination, Saint Augustine said: "I am fearful of what I am for you, but I draw strength for what I am with you. For you I am a Bishop, and with you I am a Christian. The former designates an office I have received, the latter the foundation of salvation."
In the office of Bishop, St. Augustine placed huge importance on being included in the prayers of the people. His comments provide a beautiful portrait of pastoral ministry. I have no doubt but that our new bishop, in keeping with his name, Paul, will invest his ministry with responsibility, love, service and self-giving. In a spirit of thanksgiving, recognising the way in which God continues to care for and bless us we turn to him now in our Eucharist and ask him to bless Fr. Paul and all those to whom he will minister as a Bishop. We ask God's forgiveness for times when we have been guilty of ingratitude towards the Lord and towards one another.
Ministers of The Word
Kevin Dempsey
Deirdre Dempsey
Presentation of the Bishop-Elect
Father Dermot Meehan, Diocesan Administrator
Homilist
Father Vincent Sherlock
Assistant Priests
Father Liam Morgan and Father Eugen Dragos Tamas
Deacons
Reverend Martin Lynch
Reverend Kevin Flynn
Commentary
Father Tomás Surlis
Master of Ceremonies
Father Martin Henry
Music
Ballaghaderreen Cathedral Choir
Swinford Parish Choir
Director: Maria Moynihan
Organist: Antoinette Byrne
Father James McDonagh and Gráinne Horan
Since no one stands alone, we realise that our bishop-elect is here today because of the love and generosity of many people; firstly his family whom we remember today with gratitude. We pray God's rest for his parents, Tony and Berry, and we remember especially his sisters Angela and Bernadette who unfortunately cannot join us due to the travel restrictions imposed by Covid-19. We are pleased to welcome his brother Tony and family, his relations and friends, and those representing his native diocese of Kildare and Leighlin.
We stand together, we pray together and we rejoice together.
Introductory Rites
After the entrance procession Archbishop Neary will address some words of welcome and call us to pray.
Opening Prayer
Archbishop Neary: Lord our God, you have chosen your servant Paul to be a shepherd of your flock in the tradition of the apostles. Give him a spirit of courage and right judgement, a spirit of knowledge and love. By governing with fidelity those entrusted to his care may he build your Church as a sign of salvation for the world. We ask this through our Lord Jesus Christ, your Son, who lives and reigns with you and the Holy Spirit, one God, for ever and ever. Amen.
Liturgy of The Word
A reading from the Prophet Jeremiah
You have seduced me, Lord, and I have let myself be seduced;
you have overpowered me: you were the stronger.
I am a daily laughing-stock,
everybody's butt.
Each time I speak the word, I have to howl
and proclaim: 'Violence and ruin!'
The word of the Lord has meant for me
insult, derision, all day long.
I used to say, 'I will not think about him,
I will not speak in his name any more.'
Then there seemed to be a fire burning in my heart,
imprisoned in my bones.
The effort to restrain it wearied me,
I could not bear it.
The word of The Lord. R. Thanks be to God.
The Rite of Ordination
Bishop-elect Paul is led by his assisting priests to the chair of Archbishop Neary before whom he makes a sign of reverence. The choir now leads the congregation in singing Veni Creator Spiritus. This is one of the most widely used hymns in the Church, and is attributed to Rabanus Maurus (776-856).
Responsorial Psalm Oh God you are my God
A reading from the letter of Saint Paul to The Romans
Think of God's mercy, my brothers, and worship him, I beg you, in a way that is worthy of thinking beings, by offering your living bodies as a holy sacrifice, truly pleasing to God. Do not model yourselves on the behaviour of the world around you, but let your behaviour change, modelled by your new mind. This is the only way to discover the will of God and know what is good, what it is that God wants, what is the perfect thing to do.
The word of The Lord. R. Thanks be to God.
Gospel Acclamation
Alleluia (Fintan O'Carroll)
Gospel proclaimed by Deacon Kevin Flynn
A reading from the Holy Gospel according to Matthew
Jesus began to make it clear to his disciples that he was destined to go to Jerusalem and suffer grievously at the hands of the elders and chief priests and scribes, to be put to death and to be raised up on the third day. Then, taking him aside, Peter started to remonstrate with him. 'Heaven preserve you, Lord;' he said 'this must not happen to you.' But he turned and said to Peter, 'Get behind me, Satan! You are an obstacle in my path, because the way you think is not God's way but man's.' Then Jesus said to his disciples, 'If anyone wants to be a follower of mine, let him renounce himself and take up his cross and follow me. For anyone who wants to save his life will lose it; but anyone who loses his life for my sake will find it. What, then, will a man gain if he wins the whole world and ruins his life? Or what has a man to offer in exchange for his life? 'For the Son of Man is going to come in the glory of his Father with his angels, and, when he does, he will reward each one according to his behaviour.'
The Gospel of The Lord. R. Praise to you Lord Jesus Christ.
Veni Creator Spiritus
Veni Creátor Spiritus,
Mentes tuórum vísita;
Imple supérna grátia
Quae tu creásti péctora.
Qui díceris Paráclitus,
Altíssimi, donum Dei
Fons vivus, ignis cáritas,
Et spiritális únctio.
Tu septifórmis múnere,
Digitus paternae dexterae
Tu rite promíssum Patris,
Sermóne ditans gúttura.
Accénde lumen sénsibus,
Infúnde amórem córdibus,
Infírma nostri córporis
Virtúte firmans pérpeti.
Hostem repéllas lóngius,
pacémque dones prótinus;
Ductóre sic te praévio,
Vitémus omne nóxium.
Per te sciámus da Patrem,
Noscámus atque Fílium,
Te utriúsque Spíritum
Credámus omni témpore.
Deo Patri sit gloria,
et Filio, qui moruis
surrexit, ac Paraclito
in saeculorum saecula.
(Amen.)
Presentation of the Bishop-elect
Father Dermot Meehan, the Diocesan Administrator of the Diocese of Achonry, addresses Archbishop Neary:
Father Meehan: Most Reverend Father, the Church of Achonry asks you to ordain this priest, Paul Dempsey, for service as bishop.
Archbishop Neary: Have you a mandate from the Holy See?
Father Meehan: We have.
Archbishop Neary: Let it be read.
Everyone sits while the Apostolic Mandate is read by Father Dermot Meehan. After the Apostolic Mandate has been read, all present say:
Thanks be to God.
Homily preached by Father Vincent Sherlock
The story goes back many years and finds us in the sacristy of a church in this diocese, in the presence of a priest, long since gone to his Eternal Reward. There is a funeral taking place, the lady who has died is the mother of a priest and the bishop and many concelebrants have packed the small sacristy to overflowing. A young Altar Server, realising there is more happening here than on the normal day, edges his way through the crowd of priests, finds his own and tugs at his Alb: "When do I ring the bell Father?" he asks in hushed tone. He feels this is a day when things need to be done right. The parish priest smiles, looks at him and says, "Anytime you feel like it!" I think that comes under the heading "No Liturgical Fuss"!!
Our liturgy today may be simple in style, taking place in the absence of many who Paul and indeed our diocese would have wanted here but remains nonetheless deeply profound. At day's end, we will have a new bishop in Achonry Diocese, and this is for all of us, a cause of great joy.
Paul Dempsey, who will be among the youngest of our priests, takes up a calling today that had its stirrings in his Carlow home. Among the photos in the ordination booklet today there are two that come to mind, one is clearly visible and the second hides itself behind some text. The clear picture is of a family celebrating the baptism of the youngest child, with one of his sisters wearing her First Holy Communion Dress. No doubt it seemed the right thing to do on such a happy day and I like to think it reminded her of her own happy day celebrated sometime earlier. This is a central photo in the story that unfolds itself here this afternoon, for the characters in that photo and the sacrament it recalls have made Paul Dempsey the man he is today. The man who was able to say yes last December when Archbishop Okolo spoke to him of Pope Francis' decision that he should be the new Bishop of Achonry. There are only two of the characters in that photo here with us today, Paul and his brother Tony. Sadly, his parents have gone to reap the rewards of lives well lived and COVID-19 made travel here today a journey too far for his sisters Bernadette and Angela. Though not physically with us, we know that they, like the many who wished they could be here with you Paul, are filled with pride, immersed in love and praying you every blessing. We join with them.
Coming to us from Newbridge, might we take that very name to locate you in the faith journey of our diocese. You are and will be a NEW BRIDGE – a bridge between what has been and what is to come, a bridge between what has been lost and what is to be found, a bridge between Heaven and Earth, between God and His people. The bridge makes travel possible, the NEW BRIDGE puts shape, puts its own stamp on the journey and we are thankful for the roads you will travel within our diocese and beyond, to help us find and know the way, the truth and the life.
The Monaghan poet, Patrick Kavanagh, wrote a poem one time for a neighbour who was being ordained a priest. He called it "TO THE MAN AFTER THE HARROW" and it is a wonderful poem, a man's gift, born of his own talent, to a neighbour who is taking a significant step in life. "Now leave the check reins slack", he tells him, "for the seed is flying far today". There is something deep being said here to a young man who could run the risk of being rigid, fearful, anxious – wanting to make no mistake. The slackness of the check reins, far from leaving the horse to wander, encourages the horse to give of its best, to walk a straight path and allow far flung seeds to embed themselves in the stony grey soil …. Paul, I hear Kavanagh say the same to you. Be yourself Paul, be relaxed and encourage others through gentle witness. No need for a tight grip, since you are walking in the Gospel message, with your people, walking for your people, the journey and the work will continue.
Kavanagh also tells the neighbour to "Forget the men on Brady's Hill,/ forget what Brady's boy may say;/ for destiny will not fulfil/ unless you let the harrow play". He knew what might hold his neighbour back, fear of what people might say, and Kavanagh felt that was not a good starting point. We all have that fear, the fear of people's reactions, fear that our words might not be carefully enough stitched together, fear of ridicule. To the young priest, his poet-neighbour, says don't worry about what people say, be the priest you need to be – be the priest people need you to be and as long as you are speaking from a place of rootedness, your words are only intended to build up, to take us across the NEW BRIDGE. Our wish for you today, is that those words you have spoken through your twenty-three years of priesthood, those healing and meaningful words, will flow into and out of your words and actions as Bishop of Achonry.
The other picture, the one I said was hiding behind words in the booklet is of a young boy on a bicycle. Paul Dempsey, do you remember who taught you to cycle? Was it your father or your mother? Was it Tony or one of your sisters? Was it a friend in Carlow? Do you remember someone walking behind you, holding the carrier as you tried to stay upright? Do you remember that day when, looking back you realised you were on your own, cycling and that you had found your balance? The open road was yours and life would never be quite the same again. Of course you were not on your own, for the hands that let go of the carrier, reached out to you, the eyes watched out for you and the one left standing delighted that you had found your way. May the boy behind the words on a page of today's booklet, be found in the man who will find words today and answer "I am", "I am", "I am" …. until he says "I am, with the help of God."
I mentioned Kavanagh earlier and his poem to a young priest about to be ordained. There is another of his poems, not written to a young priest but about an old priest. It is entitled "Father Matt" and there is an incredible description of the priest and his place in the parish. "He was part of the place,/natural as a round stone in a grass field;/he could walk through a cattle fair/and the people would only notice his odd spirit there". Is it just me, or is that not perfection? The priest in the parish, as "natural as a round stone in a grass field" – natural, that has to be the key, "part of the place", that is the call. Our diocese has its share of grass fields with stones in their corners and our diocese needs priests and a bishop to be a natural part of the place. Working with you Paul, as priests, religious and laity, may HIS gentle spirit be known through ours.
Today's Gospel speaks of picking up the Cross and following Christ. Today's ceremony will see you presented with symbols of your office, among them, the cross you hang around your neck and the crozier that speaks to the shepherd in you. Many years ago, I went to St Mary's in Sligo to pay my respects to Bishop Dominic Conway who had died. As I prayed at his coffin, I noticed a crozier and mitre left close by. Later that day, I attended the funeral of a neighbour from home – a man of this parish, a cattle dealer called Eugene Casey. Beside his coffin were his cattle stick and an old hat. I could not help but think that both men had sought to make a difference in life. The hat they wore and the stick they carried may have had different names, but they called both men to be hard workers, to do their best and to make a difference. We pray that you will find that strength today. You have already found it in saying "yes" to this moment, but may you find it afresh and find it often that you can make a difference.
Launch out into the deep, "DUC IN ALTUM", there are fish there – maybe we cannot see them with the naked eye, maybe they are swimming near the bottom or hiding in the rushes but they are there. So too, people of faith, people trying to swim and often against the tide – people caught up in the rushes, drifting and uncertain. They need to hear the casting of the line, the lowering of the net and above all the patient waiting of the fisherman, who knows the waters, the flow of the stream and the NEW BRIDGE to cross it.
Finally, let us go back to that sacristy, to the young boy and the priest and the question: "When do I ring the bell?" Paul, chances are you have questions today too, questions rooted in the answer you will give, the answer you have given but questions, nonetheless. "When can I ask them to help me?" "When can I seek their support?" "When can I ask for their prayers?" "When can I approach their door?" "When can I ring the bell?" The answer …….
"Anytime you feel like it – anytime you need to."
May God who has begun the good work in you, bring it to fulfilment.
Examination of the Bishop-elect
The bishop-elect then rises and stands in front of Archbishop Neary who questions him:
Archbishop Neary: An age-old custom of the Fathers decrees that a bishop-elect is to be questioned before the people on his resolve to uphold the faith and to discharge his duties faithfully.
Archbishop Neary: My brother, are you resolved by the grace of the Holy Spirit to discharge to the end of your life the office the apostles entrusted to us, which we now pass on to you by the laying of hands?
Father Paul: I am.
Archbishop Neary: Are you resolved to be faithful and constant in proclaiming the Gospel of Christ?
Father Paul: I am.
Archbishop Neary: Are you resolved to maintain the deposit of faith, entire and incorrupt, as handed down by the apostles and professed by the Church everywhere and at all times?
Father Paul: I am.
Archbishop Neary: Are you resolved to build up the Church as the body of Christ and to remain united to it within the order of bishops under the authority of the successor of the apostle Peter?
Father Paul: I am.
Archbishop Neary: Are you resolved to be faithful in your obedience to the successor of the apostle Peter?
Father Paul: I am.
Archbishop Neary: Are you resolved as a devoted father to sustain the people of God and to guide them in the way of salvation in co-operation with the priests and deacons who share your ministry?
Father Paul: I am.
Archbishop Neary: Are you resolved to show kindness and compassion in the name of the Lord to the poor and to strangers and to all who are in need?
Father Paul: I am.
Archbishop Neary: Are you resolved as a good shepherd to seek out the sheep who stray and to gather them into the fold of the Lord?
Father Paul: I am.
Archbishop Neary: Are you resolved to pray for the people of God without ceasing, and to carry out the duties of one who has the fullness of the priesthood so as to afford no grounds for reproach?
Father Paul: I am, with the help of God.
Archbishop Neary: May God who has begun the good work in you bring it to fulfilment.
Invitation to Prayer
All stand. Archbishop Neary invites the people to pray.
Archbishop Neary: My dear people, let us pray that almighty God in his goodness will pour out his grace upon the man whom he has chosen to provide for the needs of the Church.
Father Paul prostrates before the Lord. we call on the saint in prayer to ask God's blessing on his ministry as bishop. (All kneel)
Litany of The Saints
Lord, have mercy Lord, have mercy
Christ, have mercy Christ, have mercy
Lord, have mercy Lord, have mercy
Holy Mary, Mother of God Pray for us
Saint Michael Pray for us
Holy angels of God Pray for us
St John the Baptist Pray for us
St Joseph Pray for us
St Peter and St Paul Pray for us
St Andrew Pray for us
St James Pray for us
St John Pray for us
St Mary Magdalene Pray for us
St Stephen Pray for us
St Ignatius Pray for us
St Lawrence Pray for us
St Perpetua and St Felicity Pray for us
St Agnes Pray for us
St Gregory Pray for us
St Augustine Pray for us
St Athanasius Pray for us
St Basil Pray for us
St Martin Pray for us
St Benedict Pray for us
St Francis and St Dominic Pray for us
St Francis Xavier Pray for us
St John Vianney Pray for us
St Catherine Pray for us
St Teresa Pray for us
St Vincent dePaul Pray for us
St Patrick Pray for us
St Brigid Pray for us
St Nathy Pray for us
St Attracta Pray for us
St John Paul II Pray for us
St Conleth Pray for us
St Eustace Pray for us
St Kieran Pray for us
St Fechin Pray for us
All holy men and women Pray for us
Lord be merciful Lord, save your people
From all evil Lord, save your people
From every sin Lord, save your people
From everlasting death Lord, save your people
By your coming as man Lord, save your people
By your death and rising
to new life Lord, save your people
By your gift of the
Holy Spirit Lord, save your people
Be merciful to us sinners Lord, hear our prayer
Guide and protect your holy
church Lord, hear our prayer
Keep the pope and all the
clergy in faithful
service to your
church Lord, hear our prayer
Bring all peoples together
in trust and peace Lord, hear our prayer
Strengthen us in your service Lord, hear our prayer
Bless this chosen man Lord, hear our prayer
Bless this chosen man and
make him holy Lord, hear our prayer
Bless this chosen man and
make him holy and
consecrate him for
his sacred duties Lord, hear our prayer
Jesus, son of the Living God Lord, hear our prayer
Christ, hear us Christ, hear us
Lord Jesus, hear our prayer Lord Jesus, hear our prayer.
After the Litany, Archbishop Neary alone stands and prays: Lord God, listen to our prayers. Send this, your servant, the fullness of priestly grace and fill him with your powerful blessing. Through Christ our Lord.
Laying on of hands
It is by the laying on of hands that the Sacrament of Orders is conferred. The bishop-elect goes to Archbishop Neary and kneels before him. Then Archbishop Neary lays his hands on the head of the bishop-elect, in silence. After him, all the other bishops present do the same.
Book of the Gospels
Archbishop Neary places an open Book of the Gospels upon the head of the bishop-elect; the deacons, standing at either side of the bishop-elect, hold the Book of the Gospels above his head until the prayer of consecration is completed.
Prayer of Consecration
Archbishop Neary with hands extended over the bishop-elect says:
God the Father of our Lord Jesus Christ, Father of all mercies and God of all consolation, you dwell in heaven, yet look with compassion on all that is humble. You know all things before they come to be; by your gracious word you have established the plan of your Church. From the beginning you chose the descendants of Abraham to be your holy nation. You established rulers and priests, and did not leave your sanctuary without ministers to serve you. From the creation of the world you have been pleased to be glorified by those whom you have chosen.
The following part of the prayer is recited by all the consecrating bishops, with hands joined, saying:
So now pour out upon this chosen one that power which is from you, the governing Spirit whom you gave to your beloved Son, Jesus Christ, the Spirit given by him to the holy apostles, who founded the Church in every place to be your temple for the unceasing glory and praise of your name.
Archbishop Neary continues alone:
Father, you know all hearts. You have chosen your servant for the office of bishop. May he be a shepherd to your holy flock, and a high priest blameless in your sight, ministering to you night and day; may he always gain the blessing of your favour and offer the gifts of your holy Church. Through the Spirit who gives the grace of high priesthood grant him the power to forgive sins as you have commanded, to assign ministries as you have decreed, and to loose every bond by the authority which you gave to your apostles. May he be pleasing to you by his gentleness and purity of heart, presenting a fragrant offering to you, through Jesus Christ, your Son, through whom glory and power and honour are yours with the Holy Spirit in your holy Church, now and forever.
Anointing with Chrism
Archbishop Neary takes the Holy oil of Chrism and anoints the head of the new Bishop saying:
God has brought you to share the high priesthood of Christ. May he pour out on you the oil of mystical anointing and enrich you with spiritual blessings.
Presentation of the Book of the Gospels
Archbishop Neary hands the Book of the Gospels to the new bishop saying:
Receive the Gospel and preach the word of God with unfailing patience and sound teaching.
Investiture with Ring, Mitre and Crozier
Members of the Dempsey Family now bring to Archbishop Neary the symbols of Episcopal office.
Archbishop Neary places the ring on the right hand of the new bishop saying:
Take this ring, the seal of your fidelity. With faith and love protect the bride of God, his holy Church.
In silence Archbishop Neary places the mitre on the head of the new bishop.
Lastly, Archbishop Neary hands the pastoral staff to the new bishop saying:
Take this staff as a sign of your pastoral office: keep watch over the whole flock in which the Holy Spirit has anointed you to shepherd the Church of God.
Seating of the Bishop
Archbishop Neary invites Bishop Dempsey, the Bishop of Achonry, to occupy his Chair in the Cathedral.
During this time a piece of music, specially commissioned by the Diocese of Achonry and composed by Ronan McDonagh, a native of Kiltimagh parish, is sung. The refrain is a traditional Irish prayer and the verses are taken from Psalm 99.
Refrain: Is céim go brách linn, is ábhar sócháis agus réim ghairdis dár sláinte gur tháinig teachtaire Chríost in ár ndháil.
It is a great honour for us and a reason for rejoicing and a cause of joy for our salvation that Christ's messenger has come into our assembly.
Liturgy of The Eucharist
Bishop Dempsey incenses the gifts and the altar. Then all stand as the concelebrants and congregation are incensed.
Bishop Dempsey: Pray, brothers and sisters, that my sacrifice and yours may be acceptable to God, the almighty Father.
All: May the Lord accept the sacrifice at your hands for the praise and glory of his name, for our good and the good of all his holy Church.
Prayer over the Gifts
Bishop Dempsey: Lord, accept these gifts which we offer on this day of my ordination. Enrich me with the gifts and virtues of a true apostle for the good of your people. We ask this through Christ our Lord.
Amen.
Eucharistic Prayer
Bishop: The Lord be with you.
All: And with your spirit
Bishop: Lift up your hearts.
All: We lift them up to the Lord.
Bishop: Let us give thanks to the Lord our God.
All: It is right and just.
Bishop: Father, all powerful and ever-living God, we do well always and everywhere to give you thanks. You founded your Church on the apostles to stand firm forever as the sign on earth of your infinite holiness and as the living gospel for all peoples to hear. With steadfast love we sing your unending praise: we join with the hosts of Heaven in their triumphant song:
Sanctus (Glendalough Mass – Liam Lawton)
Communion Rite
Ár nAthair,
atá ar neamh,
go naofar d'ainm,
go dtaga do ríocht,
go ndéantar do thoil ar an talamh,
mar a dhéantar ar neamh.
Ár n-arán laethúil tabhair dúinn inniu,
agus maith dúinn ár bhfiacha,
mar a mhaithimidne dár bhféichiúna féin,
agus ná lig sinn i gcathú, ach saor sinn ó olc.
Bishop Dempsey: Behold the Lamb of God, behold him who takes away the sins of the world. Blessed are those called to the supper of the Lamb.
All: Lord, I am not worthy that you should enter under my roof, but only say the word and my soul shall be healed.
Prayer of Spiritual Communion (with those joining us via livestream).
Communion Hymns
Take and Eat
I will be the vine
Post Communion Hymn
In Christ Alone
Prayer after Communion
Bishop Dempsey: Lord, by the power of these holy mysteries, increase in me, your unworthy servant, the gifts of wisdom and love. May I fulfil my pastoral ministry and receive the eternal rewards you promise to your faithful servants. Grant this through Christ our Lord.
Amen.
Bishop's Blessing
Bishop Dempsey is led by the consecrating bishops through the cathedral, and he blesses the congregation.
Instrumental Glendalough Theme (Liam Lawton)
Afterwards Bishop Dempsey, the Bishop of Achonry addresses the congregation.
Solemn Blessing
Bishop Dempsey: Lord God, you care for your people with kindness, you rule them with love. Give your Spirit of wisdom to the bishops you have made teachers and pastors. By advancing in holiness may the flock become the eternal joy of the shepherds. All: Amen.
Bishop Dempsy: Lord God, by your power you allot us the number of our days and the measure of our years. Look favourably upon the service we perform for you, and give true lasting peace in our time. All: Amen.
Bishop Dempsey: Lord God, now that you have raised me to the order of bishops, may I please you in the performance of my office. Unite the hearts of people and bishop, so that the shepherd may not be without the support of his flock, or the flock without the loving concern of its shepherd. All: Amen.
Bishop Dempsey: And may almighty God bless you, the Father, and the Son, and the Holy Spirit. All: Amen.
Deacon: Go in peace, glorifying the Lord by your life.
All: Thanks be to God.
Recessional Hymn
Easter Magnificat (Ronan McDonagh)
Address of Bishop Paul Dempsey
I remember my first visit to the Cathedral here, it was back on a chilly day in mid-January. Fr. Dermot Meehan, the Diocesan administrator, brought me along to see it. We parked at the front of the Cathedral and walked around by the side. As we walked around the first thing Fr. Dermot pointed out was where the bishops are buried! A sobering thought in case I got ahead of myself! In a similar vein, while reading the history of the diocese, I came across a bishop who came to Achonry, transferred from Killala Diocese, in the late 18th Century. It was observed that he was "very elderly, toothless and goutish…" I still have my full set of teeth and to the best of my knowledge, I don't suffer from gout, so I hope things are looking up!
Many years ago, I came across an important saying that went; "Gratefulness is the heartbeat of prayer." It is certainly the heartbeat of my prayer here today! I give thanks to God for my family, friends, Bishop Denis, the priests & people of Kildare and Leighlin Diocese and the parishes I had the privilege to serve in. I am truly grateful for your love and support.
To those who have become part of my story since December last; Archbishop Okolo, the Papal Nuncio, for his support and encouragement and for representing Pope Francis here today.
Archbishop Neary, for leading us in the Ordination and the bishops of the Western Province. They have been so welcoming to me and I look forward to working together over the coming years.
Rev. Andrea Wills, representing the Church of Ireland Community.
Fr. Dermot Meehan, who administrated the Diocese in the absence of a bishop. Fr. Dermot has put in many hours of hard work and effort. He has been a tremendous support to me and has offered his wisdom and guidance, which is very much appreciated.
There are so many people who have made today possible, people who have worked very hard to bring it all together in very difficult circumstances with the Covid situation;
Fr. Vincent Sherlock for his homily, as always words chosen beautifully, a gift he has and is so generous in sharing it.
Fr. Martin Henry, our Master of Ceremonies. Fr. Joe and Fr. Paul in the Cathedral and the team with them, our sacristan, stewards and all who worked hard in the background, your time and efforts are truly appreciated.
To our Choir and Organist, Antionette Byrne under the direction of Maria Moynihan. Our traditionalist musicians Grainne Horan and Fr. James McDonagh and also Fr. Tommy Towey. Thank you all for making our ceremony so prayerful and special.
Sr. Pat and Bernie at Bishop's House, thank you for all the extra work and effort over recent weeks and months.
Because of the various restrictions and lockdown, the importance of our virtual presence became all the more important for those watching in from home. We are socially distant, but spiritually close. For enabling this to happen I thank Fr. Bill Kemmy and the team at iCatholic and Brendan Nugent for his assistance.
To the Priests and people of Achonry Diocese, thank you for your warm welcome. I look forward to meeting you in the coming weeks and working together into the future.
The world has changed radically since we gathered here on the 27th of January for the announcement of my appointment. None of us could have imagined how the Pandemic, in the blink of an eye, could change our lives in such a profound way. Many lives have become fragmented, uncertain, somewhat fearful. It's all a bit wearisome.
However, I wonder does the present moment pose an opportunity for the Church? Perhaps in this moment of uncertainty we have the chance to look to something or someone greater than ourselves, someone who is there for us no matter what, someone who says to us in the midst of trials and tribulations; "Do not be afraid!" Perhaps this crisis nudges us to reflect upon our relationship with Christ and with one another.
When a priest is appointed bishop, he normally chooses a motto, it is something that gives a focus to his ministry. I chose "Duc in Altum," meaning "Put out into the deep." It is taken from Luke 5:4. In that passage, Peter and the disciples were wearisome, fed up, tired… perhaps a bit like ourselves at this time! But it is in that very moment Jesus appears to them on the shore. He sees things differently! He sees an opportunity in the moment. He invites them, challenges them to "Put out into the deep water…"
We're all familiar with the story and what happens, but we must be careful not to reduce this to Jesus simply asking them to try again! He wasn't telling them to try again, he was inviting them, asking them, challenging them to go farther out into unchartered waters. He wanted them to go beyond what was familiar and safe to a place they had never gone before! Not only that, dropping their nets in that deep place involved more work, more energy, more effort than staying by the safe shoreline.
Surely this must resonate with us in the Church today. Perhaps we have become satisfied with the shoreline, the place that is familiar and safe? Or do we hear that call of Christ in a renewed way today to the Church; "Go out, go out into the deep…"
We can all agree that this is not an easy task, we too like the disciples can find ourselves wearisome, fearful, tired. But it was in the midst of all these struggles, that very moment that Jesus appeared and called his disciples! He doesn't stand at the shoreline calling to us from a distance, he has climbed into the boat with us!
My vision, my hope, my dream for the Diocese of Achonry, is that we, the people, priests, religious and bishop, listen to that call of Christ in a renewed way today. Let's not be prisoners of mediocrity, but agents of hope, going out into the deep, the unchartered waters with, as Pope Francis put it, "The Joy of the Gospel!" Let us not be held back by the voices that say; "we have always done it this way." The disciples would still be sitting at the shoreline with empty nets if they listened to that voice!
In recent months we've become familiar with the saying; "We're in this together." As a diocese we're on this faith journey together, as a diocese we listen to and discern the call of Christ together, as a diocese we share the mission together. There will be challenges along the way, there will be difficult decisions to be made. But from the words of the Kerry poet Brendan Kennelly we draw hope and encouragement where he reminds us;
Even though we live in a world that dreams of ending
That always seems about to give in
Something that will not acknowledge conclusion
Insists that we forever begin.
So, from this sacred place, where the Christian story has been celebrated for generations… let us go out, go out to where Christ is calling us as community of disciples today…Let us begin!
ENDS
Notes for Editors:
The Chair
In ancient times, a chair was a sign of authority to teach. The bishop's chair is called a cathedra from the Latin word for chair and it is the presence of the bishop's cathedra in a church that makes it a cathedral. The bishop's chair, then is a symbol of the bishop's teaching office in the diocese. It is also a sign of the unity of believers in the faith that the bishop proclaims as shepherd of the Lord's flock.
The Ring
The bishop's ring is a symbol of the bishop's fidelity to and nuptial bond with the church, his spouse. The bishop's ring was first mentioned as an official part of the bishop's insignia in the early seventh century.
The Crozier
The crozier is a pastoral staff that is conferred on bishops (and abbots) at their installation. The top of the staff is curved to remind the bishop of the shepherd's crook and of his pastoral care of the people entrusted to him. It is a sign of the bishop's need to keep watch over his whole flock, sustaining the weak and faltering, confirming the wavering faith, and leading back the erring ones into the true fold.
Pectoral Cross
The pectoral cross gets its name because it is worn over the breast, or pectus. It hangs from a green cord intertwined with gold threads during liturgies or from a chain at other time.
Diocese of Achonry
Saint Finian established a church in Achonry (Irish Achadh Chonaire, the field of Conaire), Co Sligo, in the sixth century and placed his pupil Nathy in charge of it. The boundaries of the diocese emerged in the early twelfth century and it was formally established by the Synod of Kells in 1152 when the present Irish diocesan structure was laid out.
Saint Nathy and Saint Attracta are the patrons of the diocese. Saint Attracta had her convent in Killaraght (Irish "Cill Araght", the church of Attracta), where she was renowned for her charity and her hospitality. A very old tradition associates her with Saint Patrick, which would place her in the fifth century and close to the origins of Christianity in Ireland.
From 1603 to 1707 there was no bishop in Achonry and the diocese was administered during that time by apostolic vicars. Yet, during this period, though persecuted and impoverished. a vibrant church flourished, with its own homespun and all spirituality and rituals.
With Catholic education proscribed by law, hedge-schools abounded and young priests, ordained at home, went to one of the many Irish continental colleges for their theological training. Most returned to the Irish mission. Among those who did not was Andrew Donlevy who was appointed superior of the student of the Irish College, Paris. There in 1742 he published his famous Irish-English Catechism.
The diocese became the heart of what was later called 'O'Carolan country' and his compositions read like a Who's Who of Achonry. Among his compositions was "Seán 0'Hairt" who was bishop of the diocese from 1735 to 1739. Perhaps the best known Achonry born saint is Saint Fechin.
The Cathedral
Bishop Patrick Durcan (1852-75), the diocesan bishop in the third quarter of the nineteenth century was the one who decided to build the Cathedral. The commission to build the Cathedral went to the architectural firm of Weightman, Hadfield and Goldie in 1855.
It is thought that Hadfield was probably the main architect involved in this commission; he corresponded with Augustus Welby Pugin in 1849-50, and Pugin, as the designer of Enniscorthy Cathedral and Killarney Cathedral, would have had knowledge of the Irish architectural scene.
Within five years Ballaghaderreen had a Gothic church echoing medieval English and French models. The Cathedral's spire is visible for miles around in the flat landscape of north-west Roscommon. Curiously, however, this tower was not part of the original design, but a 1912 addition by the Dublin architect William H Byrne, who also installed a fine carillon of bells.
The Cathedral is built of grey limestone and is 45.72m long, 17.9m wide and 20.4m high to the apex of the nave; the height to the tip of the spire is 56.9m. The aisles have large two-light windows by Franz Mayer & Co. of Munich, which are original, while those over the confessionals are probably by Earley. The Saint John and Saint Anne windows of 1907 may be by Beatrice Elvery of An Túr Gloine, who also worked in Loughrea in the neighbouring county of Galway.
Further large windows commemorate Charles Dillon, 14th Viscount Dillon, in the Baptistery, and Charles Strickland, the agent for Viscount Dillon, in a chapel on the south side of the sanctuary. Strickland was associated with the building of the neighbouring town of Charlestown and its church. The window was erected by the Bishop of Achonry and others to 'commemorate their respect and esteem for Charles Strickland and his wife Maria."
The Parishes of Achonry
There are twenty-three parishes in the diocese. Eleven of these are in Co Sligo, eleven in Co Mayo and one, the Cathedral Parish, in Co Roscommon (though parts of the parish are also in Counties Sligo and Mayo).
There are four "clusters" of parishes within the Diocese:
Fr Peyton Cluster – Attymass, Bonniconlon, Foxford, Killasser and Straide
Saint Joseph's Cluster – Bohola, Carracastle, Charlestown, Kilmovee, Kiltimagh and Swinford
Saint Attracta's Cluster – Ballaghaderreen, Ballymote, Bunninadden, Gurteen and Keash
Tubbercurry Cluster – Achonry, Ballisodare, Coolaney, Collooney, Curry, Tourlestrane and Tubbecurry
For media contact: Catholic Communications Office Maynooth: Martin Long +353 (0) 86 172 7678 and Brenda Drumm +353 (0) 87 310 4444.