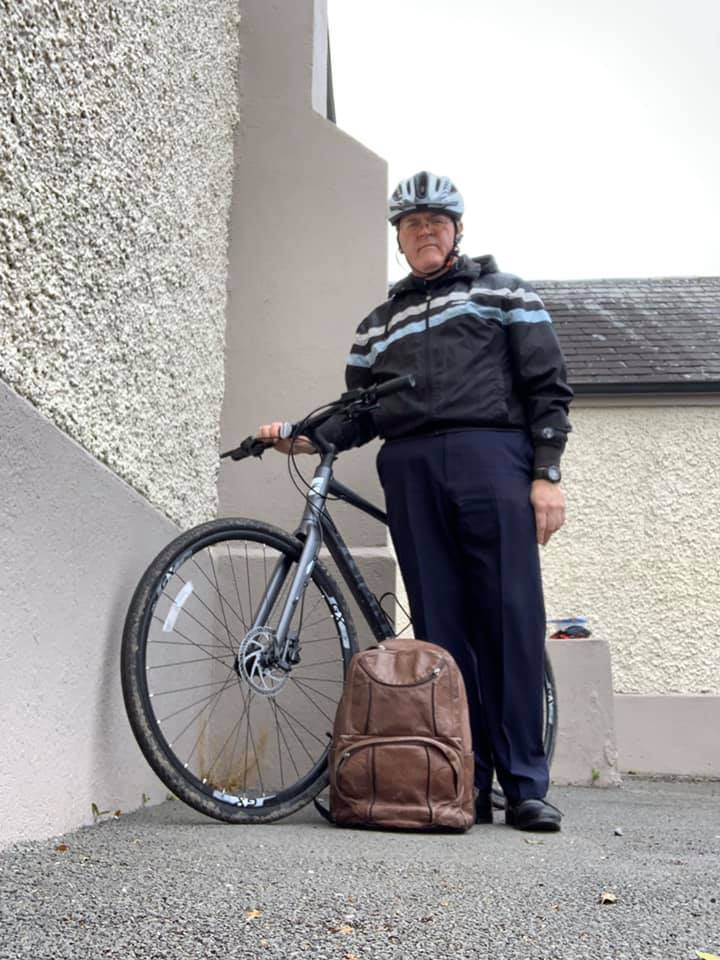 Father Tom Cox, Administrator in the Parish of Shannonbridge (Clonmacnois) in the Diocese of Ardagh and Clonmacnois
Q1. How are you coping day to day with lockdown/social distancing?
It's been up and down personally, even quite emotional. I was surprised at age 54 to find myself instructed to self-isolate by my GP (I have 2 underlying conditions). I find my mood much better now I'm cleared to move around a bit- but I'm very keenly aware of how some "shut-in" parishioners must be feeling. I've reached out by phone/social media quite a bit. I'd like to pay tribute to Geri my cat!
Q2. What do you miss most?
People! I thought I was more of an introvert than it seems I am. Saying Mass to a camera is such a dissonance. You know intellectually people are there, but there is no energy coming back at you. It's good to have but Eucharist without people gathered is impoverished. That being said – and as a child of a disabled parent in the past – "virtual church" is all some people have all the time- so I wouldn't diss it!
I'm sorry that we haven't done more for people who can't physically attend Mass. I'm so grateful to service providers for Masses online and on Television.
Q3. How are you reaching out online as a priest/parish/individual? Will you continue this post-Covid 19?
Our profile is a small rural parish with poor electronic infrastructure. Some have broadband, others can't even complete a cellular call. The parish profile is mostly elderly with about 26% single occupancy.
However many have a smartphone, so I send out 120 bulletins by What's App mainly- it appears in a parish bulletin format. I've kept the bulletins and updates as regular as I can.
I upload items to our Parish Facebook and Blog, stream Mass on Facebook live. I found YouTube doesn't seem to attract many viewers and I'd recommend disabling the comments on it if you stream/upload to it.
Mass streaming has gone down well. People like a local feel to things. I'm happy enough to continue on these fronts if it helps people. One thing I don't like is seeing some priests comment and compare on the number of followers/views of Masses. It might be light hearted but worship is about God- not ourselves – ok! I have gratefully received some tips and advice from people but every priest was trying their best – whatever level of skill they had or local infrastructure or scant parish resources. This is no time to for criticism of one another.
Q4. What's the first thing you will do after lockdown/social distancing is eased?
I would like to host a parish picnic in thanksgiving for the wonderful locals and groups in our very beautiful playground that is so still and silent these days beside the church.
Just to say thank you to everyone. We didn't fully shut our churches physically in our diocese which has been challenging with sanitation – but we also opened up churches in every parish home it seems! Time to celebrate that Good News.
Q5. What's your message to those in need of hope and encouragement at this time?
We have immense challenges socially in the Midlands – before all this with the imminent closure of Bord na Móna and peat generating- so this is dreadful and I'm loathe inside my castle walls to be all philosophical. People were and are suffering.
But I'm glad that people are noticing things much more in family and their surroundings. Sunlight, birdsong, natures wondrous beauty all around and people being basically decent.
I read somewhere – Fr. John Coughlan (Elphin) I think that "hope is a virtue of memory". May we be reminded that we are much more than any disease or worry, we are much more than all our fears and anxieties. We have a beginning, an end and a pathway of hope to follow.
ENDS