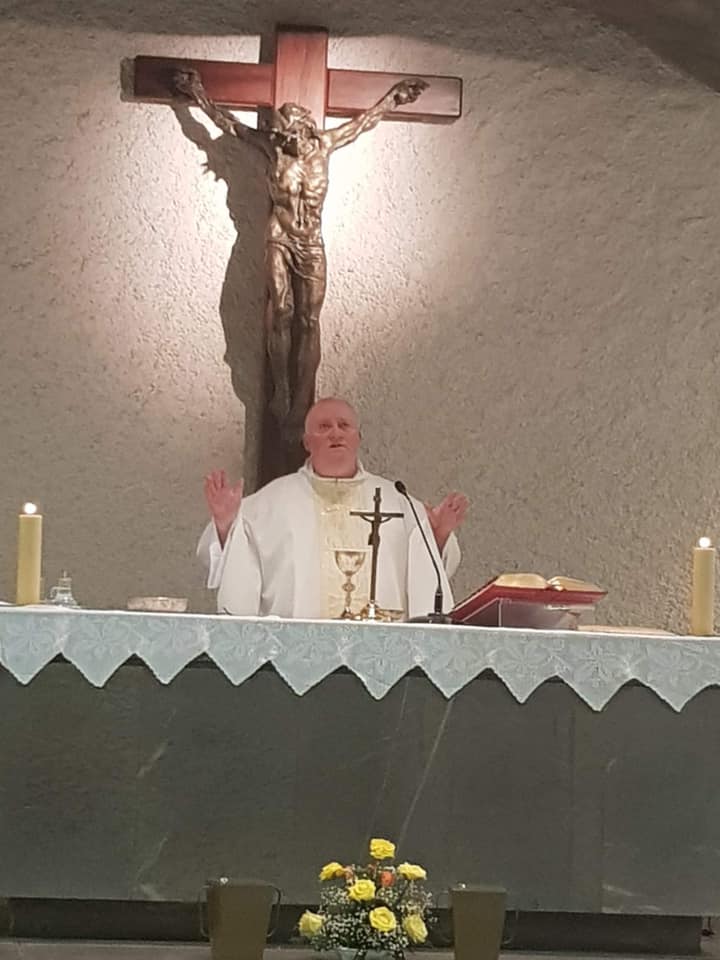 Father Paddy McCafferty, Parish Priest of Corpus Christi Parish, Belfast, Diocese of Down and Connor.
Q1. How are you coping with lockdown/social distancing?
I am coping well with the lockdown and social distancing although it is highly unusual not to have people calling to the house and to have the office closed.
The routine is very much disrupted but, please God, it won't continue for too long. I don't mind the quietness in fact and I still have a routine.
Sadly, funerals are numerous at the moment too. This week, I have a funeral every day – all Covid related.
Funerals are extremely difficult because the normal rites are suspended and, because of social distancing, people cannot comfort one another in the usual way.
As a priest also, I have found some of the funerals very painful – in particular a young man in his 30s (not virus related).
Q2. What do you miss most?
I miss the parishioners in the church at daily and Sunday Mass. I miss the buzz of the office downstairs – the daily coming and going – the secretary, the sacristan, the familiar faces of every day.
Q3. How are you reaching out online as a priest/parish?
We installed a webcam with Church Services TV about a year and a half ago. It has really come into its own since the lockdown.
I celebrate Mass every day of course as usual and preach every day on the Scriptures of the daily Mass, to comfort and encourage people. In the evenings I pray the Rosary online via the webcam.
A huge number of people are tuning in, sending requests for prayer. I have had emails and messages from England, from the USA, from Australia and New Zealand – as well as, of course, the parishioners and people from around our own country.
On Sundays, as well as Mass, I have been leading online adoration of the Blessed Sacrament in the form of a traditional 'Holy Hour' and concluding with Benediction of the Blessed Sacrament. I also have been praying some of the Liturgy of the Hours.
I celebrated the Sacred Triduum alone in an empty Church. The guidance we received from the diocese was that it would not be appropriate, due to social distancing and the requirements for everyone to stay at home, to have anyone present to read, sing, etc.
It was very strange to celebrate the Triduum this way but I made the best of it. Even though the Liturgy was somewhat "slimmed down" (obviously no washing of feet, Paschal fire, etc.), I did everything with as much solemnity as possible – sang everything as we would normally have done by myself – used incense at the Mass of the Lord's Supper and the Easter Vigil – tried to make the best of a very odd situation.
It is strange celebrating Mass and preaching in an empty Church but I look up at the little green light on the webcam and think of all those praying at home or wherever they are and that helps me keep them in focus and feel a connection to them.
Q4. What is the first thing you will do after lockdown and when social distancing is over?
A parish group hug! We are great in this parish for group hugs. I cannot wait for this to end so that the people can come back into the church as usual.
I was in tears on Palm Sunday putting out the palms to be blessed and thinking how the people love to take the palms home and this year they cannot. But their palms are waiting for them as soon we can safely open the doors once more.
Q5. Have you a message for people in need of hope and encouragement at this time?
I have been telling the people every day, the Lord does not socially distance and He is as near to us now as He always is. He comes to us right where we are now, in these particular circumstances.
I am aware of great graces being given at the moment to people. There are people worshipping God and praying who had drifted away from God. Social distancing is leading to a great spiritual closeness among people. I have no doubt that great blessings will come to us out of this great trial.
ENDS