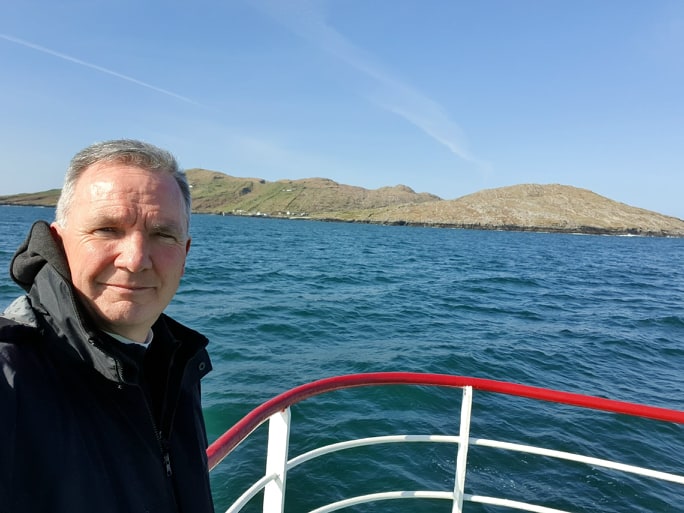 Father John Kenny PP, Partry Parish, Archdiocese of Tuam
Q1. How are you coping with lockdown/social distancing?
I am coping very well. I am in the lucky position of being in a rural parish and part of a very tight knit community. We all know each other and are looking out for one another. Living in a rural area makes it somewhat easier to social distance. I still have people stopping from a safe distance to say hello as I am out and about during the day.
Q2. What do you miss most?
From a pastoral perspective I miss the visit to the schools, to the sick and my other parish work. I really miss the congregation at Mass. It's hard to say Mass in an empty church.
I miss the richness of the outdoor life in this beautiful part of the country – the West of Ireland. I miss dancing, paddle boarding and cycling. I am doing my best to keep up my exercise as it is so important at this time but I am keeping within the 2km restrictions and trying to take in a different route each day.
I miss the water, the sea and the beautiful sights of nature we have all around us here in the West of Ireland. We have a connection with nature here that is as good as anywhere in the world.
Q3: How are you reaching out online as a priest/parish/diocese/religious/individual? Is there anything you will continue online once lockdown is over?
I am using Facebook live for moments of interaction with parishioners and those farther afield. I do a little bit of social interaction online at 11.00am each day on Facebook and I offer some faith and prayerful reflection time too.
I also have the parish radio and that's vital for people who don't have access to Facebook or a computer.
I am also leaving small bottles of Holy Water outside the houses in my parish – the Easter water is much sought after this week and I am preparing it in single bottles and avoiding any cross contamination. I tend to leave it at the postbox and make sure to disinfect the outside of the bottle. The reaching out in real life can be done too during these times. Once the restrictions are over I would hope to still keep up the Facebook faith broadcasts and the radio. I can see from the online stats that people are tuning in from around the world. We have created an audience now online and we need to consider them once this is all over.
Q4. What is the first thing you will do after lockdown and when social distancing is over?
The first thing I will do is meet and greet people. The social distancing has created an awful disconnect in our lives. I know it has been necessary but it has been very hard on people. Online is good but there is still a remoteness to sharing online with people versus the face to face.
I am really looking forward to celebrating Mass with a congregation in the church once again.
I am also looking forward to getting out and about again on the paddle board and being close to nature in the beautiful West of Ireland.
Q5. Have you a message for people in need of hope and encouragement at this time?
Yes and it is simply to say this too shall pass. The words of Saint Teresa of Avila speak to us at this time. She said, "Let nothing trouble you, let nothing make you afraid. All things pass away…… Hope O my Soul Hope…."
The Easter message reminds us that there is hope even in a time of darkness. We have to hold onto that.
ENDS