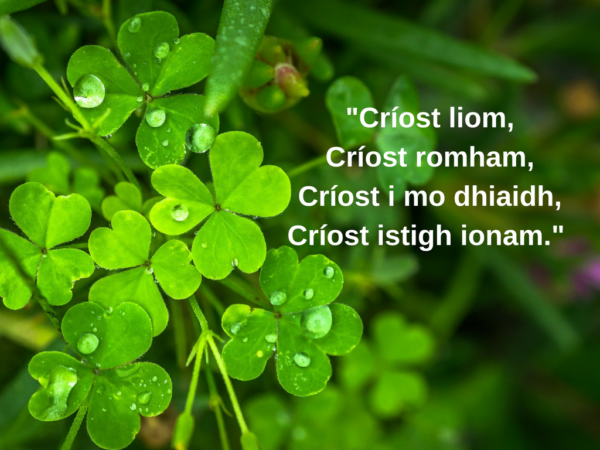 Tuesday 17 March is the Feast of Saint Patrick, Principal Patron of Ireland. Below are some resources for use in parishes.
Saint Patrick
Saint Patrick was born very probably in the early years of the fifth century in the Roman colony of Britain. He was taken captive at the age of sixteen and brought to Ireland where he was sold as a slave. He tended herds on Slemish mountain for six years. His captivity had a very positive effect on his spiritual life. he prayed many times each day, his faith growing stronger and his love and reverence for God increasing. He escaped back home at the age of twenty-two. It was obvious to him that God was calling him to return to convert the Irish. The voice of the Irish was calling him to come and walk among them once more. He studied probably in France, returned to Ireland as a bishop c. 457-61 or as early as 432 according to another tradition. His mission was not immediately greatly successful but eventually he would make a tremendous number of converts. Two writings survive: the Letter to Coroticus, a protest to the soldiers of a British prince who had killed some converts and sold others as slaves, and his Confession, written near the end of his life, showing him as one living by the faith he preached and allowing Christ to direct his whole life. He died in 491, though again other dates have been suggested, 480 or as early as 461.
Church Bells to ring out across Ireland in solidarity and hope
Bishop Alphonsus Cullinan, Bishop of Waterford and Lismore, has asked for church bells to ring out on Saint Patrick's Day for three minutes at 11.00am. The ringing of the bells on our National Feast Day will serve as a call to pray in solidarity and hope in these uncertain times as Ireland deals with the Coronavirus pandemic.
Across the dioceses there are no public Masses on Saint Patrick's Day or next Sunday. The time will come when we can return to our churches and celebrate Mass but in the meantime bishops are inviting the faithful to stay connected in prayerful solidarity with one another. The ringing of church bells on Saint Patrick's Day is one way of doing that.
Bishops across the country will be remembering in prayer those affected by the coronavirus and those at the frontline protecting us from its effects, the healthcare and medical teams.
Church bells will ring out in Armagh, Ardagh and Clonmacnoise, Clogher, Dublin, Kildare and Leighlin, Meath, Tuam, Waterford and Lismore.
Praying at Home With Saint Patrick
Praying at Home With Saint Patrick is a new resource offered to the faithful so that, even in the absence of public Mass, Saint Patrick's Day can be celebrated prayerfully wherever you are.
If possible, prepare a suitable prayer space with a crucifix, holy picture or even a simple candle.
We hope that, if possible, you might also participate in one of the many Masses being celebrated all over Ireland on webcam, or parish radio.
Click here to download the resource Praying at Home with St Patrick
Mass Readings for the Solemnity of Saint Patrick
Mass readings for the Solemnity of Saint Patrick are available on www.catholicbishops.ie/readings.

Lúireach Phádraig (Saint Patrick's Breastplate)
Watch a short video of Saint Patrick's Breastplate or Lúireach Phádraig as it is known in the Irish language. The music and the arrangement are by Sister Marie Dunne CHF, a Holy Faith Sister from Dublin. The soloist on this piece is Patricia Bourke D'Souza.
Saint Patrick's Breastplate
Christ with me,
Christ before me,
Christ behind me,
Christ within me,
Christ below me,
Christ above me,
Christ on my right hand,
Christ on my left hand,
Christ in my sleeping,
Christ in my waking,
Christ in the heart of all who think of me,
Christ in the mouth of all who speak of me,
Christ in every eye that looks at me,
Christ in every ear that listens to me.
Lúireach Phádraig
Críost liom,
Críost romham,
Críost i mo dhiaidh,
Críost istigh ionam,
Críost fúm,
Críost os mo chionn,
Críost ar mo lámh dheas,
Críost ar mo lámh chlé,
Críost i mo lúi dom,
Críost i mo sheasamh dom,
Críost i gcrói gach duine atá ag cuimhneamh orm,
Críost i mbéal gach duine a labhráionn lom,
Críost i ngach súil a fhéachann orm,
Críost i ngach cluas a éisteann liom.
The Deer's Cry
Please click here for a video of the Deer's Cry, which is attributed to Saint Patrick.
Prayers
Prayer for Those Away from Home
Loving God,
we pray for those whom we love,
but who are absent from us.
Keep them safe from all harm, evil and danger.
Bless them with peace, laughter,
wisdom, love and joy.
Grant that we may be reunited in the fullness of love;
in Christ's name we pray.
Amen.
From Prayers of our Hearts by Vienna Cobb Anderson
A Prayer for our Irish Emigrants
Lord,
some may know the bleakness of life,
its capacity to disappoint,
the waning of energy or health.
Yet they have a place in the soul which time cannot touch,
a wisdom and beauty from lives deeply inhabited.
May all of them know the warmth of their soul,
the natural shelter around their lives.
In dignity and freedom,
may they return home to themselves.
Amen.
Anon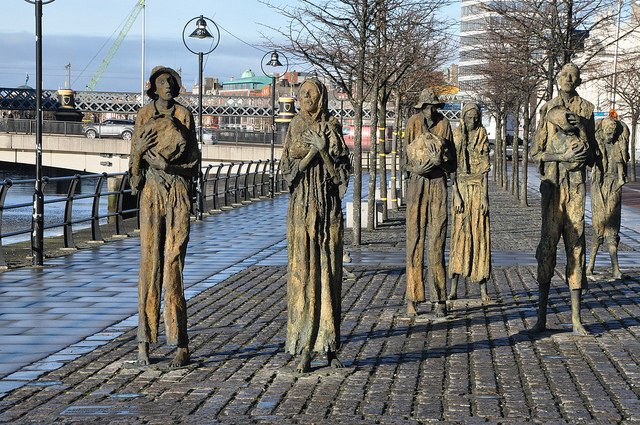 A Prayer for Immigrants
Blessed are You, Lord Jesus Christ.
You crossed every border between Divinity
and humanity to make your home with us.
Help us to welcome you in newcomers, migrants
and refugees.
Blessed are You, God of all nations.
You bless our land richly with goods of creation
and with people made in your image.
Help us to be good stewards and peacemakers,
who live as your children.
Blessed are You, Holy Spirit.
You work in the hearts of all
to bring about harmony and goodwill.
Strengthen us to welcome those from other lands,
cultures, religions,
that we may live in human solidarity and in hope.
God of all people,
grant us vision to see your presence in our midst,
especially in our immigrant sisters and brothers.
Give us courage to open the door to our neighbors
and grace to build a society of justice.
Source: Pax Christi
Books about the life of Saint Patrick from Veritas
Veritas Publications has a number of books and other resources available on Saint Patrick:
The Story of Saint Patrick by James Dooley
The story of St Patrick, Ireland's beloved patron saint, is brought to life in this beautifully illustrated and engaging account.
Learn about Patrick's childhood in Wales, his years spent as a slave in County Antrim, and his triumphant mission to bring the good news of God's mercy to the people of Ireland.
Explore how his simple message of love inspired all who knew him and how, even today, people follow in his footsteps by climbing to the top of Ireland's holy mountain, Croagh Patrick.
Suitable for children aged seven to eleven.
Click here for more information.
Patrick in His Own Words by Bishop Joseph Duffy
This book presents St Patrick, using his own words, as a marvelous human being, who faced the mystery of life and death with exemplary courage and refreshing honesty. It answers a growing demand today for more sharing of faith from direct personal experience. Patrick wrote deliberately for those who came after him, for people like ourselves, that we might know what kind of man he was. As result he has described a personality and any of us would want to claim as a friend.
In recent years scholars have tended to move away from the sterile study of the saints chronology and the precise location of his mission, and have become more concerned with exploring his background in more general and comprehensive way. A secondary purpose of this book is to bring their last insights to wider public and to suggest some new connections.
Patrick's original Latin and new translation into Latin are included.
This book was the first ever title published by Veritas in the 1970s.
ENDS