Release by the three Accord companies of 2019 figures for Sacramental Marriage preparation courses, and for marriage & relationship counselling
Address by Bishop Nulty for blessing of engaged couple at the reliquary of Saint Valentine, Church of Our Lady of Mount Carmel, Whitefriar Street, Archdiocese of Dublin
Profile of engaged couple Ms Michelle Connolly and Mr Jonathan Hanley
Areas where Accord clients responded when presenting with relationship difficulties
Background
The 2019 figures for Accord's three companies in its two key services across Ireland, Sacramental Marriage preparation, and, marriage and relationship counselling, show:
14,894 individuals attended Accord Sacramental Marriage preparation courses;
24,006 counselling sessions were provided by Accord counsellors to individuals and couples. Common problem areas in relationships, which have been advised to Accord counsellors by clients, are highlighted below.
Today at 12.30pm, to mark the Feast of Saint Valentine which falls this Friday, 14 February, Bishop Denis Nulty, President of Accord Catholic Marriage Care Service CLG, will bless engaged couple Ms Michelle Connolly from Dublin and Mr Jonathan Hanley from Co Roscommon at the Shrine of the holy relics of Saint Valentine in the Church of Our Lady of Mount Carmel, Whitefriar Street, Archdiocese of Dublin. The blessing will be live-streamed on https://www.facebook.com/IrishCatholicBishops/
Figures from Accord's three companies for persons attending Sacramental Marriage preparation courses, and for the number of marriage counselling sessions provided.
These bar charts illustrate the number of persons attending Sacramental Marriage preparation courses and, separately, the number of counselling sessions provided by the three Accord companies for the years 2017, 2018 and 2019: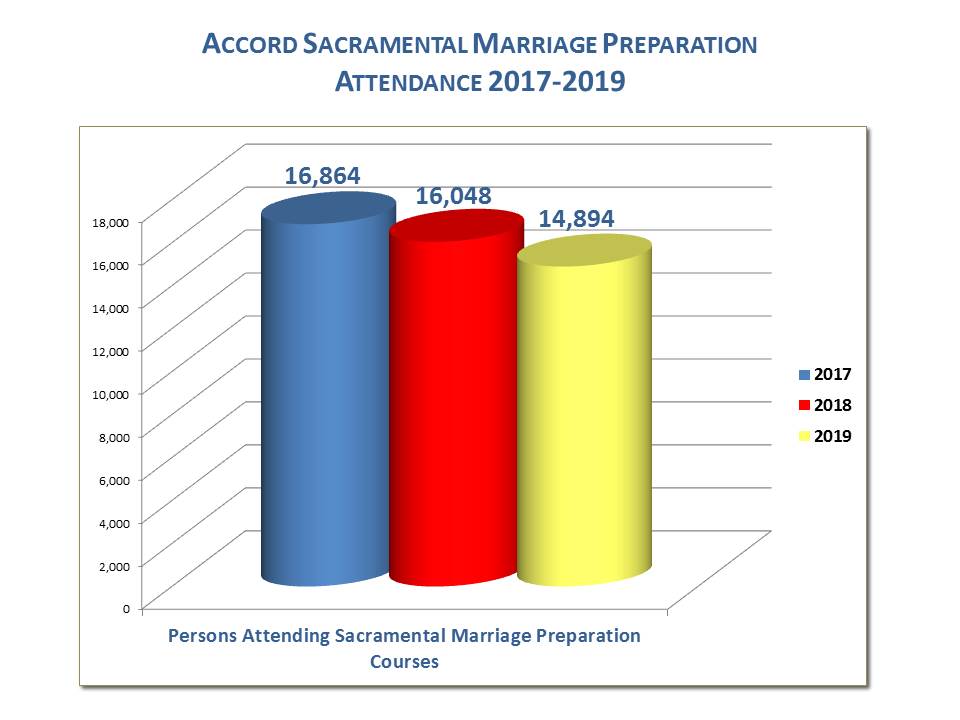 The following data, drawn from the three companies of Accord, quantifies by year, and Accord centre, the number of people attending Sacramental Marriage preparation courses and, separately, the number of Accord counselling sessions provided: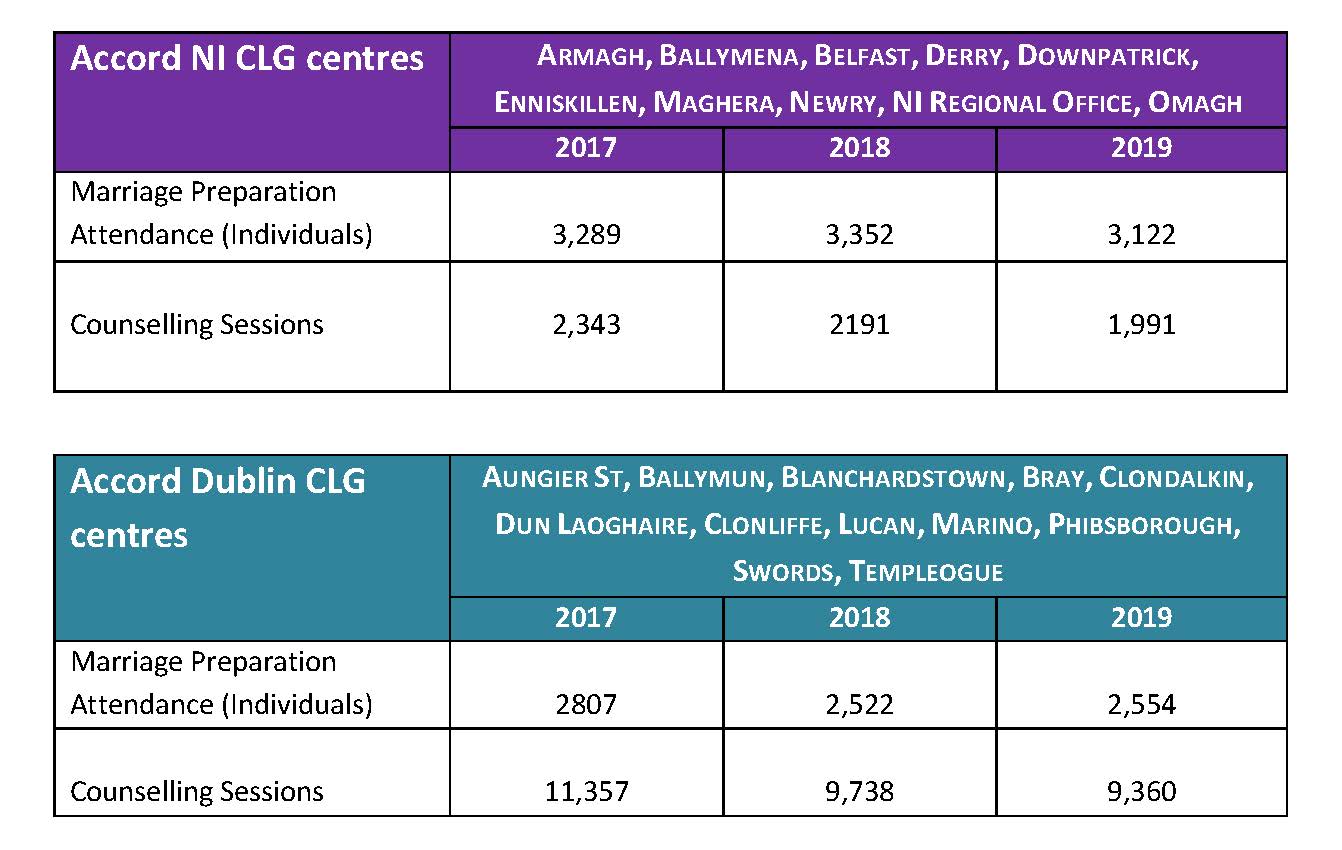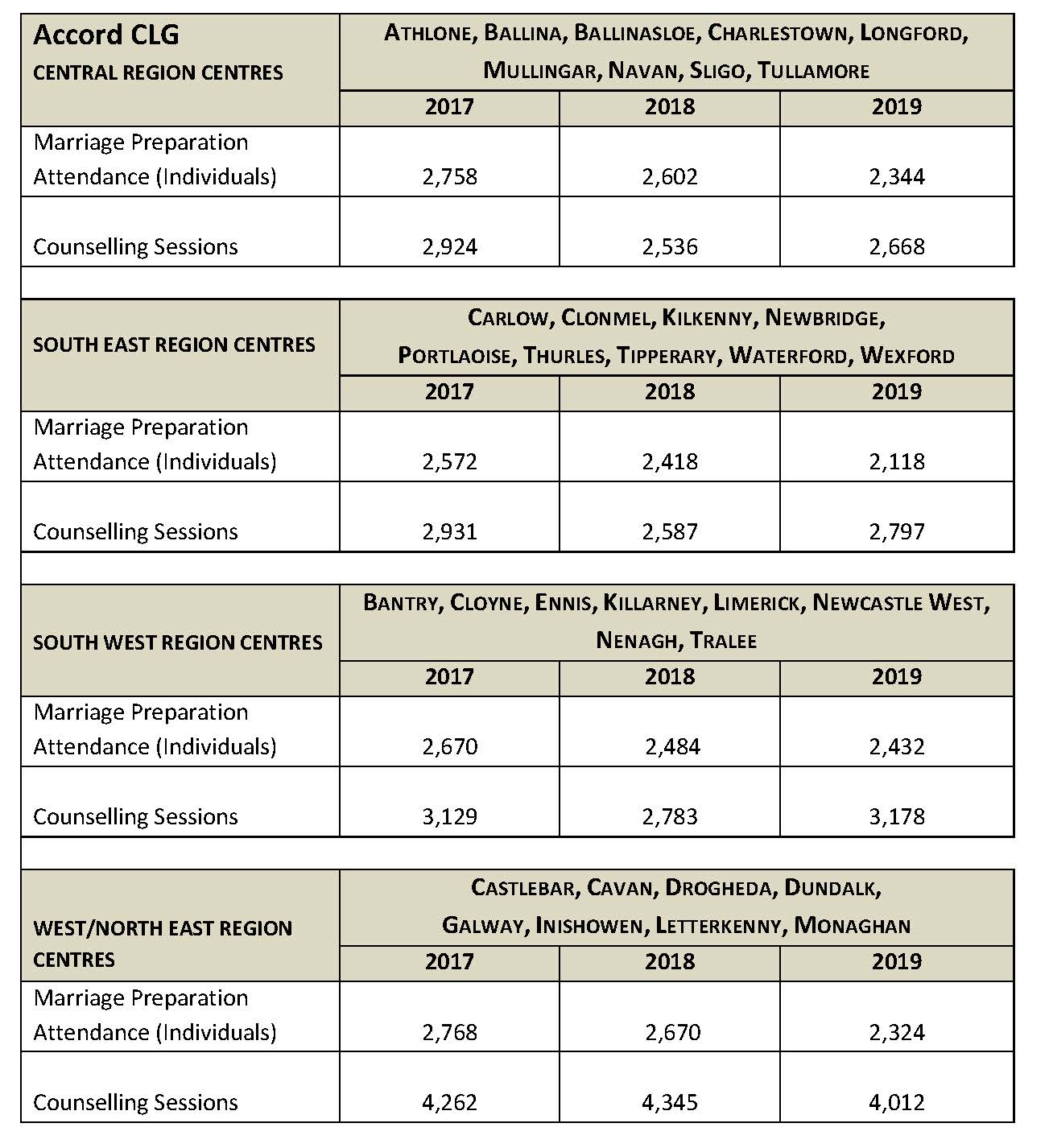 Address by Bishop Nulty, 'The Heart of a Saint in the Heart of Dublin'
It is my very pleasant duty to welcome you all today to the Shrine of Saint Valentine. This has become a very special event over the years, as a couple present themselves at the Shrine for a blessing, and the blessing is imparted in the context of presenting the annual returns of Accord Catholic Marriage Care Service, through its three separate companies. This year Jonathan and Michelle are that couple. I welcome both of them and their families who join us this day.
Last year I was privileged to celebrate two Masses here in Whitefriar Street on Saint Valentine's Day. I couldn't but notice the couples, like Jonathan and Michelle, of all ages I might add, who made their way over to the Shrine, perhaps to write an intention, pray a while, light a candle or maybe take a quick photograph or smile for a selfie before leaving.
Most of them had little knowledge of Saint Valentine, except his association with love. I am always intrigued at this annual event that brings the family of Accord on the island together. Most questions I field are around the Saint himself and how the relics come to be here in the heart of Dublin city.
Flowers, candy, red hearts and romance seem to sum up Saint Valentine's Day and yet all of these were very distant from the life of the Roman priest who gives this feast day its name. Valentine was a priest who lived in the time of the great persecutor Claudius II.
Claudius issued an edict prohibiting the marriage of young people, on the basis that unmarried soldiers fought better than married ones, who might fear for their wives or families if they died in battle. Saint Valentine seemed to operate in a very permissive society and people of faith did their very best to encourage the Church's vision for marriage and relationships. In presenting that vision Valentine secretly married young couples.
He was eventually caught, imprisoned and tortured for preforming these clandestine marriages. The story is told that he cured the daughter of one of the judges assigned to his case. The young girl was blind. The judge Asterius became a believer as a result. Valentine was sentenced to execution, all because of his promotion of Christian marriage in the year 269AD. And the last message Saint Valentine wrote before facing his executioner was a note to this young girl signed off "from your Valentine". And so, today's commercial business has been born out of that note and out of this man, we know as Saint Valentine.
And the relic arrived here in Dublin in 1836, because of a Carmelite priest Father John Spratt. His reputation as a good preacher reached Rome and on a visit to Rome, preaching at the famous Jesuit Church, the Gesu, Pope Gregory XVI gifted him with the remains of Saint Valentine and a small vessel tinged with his blood. Since then couples have been coming here to Our Lady of Mount Carmel's Church to pray at his shrine.
So what does a reliquary that contains the heart of a Saint say to us in the heart of Dublin this day? It speaks to us of love and the importance of love in a society that can be very cruel and callous. Saint Paul speaking to the Corinthians tells us what love is and what love isn't. Jonathan and Michelle, and all our couples who complete their Accord Marriage Preparation programme with us, choose scripture readings that speak to them of love and Saint Paul regularly features.
Since the World Meeting of Families and the visit of Pope Francis to Ireland in August 2018, Accord has been undergoing a thorough review of how we prepare couples for the sacrament. And this review is in the context of Amoris Laetitia, Pope Francis' apostolic exhortation on love, marriage and the family which the Holy Father published in 2016.
Accord, in its three companies, here in Dublin, in Northern Ireland and throughout the country, recognises that couples who present for our preparation programme are on a shared journey, and we are privileged to walk some of that journey with them. In the words of Pope Francis
"love needs time and space, everything else is secondary. Time is needed to talk things over, to embrace leisurely, to share plans, to listen to one another and gaze into each other's eyes, to appreciate one another and to build a strong relationship"[1].
The programme Accord offers every couple that time and that space. And when things may not go so well, Accord is also here to accompany a couple in counselling and to do so non-judgementally and always gently.
This annual blessing ceremony allows us in Accord to reflect on the valuable contribution marriage and the family offer the wider Irish society. I thank all those who work in Accord – the operational heads of the three companies, the chairs of our respective boards, our facilitators, counsellors and specialist teams and admin staff across the Accord family. It is an opportune time to thank the dioceses who help to fund our work. I would like to take this opportunity to encourage people to give generously to the Annual Dublin Diocesan Collection for Accord which takes place this coming weekend.
I also take the opportunity to thank TUSLA, the Child and Family Agency, for its major contribution to our counselling services; it is deeply appreciated. I equally appreciate the contribution of the HSE and the Department of Health, Social Services and Public Safety in Northern Ireland. The generosity of our funders allows Accord to continue to support marriage and family life and, for this, the couples and individuals who avail most of that important support, are very grateful indeed.
For over fifty years Accord have specialised in supporting marriages and families across our island. For thirteen years we have hosted this annual blessing ceremony in honour of Saint Valentine here at his Shrine. I conclude with the beautiful simple prayer associated for years with a visit here to the shrine here at Whitefriar Street, and it says:
Saint Valentine,
touch the hearts
of our young people;
intercede for their needs;
hear my prayer.
Amen.
Profile of engaged couple Michelle Connolly and Jonathan Hanley
Michelle Connolly is from Dublin 15 and her fiancé, Jonathan Hanley, is from Co Roscommon. Michelle works as a primary school teacher and Jonathan is a principal of a primary school in Dublin 12. The couple met in 2012 while they were both studying a Postgraduate Certificate of Education in Saint Mary's University, a Catholic institution of higher education in Twickenham, London.
According to Michelle, "we first met while studying primary school teaching in Saint Mary's University in London. We really enjoyed our two years there but it was always our wish to come home to teach. Therefore, we made the decision to return to Dublin in 2014."
Jonathan added, "we share many interests together such as traveling and exploring new places, eating out, keeping fit and spending time with our friends. We are looking forward to our wedding day and marriage next year and to celebrating our special day with family and friends."
Jonathan proposed to Michelle as a surprise on the 22 December 2019 in Powerscourt Hotel, Co Wicklow. The proposal was photographed and took place outside at the fountain, with the picturesque Sugar Loaf mountain as the backdrop. Reflecting on his marriage proposal to Michelle and looking forward to their wedding, Jonathan said, "it was a wonderful occasion and it brought so much happiness to ourselves and our families''.
The couple will be married in 2021 in Saint Mochta's Church, Porterstown, in the Archdiocese of Dublin.
ENDS
Notes for Editors
The three Accord companies – Accord Northern Ireland Catholic Marriage Care Service CLG (Accord NI); Accord Dublin Catholic Marriage Care Service CLG (Accord Dublin); and Accord Catholic Marriage Care Service CLG (Accord CLG), which represents 34 Centres in the State outside of Dublin; all operate in 54 centres throughout the island. Accord is committed to providing professional support for the pastoral needs of individuals at different stages in their development: in schools, through relationship and sexuality education programmes; by helping couples prepare for the sacrament of marriage; and, to couples and individuals seeking marriage and relationship counselling.
In 2019, the following five areas highlight the responses of Accord clients when they presented with difficulties in their relationship:
Communication
22% noted that they and their partner were never or seldom able to talk and listen to each other
36% felt they were always or often ignored or not listened to by their partner
16% reported that they always or often ignored or did not listen to their partner
26% felt they were always or often criticised or insulted by their partner
13% reported that they always or often criticise their partner
20% felt they were always or often belittled or put down by their partner
8% reported that they always or often belittled or put down their partner.
Problematic Behaviour
13% reported their own or their partner's use of alcohol was always or often problematic
3% reported their own or their partner's use of drugs was always or often problematic
3% reported their own or their partner's gambling was always or often problematic
17% reported their own or their partner's use of the phone/texting, internet or social media always or often caused problems
23% reported that trust in the relationship was always or often affected by problem behaviours.
Intimacy
36% reported that they never or seldom experienced closeness and affection with their partner.
48% described their sexual relationship as either absent, poor or very poor
18% reported difficulty always or often having sex
8% reported their partner having concerns about another close, physical, or emotional relationship of theirs
10% reported that they had concerns about another close, physical, or emotional relationship of their partner's.
Family Issues
26% reported that childcare and home duties always and often caused problems in the relationship
22% reported problems between them and their own or their partner's extended family always or often
6% reported issues of culture, religious beliefs or values often or always caused difficulties between them and their partner
19% reported bereavement, other loss or grief experienced by them or their partner affected their relationship always or often
23% reported that either they or their partner experienced depression
32% reported that finances and financial management always or often caused problems between them
Conflict
42% reported they always or often argued with their partner
21% reported that arguments are never resolved calmly
29% reported that arguments are sometimes resolved calmly
35% reported that they or their partner always or often yelled or shouted during arguments
2% reported that they that they or their partner always or often throw things during arguments
1% reported that they or their partner pushed hit or slapped often during arguments
10% reported that children were always or often within earshot during heated arguments
7% reported that their own or their partners behaviour during arguments always or often caused distress to children.
The holy relics of Saint Valentine are preserved in a reliquary in the Carmelite Church in Whitefriar Street, Dublin. Saint Valentine, a priest in ancient Rome, is regarded as the patron saint of couples in love, preparing for marriage and of married life. According to tradition, Saint Valentine was martyred on 14 February 250 AD. In 1836 relics that were exhumed from the catacombs of Saint Hippolytus on the Via Tiburtina, near Rome, were identified as Saint Valentine's. These relics were placed in a casket, donated by Pope Gregory XVI, and transported to the Whitefriar Street Carmelite Church in Dublin where they continue to be venerated by the faithful to this day. Father Simon Nolan, O.Carm is Prior, and Father Seán Ford, O.Carm is Parish Priest, of Our Lady of Mount Carmel Church in Dublin.
ENDS
For media contact: Catholic Communications Office Maynooth: Martin Long +353 (0) 86 172 7678 and Brenda Drumm +353 (0) 87 310 4444.
[1] Amoris Laetitia ¶224