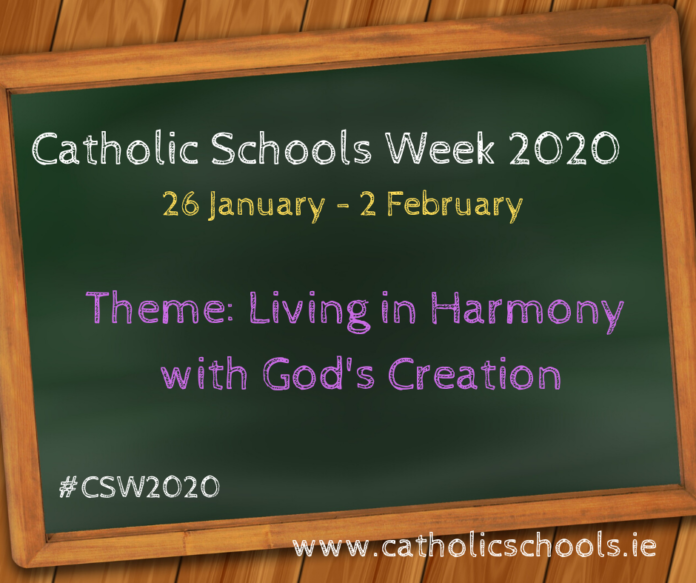 Catholic Schools Week 2020 will take place this year from Sunday 26 January – Sunday 2 February on the theme 'Catholic Schools: Living in Harmony with God's Creation'.
During Catholic Schools Week families, parishes and schools, North and South, are invited to participate in a week of celebration of Catholic schools and on their contribution to the common good of our society.
This year's theme 'Catholic Schools: Living in Harmony with God's Creation', encourages us to see that we all have a responsibility to care for the earth, not just for our own future, but for the future of every one of God's creatures.
Daily themes for CSW2020:
Monday: Living in Harmony with God
Tuesday: Living in Harmony with our Neighbours
Wednesday: Living in Harmony with All Generations
Thursday: Living in Harmony with the Earth
Friday: Living in Harmony in our Catholic School
Catholic Schools: Living in Harmony with God's Creation'
Between 2015 and 2017, Trócaire's Lenten campaigns focused on 'Climate Change, Climate Justice'. In 2015, Pope Francis' wrote his encyclical Laudato Si', which was the basis of Catholic Schools Week in 2017. This year, we re-echo the messages of that encyclical, but also present the apostolic exhortation Christus Vivit. It highlights key issues in society and gives us a clear direction on what to do. Pope Francis has very clearly delivered the message to Catholic people all over the world: 'The urgent challenge to protect our common home includes a concern to bring the whole human family together to seek a sustainable and integral development, for we know that things can change' (LS, 13). Part of this change is to recognise that we live in this world in harmony with the world and those around us. If we are conscious of our relationships with God, our neighbours, all generations, the earth and our Catholic school, we can identify the steps it takes to live in harmony. Pope Francis challenges us to look at our lifestyles. We must become aware of the impact our lives have on the lives of others. He asks for justice and equality, as it is clear that the vulnerable all around the world are further impacted by our actions here in the first world. The hope of Catholic Schools Week 2020 is that we realise how powerful each and everyone of us is and that even the smallest changes can have the biggest impact.
Again, this year, resources for Catholic Schools Week are available online. All lessons have resources for both Junior and Senior Cycle. Each lesson contains practices which support the national Literacy and Numeracy Strategy, as well as self-reflective practices as a way of supporting assessment in the classroom. They also provide extension exercises as an option for your students.
See www.catholicschools.ie to download the CSW2020 resources.
ENDS