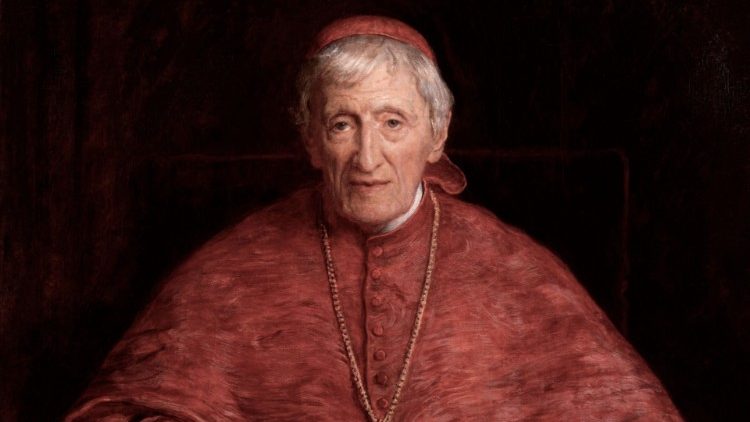 Cardinal John Henry Newman (1801-1890) was born in London and lived in England for most of his life except for a good part of a few years in Dublin. He was an Anglican convert to Catholicism while teaching at Oxford University and went on to become a Catholic priest. He was a gifted thinker and writer, and the first rector of the Catholic University of Ireland.
The cause for his sainthood was opened in 1958 and he was declared Venerable by Pope Saint John Paul II in 1991 after his life of 'heroic virtue' was recognised.
On 3 July 2009, Pope Benedict XVI recognised the healing of Deacon Jack Sullivan in 2001 as a miracle, resulting from the intercession of the Venerable Servant of God, John Henry Newman. This decision paved the way for Newman's beatification which was performed by Pope Benedict during his papal visit to the UK on 19 September 2010.
A second miracle was needed for Newman's canonisation. In November 2018, the Vatican approved a second miracle, involving the unexplained healing of a pregnant American woman from a life-threatening diagnosis and investigated by the Archdiocese of Chicago.
On 13 February 2019, it was announced that Pope Francis had approved the Decree concerning this miracle. At a Consistory of cardinals on 1 July 2019, Pope Francis formally approved Blessed John Henry Newman's canonisation which will take place on Sunday 13 October.
A canonisation ceremony is a Papal Mass in which the Pope officially declares one or more men and women to become saints of the Catholic Church. By this act the Church offers them as models of Christian holiness for the faithful and intercessors in heaven.
Irish Bishops and the Canonisation of Blessed John Henry Newman
During their Autumn General Meeting, which concluded on Wednesday 2 October in Maynooth, the Irish Catholic Bishops' Conference prayed for the intercession of Blessed John Henry Newman to protect the faith and those who exercise their conscience in the service of the common good. They also announced the details of the participation of Irish Bishops as part of the canonisation ceremonies:
On 11 October, Archbishop Diarmuid Martin of Dublin will deliver an address on Blessed John Henry Newman at the Pontifical Irish College in Rome. This event is being jointly organised by college staff and the Ambassador of Ireland to the Holy See, His Excellency Derek Hannon.
Bishop Brendan Leahy will lead thirty pilgrims from Limerick to the Mass of Canonisation and Bishop Francis Duffy of Ardagh & Clonmacnois, Bishop Fintan Monahan of Killaloe and Bishop Emeritus Philip Boyce OCD of Raphoe, will also attend the Mass.
Biography
John Henry Newman was born in 1801, the son of a London banker. Both his parents were practising members of the Church of England. He had five siblings.
From an early age he exhibited remarkable intelligence and went up to Oxford in 1816. He became a Fellow and tutor in Oriel College and was ordained a priest of the Anglican Church in 1825. After ministering in a parish he became vicar of St Mary's University Church in 1828.
At St Mary's Newman and a number of colleagues set out to reform the Anglican Church. To this end they conducted an intensive study of the writings of the early Church fathers, such as Origen, Tertullian, Athanasius, Chrysostom, Augustine and Jerome. In so doing they were attempting to justify the claim by the Anglican Church to apostolicity and authenticity. More explicitly they were seeking to establish is as a Via Media (middle way) between the 'errors of the Roman Catholic Church' and Luther's Protestantism. They published their sermons and lectures in Tracts or pamphlets, hence their movement became known as the Tractarian Movement. It was also known as the Oxford Movement because so many of those involved were associated with the University.
Newman consistently insisted on the necessity of being led both by scripture and tradition in order to attain the whole of revealed truth. Thus, as a result of his extensive research, he discovered that the Catholic Church not the Anglican Church was the same as the early Church – the Church of the Fathers. He converted to Catholicism in 1845 and was ordained a year later. Pius IX gave him the authority to set up, with some of his fellow-converts, a community of the Oratorians of St Philip Neri in a Birmingham parish. Leo XIII created him a cardinal in 1879. He died in 1890.
Newman was a prolific author, a well-known controversialist and was regarded as one of the leading intellectuals of his time. In 1851 he accepted an invitation from Cardinal Paul Cullen to come to Dublin to set up a Catholic University. He delivered a series of lectures on university education in Dublin in 1852 and these were to become part of his The idea of university education, universally regarded as the classic monograph on third level education. On the establishment of the university, Newman served as its rector form 1854-1858. The university did not fulfil all expectations. Its main deficit was its failure to achieve appropriate recognition of its degrees, with the exception of those granted by the university's medical school. However, it was the beginning of the process which ended in the establishment in 1908 of the National University of Ireland with its constituent interdenominational colleges at UCC, UCD and UCG.
While in Ireland Newman with his friend John Hungerford Pallen, the professor of fine arts in the university, planned and designed Catholic University Church. It was built in less than two years and Newman provided half its cost out of money subscribed for his defence in a defamation case taken against him.
Click
here
to read more about the life and ministry of Cardinal John Henry Newman.
A Perfect Peace – Newman Saint for Our Time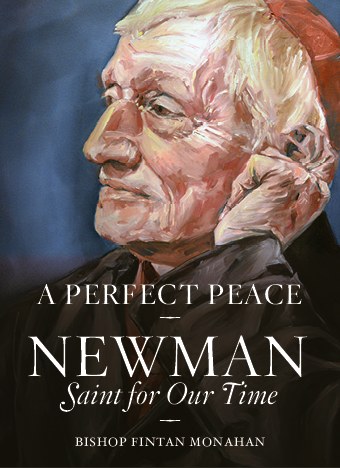 To celebrate the canonisation of John Henry Newman, Veritas is delighted to publish this special commemorative book by Bishop Fintan Monahan which includes a short biography of the great scholar and theologian, alongside key excerpts from his writings.
About the book and author
In this timely new book, Bishop Fintan Monahan explores key moments from Newman's life, including his years at Oxford, his conversion to Catholicism and his time spent in Ireland where he spearheaded the foundation of the Catholic University. He also explains why Newman's writings continue to resonate and provides an inspiring selection of extracts from his works that highlight his genius.
Bishop Fintan Monahan is Bishop of Killaloe and is based in Ennis, Co. Clare. He has a great interest in John Henry Newman and has been collecting Newman's work for over thirty years.
The book is available from Veritas for €7.99. Click here for more information.
'Newman: A Short Biography' – Messenger Publications
In Newman: A Short Biography, Father Michel Collins provides an accessible biography of the new saint.
In this new book from Messenger Publications, Father Collins offers an insight into Newman's life as an esteemed academic and prolific author. Fr Collins focuses on Newman's volume of lectures entitled The Idea of a University, which explained his philosophy of education. During the four years he spent in Dublin he was instrumental in the founding of the Catholic University of Ireland in 1854; this later evolved into University College Dublin, now the largest university in Ireland.
This books tells the story of Newman's intense loyalty to his friends and shares how his very being combined the best of both the Anglican and Catholic traditions.
Father Michael Collins is a priest of the Archdiocese of Dublin. A graduate of University College Dublin, he has written and edited award-winning books which have been translated into twelve languages.
Newman: A Short Biography is published in Ireland and the UK by Messenger Publications. Priced at €9.95/£8.95
For further details see: www.messenger.ie/product/newman-a-short-biography/
Rite and Reason article in The Irish Times: 'Cardinal John Henry Newman might well be the patron saint of ecumenism'
Theologian, scholar, educationalist, poet, novelist, convert, cardinal and blessed are some of the outstanding titles of John Henry Newman we can celebrate on the occasion of his canonisation in Rome next Sunday (October 13th).

Yet, 174 years after he converted from Anglicanism to Catholicism, it is his conversion that we remember as the great watershed moment of his life.

Newman, the convert, created a huge stir at the time as did those of his contemporaries who became Catholics in the Oxford Movement. There is no doubt but that the church then, and oftentimes since, saw Newman's conversion as a boost to Catholicism that evoked a measure of triumphalism in the church.

But there should be no hint of triumphalism in his being declared a saint by the church. It is not the final "one in the eye" for Anglicanism that shows Newman's conversion as the natural high point of his life. On the contrary, I see him as a saint of Christian traditions Catholic and Anglican.
+Fintan Monahan
Click here to read the article in full from The Irish Times of 8 October 2019.
Prayers and Writings
God has created me to do Him some definite service. He has committed some work to me which He has not committed to another. I have my mission. I may never know it in this life, but I shall be told it in the next. I am a link in a chain, a bond of connection between persons. He has not created me for naught. I shall do good; I shall do His work. I shall be an angel of peace, a preacher of truth in my own place, while not intending it if I do but keep His commandments. Therefore, I will trust Him, whatever I am, I can never be thrown away. If I am in sickness, my sickness may serve Him, in perplexity, my perplexity may serve Him. If I am in sorrow, my sorrow may serve Him. He does nothing in vain. He knows what He is about. He may take away my friends. He may throw me among strangers. He may make me feel desolate, make my spirits sink, hide my future from me. Still, He knows what He is about.
Prayer of Cardinal Newman
May the Lord support us all the day long,
Till the shades lengthen and the evening comes,
and the busy world is hushed, and the fever of life is over,
and our work is done.
Then in his mercy may he give us a safe lodging,
and holy rest, and peace at the last.
Amen.
Jesus Prayer
Dear Jesus.
Help me to spread Your fragrance everywhere I go.
Flood my soul with Your spirit and life.
Penetrate and possess my whole being so utterly,
that my life may only be a radiance of Yours.
Shine through me, and be so in me that every soul I come in
contact with may feel Your presence in my soul.
Let them look up and see no longer me but only Jesus!
Stay with me and then I shall begin to shine as You shine,
so to shine as to be a light to others; The light, O Jesus will be
all from You; none of it will be mine;
It will be you shining on others through me.
ENDS