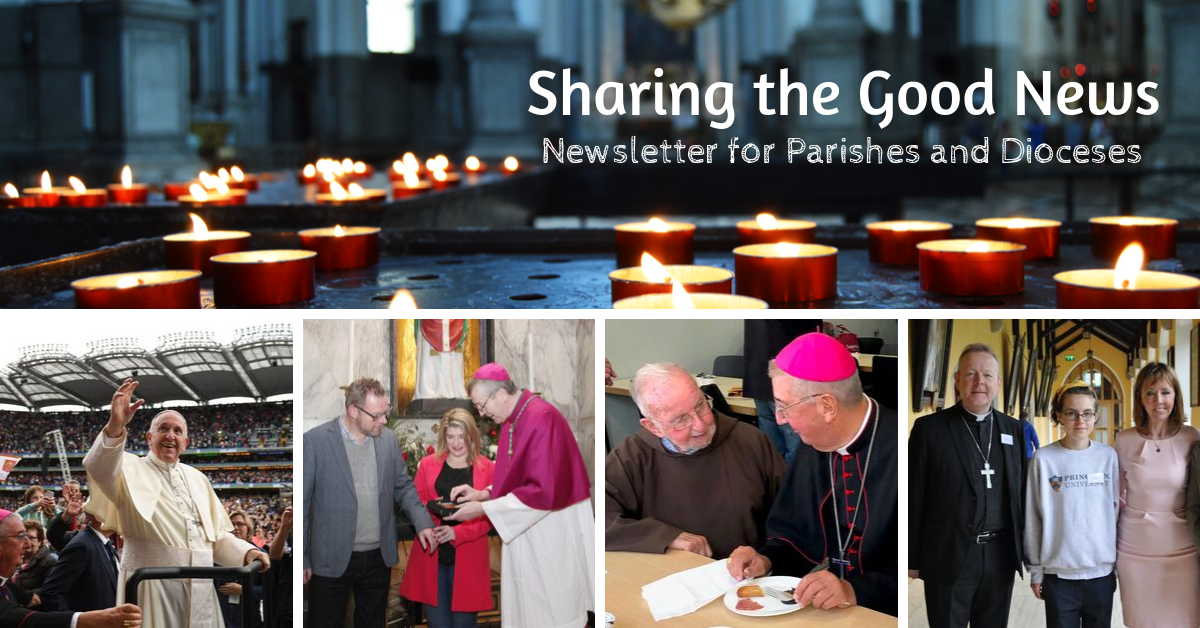 The September issue of Sharing the Good News, the monthly newsletter for parishes and dioceses, has just been published.
This month's issue features Archbishop Eamon Martin's upcoming commemoration of the first anniversary of the visit of the Holy Father Pope Francis and the 40th anniversary of the visit of Pope Saint John Paul II to Ireland. Speaking ahead of the prayer service, Archbishop Eamon said, "The tragedy of violence and conflict continues in many parts of the world today. In particular, Ireland, north and south, is going through a period of political and economic uncertainty and the imminent introduction of very liberal abortion legislation in Northern Ireland continues to give grave cause for concern. We will use the same prayer service that Pope Saint John Paul II used to pray for peace and reconciliation in Drogheda, forty years ago. It is the perfect prayer for us during these troubled and uncertain times."
The September issue also features Bishop Denis Brennan's comments about the importance of welcoming, protecting, promoting and integrating migrants, as he launched a new parish resource pack for the World Day of Migrants and Refugees on Sunday 29 September.
The News in Pictures section features the 'Ploughing' 2019 and Bishop Denis Nulty's announcement of the Hail Mary as Ireland's favourite prayer decided at the 'Ploughing'; Archbishop Diarmuid Martin and Brother Kevin Crowley's meeting for breakfast in the Capuchin Day Centre to mark one year since Pope Francis visited there; the inaugural meeting of the Bishops' Council for Life; and the uplifting story about 99 year old Nora Hawkes who took part in the recent Dublin Diocesan pilgrimage to Lourdes.
The latest issue features Bishop Donal McKeown's tribute to Bishop Séamus Hegarty who died on Friday 20 September. Bishop Alphonsus Cullinan's announcement of fifteen seminarians who began their formation and academic programme for 2019 – 2020.
Finally in this issue there is a look back at the Kennedy Summer School 2019 at which Archbishop Eamon Martin delivered the Edward M Kennedy lecture on the role of faith in politics.
Click here to download a PDF of the September issue.
To receive the newsletter into your inbox each month please email [email protected] with SGN in the subject line.
ENDS
Role of faith in politics discussed at the Kennedy Summer School 2019