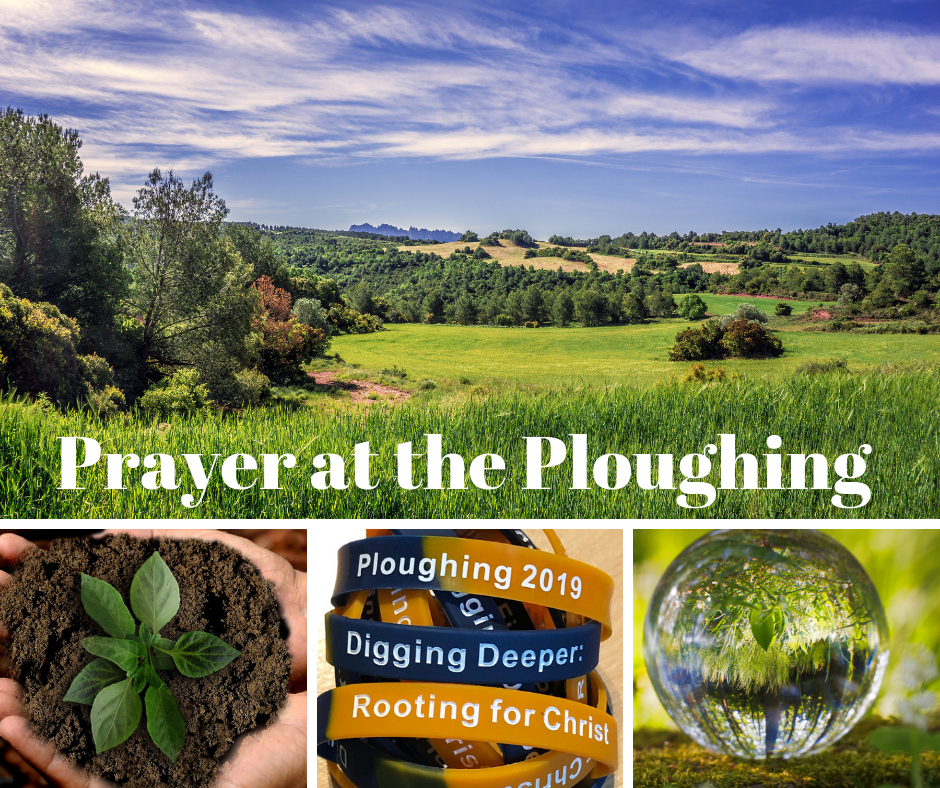 Visitors to the 88th National Ploughing Championships are being invited to vote for Ireland's favourite prayer as part of the Diocese of Kildare and Leighlin's presence at this year's event. Bishop Denis Nulty, Bishop of Kildare and Leighlin, in whose diocese the ploughing championship is once again being held, has this morning formally opened Stand 399 to the public in Ballintrane, near Fenagh in County Carlow.
Commenting on the 'Ploughing', Bishop Nulty said, "It's so important we as a diocese are present in the middle of Europe's biggest outdoor event, responding to the call of Pope Francis to be present to people in the midst of their busy and hectic lives. Farming community are the backbone of many of our rural parishes in Ireland and contribute so much to church life. I find people respond so positively to our presence here".
The Prayer at the Ploughing is one of several initiatives being taken by Bishop Nulty at the Ploughing Championships. The theme of the Kildare & Leighlin stand at the ploughing is 'Digging Deeper – Rooting for Christ' a continuation of Bishop Nulty's campaign exploring new ways for people to understand their faith.
Over these three days visitors to 'Stand 399' will be invited to spend time in prayer and to also enjoy entertainment from soloists and choirs who will attend. Farmers and gardeners will be given blessed salt for their soil and young people will be presented with colourful wristbands. A cup of tea and a warm welcome is also assured.
As well as searching for Ireland's favourite prayer, Bishop Nulty has also invited people to compose a new prayer focusing on care for the environment. Entries have been arriving to the Diocesan Offices in Carlow throughout the Summer. The winning prayer for the environment will be announced alongside Ireland's favourite prayer this coming Thursday which is the final day of the Ploughing Championships.
Bishop Nulty continued, "Our visitors always appreciate gifts of blessed salt and wristbands, and our various wall displays. Despite so much activity at our stand, many people value a little quiet time too, in prayer."
"I have been overwhelmed by the response to my quest to find Ireland's favourite prayer. I am inviting people to come and see what we have to offer on stand 399 and to cast their vote on the shortlist of prayers we have displayed.
"The Ploughing Championships takes place in the middle of the annual Season of Creation, which the Universal Catholic Church marks from 1 September – 4 October. Because the three-day ploughing championship focuses on rural living, I wanted to find a new prayer about caring for our common home. The entries have come in from across Ireland and I look forward to announcing the winning prayer later in the week."
Commenting on the importance of the National Ploughing Championships for the diocese, Bishop Nulty said, "Participating at the 'Ploughing' is always an exciting time for us whenever the event is held in our diocese. I thank the NPA managing director, Anna May McHugh and her daughter Anna Maria, for their wonderful welcome and kindness."
For more on the diocesan presence at the 'Ploughing' see www.kandle.ie.
ENDS