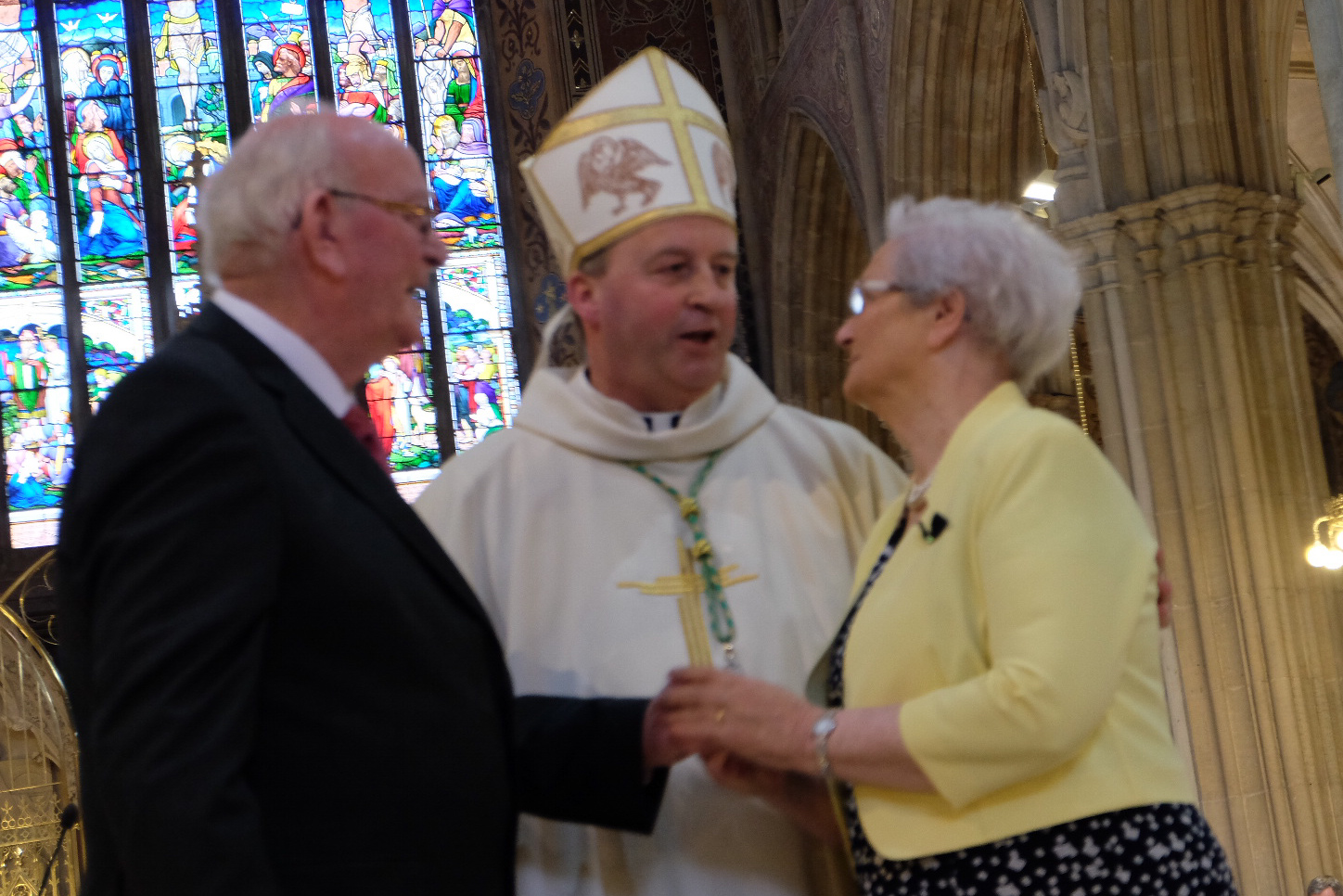 Bishop Michael Router was ordained to the episcopate in Saint Patrick's Cathedral, Armagh on Sunday 21 July. The new Auxiliary Bishop of Armagh was joined by Archbishop Eamon Martin of Armagh; Cardinal Seán Brady, Archbishop Emeritus of Armagh; Archbishop Kieran O'Reilly of Cashel & Emly; Archbishop Jude Thaddeus Okolo, Apostolic Nuncio to Ireland; Bishop Leo O'Reilly, Bishop Emeritus of Kilmore Diocese; Monsignor Liam Kelly, Administrator of Kilmore Diocese, and many of the diocesan bishops from around the country.
Also present were Archbishop Richard Clarke, representing the Church of Ireland and Rev. Louise Donald, representing the Methodist Church. They were accompanied by members of the Cathedrals' Partnership.
Bishop Router was joined by family members including his parents Anthony and Nora Router, his sisters Breda Murphy and Martina Keville, his brothers-in-law Derek Murphy and Ollie Keville, his nieces Aoife Murphy, Orla Keville and Riona Keville, and his nephews Killian Murphy and Niall Keville.
Each of the 61 parishes of the diocese was represented as were many members of the Armagh Diocesan Youth Commission who are participating in the ceremony.
In his homily for the Mass, Archbishop Eamon said, "Fr Michael you will find life as a bishop to be fulfilling and interesting – although not without its challenges! The role and ministry of a Bishop has changed immensely since the appointment of the first auxiliary bishop to Armagh, Bishop William Conway, who came to us from Down and Connor more than sixty years ago.
"The burden of administration has grown much heavier since then, and the needs of our people, priests and society have become more complex. The Church's teaching on many important social and moral issues, including marriage and the sacredness of all human life, has become increasingly countercultural. With the decline in religious practice and fewer vocations to the priesthood and consecrated life, we are have once again entered "mission mode" here in Ireland, and sometimes it's difficult to discern precisely where the Holy Spirit is leading us. However, despite all this change, the fundamental calling of the bishop remains as it has been handed down to us since the earliest days of the Church:
"You are called to be a devoted father and a brother who loves all those whom God places in your care – especially the priests and deacons who share with you the ministry of Christ. You are asked to be a good shepherd, praying and caring for the whole flock, loving especially the poor and infirm, the stranger, and those who are isolated, lost or going astray,
"Believe me, you will never have a dull moment! I have to admit, Fr Michael, that when I listen to today's Gospel story about Martha and Mary, my sympathies often lie with poor Martha – who ended up rushing around, fussing and fretting to make sure everything possible was being done for her guest, while her sister Mary sat quietly at the feet of Jesus, enraptured as he spoke to her. You will find, as a bishop, that it is very easy to get pulled this way and that, with so many demands, duties, meetings and administrative responsibilities, that it is not always easy to find time to be still in the presence of the Lord, and to listen to Him in prayer."
In his first address as Auxiliary Bishop of Armagh, Bishop Router said, "The most supportive and loving people in my life are, of course, my parents Tony and Nora and my sisters Breda and Martina, my brothers in law, Derek and Ollie, my nieces and nephews and all my family circle. I know I am blessed by God to have my parents here with me today I thank them for all they have contributed to my life thus far. Especially for their witness to fidelity and love over 57 years of married life together and the support they have given me during my 30 years of priestly ministry.
"For me the preparation for today began when my parents brought me to be baptised in Mary Immaculate Church in Virginia in April 1965. The grace of that sacrament stays with us all our lives and it anoints us for our God-given vocation in life. Each one of us has a vocation. Each one is here for a purpose. For me personally that was a calling to the priesthood and that vocation has been nourished and strengthened through childhood and into adulthood by the influence and example of lay people, clergy and religious, particularly in my home town of Virginia who were always a hugely positive influence for me.
"Now is the time for us, people and clergy together, to listen to the promptings of the Holy Spirit in order to shape a Church fit for purpose in the 21st century and to continue to bring ourselves and our communities into a deeper relationship with Jesus Christ who will take on all our burdens and our anxieties if we trust in him. To know Jesus in prayer and in the reading of scripture is to allow him to change us from the inside out. That is our task as ministers of his sacraments and of his word; not to place burdens upon people's shoulders but to give them hope. None of us are perfect all of us are sinners but we won't change or strive to be better unless we first encounter the real Jesus and let him touch our hearts."
Bishop Michael is a native of Virginia in Co. Cavan and was born on 15April 1965. His father, Anthony, was born in Bristol, England, to Irish parents and his mother, Nora, is a native of Glenamaddy, Co. Galway. He has two sisters, Breda Murphy and Martina Keville.
Bishop Michael was educated in Virginia National School and in Kells C.B.S. before entering Saint Patrick's College, Maynooth, to study for the priesthood in 1982. In Maynooth he graduated with a Bachelor in Divinity Degree and a Higher Diploma in Education.
Bishop Michael was ordained to the diaconate in the Maynooth College Chapel by Bishop Francis McKiernan, the Bishop of Kilmore, in 1987 and he was ordained as a priest for the Diocese of Kilmore in Saint Matthew's Church, Maghera, in his native parish, on 25 June, 1989.
Bishop Michael began his ministry as a curate in the parish of Killinkere and in 1991 he joined the teaching staff of Saint Patrick's College, Cavan, where he taught English, Geography and Religion. He was appointed Chaplain of Bailieborough Community School in 1996 and Priest in Residence in the Parish of Kilmainhamwood and Moybologue. In 2002/2003 he studied at Mater Dei Institute of Education in Dublin and assisted during that time in Our Lady of Good Counsel Parish in Drimnagh. He graduated with a Masters in Religion and Education in 2003.
On his return to the Diocese of Kilmore Bishop Michael was appointed the Diocesan Director of Adult Faith Formation and Pastoral Renewal while also serving as a Priest in Residence in the parish of Castletara/Ballyhaise. His role included providing training, encouragement and support for Parish Pastoral Councils, Liturgy Groups, Eucharistic Ministers and Ministers of the Word. He also helped to provide Adult Religious Education courses in the Diocesan Pastoral Centre, and in Manorhamilton, which were accredited by the Mater Dei Institute of Education and the Maryvale Institute.
In 2010, in addition to these roles, Bishop Michael was appointed director of the Diocesan Pastoral Centre and in 2013 he was transferred as Curate to the Cathedral Parish in Cavan with responsibility for the Butlersbridge area. In 2014 he was appointed to his present position as Parish Priest of Killann Parish, which includes the towns of Bailieborough and Shercock, and as Vicar Forane for the Bailieborough Deanery. Bishop Michael was also a member of the College of Consultors of the Diocese of Kilmore and is chairman of the Diocesan Priests' Council since 2017.
On 7 May last, His Holiness Pope Francis appointed Bishop Router, as Auxiliary Bishop of the Archdiocese of Armagh, assigning to him the Titular See of Lugmad. The Titular See of Lugmad is an ancient episcopal see in County Louth. Previous bishops who held that title included Bishop Thomas Winning, Auxiliary Bishop and later Cardinal Archbishop of Glasgow.
ENDS