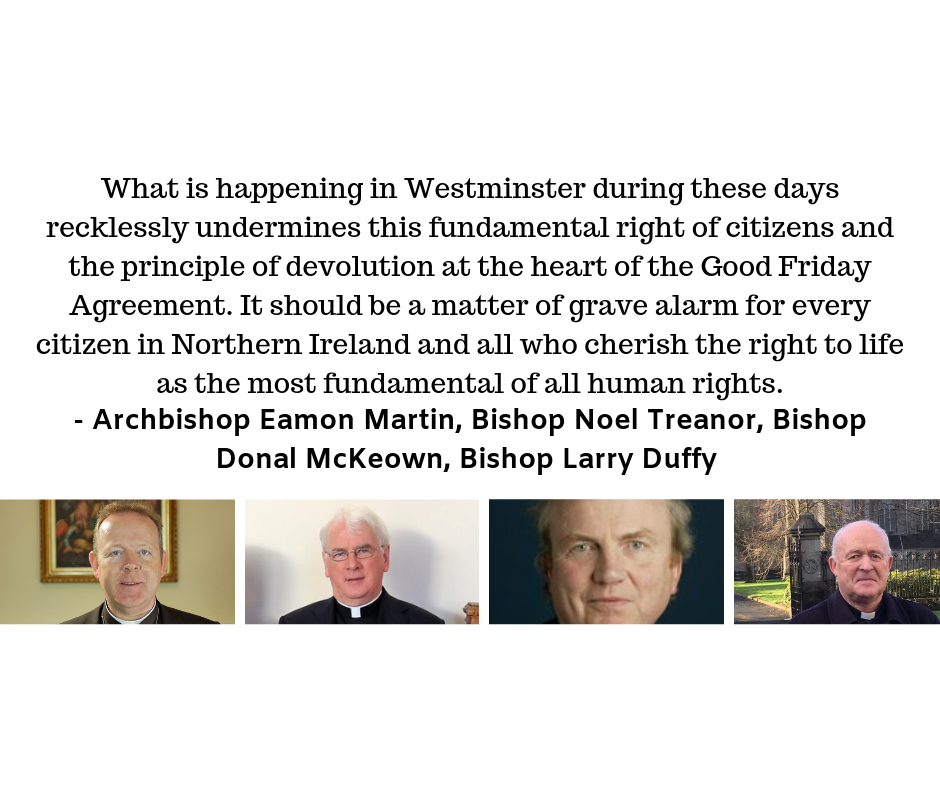 With the thousands of others who have voiced their concern in recent days, we wish to express our alarm at the unprecedented way in which the Westminster Parliament has used the Northern Ireland (Executive Formation) Bill to rush through legislation which will have a devastating impact on the right to life of unborn children.
The equal right to life, and love, of a mother and her unborn child is so fundamental to the common good of every society that citizens deserve the fullest participation in the democratic debate about the legislation which governs it. This also applies to decisions regarding the nature of marriage. What is happening in Westminster during these days recklessly undermines this fundamental right of citizens and the principle of devolution at the heart of the Good Friday Agreement. It should be a matter of grave alarm for every citizen in Northern Ireland and all who cherish the right to life as the most fundamental of all human rights.
We appeal to the Prime Minister and Westminster Government to move to overturn this hijacking of the Northern Ireland (Executive Formation) Bill for purposes for which it was never intended and to uphold the right of citizens in Northern Ireland, under the Good Friday Agreement, to decide these matters for themselves. We appeal to all citizens in Northern Ireland, to give expression to their commitment to the care of every mother and unborn child by asking their political representatives to ensure the equal right to life is upheld in our devolved legislation.
Archbishop Eamon Martin, Archbishop of Armagh and Apostolic Administrator of the Diocese of Dromore
Bishop Noel Treanor, Bishop of Down and Connor
Bishop Donal McKeown, Bishop of Derry
Bishop Larry Duffy, Bishop of Clogher
ENDS
For media contact: Catholic Communications Office Maynooth: Brenda Drumm 00353 (0) 87 310 4444.