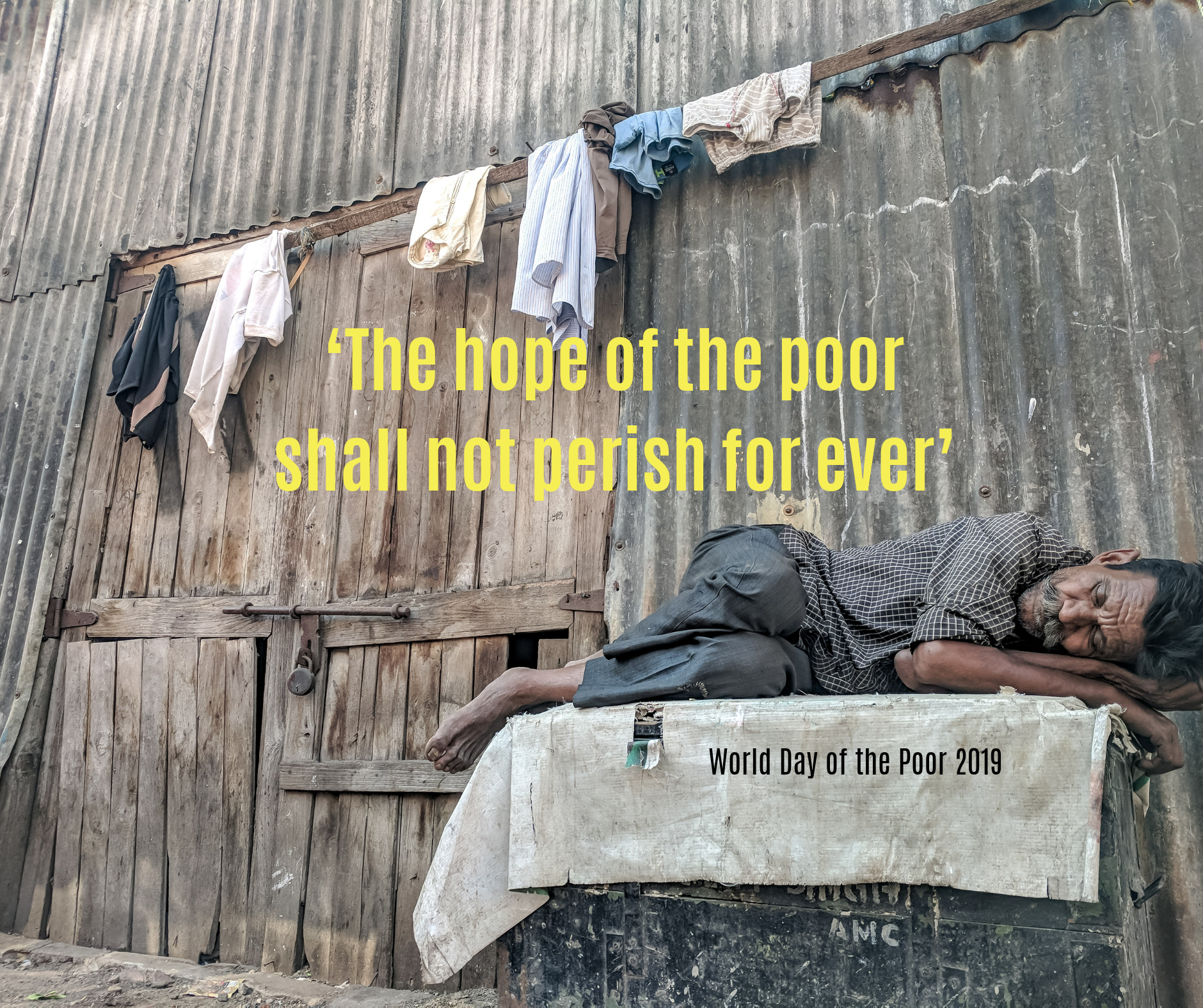 Pope Francis' message for the Third World Day of the Poor has been released. The day will be observed on Sunday 17 November 2019 on the theme "The hope of the poor shall not perish forever", taken from the Book of Psalms.
In his message Pope Francis says that Christians must sow hope among the poor.
He draws a comparison between the financial disparities of people the Old Testament and current social injustices. As present-day people are trapped in new forms of slavery, he said, it is the Catholic's obligation not only to provide the poor with relief services, but with spiritual hope.
"'The hope of the poor will not perish forever' These words of the Psalm remain timely. They express a profound truth that faith impresses above all on the hearts of the poor, restoring lost hope in the face of injustice, sufferings and the uncertainties of life," the pope said.
"I ask all Christian communities, and all those who feel impelled to offer hope and consolation to the poor, to help ensure that this World Day of the Poor will encourage more and more people to cooperate effectively so that no one will feel deprived of closeness and solidarity."
Pope Francis goes on to highlight how financial success has also led to an inequitable distribution of wealth. There are a privileged few, he said, but there are also millions of people who are exploited.
He said this exploitation is a type of bondage and enforces new forms of slavery. He said this abuse can be recognized in the displaced immigrants compelled to leave their homes, orphans and women forced into human trafficking, and young adults barred from employment.
"As in a hunt, the poor are trapped, captured and enslaved. As a result, many of them become disheartened, hardened and anxious only to drop out of sight. They become for all effects invisible and their voice is no longer heard or heeded in society. Men and women who are increasingly strangers amid our houses and outcasts in our neighborhoods."
These struggles may seem hopeless, he said, but it is the vulnerable and poor who will bear witness to God's faithfulness. He said, even if the poor are dismissed and turned away, it will not be like that forever.
"Scripture constantly speaks of God acting on behalf of the poor. He is the one who 'hears their cry' and 'comes to their aid'; he 'protects' and 'defends' them; he 'rescues' and 'saves' them… Indeed, the poor will never find God indifferent or silent in the face of their plea."
He said it is the obligation of the Christian to care for those who are vulnerable, because Christ identifies with those in poverty. He gave the example of Jean Vanier, the founder of L'Arche, an international organisation of communities dedicated to people with disabilities.
Pope Francis said, "God gave Jean Vanier the gift of devoting his entire life to our brothers and sisters with grave disabilities, people whom society often tends to exclude. He was one of those saints 'next door'. His witness changed the life of countless persons and helped the world to look differently at those less fortunate than ourselves. The cry of the poor was heard and produced an unwavering hope, creating visible and tangible signs of a concrete love that even today we can touch with our hands."
In this culture of waste, he said it is difficult to spread Christian hope. Pope Francis said charity must go beyond the distribution of physical necessities and it must become an authentic concern for the person, inspiring that individual to hope and compassion.
"The poor acquire genuine hope, not from seeing us gratified by giving them a few moments of our time, but from recognizing in our sacrifice an act of gratuitous love that seeks no reward. I encourage you to seek, in every poor person whom you encounter, his or her true needs, not to stop at their most obvious material needs, but to discover their inner goodness, paying heed to their background and their way of expressing themselves, and in this way to initiate a true fraternal dialogue.
"For once, let us set statistics aside: the poor are not statistics to cite when boasting of our works and projects. The poor are persons to be encountered; they are lonely, young and old, to be invited to our homes to share a meal; men women and children who look for a friendly word. The poor save us because they enable us to encounter the face of Jesus Christ."
You can read the text of the Pope's message here
The work of Trócaire
Every person has a right to food and water, yet too often these basic rights are denied. In a world of plenty, one in nine people do not have enough food to eat, while millions are denied access to land and water. Drought and other extreme weather patterns linked to climate change are ravaging livelihoods across the countries where Trócaire works.
Trócaire supports people to obtain legal protection of their land and natural resources to ensure that they have food, water and a secure place to live with independence.
We work with families to sustainably grow a wider range of food crops, so that their diet is nutritious and they are not reliant on one crop for their livelihood.
When disasters such as floods and drought strike, we help families to recover, while in the long term seeking a just international response to climate change and the devastation it is causing.
Click here for more on Trócaire's work and to find information on how you can support them
Prayers
Prayers of Intercession
We pray for the Church throughout the world, that she may be a voice for those who
lack even the basic necessities of life, tirelessly serving them and calling for change.
Lord, in your mercy, hear our prayer
We pray for the world's leaders, that they may not hide behind their power or abuse
it, but work for the good of all humanity, particularly the poor throughout the world.
Lord, in your mercy, hear our prayer
We pray for our local community, that we may show our love through our respect for
each other and for our environment, gladly sharing what we have with those in need.
Lord, in your mercy, hear our prayer
Prayer – At your table, Lord
Bountiful God,
When we eat this bread,
and drink this cup,
remind us that it is at your table
that we do it;
a table weighed down with good things,
a table full to overflowing.
Remind us that we have neither earned,
nor deserve,
what you freely give.
For it is to the starving that you bring satisfaction
whereas the full you send away empty.
Help us to respond to your invitation
by sharing what we have received,
by breaking the body and blood of creation with love and reverence,
and by adjusting our own wants so that no one is turned away.
Amen
Ged Johnson/CAFOD
Prayer – Poverty, Peace and Justice
O Lord, God of life,
who cares for all creation, give us your peace.
May our security not come from arms, but from respect,
May our force not be of violence, but of love.
May our wealth not be in money, but in sharing.
May our path not be of ambition, but of justice.
May our victory not be from vengeance, but in forgiveness.
Open and confident, we want to defend the dignity of all creation,
sharing, today and forever, the bread of solidarity and peace.
In the name of Jesus, your holy son, our brother,
who, as victim of our violence, even from the heights of the cross
gave us all forgiveness.
Amen.
A prayer from an ecumenical conference in Brazil, calling for an end to poverty as
the first step on the path to peace through justice.
Prayer – For a better world
Generous God, we thank you:
For the gifts you have given us,
the abundance of your Creation,
and the beauty that surrounds us.
For the people whose lives have touched ours,
for the love they show,
the burdens they lift,
the hopes we share.
Compassionate God, we ask you:
to fill us with your love,
to place in our hearts a spirit of courage,
to move us to reach out to others in need.
And lead us to play our part,
so that now and in generations to come
all your children may share
in our hope for a better world.
We ask this through Christ our Lord,
Amen.
Written by Catherine Gorman/CAFOD for the Your Catholic Legacy consortium
Quotes and Reflections for use on World Day of the Poor
Blessed are the poor in Spirit; the Kingdom of heaven is theirs (Matthew 5:3).
Ar scáth a chéile a mhaireann na daoine (by coming together, people live)
– Séanfhocail
A community is alive when it is poor and its members feel they have to work
together and remain united, if only to ensure that they can all eat tomorrow!
– Jean Vanier, founder of L'Arche Community.
Injustice anywhere is a threat to justice everywhere… whatever affects one
directly, affects all indirectly. – Martin Luther King Jnr.
So if I, your Lord and Teacher, have washed your feet, you also ought to wash
one another's feet (John 13:14).
But it is not God's will for some to have everything and others to have nothing.
That cannot be of God. God's will is that all his children be happy.
– Archbishop Oscar Romero.
Hope means to keep living
amid desperation
and to keep humming
in the darkness.
Hoping is knowing that there is love,
it is trust in tomorrow
it is falling asleep
and waking again
when the sun rises.
In the midst of a gale at sea,
it is to discover land.
In the eyes of another
it is to see that you are understood….
As long as there is still hope
There will also be prayer….
And you will be held in God's hands.
– Henri Nouwen, With Open Hands, (Ave Maria Press, 1995).
Poverty is a denial of choices and opportunities, a
violation of human dignity… It means not having enough to feed and cloth a
family, not having a school or clinic to go to, not having the land on which to
grow one's food or a job to earn one's living, not having access to credit. It
means insecurity, powerlessness and the exclusion of individuals, households
and communities. It means susceptibility to violence, and it often implies living
on marginal or fragile environments, without access to clean water or
sanitation.
– UN Statement, June 1998 – signed by the heads of all UN agencies.
ENDS