Features, Headlines, News archive 2019
'A time for courageous leadership' – Church leaders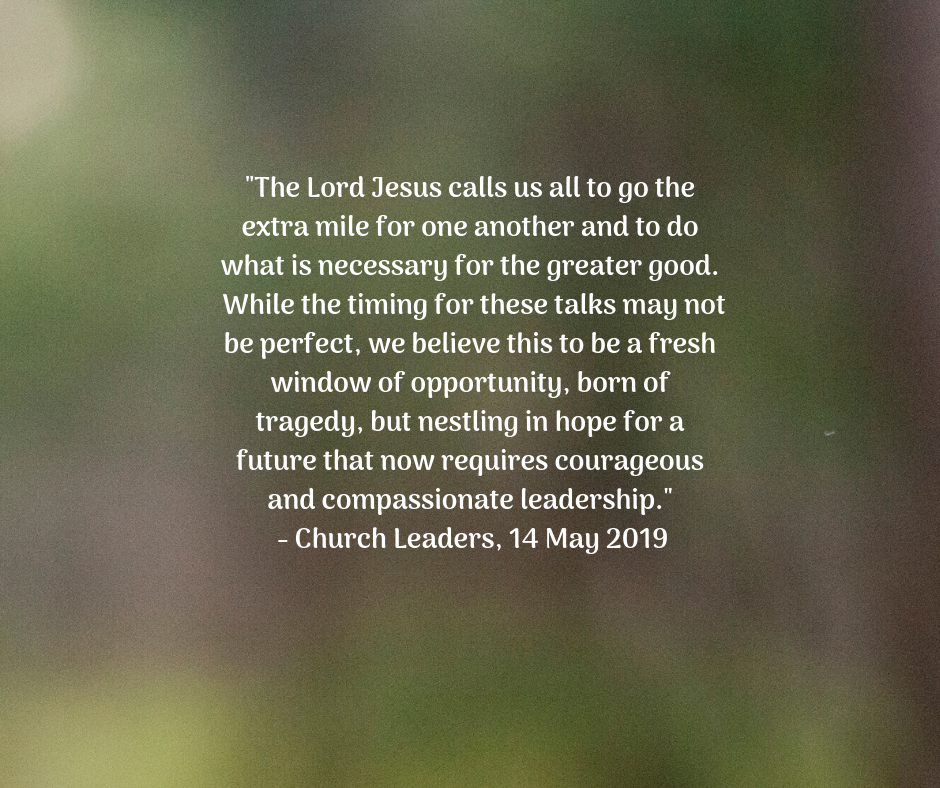 In a joint statement today (14 May) the leaders of Ireland's main Churches said that talks between Northern Ireland's political parties to restore the devolved institutions, were 'a fresh window of opportunity, born of tragedy, but nestling in hope for the future that now requires courageous and compassionate leadership.'
The leaders of the Church of Ireland, Methodist Church in Ireland, Roman Catholic Church, Presbyterian Church in Ireland and the Irish Council of Churches, were speaking today at Stormont House in Belfast, as they met to encourage those taking part in the inter-party talks.
Statement
"As leaders of Ireland's main churches, we want to add our collective voice to support and encourage everyone taking part in this new round of political talks to seize the opportunity for a new beginning that lies before them.
"In welcoming this fresh initiative, together, we hope and pray that there will be substantive progress over the next number of weeks that builds relationships, bridges the gaps that remain and leads to the establishment of a sustainable power-sharing executive – one that is built on accommodation and trust, has reconciliation at its heart and is focused on the common good and welfare of all.
"Having met with the five main party leaders last autumn, and since then having organised a series of meetings on the ground with elected representatives and many in civil society, we have been impressed by the genuine willingness of those involved to engage. At the same time, we all need to be realistic about the significant challenges that lie ahead in finding the necessary agreement.
"In our churches and faith-based charities, as in other areas of society, we are witnessing daily the damaging and continuing impact of not having a functioning devolved government. Across our community, there is also a growing sense of hopelessness and even despair at the lack of progress. For the sake of the most vulnerable in our society, for the sake of the victims of our past, for the sake of children in our schools and for the sake of people who need improved health and social care services, now is the time to find a resolution to the political impasse.
"The Lord Jesus calls us all to go the extra mile for one another and to do what is necessary for the greater good. While the timing for these talks may not be perfect, we believe this to be a fresh window of opportunity, born of tragedy, but nestling in hope for a future that now requires courageous and compassionate leadership.
"At times we can all become so focused on the issues that are significant to us, that we can fail to adequately take into account the concerns that are important for others. However, a way forward can be found when we all have a genuine desire to find a balanced accommodation that can serve the common good. That can be a difficult, but not impossible task. Today we want to support and encourage all those taking part in the search for such an accommodation."
Most Rev Dr Richard Clarke
Church of Ireland Archbishop of Armagh & Primate of All Ireland
Most Rev Eamon Martin
Roman Catholic Archbishop of Armagh & Primate of All Ireland
Rt Rev Dr Charles McMullen
Moderator of the General Assembly of the Presbyterian Church in Ireland
Rev William Davison
President of the Methodist Church in Ireland
Rev Brian Anderson
President of the Irish Council of Churches
ENDS
For media contact: Catholic Communications Office Maynooth: Martin Long 00353 (0) 86 172 7678 and Brenda Drumm 00353 (0) 87 310 4444.