Two Irish families will present the official World Meeting of Families 2018 'Icon of the Holy Family' (see image below) to Pope Francis in Rome during his weekly General Audience with the faithful in Rome tomorrow, Wednesday 21 March 2018. The Tobin family are from Co Kildare and the Bushell Family are resident in Rome.
The World Meeting of Families delegation will be led by Archbishop Diarmuid Martin, President of WMOF2018 and includes Father Tim Bartlett, Secretary General of WMOF2018 and the iconographer Mr Mihai Cucu.
The Tobin family comprises Mum and Dad, Brenda and Bryan and their two children Emma (20) and Cathal (13) and Grandmother Maureen Tobin from Cobh Co Cork.
The Bushell family comprises Mum and Dad, Mary and Michael and their two children Olivia (7) and Molly (5). The family moved to Rome in 2016.
The official icon for the World Meeting of Families was anointed by Archbishop Diarmuid Martin at Mass to mark the one year countdown to WMOF2018 which was held in Knock, Co Mayo on 21 August 2017. Since then the icon has been brought from parish to parish across Ireland as part of a pilgrimage to help parishes prepare for WMOF2018.
Notes to editors
Family biographies
The Bushell Family moved to Rome in 2016. Mum Mary is from a small parish in Tang, Co Westmeath and Michael is from Knocklyon in Dublin. Michael and Mary are married for the past 10 years and have two children Olivia (7) and Molly (5). Michael is currently on leave from An Garda Síochána to take up a position with the United Nations (World Food Programme). Mary is a nurse manager who worked for over 17 years in Temple Street Children's Hospital, Dublin, and is currently on leave from Tallaght Children's Hospital. Molly and Olivia are attending an English speaking school in Rome, but are also on leave from Saint Colmcilles National School in Knocklyon, Co Dublin. Olivia is currently preparing for her First Holy Communion at the Pontifical Irish College in Rome.
The Tobin Family is from Newbridge in Co Kildare. Mum, Brenda is originally from Belturbet, Co Cavan and Dad, Bryan is from Cobh in County Cork. Brenda and Bryan have been married for 22 years and have two children: Emma (20) and Cathal (13). Bryan is a former member of the Irish Defence Forces and is currently working with Storyful in Dublin. Brenda has been working as Communications Officer with the Catholic Communications Office for the past 17 years and is currently on secondment to the World Meeting of Families 2018. Emma is a final year student of English and Philosophy in University College Dublin. Cathal is in his first year of second level education at the Patrician Secondary School in Newbridge, Co Kildare. Grandmother Maureen Tobin is from Cobh in Co Cork. She has six children; sixteen grandchildren and eight great-grandchildren. She has been a widow for the past eight years.
World Meeting of Families
Dublin, Ireland, has been chosen by Pope Francis to host the next World Meeting of Families from 21-26 August 2018, guided by the theme "The Gospel of the Family: Joy for the World". Held every three years, this major international event brings together families from across the world to celebrate, pray and reflect upon the central importance of marriage and the family as the cornerstone of our lives, of society and of the Church. Whilst WMOF2018 will include exhibitions, cultural events and musical performances, events around the city, gestures of solidarity, it has at its heart the following key moments:
Firstly, a National Opening of World Meeting of Families will take place simultaneously in the twenty-six dioceses on the island of Ireland on 21 August;
Secondly, from 22 to 24 August, a three-day Pastoral Congress will take place in the RDS, Dublin and will include entail a joyful and reflective programme of workshops, talks and discussions centred on the theme: "The Gospel of the Family: Joy for the World". The Congress will also offer an engaging programme for young people to include faith and fun activities for children;
Thirdly, a Festival of Families will be held on Saturday 25 August 2018. This will involve a cultural concert within a prayerful and joyful atmosphere, during which personal stories of faith will be shared by families, each representing the five continents; and,
Fourthly, Holy Mass for WMOF2018. A solemn Eucharistic Celebration on Sunday 26 August will involve thousands of pilgrims from Ireland and around the world.
The WMOF2018 Icon
An icon is an image which invites us to prayer. Traditionally icons use seasoned wood. Specialist Joinery Group, a company based in Co Derry, crafted the wooden cabinet and base for the WMOF2018 Icon of the Holy Family. This was then covered in several layers of gesso, which works like an undercoat, priming it to receive the paint well.
The type of paint used in icons is known as 'tempera', an ancient technique, in which the coloured pigments are bound together with egg yolk and water. This has very different qualities to oil or acrylic paint. The colours need to be applied with great patience, building from dark shades to light, often requiring many layers of tiny hatch-strokes laid closely on top of another.
It is said that icons are 'written,' rather than 'painted', as they present to us a visual narrative. This Icon of the Holy Family, commissioned for the 2018 World Meeting of Families, was written by iconographer Mihai Cucu, who comes from Romania. Mihai was assisted by the Redemptoristine Sisters of the Monastery of St Alphonsus, Iona Road, Dublin.
Click here for more detailed information on the Icon as well as a selection of images https://www.worldmeeting2018.ie/WMOF/media/downloads/WMOF2018-Icon-of-the-Holy-Family.pdf
See www.worldmeeting2018.ie for more information and you can follow @wmof2018 on Twitter and Instagram as well as 'World Meeting of Families 2018' on Facebook.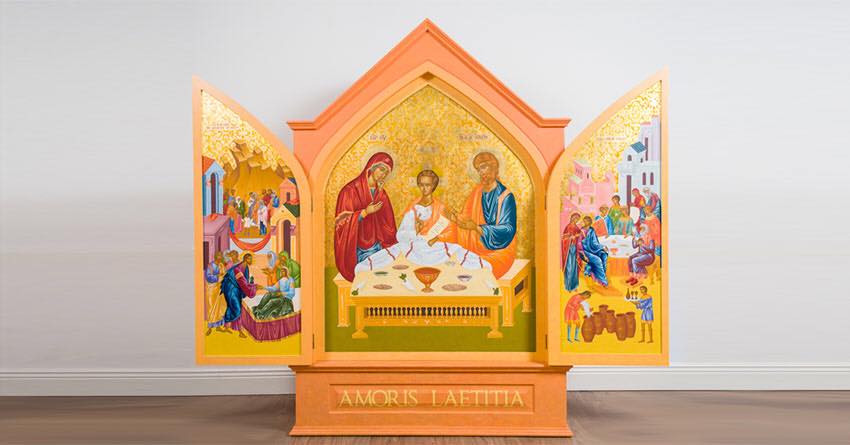 ENDS
For media contact: Catholic Communications Office Maynooth: Martin Long 00353 (0) 86 172 7678 and Katie Crosby 00353 (0) 86 862 3298