Features, Headlines
Episcopal Ordination of Dermot Farrell as Bishop of Ossory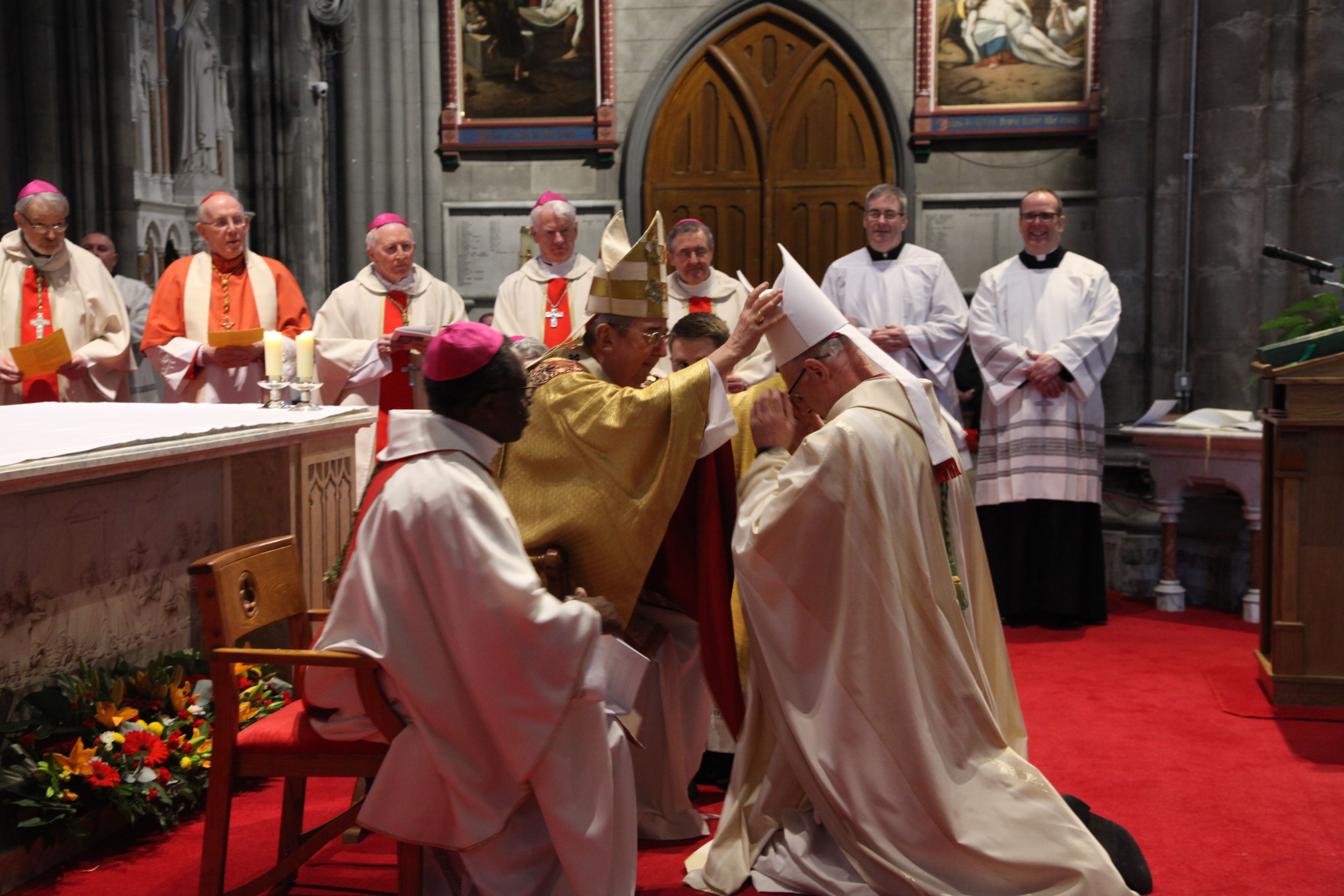 Words of welcome by Bishop Dermot Farrell at his Episcopal Ordination as Bishop of Ossory
Saint Mary's Cathedral, Kilkenny, Diocese of Ossory
"In these days we are all very aware of the need to protect the life of every child in the womb. There is no such thing as a human life that has no value.
However it is paradoxical and in some ways the ultimate delusion — to extinguish this most fundamental right of all, the right to life of the innocent child, in the name of personal and civil rights" – Bishop Farrell
Michael Doyle, Lord Mayor; Lieutenant Commander Patricia Butler, Aide de Camp to President Michael D Higgins; Cardinal Sean Brady; Archbishop Jude Okolo; Apostolic Nuncio; brother Bishops; members of the County Councils of Laois and Kilkenny; my brothers and sisters; my family and friends.
Thank you for coming to Kilkenny this afternoon to be with the Church in Ossory on this very special occasion.
All across the diocese, people have prayed over many months for the selection of a new Bishop. They asked the Lord to help them find someone to lead with vision for our future, understanding for our present and with compassion for our past. This was a sincere prayer for a daunting task. Today, I stand here before you more than aware of my own inadequacies. But you and I also stand before God, who is our hope and our help.
When I think of the responsibilities and duties that lie ahead I am comforted by the words of Saint Augustine in a sermon he preached on the anniversary of his ordination. He told his people: "Believe me, brothers and sisters, that if what I am for you frightens me, what I am with you reassures me. For you, I am bishop; with you I am a Christian." (Vobis enim sum episcopus, vobiscum sum Christianus—Sermon 340.1)
The role of a bishop is to be a father to his people, a brother to his priests, and a witness of Jesus Christ to the world. Augustine was not only a great theologian, preacher and administrator; Augustine was also a great pastor. He worked to serve his people, to shepherd them. His whole life as a bishop and teacher, can be summed up when he says "it seems to me that one must bring people back… to the hope of finding the truth." Today's Liturgy captures this reality in the phrase "doing what is true." (John 3:21). Words alone are not enough; love has to show itself in action. That's the vocation of everyone, particularly of the bishop.
The greatest day in the life a bishop is not his ordination, but his baptism, the day of his mission to live the Christian life in obedience to the gospel. Laity, bishops and priests share in the one baptism and the one mission to witness to the Good News of Jesus Christ. The success of this mission rests in God. Like Mary, the Mother of the Lord, we have to find our place in God's story. I entrust my episcopal ministry, from its very beginning today, to the motherly care of the Blessed Virgin Mary, Mother of the Church, and patroness of this Cathedral.
Today is Mother's Day. It is a particular joy that my own mother, Carmel, is with us here today. I thank God for the gift that she has been to me, and to my sisters and brother all throughout our lives. She and my late father, Dermot, gave us our lives, and life itself — the most precious gift of all. I give thanks to God for this ultimate gift without which nothing else is possible.
In these days we are all very aware of the need to protect the life of every child in the womb. There is no such thing as a human life that has no value. However it is paradoxical and in some ways the ultimate delusion—to extinguish this most fundamental right of all, the right to life of the innocent child, in the name of personal and civil rights. May the Lord open our eyes to see the image of God in every child, at every stage of their lives.
Coming to Kilkenny, I am conscious of the wonderful work accomplished here over the generations, to offer a life with dignity to every person in our communities. Today, it is surely not an impossible dream to hope that no person, particularly no child, in this country would be left homeless or go to bed hungry. I am thinking not only of those in hotel rooms, but also of our immigrants in detention centres and direct provision — every one of them precious to God (see Jonah 4:11). With more than 3,000 children in this country who have no place they can call their home, with families who do not have a front door to call their own, who have no family table — do we not have an obligation to call those in political leadership, who hold power and carry responsibility, to act with urgency, for the wellbeing of our sisters and brothers?
I am grateful to His Excellency, Archbishop Jude Okolo, the Apostolic Nuncio to Ireland, for his kindness in recent days of preparation, and for his presence with us today. Archbishop Okolo, of course, is not the first Papal Nuncio to grace Kilkenny with his presence. Archbishop Rinuccini came to bring the support of the universal Church at a time of great change and challenge in our country. Archbishop, please convey our gratitude to our Holy Father, Pope Francis, for the ministry of unity that he humbly and faithfully performs for all amid the contradictions of the world. To His Grace Archbishop Diarmuid Martin, Archbishop of Dublin, I express gratitude for ordaining me a Bishop today. Throughout my years working in Saint Patrick's College, Maynooth – of which he is a Trustee – and more recently in preparation for today, he has been most supportive and fraternal. I look forward to collaborating with you and my brother Bishops.
I want to express my thanks to emeritus Bishops Seamus Freeman and Laurence Forristal, and particularly to Monsignor Michael Ryan, Diocesan Administrator, for the past twenty months. He graciously fulfilled this role in addition to his own parish duties. I cannot adequately express my thanks to Bishop Michael Smith. In working with him through practically all of my priestly life, my vocation has been strengthened and enriched. His love for the Church, his fidelity of service, his example of prayerfulness and his availability to both priests and people has inspired me and will continue to do so.
We are grateful today for the presence of ecumenical leaders, especially Bishop John Neill and Rev Paul Maxwell; may we make our own those words of the Letter to the Ephesians: that the gifts God gives us may equip us for the work of service, for building up the Body of Christ, until all of us come to the unity of the faith and of the knowledge of the Son of God (Eph 4:11–13).
My thanks to the Monsignor Kieron Kennedy, Administrator of the Cathedral, the stewards, and the staff of the diocesan office for all they have done for this Liturgy. I express my gratitude to Father Dan Cavanagh for his thought-provoking homily. I thank the choir, the cantors and the Music Director, Father Richard Scriven. Music in the Liturgy is not just to entertain us; great music will always take us to the silence of the mystery from which it comes.
For almost 38 years I have been a priest of the Diocese of Meath. To have been a priest in that that diocese is a matter of great pride for me. Those priests who have faithfully served and are serving there taught me how to be a priest. I count on your prayers in the years ahead. I welcome the priests, religious, and laity of the Diocese of Ossory. I look forward to your ongoing collaboration and support as we continue to serve the people of our Diocese. Let us never forget that the Holy Spirit dwells deeply in the heart of every person (see Rom 8:15, Gal 4:6). May we live out of this mystery! May the Holy Spirit make of us a temple of living stones (1Pet 2:5), the Body of Christ throughout the world (1Cor 12:27). May God who has begun this good work in us bring it to completion.
Please remember me in your prayers as I will remember you in mine.
ENDS