"From strong marriages come strong families, and from strong families comes a strong society" – Bishop Nulty
Photocall at the Shrine of Saint Valentine of engaged couple at 12.00pm today: Anna Keegan from Dublin and Seamus Walsh from Mayo
See below figures and graphs for attendance by region at both Accord marriage preparation courses and Accord counselling sessions in 2017
The last time Saint Valentine's Day fell on Ash Wednesday was 73 years ago – it was 1945. So we customarily gather at the wonderful shrine of Saint Valentine here in the centre of Dublin, where the holy relic of the Saint's heart is venerated by pilgrims each day of the year. We gather this year on the eve of Saint Valentine's Day! An appropriate question to ask this year is whether Saint Valentine's Day a feast or a fast, I suppose we will all settle for a bit of both.
I have just blessed the engagement rings of Anna and Seamus. Anna is from Glenageary, Dublin while Seamus is from Ballycastle in Mayo. It wasn't at a recent All Ireland final they met, but around a rugby encounter, where Anna is a staunch Leinster fan, Seamus wears the Connaught jersey! They got engaged while on a visit to Budapest for the Christmas Markets two months back. They plan to marry here in the Archdiocese of Dublin in Saint Joseph's Church, Glasthule, next October.
Families and friends, the guests who attend wedding ceremonies, understand marriage as a fundamental human reality and the commitment of the young couple getting married is so moving because it says against all odds, no matter what happens 'we'll be there for one another'.
We also realise in today's world it is a difficult commitment. Different stressors can take their toll on the mood in a marriage, and that's why the accompaniment work of Accord is so essential. I think we are all interested in the stories of how people meet and fall in love. An equally important story is that of the many couples and individuals supported by Accord over the years. Accord, Catholic Marriage Care Service has been accompanying couples in preparation for marriage and in relationship counselling for fifty-six years.
For our most recent figures which we published today, 8,432 couples, in 2017, completed Marriage Preparation with us, while 7,079 individuals were counselled, attending often as a couple and sometimes individually.
The World Meeting of Families, the biggest church event in Ireland since we hosted the 50th International Eucharistic Congress in 2012, is just 189 days away. It will be hosted here in Dublin as we welcome families from all over the world to Dublin and to Ireland to reflect on family life in 2018. From strong marriages come strong families, and from strong families comes a strong society. Once again this year the World Meeting of Families are offering special tokens to mark Saint Valentine's Day – these tokens were very popular last year and the fact that the feast-day falls tomorrow on Ash Wednesday, I think they'll even be a bigger hit this year. I thank Father Tim Bartlett, Brenda Drumm and Anne Griffin and all behind the organising of the World Meeting of Families for this great initiative. Indeed I am delighted to present Anna and Seamus with the very first set of Saint Valentine's Day 2018 tokens now! No one needs to buy chocolates this year, just have these tokens in your back pocket!
Going back to the last time Saint Valentine's Day fell on an Ash Wednesday, I wonder what was family life like in Ireland then, seventy three years ago? It was a very different Ireland. According to the Central Statistics Office there were 17,301 marriages registered during 1945. The average number of children in a family was 5. The average age for brides then was 28, while grooms were 33. We are mindful that in 1945, while it was the end of the Second World War, Ireland was continuing to operate in a period known as 'The Emergency'. We may think we live in difficult times today, but those who have gone before us may have something else to say on that matter! Contemporary studies inform us that the vast majority of teenagers want to get married. According to the UK's Centre for Social Justice, three out of four young people between the age of 14-17 years see getting married as a key aspiration in their lives. Accord is delighted with the take up this year of our Schools' Programmes, working with younger people as they work through their particular aspirations and hopes in relationships. Last year, 39,265 young people participated in the Schools' Programmes offered by Accord here in Dublin and across the country. The fact that a huge percentage of them see marriage as a key aspiration is very encouraging indeed.
Becoming an engaged couple and having your rings blessed is a little like setting out on Ash Wednesday and realising Easter Sunday is still some distance down the road; for the engaged couple, like Anna and Seamus – who are with us here today – they realise their Wedding Day is the focal point of their journey. The Church is honoured to accompany couples in these preparatory and exciting times in their lives. Accord is privileged to be the face of the Catholic Church offering marriage preparation and relationships counselling in its centres right across the country, north and south, east and west.
Turning to today's ceremony, the Church recognises the importance of this period of the couple's engagement and how we can make the most of celebrating significant moments along the engagement journey. Pope Francis in his 2016 apostolic exhortation Amoris Laetitia is very encouraging that as Church, as parish, as community, we make much more of this engagement period and, indeed, find ways of supporting the young people in the early years after their marriage. Accord is currently looking at how it might revise the process and journey of marriage preparation in the light of Pope Francis' wonderful document. The current 'Marriage Preparation programme' over the past fourteen years has been completed by 115,267 couples; so it is an opportune time to step back and see exactly how we prepare and journey with couples for sacramental marriage in 2018 and beyond.
Also in studying the small print of Amoris Laetitia, Accord is all the time reflecting on how it offers relationship counselling to all who need our services within the ethos of the operation of Accord.
We believe in marriage, we believe in couples and we believe in individuals. In counselling we help heal the hurt first in the individual, then in the couple and hopefully in the marriage. On this the eve of Saint Valentine's Day, I very much think of couples in broken marriages and relationships who need support and accompaniment. Accord never closes the door to an individual or a couple who are hurting. Accord will be there through its relationship counselling service to support these people with our accompaniment and our skill set, a skill set that specialises in couple counselling. Accord is best placed to provide these services and has been counselling individuals and couples for over fifty-six years.
On behalf of Accord, Catholic Marriage Care Service, I wish every blessing on Anna and Seamus whose engagement rings I blessed a short time ago. While the Shrine here in the Carmelite Church to Saint Valentine dates back to the 1950's and 1960's, the relics of the Saint are here in Dublin for 182 years. I thank Father Sean Ford and the Carmelite community here for the welcome each year and for the way they keep the spirit of Valentine alive in Dublin. Every day is Valentine's Day at this shrine! I include a blessing and best wishes to all couples preparing for marriage presently and a special prayer and thought for those currently availing of our relationships counselling service.
This annual blessing ceremony allows us in Accord to reflect on the valuable contribution marriage and stable families offer the wider society. I thank all who are here from the Accord family – Harry Casey and his team at Central Office, Maynooth; Barbara Gilroy and her team in Accord Dublin; Deirdre O'Rawe and her team in Accord Northern Ireland and Yvonne Cronin who supports Accord centres outside of Dublin. I thank our specialists, Mary Johnston and Anne Coleman who ensure standards are kept to the highest in all our services. I thank the many Dioceses who help to fund Accord, as normal, the annual Accord Dublin Diocesan collection towards Accord takes place next weekend and Accord Dublin thanks you in anticipation of your generosity; I thank Tusla, the Child and Family Agency for its major contribution to our counselling services, it is deeply appreciated. I equally appreciate the contribution of the HSE and the Department of Health, Social Services and Public Safety in Northern Ireland. The generosity of our founders allows Accord to continue to support Marriage and Family Life and for this the couples and individuals who avail of that support most, are very grateful.
With Saint Valentine we pray:
O glorious advocate and protector Saint Valentine,
Look with pity upon our wants.
Hear our requests.
Attend to our prayers.
Relieve by your intercession the miseries under which we labour
And obtain for us the divine blessing
That we may be found worthy to join you
In praising the Almighty for all eternity,
through the merits of Our Lord Jesus Christ. Amen.
ENDS
Notes for Editors
Bishop Denis Nulty is Bishop of Kildare and Leighlin and president of Accord.
For information about the services offered by Accord central office call 00353 (1) 505 3112, email

[email protected]

and see accord.ie.
For photographs for media use from today's ceremony please contact John McElroy on

[email protected]

and 00353 (0) 87 241 6985. For general media contact please see below.
See below figures and graphs for attendance by region at both Accord marriage preparation courses and Accord counselling sessions in 2017: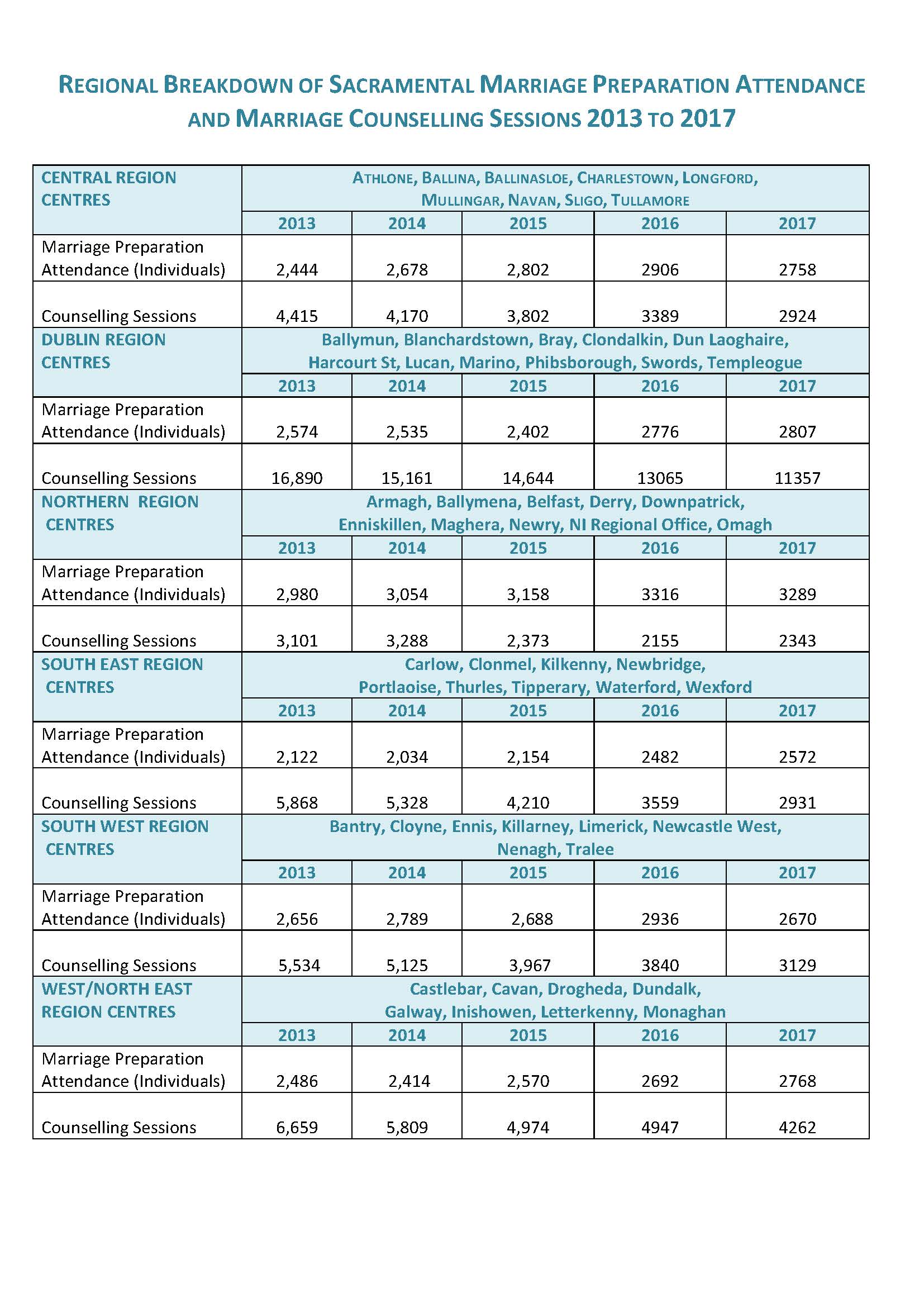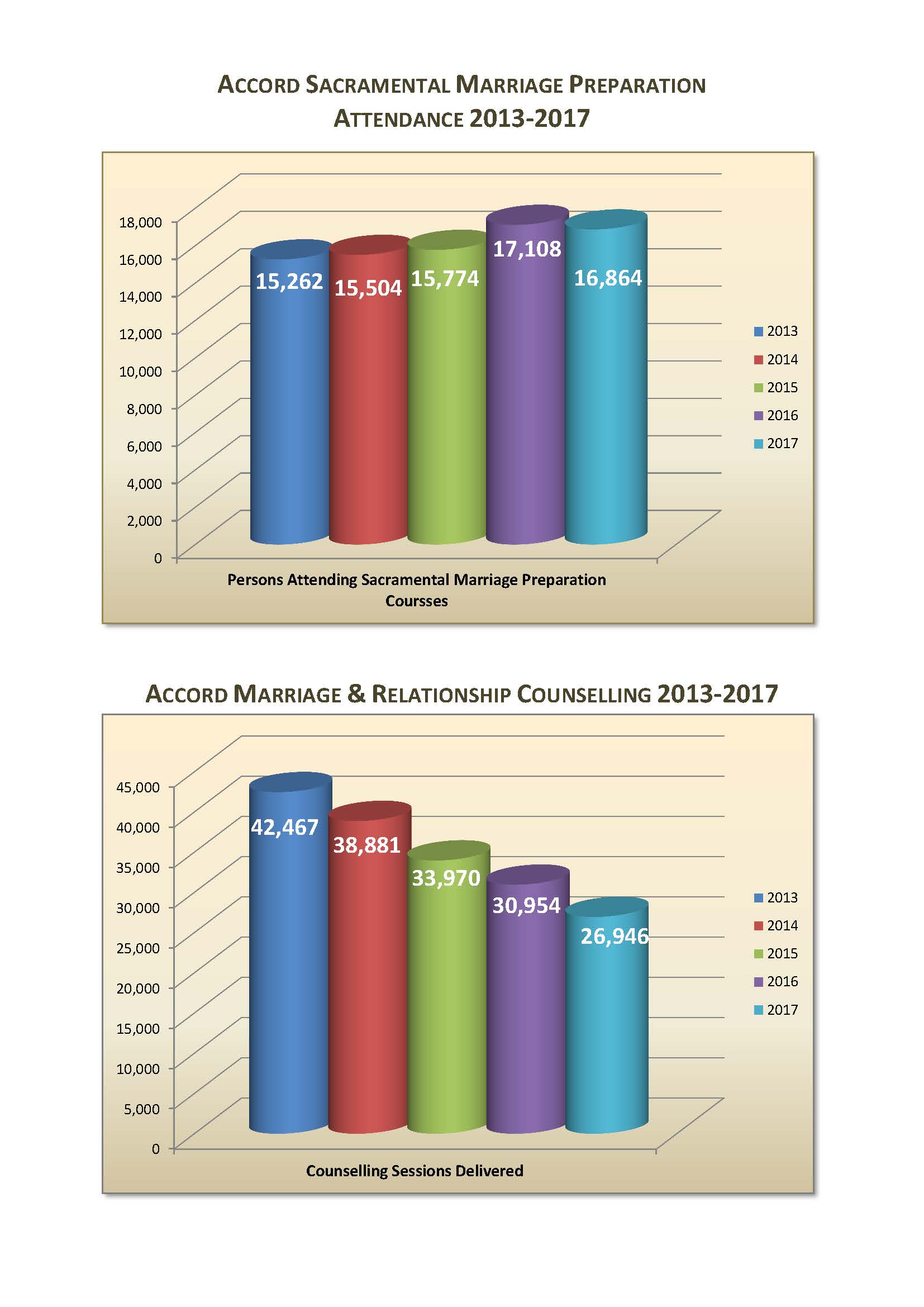 Problems highlighted by couples at Accord counselling sessions include: not listening and ignoring; anxiety and stress; criticisms and insults; conflict; intimacy issues; sexual issues; finance; separation and loss; and, emotional abuse. Communications problems tend to predominate among these issues, whilst problems relating to addiction (alcohol, drugs and gambling) tend to be less prevalent.
According to Anna, "Seamus and I met in a pub in Dublin city. I was on my way to a rugby match as a proud Leinster fan so I had many layers on! Seamus, a Connacht supporter, started chatting to me as I walked in the door. We hit it off from there. We got engaged in Budapest at the Christmas Markets, we walked up to a viewing point at the liberty statue to watch all the Christmas lights being turned on. Sadly with the cold air I had to take my inhaler twice trying to make it up the hill and could not figure out why Seamus really wanted to see the view. I guess I know now! I was very surprised he had planned it all. He had also gone out to speak to my parents before we left which meant a lot to me. The ring is my mother's original engagement ring. I have always wanted it as my engagement ring, so he had to get it off her first!"
Holy relics of Saint Valentine are interred in the Carmelite Church in Whitefriar Street, Dublin. Saint Valentine, a priest in ancient Rome, is regarded as the patron saint of couples in love, preparing for marriage and of married life. According to tradition, Saint Valentine was martyred on 14 February 250 AD. In 1836 relics that were exhumed from the catacombs of Saint Hippolytus on the Via Tiburtina, near Rome, were identified with Saint Valentine. These relics were placed in a casket, donated by Pope Gregory XVI, and transported to the Whitefriar Street Carmelite Church in Dublin where they continue to be venerated by the faithful to this day.
For media contact: Catholic Communications Office Maynooth: Martin Long 00353 (0) 86 172 7678 and Katie Crosby 00353 (0) 86 862 3298