The Winter 2017 General Meeting of the Irish Catholic Bishops' Conference concluded this evening in Saint Patrick's College, Maynooth.  Please see below issues that were discussed during the bishops' meeting:
Homelessness and the housing crisis
Bishops express (i) gratitude to the public for €5m Church collection in aid of Trócaire's east-African food crisis appeal (ii) support for Trócaire's Christmas appeal
Northern Ireland and Brexit
Appeal to members of the Oireachtas regarding human life
Irish language translation of the new Roman Missal
Update on preparations for the World Meeting of Families 2018
Advent 2017 (i) Sacrament of Reconciliation (ii) Digital Advent Calendar
Catholic Schools Week 2018
Homelessness and the housing crisis
The most visible manifestation of the homeless crisis – rough sleeping – has seen a marked increase over this Winter.  According to the Peter McVerry Trust, eight people have died sleeping rough in the last 12 weeks.  This is a collective failure of our society to protect the most vulnerable amongst us.
In Ireland, 8,300 people are using emergency homeless accommodation, including over 3,000 children and more than 1,400 families.  This figure does not include those who are sleeping rough, those who are homeless but who are 'sofa surfing', or those who are involuntarily living with friends or relatives as no alternative accommodation is available to them.  The average rent in the Republic has risen by 61% since late 2011.  Tens of thousands of people are living with mortgages in arrears and consequently are at risk of losing their home.  Energy poverty affects more than 600,000 people across Ireland.  These statistics represent individual stories of hardship endured by our sisters and brothers.
Bishops ask all people in society, and in particular our policymakers, to recommit themselves to building a society that values human beings, not least, by working for a society that enables all people to live in a decent home.  Bishops also expressed concern that the recently announced increases in both energy costs and public transport prices will disproportionately affect the poor, the marginalised and the elderly in our society.  Bishops agreed that the implementation of these price increases in the run up to Christmas is particularly harsh.
The Church teaches that each person, regardless of his or her economic or social position, racial or faith background, must be treated with full dignity (cf. Gal 3:28).  It is an indignity to accept a version of Irish society in which a family lives in an overcrowded B&B, hostel or hotel room; a person sleeps in a wet shopfront in a city centre; or an older couple survive without the means to heat their home.  Therefore, each of us has an option, to respect the dignity of all in our society through our actions or to choose to ignore this suffering.  This is the choice that faces all of us in today's Ireland which is approaching full employment.  Homelessness, poor housing conditions and energy poverty are largely symptoms of political and economic choices.  Something is structurally wrong with a society which allows such a negation of human dignity.
Bishops express their support to those organisations which every day live out the mission of the Gospel in practical terms.  Organisations such as Crosscare, the Peter McVerry Trust, Threshold, the Society of Saint Vincent de Paul, Merchants Quay Ireland and the Capuchin Day Centre, Focus Ireland, Simon and the Salvation Army express solidarity with the marginalised and this can mean the difference between human life and death.
Bishops reiterate our support, first made* in 2015, for the amending of the Constitution of Ireland to include an explicit right to housing, observing that such a provision "would make an important contribution to the legal and policy frameworks required to address the inadequacies of the current system."
Bishops offered prayers for those who are suffering amidst this housing crisis so that, as a society, we can "find Jesus in the faces of others, in their voices, in their pleas" (Evangelii Gaudium 91).
(*Statement by the Irish Catholic Bishops' Conference to mark International Human Rights Day, 10 December 2015)
Bishops express (i) gratitude to the public for €5m Church collection in aid of Trócaire's east-African food crisis appeal (ii) support for Trócaire's Christmas appeal
Trócaire, the Church's overseas development agency, continues to carry out invaluable work around the world, providing life-changing support to the most vulnerable members of our global family.  The last twelve months have again highlighted the need for compassion and solidarity to extend across borders.  A devastating drought continues to leave millions across east-Africa facing hunger.  In July of this year, the Church responded by holding a special collection to support Trócaire's response in the region.  This national Church collection raised €5m for Trócaire's emergency response.  Bishops expressed their deep gratitude to the people of Ireland for their very generous contributions to this Church collection which was taken up in response to the food crisis in affected parts of South Sudan, Somalia, Ethiopia and Kenya.
This money will enable Trócaire to expand its feeding programmes and deliver vital aid – including food, water and medicine.  Trócaire's programmes in east-Africa are a life-line for many.  For example, in Somalia Trócaire operates three hospitals, 12 child nutrition centres and 15 schools.  Continued support for Trócaire's work is vital as they respond to hunger, displacement, conflict and human rights abuses in over twenty countries across the developing world.
Bishops encourage people to support Trócaire's Christmas appeal to help the organisation's life-saving work around the world.  The theme of this year's Trócaire's appeal is 'Until Love Conquers Fear', highlighting the fear felt by families who are displaced, hungry or at risk of violence this Christmas, and the difference the loving support of people in Ireland can make.  For more information please visit www.trocaire.org.
Northern Ireland and Brexit
The people of Northern Ireland need signs of hope.  The common good of all its citizens must be the guiding principle for mapping the way ahead.  In the current high level of uncertainty in political life, it is the weakest who suffer most.  This is a source of deep concern to citizens and their families.  Bishops urge all involved in the current Brexit Phase One negotiations to work towards solutions that will consolidate and further the achievement of the Good Friday Agreement and the peace and institutions that have enabled political and economic development in recent years.
Appeal to members of the Oireachtas regarding human life
Bishops noted that, on 13 December next, members of the Oireachtas committee on the Eighth Amendment to the Constitution will vote on whether the amendment should be repealed and on what, if anything, will replace it.
Bishops appealed to each member of the Oireachtas to consider how society can best respond to the personal needs of women within a legal and constitutional framework which acknowledges the right to life of the unborn, together with the equal right to life of the mother.  Bishops once more affirmed that Article 40.3.3 has a particular vision based on respect for the life of every person and that its removal can have no effect other than to expose unborn children to greater risk.
During their meeting, bishops discussed the sanctity and innate dignity of every human life, from conception to natural death, as a value for the whole of society, rooted in reason as well as faith.  The faithful are invited to read the bishops' submission in March to the Citizens' Assembly Two Lives, One Love, as well as their recent 'Day for Life' message Fostering a Culture that Protects Life and Respects Women.  These documents are available, together with other pastoral and spiritual resources, on the web-site www.chooselife2017.ie.
Irish language translation of the new Roman Missal
Bishops welcomed the publication of the new altar edition of An Leabhar Aifrinn Rómhánach, the Irish language translation of the Roman Missal, and expressed their deep gratitude to all those who contributed to its preparation and production.
On the first day of the Bishops' meeting, the President of the Bishops' Conference, Archbishop Eamon Martin, Archbishop of Armagh and Primate of All Ireland, was chief celebrant at a Mass of Thanksgiving, in Irish, for the new Missal and for all who contributed to its preparation including members of An Coiste Comhairleach um an Liotúirge i nGaeilge, An Coiste Sapienti, the National Centre of Liturgy, Veritas Publications and Saint Patrick's College, Maynooth.  Music for the Mass was led by Dr John O'Keeffe and the Saint Patrick's College, Maynooth, Seminary Choir..  The Mass, attended by the bishops of Ireland, took place in Saint Mary's Oratory, Saint Patrick's College, Maynooth, using the new edition of An Leabhar Aifrinn.  Bishop Brendan Kelly, Bishop of Achonry, preached the homily.
An Leabhar Aifrinn Rómhánach is the liturgical book which contains all the rubrics and prayers for the celebration of the Eucharist in Irish.  The finished Irish translation is the fruit of a huge collaboration between linguists, theologians and native Irish speakers that began 14 years ago in 2003.  800 copies were published by Veritas Publications and 685 have been sold to date.  The official launch of An Leabhar Aifrinn Rómhánach took place on Sunday 3 December in a Mass broadcast by RTÉ One television and radio.
Translation of Liturgical Texts
Bishops welcomed the motu proprio of Pope Francis, Magnum Principium, concerning the translation of liturgical texts.  While moving towards implementation of the provisions of Magnum Principium, the bishops will give time to reflection and discussion on the full implications of the motu proprio.  The Bishops' Conference will continue to work collaboratively with other national Bishops' Conferences, including through the International Commission for English in the Liturgy, in realising the principles of Magnum Principium, while giving full regard to the rights and responsibilities of the Bishops' Conference as affirmed by the Holy Father Pope Francis.
Update on preparations for the World Meeting of Families 2018
In May 2016 Pope Francis chose "The Gospel of the Family: Joy for the World" as the theme for the next World Meeting of Families.  This major pastoral celebration will take place in Dublin from 21 to 26 August 2018.  At their meeting, bishops encouraged the faithful to pray the official prayer for the World Meeting of Families 2018.  See text of prayer below.
Father Timothy Bartlett, secretary general of the World Meeting of Families 2018, updated bishops on the preparations for next year's celebration of families and faith.  Father Bartlett highlighted the Christmas card icon initiative based on Pope Francis' apostolic exhortation Amoris Laetitia; the volunteer drive; the registration process; and the need for host families in the greater Dublin area:
A special Christmas card for family homes is now available.  The card is based on the 'Icon of the Holy Family' (see image embedded below) – which is currently journeying to each of the 26 dioceses of Ireland – to encourage reflection and prayer in preparation for the World Meeting of Families.  More than 700,000 of the cards will be distributed at Christmas Masses across Ireland.  The 'Icon of the Holy Family' is accompanied by petition boxes, enabling families to write intentions and prayers.  Contemplative communities around Ireland will pray for the intentions collected during the coming year.  See worldmeeting2018.ie.
To date just under 1,500 people have signed up as volunteers to be part of next year's celebration of family but thousands more are needed for this international faith event.  Anyone interested is encouraged to submit an expression of interest on worldmeeting2018.ie/volunteer.
At previous World Meetings a tradition has developed of hosting pilgrims and families travelling from distant places like Peru, the Philippines and Ecuador, in order to defray the cost of travel which can be quite significant.  The presence of families from abroad is an important expression of solidarity with families here in Ireland, coming as they often do from countries with a strong missionary connection with Ireland.  Offers of accommodation are now being sought in family homes in the Dublin area for overseas pilgrims and in areas with good public transport links to the city centre.  Applicants interested in hosting pilgrims or a family in their home are invited to email

[email protected]

and place "Host a Family" in the subject line.
Advent 2017 (i)  Sacrament of Reconciliation (ii) Digital Advent Calendar
The call to renewal of our Christian life is a central part of our preparation for the season of Christmas.  Our celebration of Advent should be an integral part of our preparation for the Feast of the birth of Our Saviour.  In the Sacrament of Reconciliation (or Penance), we receive the gift of God's mercy and forgiveness.  Bishops strongly encourage all Catholics to make time during the season of Advent to avail of the gift of God's love in the Sacrament of Reconciliation.
As a unique Advent prayerful resource, the Bishops' Conference has provided its interactive online Advent calendar which can be enjoyed by people of all ages.  In its fifth year of publication, the Advent calendar is available on the home page of www.catholicbishops.ie and on smartphones.  This year's calendar focuses on the theme of family as we prepare together for next year's World Meeting of Families in Dublin.  Each day during Advent the faithful are invited to click open a virtual door where faith content for family, school and parish can be found.  During Advent, families are invited to take special time together to pray, to talk, and to be together.  Family members are encouraged to undertake an act of kindness or charity – as suggested by the daily calendar – and by doing so to reach out to help those around us.
Catholic Schools Week 2018
Bishops offered their prayerful support to the organisers of Catholic Schools Week 2018.  CSW2018 will take place across Ireland from 28 January – 4 February with the theme 'Catholic Schools: Called to be a Family of Families.'  Bishop Fintan Monahan, Bishop of Killaloe, will celebrate Mass on Sunday 4 February from the Cathedral of Saints Peter & Paul, Ennis, to mark the conclusion of CSW.  This Mass will be broadcast on RTÉ radio.
ENDS
Notes for Editors
Official Family Prayer for the World Meeting of Families 2018
God, our Father,
We are brothers and sisters in Jesus your Son,
One family, in the Spirit of your love.
Bless us with the joy of love.
Make us patient and kind,
gentle and generous,
welcoming to those in need.
Help us to live your forgiveness and peace.
Protect all families with your loving care,
Especially those for whom we now pray:
[We pause and remember family members and others by name]
Increase our faith,
Strengthen our hope,
Keep us safe in your love,
Make us always grateful for the gift of life that we share.
This we ask, through Christ our Lord,
Amen
Mary, mother and guide, pray for us.
Saint Joseph, father and protector, pray for us.
Saints Joachim and Anne, pray for us.
Saints Louis and Zélie Martin, pray for us.
World Meeting of Families Christmas card based on the 'Icon of the Holy Family'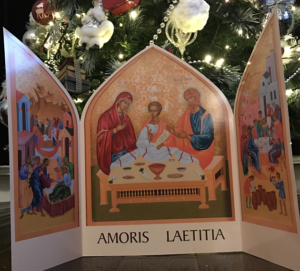 For media contact: Catholic Communications Office Maynooth: Martin Long 00353 (0) 86 172 7678 and Katie Crosby 00353 (0) 86 862 3298