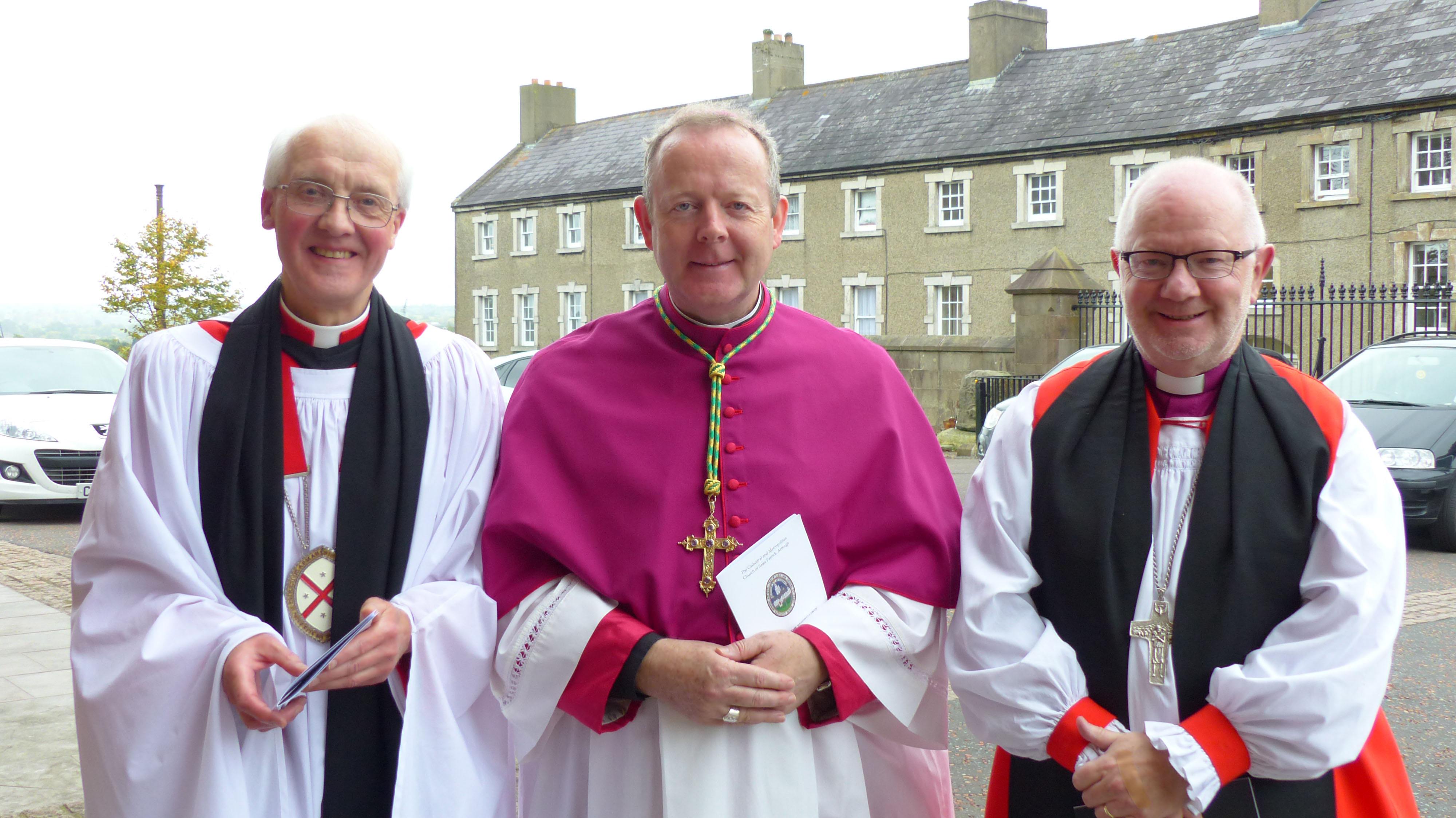 Choral Evensong in Saint Patrick's Church of Ireland Cathedral, Armagh, to mark the 500th anniversary of Luther's theses
"I would like to present three ways of reconciling the reformation, [by emphasising] … the importance of friendship and trust … a shared encounter with Christ in the sacred scriptures and in prayer … [and by] strengthening our shared Christian witness on the island of Ireland" – Archbishop Martin

Near the Lateran square in Rome there's a statue of Saint Francis of Assisi holding out his arms towards the Basilica of Saint John. Tourists try to line up their cameras so that the picture seems to show Saint Francis holding up the great Cathedral. The sculpture commemorates a story of Pope Innocent III who in a dream saw a little friar supporting the church which was about to collapse! It reminds us of Saint Francis' own vision in the Church of San Damiano in Assisi where he heard the Lord calling him: "Go and rebuild my Church since it is falling into ruin".
When I reflect on that phrase: "ecclesia semper reformanda – the Church, always in need of being reformed" – I often think of Saint Francis, an insignificant friar who forsook a future of wealth and power to witness instead to a simple life of poverty, a life motivated by "true faith, certain hope and perfect charity".
Just before his election at the conclave in 2013 Pope Francis warned against a self-referential Church. The Church, he often says, must resist the temptation to become closed in on herself out of fear or prejudice, thinking 'we've always done it this way'. Instead the Church must be prepared to go out, inspired by true faith, bringing certain hope and living in perfect charity. The missionary impulse, Pope Francis says, is 'capable of transforming everything, so that the Church's customs, ways of doing things, times and schedules, language and structures can be suitably channelled for the evangelisation of today's world rather than for her self-preservation' (Evangelii Gaudium 27 – The Joy of the Gospel).
In this spirit of pastoral conversion and mission, Pope Francis himself travelled to the Cathedral of Lund in Sweden on 31 October 2016 for a joint Catholic-Lutheran prayer service to begin the five hundredth anniversary year of Luther's "Ninety-five Theses". It was an historic, joyful and surprising moment – surprising firstly, to think that the Holy Father had been invited to such a significant Reformation event, and secondly, that he had accepted!
In that same spirit, I am deeply grateful for the invitation of Archbishop Richard Clarke and Dean Gregory Dunstan to join you here today. Let me share with you some lines from the joint declaration in Lund that was signed by Pope Francis and Bishop Munib Yunan, President of the World Lutheran Federation. They declared:
"While we are profoundly thankful for the spiritual and theological gifts received through the Reformation, we also confess and lament before Christ that Lutherans and Catholics have wounded the visible unity of the Church. Theological differences were accompanied by prejudice and conflicts, and religion was instrumentalized for political ends. Our common faith in Jesus Christ and our baptism demand of us a daily conversion, by which we cast off the historical disagreements and conflicts that impede the ministry of reconciliation. While the past cannot be changed, what is remembered and how it is remembered can be transformed".
The witness of Pope Francis, Bishop Yunan and many others during this anniversary year encourages all of us to find ways of 'reconciling the reformation'. This afternoon I would like to present three ways of bridging, or reconciling the reformation, and offer some final thoughts regarding our particular situation on the island of Ireland.
Firstly, I want to emphasise the importance of personal friendship and trust in helping to bridge and reconcile the reformation. This trust is founded on the reality that what unites us is so much greater than what divides us. We share the conviction that 'God loved us first', with His free gift of grace and merciful love, and before any human response that we might have given. Sometimes we underplay the extent of agreement that exists across our traditions on key doctrinal issues, including the core issue of justification which triggered so much of the polemic and mutual condemnations of the Reformation period. That is, of course, not to deny that there remain important differences between us – for example over issues like Church, Eucharist, ministry and the papacy. However, changing the paradigm from disagreement and difference to one of friendship and trust, frees up our theologians to debate and clarify the areas of difference that merit deeper understanding and dialogue. Perhaps one of the greatest obstacles to reconciling the reformation is possessiveness and even fear – the fear of letting go of our differences; fear of losing something of who we are in the exchange. It is tempting, sometimes, to remain closed in on ourselves – wrapped in the cosy comfort-blanket of 'the way we've always been'.
The Gospel, however, shakes us out our complacency; it challenges us to deepen 'true faith' in a culture of openness and dialogue which allows us to learn from, and be enriched by, each other. (Archbishop Richard has often said to me that we should try to do together those things which we feel we do not have to do separately).
The second bridge I offer towards reconciling the reformation is that of a shared encounter with Christ in the sacred scriptures and in prayer. Saint Jerome was convinced that "ignorance of the scriptures is also ignorance of Christ". During the period surrounding Luther's reformation, Christians rediscovered the centrality of God's Word in the life and mission of the Church. The apostle John, in his first letter, speaks about encountering Christ in his Word; he describes 'hearing', 'seeing', 'touching' and 'looking upon' the Word who is life (1 John1:1).
Knowing this, we might return more often in prayer to the Word of God in a quest for greater reconciliation. Through shared study of God's word, combined with prayerful reading and reflection, the Holy Spirit can guide us to overcome prejudice and promote greater harmony and understanding.
We cannot however allow the Word of God to remain shut up within us, or resort to individualism in our interpretation of it. Jesus' moving prayer to the Father: "that they may be one, so that the world may believe"(Jn17:21) promises us that as we grow closer to Christ in his Word and in prayer, we draw closer to each other. Our shared immersion in the Word, and guided discernment of its message for us, inspires us to prayer and onwards to 'perfect charity' – a merciful outreach towards the poor and marginalised.
That brings me to my third suggestion for reconciling the reformation – strengthening our shared Christian witness on the island of Ireland.
The role of religion and faith in Irish society, north and south, has clearly changed dramatically, influenced by the process of secularisation and evidenced by a steady decline in Church attendance and in vocations to ministry. More and more people are now living their lives without any reference to God or to religious belief.
It is in this environment that all of us as members of Christian traditions are being called to courageously "go out of ourselves" to engage in mission. Our wounded world needs so much to be healed and enlightened by the Gospel, and we are all called to be prophetic in shining the light and truth of the Gospel into some of the trickiest and most sensitive issues of our time. All around us we see people discarded by society, or starved of purpose, 'robbed of hope', or simply confused by the superficiality of what is on offer to them. Jesus in our hearts is calling on all of us Christians: 'give them something to eat!'
The Second Vatican Council document Gaudium et Spes puts it this way: "The future of humanity rests on those who are capable of handing on to the coming generations reasons for living and hoping." (11)
Some would react to us: 'Christians, keep your faith to yourself, save it for the privacy of your home and your place of worship; stay out of the public square'.
But our faith in God's love for us, and our personal relationship with Jesus compels us to participate in the public sphere.
I am convinced that in the midst of an increasingly secular world, we in the various Christian traditions are called to combine our efforts out of our 'certain hope' for the world. We therefore present to public discourse our consistent Christian conviction about the sacredness of all human life and the dignity of the person, about the centrality of the family, about solidarity and the need for a fair distribution of goods in the world, about a society that is marked by peace, justice and care for all, especially the most vulnerable.
Of course we must find new ways of presenting our sincerely held perspectives alongside those of other faiths and none in conversations about significant issues and values. Such engagement by people of faith is made all the stronger if we do it together and, where possible, when we have a unified voice on the key ethical issues of our time.
To conclude, I recognise, sadly, that many people looking in at us from outside, and particularly on this island, see a history of division and sectarianism, of intolerance, mutual recriminations, and open hostility within the Christian family – this is a source of scandal, and something which has dimmed the light of the Gospel.
We people of faith, in the various Christian traditions on the island of Ireland, share the responsibility of leading the way in transforming relationships and in healing the legacy and pain of our troubled past.
Allow me to return to the joint declaration of Pope Francis and Lutheran Bishop Yunan in Lund this time last year. I quote: "We pray for the healing of our wounds and of the memories that cloud our view of one another. We emphatically reject all hatred and violence, past and present, especially that expressed in the name of religion. Today, we hear God's command to set aside all conflict. We recognize that we are freed by grace to move towards the communion to which God continually calls us."
My brothers and sisters, in the end we are all faced with choices. Peace is a choice, forgiveness is a choice, tolerance and respect – each of these is a choice. 'Freed by grace' we can choose like Saint Francis to support and rebuild God's Church in true faith, certain hope and perfect charity; or we can choose to remain closed to God's promptings, shut up inside ourselves, self-referential, growing more and more irrelevant to the wounded world around us.
This challenge is not simply one for Church leaders but for all Christian believers – in our families and communities, workplaces and recreation – to move from conflict to greater communion, together bringing the joy of the Gospel into our troubled world.
ENDS
Archbishop Eamon Martin is Archbishop of Armagh and Primate of All Ireland.