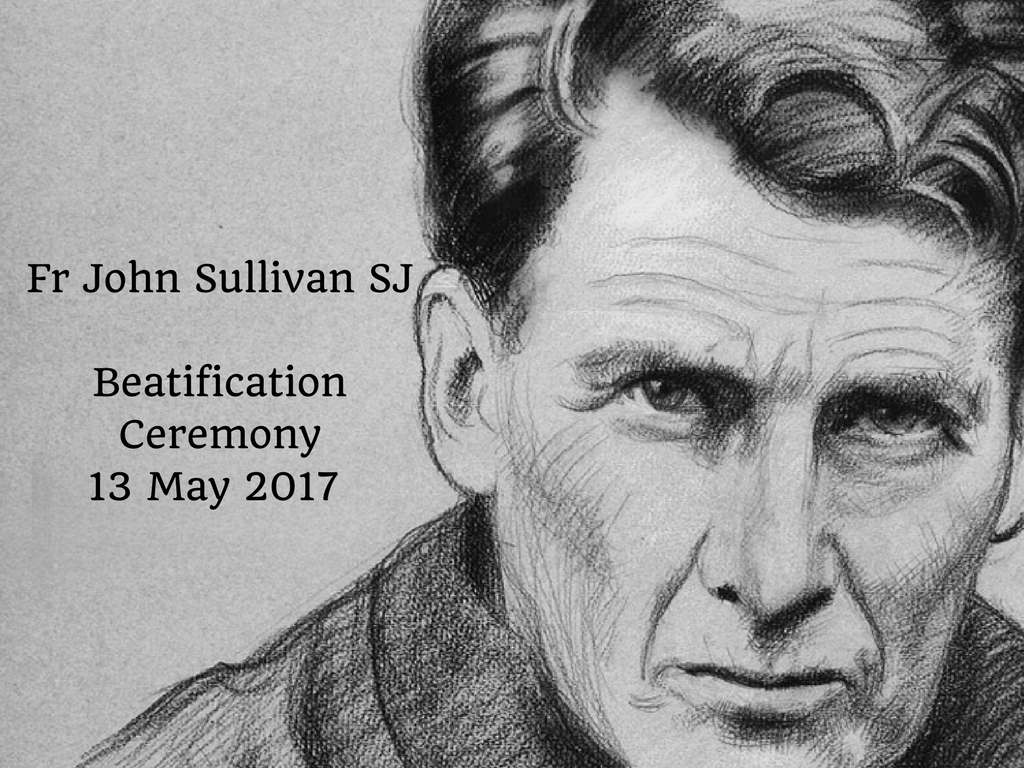 Fr John Sullivan SJ will be beatified at 11.00am on Saturday 13 May, 2017 in Gardiner Street Church, Dublin. The principal celebrant and homilist will be Cardinal Angelo Amato, Prefect of the Congregation for the Causes of Saints, and he will be assisted by the Archbishop of Dublin, Diarmuid Martin. The Church of Ireland Archbishop of Dublin, Michael Jackson, will also be present on the sanctuary.
Other dignitaries in attendance will include Archbishop Eamon Martin, Archbishop of Armagh and Primate of All Ireland, Fr Toni Witwer SJ, General Postulator for Jesuit causes, Fr Leonard Moloney, Irish Jesuit Provincial, Victor Assouad SJ, Regional Assistant for Western Europe and Brendan Carr, Lord Mayor of Dublin. Also expected are members of Fr John's family, most of whom will travel from England. Representatives from Portora Royal School, Enniskillen, which Fr John attended in the 1870s, and Trinity College Dublin, where he studied Classics and Law, will be present as well.
The ceremony consists of a Mass during which a formal request for beatification is publicly made. In an unprecedented ecumenical gesture, this request will be made by the Church of Ireland and the Catholic Archbishops together, reflecting the fact that Fr John was an Anglican for the first half of his life and Roman Catholic for the second. In fact, the entire event is unprecedented, as there has never been a beatification ceremony in Ireland before.
Beatification, which confers the title 'Blessed', means that a man or woman is considered to be truly holy and worthy of veneration at a local level. The next stage after beatification is canonisation, sainthood, which is a recognition of this holiness by the universal Church. For this process a further miracle is required, one which is confirmed to have taken place after the beatification.
Fr John Sullivan's reputation for holiness stemmed in great part from his untiring attention to the sick and the poor. Most of his priestly life was spent in Clongowes Wood College, Co. Kildare, and it was mainly in the towns and villages around this school that he spent so much time walking and cycling to visit those in need. After his death on 19 February 1933, devotion to him continued to spread. It remains lively in many places around Ireland, so a large crowd is expected to attend the event, including the sick and the elderly.
It should be noted that the capacity of Gardiner St Church is quite limited. Unfortunately, there can be no guarantee that everyone who comes to the church will gain entrance. For this reason, the Jesuits have set up two marquees in the church's back garden, where a live broadcast of the event will be on display. This broadcast will also be viewable in Belvedere College, in nearby Great Denmark Street. Also, people at home and abroad can also watch the entire ceremony on the Irish Jesuit website, at www.jesuit.ie/beatification, where it will be streamed live.
Music during the liturgy will be provided by students from Clongowes Wood College. Also, world-renowned soprano Celine Byrne, a native of Kildare, will sing the Ave Maria and Panis Angelicus. During the Mass, a large portrait of Fr John will be unveiled and a relic of his hair, which was kept by his barber, Charlie Barrett, will be brought to the altar. After the ceremony there will be a time for quiet reflection, during which attendees may receive a blessing from the Fr John Sullivan cross.
A Mass of Thanksgiving for the beatification of Fr John will take place in Clongowes Wood College on Saturday 20 May at 7pm.
Biography
John Sullivan was born in Dublin on 8 May 1861. His father, the future Lord Chancellor of Ireland Sir Edward Sullivan was a Protestant. His mother, Lady Bessie Josephine Sullivan was a Catholic. John was baptised in St. George's Protestant Church on 15 June 1861 and brought up in the Protestant tradition of his father. From his earliest years John enjoyed the benefits of a home which radiated warm affection, high culture and sound scholarship.
In 1873 John followed in the footsteps of his brothers and went to Portora Royal School, Enniskillen in Northern Ireland which had the reputation of being the most eminent Protestant school of the day. He spent happy years at Portora and in later years admitted that he went to Portora "bathed in tears" but when the time came to leave he "wept more plentiful tears".
After Portora, John went to Trinity College Dublin. He distinguished himself in his university studies and in 1885 he was awarded the Gold Medal in Classics. After gaining a Senior Moderatorship in Classics, John started to study law. It was at this time that his father, the Lord Chancellor of Ireland Sir Edward Sullivan, died suddenly. The shock had a devastating effect on John.
The promising young scholar left Ireland and continued his legal studies at Lincoln's Inn in London where he was called to the Bar in 1888. At this time, due to his inheritance, he was very comfortable in financial terms, noted for his fashionable dress and handsome appearance. He travelled extensively around Europe and was a keen cycling enthusiast. He stayed at the Orthodox monastery of Mount Athos in Greece and was friendly with the monks.
Then, in December 1896 at the age of 35, he made a momentous decision. He was received into the Catholic Church at the Jesuit Church, Farm Street, London. From this time onward a marked changed was noted in his manner of living. On returning to the family home in Dublin, he stripped his room of anything that was superfluous, satisfying himself with the simplest of furniture on a carpetless floor. The young man, who was formerly noted for his fashionable dress, contented himself with the plainest of clothes.
He became a regular visitor to Dublin hospitals and convents where he was a welcome visitor. He had a remarkable gift for putting patients in good humour and showed special sympathy toward the old, bringing them gifts of snuff or packages of tea and reading for them from religious books.
In September 1900 John Sullivan decided to enter the Society of Jesus. The two years of novitiate in St. Stanislaus College, Tullamore, were followed by studies in philosophy at Stonyhurst College in England. From the beginning, he was clearly different to other Jesuits. He gave himself completely to his new way of life. All who lived with him were struck by his dedication to prayer and to religious life. Despite his outstanding gifts, he never paraded his knowledge but was always careful to help others whenever possible.
In 1904 he came to Milltown Park to study theology and he was ordained a priest on 28 July 1907. He was then appointed to the staff in Clongowes Wood College, Co. Kildare where he was to spend the greater part of his life as a Jesuit, apart from the period 1919-1924 when he was Rector of Rathfarnham Castle, the Jesuit House of Studies in Dublin.
Fr. John's reputation for holiness spread rapidly around Clongowes and the neighbourhood. Despite his brilliant mind and academic achievements it was his holiness that was recognised. Many revered him as a saint. He prayed constantly – he walked with God continually – he listened to Him and he found Him and God worked through him. Many who were in need of spiritual or physical healing flocked to him and asked his prayers – and strange things happened. The power of God seemed to work through him and many were cured.
He was always available to the sick, the poor, anyone in need. The call to serve God in serving those who suffered in any way was a driving force for the rest of his life. He was always caring for others – a source of comfort and peace to anyone in trouble. He brought many to God by pointing out the way that leads to the deepest and ultimate peace. He was always at prayer whenever possible. Every available moment was spent in the chapel.
He walked with God and lived every conscious moment in his nearer presence. At times he hardly seemed to notice the ordinary world around him. He was in constant union with his Maker and cared little for the material things of life. One old lady who lived near Clongowes managed to penetrate the secret of his extraordinary holiness: "Fr. Sullivan is very hard on himself – but he is never hard on others". He ate the plainest of food and lived a life of severe penance. He left everything in order to follow the call of his Lord and Master and he found the riches of a different order. What a contrast with the rich young man of his earlier years!
Fr John Sullivan died in the old St. Vincent's Nursing Home in Leeson Street, a short distance from the Sullivan family home on 19 February 1933. Since that time, he has been revered by many as a saint. During his lifetime many flocked to him in times of trouble and anxiety, confident of the power of his prayers – and that confidence continues. He is still loved and remembered.
Declared:
Servant of God in September 1960
Venerable November 2014
For more on the life of Father John Sullivan see http://www.frjohnsullivan.ie/