Pope Francis' Worldwide Day of Prayer for Survivors and Victims of sexual abuse will be marked today in Irish dioceses and parishes. Pope Francis made the request last year to all Bishops' Conferences and asked that the First Friday of Lent, which falls today, Friday 3 March, would be set aside as a Worldwide Day of Prayer.
Some of the diocesan events and liturgies taking place in dioceses are as follows:
Ardagh and Clonmacnois
Bishop Francis Duffy, Bishop of Ardagh and Clonmacnois will celebrate Mass at 10.00am on Friday 3 March in Saint Mel's Cathedral, Longford for today's Day of Prayer for Survivors and Victims of sexual abuse.
Armagh
Archbishop Eamon Martin has sent a letter inviting all parishes and religious communities in the Archdiocese of Armagh to include a prayer for victims of sexual abuse on Friday 3 March. Archbishop Eamon will be celebrating Mass and leading a Holy Hour to mark the Day of Prayer for Survivors and Victims of abuse beginning at 7.30pm in Saint Malachy's Church, Armagh.
Cashel and Emly
A Liturgy of Prayer for the Survivors and Victims of sexual abuse will take place on Friday 3 March at 9.00pm in the Cathedral of the Assumption, Thurles in the Archdiocese of Cashel and Emly. This gathering is a diocesan event and the Diocesan Choir will participate in the liturgy.
Cloyne
Bishop William Crean, Bishop of Cloyne has published a letter to the people of Cloyne to coincide with the Day of Prayer. The letter includes suggestions of appropriate prayers and music for use during liturgies. Masses and liturgies will be held across the diocese including in Saint Colman's Cathedral in Cobh and in Norwood.
Dublin
The Archdiocese of Dublin has published liturgical resources for all parishes to use for the Day of Prayer for Survivors and Victims of Abuse. See www.dublindiocese.ie for more on the Day of Prayer in the Archdiocese of Dublin.
Elphin
Bishop Kevin Doran, Bishop of Elphin has asked all parishes in the diocese to include prayers for survivors and victims of sexual abuse at all Masses on Friday 3 March. Bishop Doran will celebrate Mass on Friday morning in Sligo Cathedral for this intention. Bishop Kevin has also written a short reflection to mark the Day of Prayer. You can read the reflection here.
Kerry
Bishop Ray Browne, Bishop of Kerry will celebrate the 6.15 pm Mass in Saint Mary's Cathedral, Killarney, and will offer prayers for all survivors and victims of sexual abuse.
Kildare and Leighlin
Bishop Denis Nulty will be leading a Holy Hour in the Cathedral of the Assumption in Carlow from 7.00pm to 8.00pm on Friday 3 March to mark the Day of Prayer for sexual abuse victims.
Kilmore
The Diocese of Kilmore will hold a prayer service dedicated to those who have been abused and their families. It will take place on Good Friday in the Cathedral of St Patrick and St Felim in Cavan town. The prayer service will be in the form of 'prayer around the Cross'.
To find details of the events taking place in your diocese please click on the local diocesan website at the following link. Our list of liturgies will be updated as more information becomes available.
Liturgical Resources
The following text for prayer was sent to Archbishop Diarmuid Martin by a person who suffered abuse so that it could be shared in parishes. This prayer was inscribed on the healing stone which was unveiled at the 50th International Eucharistic Congress 2012 and now has its permanent home at Lough Derg, Co Donegal.
Lord, we are so sorry
for what some of us did to your children:
treated them so cruelly,
especially in their hour of need.
We have left them with a lifelong suffering.
This was not your plan for them or us.
Please help us to help them.
Guide us, Lord, Amen.
Paidreacha dIdirghui
A Dhia, tá aiféal orainn
as ucht na rudaí a rinne cuid dúinn dod phaistí:
gur caitheadh leo chomh chrualach,
in am a gátar ach go háirithe.
Dfhágamar iad le cruatan saoil.
Níorbh é seo do scéim dóibh súid ná dúinne.
Cabhraigh linn le cabhair a thabhairt dóibh súid.
Treoraí sinn, a Thiarna, Amen.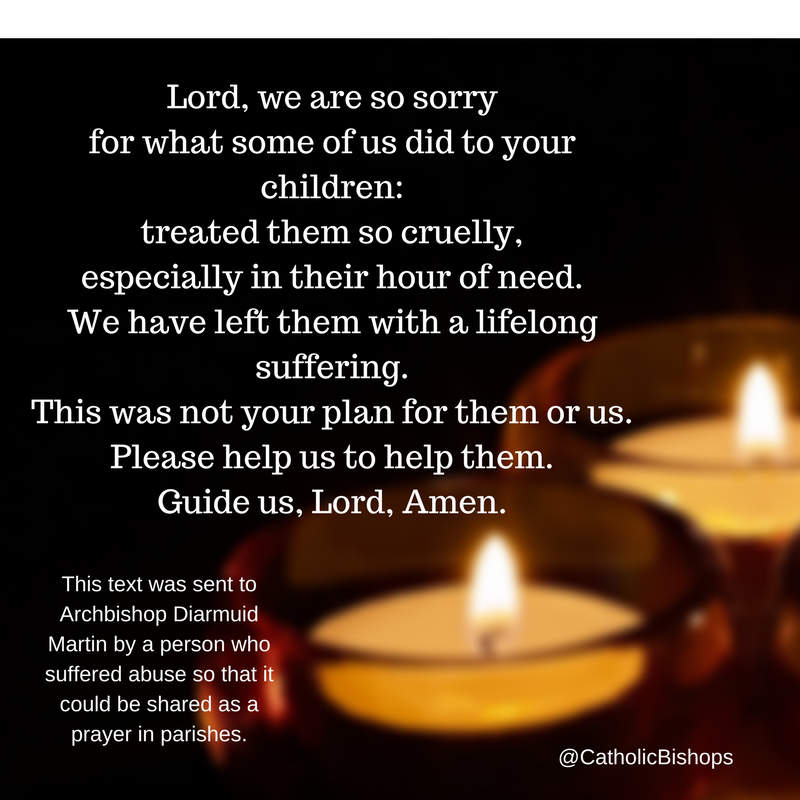 Prayers of Intercession:
Introduction
With humility of heart, we pray to God,
whose love and faithfulness endures forever.
We pray for people who have been abused
whether physically, mentally, emotionally or sexually
that the Lord of all tenderness and compassion
will restore them and give them peace.
We pray that we become more and more a community
that actively protects the most vulnerable people of society, particularly our children.
We pray that the Spirit of Wisdom enlightens people
to put an end to acts of violence and abuse.
We pray for the healing professions
who minister to those who suffer violence and abuse,
that God will give them an abundance of wisdom, compassion and love.
Concluding Prayer
God our rock and our strength on whom we lean,
help us to create an atmosphere of trust
which allows the unspeakable to be said.
Help us to live with our painful memories.
May we support each other and be safe places for each other.
Through Christ, our Lord.
Samplaí den Urnaí Uilechoiteann
Cuireadh an tSagairt
Le humhail croí, guímis do Dia, maireann a ghrá agus dilseacht go buan.
Guimís ar son gach duine gur baineadh mí-usáid asta bíodh sin go fisiciúil,
go hintinneach, go maoithneach nó gréasach: go ndéanfadh an Tiarna atá lán de cineáltacht agus trua athneartú orthú an síocháin a thabhairt dóibh.
Guimís go mbéimid ina phobal ata gríomhach ag tabhairt aire agus cosaint don
cuid dár sochaí atá gan chosaint, ár bpáistí ach go háirithe.
Guimís ar son spiorad na crionnachta; go dtabharfar leargas dintinn gach
duine agus go dtreoraí se dfhás in eolas agus diongbháilteacht le deireadh a chuir le gníomhartha dfhoreigean agus mí-úsáid
Guimís ar son na gairme cneasú a thugann fóirithint dóibh súid atá ag
fulaingt de thoradh ar fhoreigean nó mí-úsáid go dtabharfaidh Dia flúirse grá,
trua agus críonnacht dóibh.
Urnaí an tSagairt
Dia ár gcarraig agus ár neart ar a gclaonaimid
cabhraigh linn atmaisféar de mhuinín a chruthú
ina gceadaitear an doluaite a lua.
Cabhraigh linn maireachtan lenár gcuimhní pianmhar
go dtugaimid tacaíocht dá chéile agus bheith mar áit slán da chéile.
Trí Chríost ár dTiarna.
New Testament
From the letter of St Paul to the Romans 8:26-27
When faced with great difficulty, we often can be at a total loss for words.
But the Spirit of God can express even our sighs to the heart of God.

The Spirit comes to help us in our weakness.
For when we cannot choose words in order to pray properly,
the Spirit himself expresses our plea
in a way that could never be put into words,
and God who knows everything in our hearts
knows perfectly well what he means,
and that the pleas of the saints expressed by the Spirit
are according to the mind of God.
From the first letter of St Peter 5: 5b, 7, 10b-11.
Wrap yourselves in humility to be servants of each other,
because God refuses the proud and will always favour the humble.
Unload all your worries on to him,
since he is looking after you.
The God of all grace
who called you to eternal glory in Christ
will see that all is well again:
he will confirm, strengthen and support you.
His power lasts forever and ever. Amen.
Responsorial Psalms
From Psalm 33
The Lord is close to the broken hearted

I will bless the Lord at all times,
his praise always on my lips;
in the Lord my soul shall make its boast.
The humble will hear and be glad.
The Lord is close to the broken hearted
Glorify the Lord with me.
Together let us praise his name.
I sought the Lord and he answered me;
from all my terrors he set me free.
The Lord is close to the broken hearted

Look towards him and be radiant;
let your faces not be abashed.
The Lord is close to the broken-hearted;
those whose spirit is crushed he will save.
The Lord is close to the broken hearted
From Psalm 68 (69)
In your great love, answer me O God
I am wearied with all my crying,
my throat is parched.
My eyes are wasted away
from looking for my God.
In your great love, answer me O God
This is my prayer to you,
my prayer for your favour.
In your great love answer me, O God,
with your help that never fails.
In your great love, answer me O God
Lord, answer, for your love is kind;
in your compassion, turn towards me.
Do not hide your face from your servant;
answer me quickly for I am in distress.
In your great love, answer me O God
As for me in my poverty and pain,
let your help, O God, lift me up.
The poor when they see it will be glad
and God-seeking hearts will revive.
In your great love, answer me O God
From Psalm 26
The Lord is my light and my help
The Lord is my light and my help;
whom shall I fear?
The Lord is the stronghold of my life;
before whom shall I shrink?
The Lord is my light and my help
For there he keeps me safe in his tent
in the day of evil.
He hides me in the shelter of his tent,
on a rock he sets me safe.
The Lord is my light and my help
O Lord, hear my voice when I call;
have mercy and answer.
Of you my heart has spoken:
'Seek his face.'
The Lord is my light and my help

It is your face O Lord that I seek;
hide not your face.
Dismiss not your servant in anger;
you have been my help.
The Lord is my light and my help

Do not abandon or forsake me,
O God my help!
Though father and mother forsake me,
the Lord will receive me.
The Lord is my light and my help
Gospel Texts
From the Gospel according to Matthew 11:28-30
Jesus exclaimed:
'Come to me, all you who labour and are overburdened,
and I will give you rest.
Shoulder my yoke and learn from me,
for I am gentle and humble in heart,
and you will find rest for your souls.
Yes, my yoke is easy and my burden light.'
From the Gospel according to Matthew 18:5-7a, 10
[Jesus said to his disciples:]
'Anyone who welcomes a little child like this in my name welcomes me.
But anyone who is an obstacle
to bring down one of these little ones who have faith in me
would be better drowned in the depths of the sea
with a great millstone round his neck.
Alas for the world that there should be such obstacles!'
'See that you never despise any of these little ones,
for I tell you that their angels in heaven
are continually in the presence of my Father in heaven.'
From the Gospel according to Mark 4:35-41
With the coming of evening, Jesus said to his disciples, 'Let us cross over to the other side.' And leaving the crowd behind they took him, just as he was, in the boat; and there were other boats with him. Then it began to blow a gale and the waves were breaking into the boat so that it was almost swamped. But he was in the stern, his head on the cushion, asleep. They woke him and said to him, 'Master, do you not care? We are going down!' And he woke up and rebuked the wind and said to the sea, 'Quiet now! Be calm!' And the wind dropped, and all was calm again.
From the Gospel according to John 10:11-18
Jesus said:
'I am the good shepherd:
the good shepherd is one who lays down his life for his sheep.
The hired man, since he is not the shepherd
and the sheep do not belong to him,
abandons the sheep and runs away
as soon as he sees a wolf coming,
and then the wolf attacks and scatters the sheep;
this is because he is only a hired man
and has no concern for the sheep.
I am the good shepherd;
I know my own
and my own know me,
just as the Father knows me
and I know the Father;
and I lay down my life for my sheep.'
From the Gospel according to John 14: 1
Jesus said to his disciples:
'Do not let your hearts be troubled.
Trust in God still,
and trust in me.'
From the Gospel according to John 14: 27
Jesus said to his disciples:
'Peace I bequeath to you,
my own peace I give you,
a peace the world cannot give, this is my gift to you.
Do not let your hearts be troubled or afraid.'
Prayers and Reflections
God of endless love,
ever caring, ever strong,
always present, always just:
You gave your only Son
to save us by the blood of his cross.
Gentle Jesus, shepherd of peace,
join to your own suffering
the pain of all who have been hurt
in body, mind, and spirit
by those who betrayed the trust placed in them.
Hear our cries of distress
over the harm done to our brothers and sisters.
Breathe wisdom into our prayers,
soothe restless hearts with hope,
steady shaken spirits with faith:
Show us the way to justice and wholeness,
enlightened by truth and enfolded in your mercy.
Holy Spirit, comforter of hearts,
heal your peoples wounds
and transform our brokenness.
Grant us courage and wisdom, humility and grace
so that we may act with justice
and find peace in you.
We ask this through Christ, our Lord. Amen.
From a prayer produced by the Unites States Catholic Conference of Bishops
Praise to you, Father of our Lord Jesus Christ,
source of all consolation and hope.
By your Son's dying and rising
he remains our light in every darkness,
our strength in every weakness.
Be the refuge and guardian
of all who suffer from abuse and violence.
Comfort them and send healing
for their wounds of body, soul and spirit.
Rescue them from bitterness and shame
and refresh them with your love.
Heal the brokenness in all victims of abuse
and revive the spirits of all who lament this sin.
Help us to follow Jesus
in drawing good from evil, life from death.
Make us one with you in your love for justice
as we deepen our respect
for the dignity of every human life.
Giver of peace, make us one in celebrating your praise,
both now and forever. Amen.
Bishop of St Cloud, USA
See Also
John O' Donohue, For Broken Trust
in Benedictus — A Book of Blessings (London: Bantam Press 2007) 178.
Alexian Brothers, Prayer to Christ the Healer http://www.poemsofconsolation.net/?page_id=1155
Litanies
[1]
In the Gospel of Matthew, even before Jesus is born he is called: "Emmanuel – a name which means 'God-is-with-us'" [Matt 1:23]
Jesus' first work is to accompany us.
We hear this again the invitation to Jesus from the two disciples on the Road to Emmaus when "they pressed him to stay with them" [Luke 24:29]
We invite him to accompany us as we pray: Stay with us Lord
When peace is fragile Stay with us, Lord
When tempers are raised Stay with us, Lord
When atrocities occur Stay with us, Lord
When forgiveness is rejected Stay with us, Lord
When talks break down Stay with us, Lord
When agreements are broken Stay with us, Lord
When darkness weighs upon us Stay with us, Lord
When we cannot see you Stay with us, Lord
When burdens feel too heavy Stay with us, Lord
When hope seems faint Stay with us, Lord
When we are weak Stay with us, Lord
When faith seems difficult Stay with us, Lord
[2]
We ask the Risen Lord to continue to walk with and protect those who are burdened
We pray: Walk with them, Lord
For all who have lost hope Walk with them, Lord
For all who suffer Walk with them, Lord
For all who are sick and in pain Walk with them, Lord
For all who are struggling Walk with them, Lord
For all who have been badly hurt in life Walk with them, Lord
For all who are grieving Walk with them, Lord
For all who are depressed Walk with them, Lord
For all who feel rejected Walk with them, Lord
For all who feel unloved Walk with them, Lord
For all who are oppressed Walk with them, Lord
For all who are anxious Walk with them, Lord
Hymns that are appropriate for a Prayer Service

Stand beside me John Columba McCann OSB
Healer of my soul John Michael Talbot
The Lord will heal the broken heart (God of life) Liam Lawton
The Cloud's Veil Liam Lawton
Heal us, Lord Liam Lawton
Christ be near at either hand Traditional
A Mhuire Mháthair Tradisiúnta arr. Ian Callanan
Sé an Tiarna m'Aoire Fintan O'Carroll
Calm me Lord Margaret Rizza
Your Mercy Like Rain Rory Cooney
Be still and know that I am God anon.
Be still my soul K. von Schlegel/Sibelius
My soul is longing for your peace Lucien Deiss
Within our darkest night Taizé
Lord Jesus Christ, your light shines within us Taizé
Keep me safe O God John Foley
Towards Peace
Towards Peace is a service offering spiritual support to people who have experienced abuse, be it physical, emotional, sexual and /or spiritual abuse, which was perpetrated by Church personnel, individually or institutionally. Funded by the Irish Catholic Bishop's Conference and the Association of Missionary and Religious in Ireland (formally CORI and IMU), the vision of Towards Peace is to provide a safe supportive space for people and their families, whose spiritual life has been damaged by abuse. It is also a response to the continually growing understanding of the spiritual impact of the trauma of abuse. Through spiritual accompaniment with a trained spiritual director Towards Peace endeavours to accompany people as they seek their own experience of spiritual peace one step at a time. There is no predetermined roadmap on this journey. Each person travels at their own particular pace. The service is free of charge.
For further information please contact the Towards Peace office:
Phone: 00353 (0)1 5053028
Email: [email protected]
Website: www.towardspeace.ie
Postal Address: Columba Centre, St. Patrick's College, Maynooth, Co Kildare.
ENDS