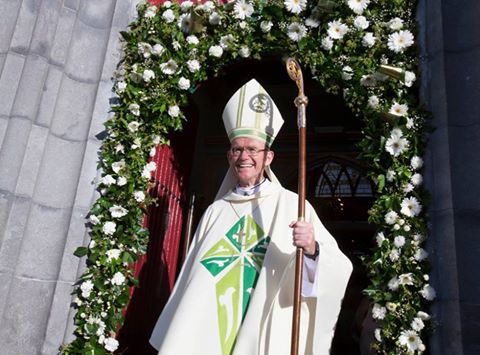 Father Fintan Monahan was ordained Bishop of Killaloe in the Cathedral of Saints Peter and Paul, Ennis on Sunday 25 September. Family and friends of Bishop Monahan joined concelebrating bishops and priests in a packed cathedral for the ceremony. The Chief Ordaining Prelate was Archbishop Kieran O'Reilly, Archbishop of Cashel and Emly, who was assisted by Archbishop Michael Neary, Archbishop of Tuam and the Apostolic Nuncio, His Excellency Archbishop Charles Brown.  The Apostolic Mandate from His Holiness, Pope Francis, was read by Father Albert McDonnell, Chancellor of the Diocese of Killaloe.  The sermon for this ordination ceremony was preached by Canon Brendan Kilcoyne Parish Priest, Vicar Forane, Athenry, Co. Galway.
Bishop Monahan said it was wonderful to see so many taking the time to join in the special occasion in the beautiful Cathedral of Saints Peter and Paul in Ennis.
Bishop Monahan said that he is still getting over the shock and surprise of being chosen by His Holiness, Pope Francis, to be Pastor in the beautiful, historic and expansive diocese of Killaloe.  He said, "I come here today with great humility, acutely aware of my own limitations and unworthiness to take on such a great and challenging role.  It is indeed a great honour for me personally and it is only with great faith in the presence of the Lord to lead and guide me along with the great support of the wonderful and welcoming community in this diocese that I would even dream of taking on such an enormous task.
"It seems though that I have arrived only in the nick of time … I recently heard from the Catholic Communications Office in Maynooth that it received a media query in the early summer asking "when will a new bishop be appointed to Killaloe because this is the longest time", according to the journalist, "since Cromwell's invasion of Ireland that we here in the diocese have been without a bishop?!"  To me this is definitive proof – as if it were ever needed – that we possess very long memories in this part of the country!"
Bishop Monahan went on to explain his Episcopal Motto, "I have chosen Críost liom, Críost romham as Lúireach Naomh Pádraig  (Christ be with me, Christ be before me) from the beginning of Saint Patrick's Breastplate.  I am reminded of the line from the psalm "If the Lord does not build the house, in vain does the builder labour".  With Christ at the centre of all that we do – anything is possible in faith terms for us personally and as a diocese!"
Bishop Monahan extended his thanks to all involved in organising the ceremony. He offered a special welcome to his immediate family, "Mam and Dad, Tom and Peg, Caitriona and Dom who have been such an outstanding rock of support, help and encouragement always.  Thanks to the many close friends and neighbours who have been available always through good times and bad and without their help and assistance I would not be here today."
Bishop Monahan had special words of welcome for Bishop Willie Walsh who was bishop of Killaloe from 1994-2010 and the ordaining metropolitan Archbishop Kieran O'Reilly who was bishop of Killaloe from 2010-2015.  He also thanked Father Des Hillery who was the diocesan administrator for over 18 months along with being Parish Priest of one of the busiest parishes in the diocese, Nenagh town.  He had special words of welcome for the priests of the Archdiocese of Tuam with whom he has worked so closely over the past twenty-five years along with parish representatives from various places he has served.  Bishop Monahan said he has enjoyed every minute of his time in the Archdiocese and that he will certainly miss it in many ways.
Speaking about his visit to Rome last week for what's called the "baby-bishop's course", Bishop Monahan said, "I had the privilege and delight to meet Pope Francis.  Even though the Holy Father has little English and I have even less Italian – in our conversation we agreed to pray for each other and those to whom we minister.  It was a most humbling experience to be asked in person by the Holy Father to pray for him personally! I didn't manage to invite him to  include Killaloe in his itinerary if he decides to come to Ireland as part of the World of Meeting of Family celebration which will take place in Dublin on 22 – 26 August 2018, but I will have another opportunity to speak to Pope Francis during the Irish bishop's Ad Limina visit to Rome in January, please God."
Bishop Monahan said, "As bishop of the diocese here in Killaloe there will be many challenges, priorities and points of focus, vocations promotion, care of the clergy, faith renewal, evangelization, continuing and expanding the great involvement of laity, youth ministry, religious education, safeguarding children in the Church, the protection of life, family ministry, liturgy, Eucharistic Adoration, bridging the east-west socio-economic divide which exists in Ireland, the role of Church in contemporary society, the falling away of sacramental practice, finding new ways to communicate the joy of the Gospel.  Pope Benedict in recent years spoke of the future of the Church in Europe as being a "creative minority".  Please God new and creative and dynamic ways will be found to live and address these great challenges and opportunities.  All to be addressed with faith in the good Lord's presence and with the great support so palpable from so many there in Killaloe and elsewhere."
Concluding his address Bishop Monahan said, "Since announcement day on 29 July I have really hit the ground running with so many meetings of various different groups around the diocese, laity and clergy and have gained a good level of familiarity with the new diocese.  To revisit and paraphrase that well used phrase – a lot done, much more to do!  The level of warmth and support and welcome has been outstanding and for that I am deeply grateful and encouraged as I embark upon a new chapter in my ministry to Christ.  On this special day may I ask you please to remember me in your prayers, as I will you."
Concelebrating the Mass were over twenty bishops including: Archbishop Eamon Martin, Archbishop of Armagh and Primate of All Ireland, Bishop Willie Walsh, Bishop Emeritus of Killaloe; priests of the Diocese of Killaloe; priests of the Archdiocese of Tuam and classmates of Bishop-elect  Monahan.  Other Christian denominations in the area were represented at the Mass including Bishop Kenneth Kearon, Church of Ireland Bishop of Killaloe and Limerick; Rev Shannon de Laureal, Leader of the Methodist Church, Midlands and Southern District; Pastor Chinwe of the Evangelical Church and Madge Rainsford, Chairman of the Baha'i Community Ireland. The choir for the ceremony was made up of the choirs from Ennis, Nenagh and members of the Killaloe Diocese Music Ministry Programme as well as Youth Choirs from Clarecastle/Ballyea and Cistercian College Roscrea.
Bishop-elect Monahan's appointment as Bishop of Killaloe was announced by Pope Francis on 29 July 2016.  He was born in Tullamore, Co Offaly, on 23 January 1967 to parents Tom and Peg Monahan and has one brother, Seán, and one sister, Caitríona, who is married to Dominic.  From 1980-1996 the family lived in Carraroe, Co Galway where his father was principal teacher at Scoil Chuimsitheach Chiaráin, An Cheathrú Rua.  In 1996 the family moved to Castlegar, Galway City, the native home of his mother.  Primary education was in Tullamore and secondary education was in Carraroe and in 1984 he started studying for the priesthood for the Archdiocese of Tuam in Saint Patrick's College, Maynooth.  In 1987 he completed a BSc in Maynooth University, a BD in the Pontifical University in 1990, an STL in Biblical Theology in 1992 and a Higher Diploma in Education in NUI Galway in 1993.  Bishop-elect Monahan's ordination to the priesthood was in Séipéal Mhic Dara, An Cheathrú Rua on 16 June 1991 by the late Archbishop Joseph Cassidy RIP, the former Archbishop of Tuam.  While studying for the Higher Diploma in Education he was curate in An Tulach, Baile na hAbhann, Conamara from 1992-1993.  From 1993-2006 he taught science, Irish and religion at the diocesan college, Saint Jarlath's College in Tuam, along with coaching basketball and hurling.  In 2006 Archbishop Michael Neary appointed Father Monahan as chaplain to Saint Jarlath's College and diocesan secretary.  During that time he also worked in the area of communications, vocations promotion and served as editor of the Tuam Diocesan Magazine, New Dawn.  In 2013 he was appointed to the Council for Communications of the Irish Episcopal Conference.  Bishop-elect Monahan is a fluent Irish speaker and enjoys the outdoor life, hill walking, jogging, cycling, swimming and gardening.
ENDS