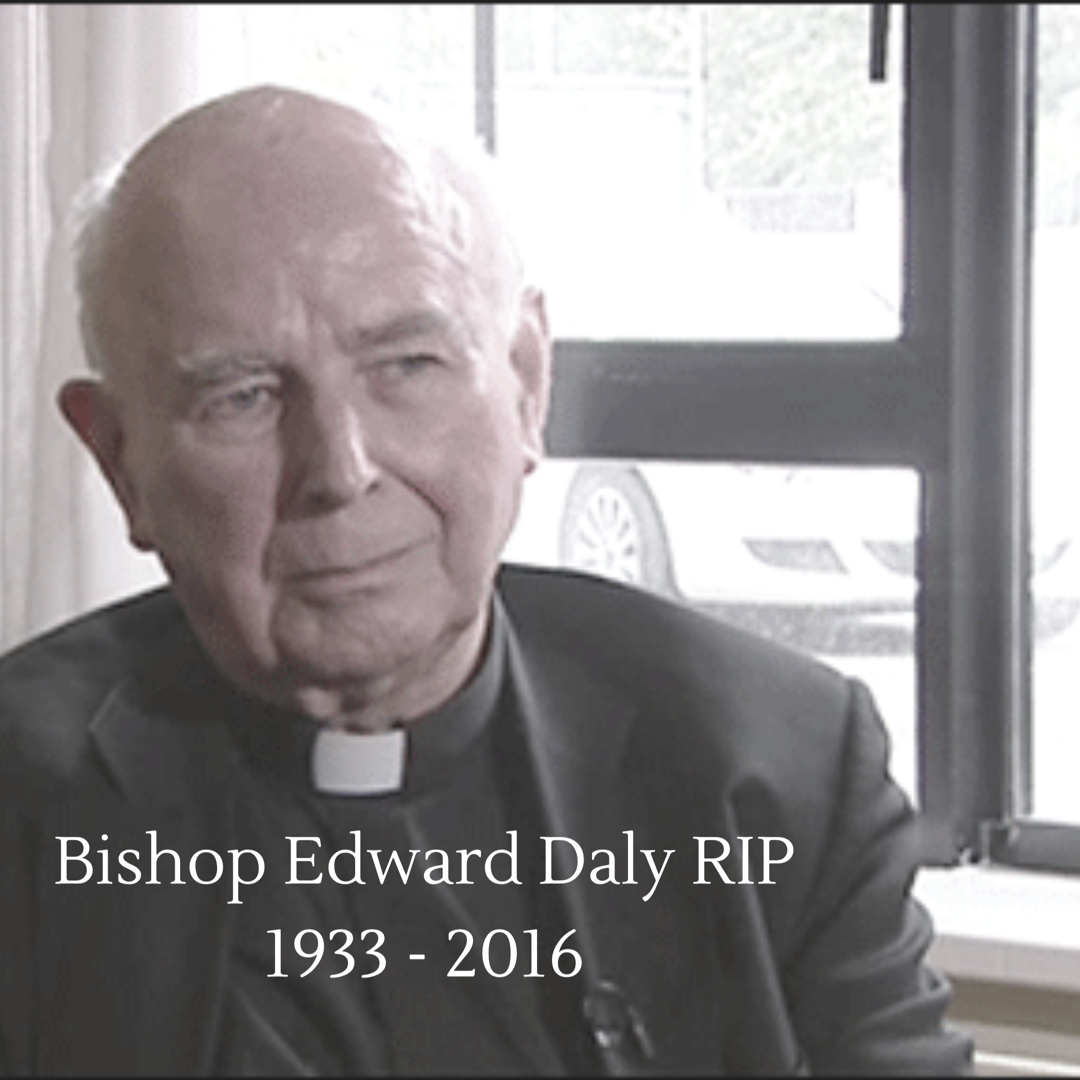 It is with deepest regret that I announce the death, this morning, of Bishop Edward Daly, Bishop Emeritus of Derry.
Bishop Daly was born in Belleek, County Fermanagh, in the Diocese of Clogher, on 5 December 1933.  After primary education in Belleek, he attended second level education in Saint Columb's College, Derry.  From there, he was sent, as a student for the Diocese of Derry, to prepare for priesthood in the Pontifical Irish College, Rome.
Bishop Daly was ordained on 16 March 1957, a priest of the Diocese of Derry.  His first appointment was as a Curate in Castlederg, Co Tyrone.  In 1962, he was appointed as a Curate in Saint Eugene's Cathedral, Derry.  In 1973, he was appointed Religious Advisor to RTÉ, Dublin.  In 1974, he was ordained Bishop of Derry, where he served until serious illness compelled him to retire in 1994.  In retirement, despite poor health, until earlier this year Bishop Daly continued to serve as a dedicated Chaplain to the Foyle Hospice, Derry, a ministry in which he touched the lives of so many people.  He also served as Diocesan Archivist.
Bishop Daly served, without any concern for himself, throughout the traumatic years of the Troubles, finding his ministry shaped by the experience of witnessing violence and its effects; through this dreadful period he always strove to preach the Gospel of the peace of Christ.
Bishop Daly provided an example of priestly ministry which was exemplary, inspired by service of God and the people he encountered.  His ministry was characterised by his deep love of the people of this diocese, his dedicated visitation of parishes and his constant availability to others.  The bishops, priests and people of the diocese were blessed to have such a dedicated and faithful priest among them.
May Bishop Daly rest in peace.
+ Donal McKeown
Bishop of Derry
ENDS
Notes to editors
Statement issued, on behalf of Bishop McKeown, by Father Michael Canny, Diocesan Media Liaison Spokesperson
Bishop Daly died on 8 August 2016.
Funeral arrangements for Bishop Daly will be announced later.
Bishop McKeown is Bishop of Derry, appointed in 2014.
For media contact: Catholic Communications Office Maynooth: Martin Long 00353 (0) 86 172 7678