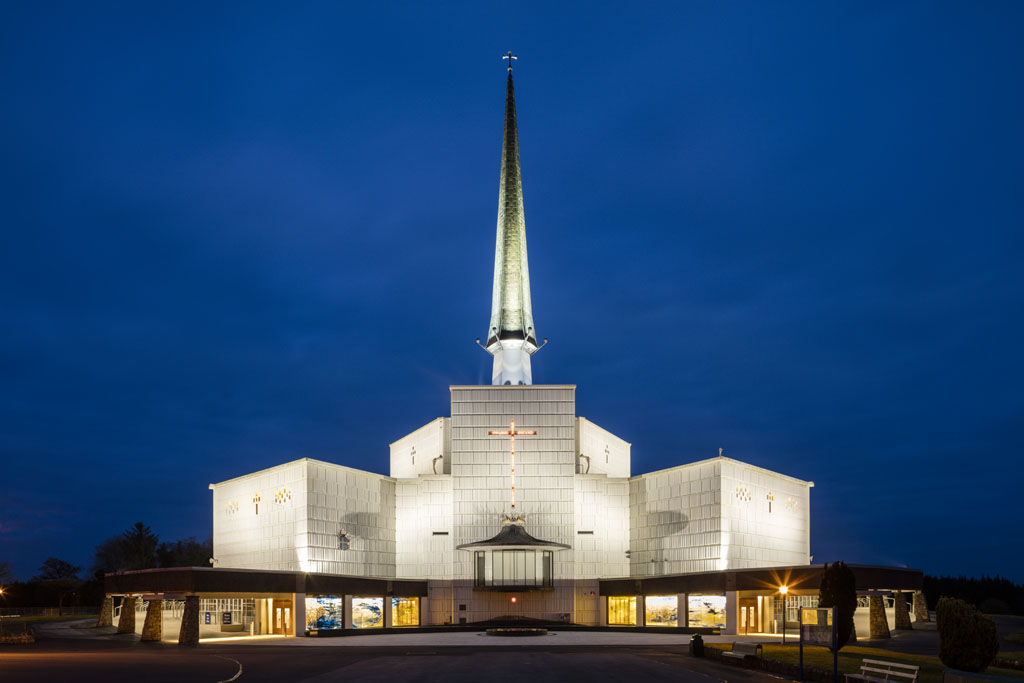 A special ceremony of re-dedication will take place at Knock Basilica on Saturday 16 July to mark 40 years of the original dedication of Knock Basilica on 18 July 1976. The Basilica has recently been completely modernised and transformed into a warm and welcoming sacred space with top of the range technology incorporated to facilitate pilgrims with live-streamed Masses and ceremonies as well a broader mix of concerts and events, such as the hugely successful 'Concert for Peace' which took place in May.
The renovation marks a new era in the history of the Basilica which started out as the great wish of Monsignor Horan to give shelter to the thousands of pilgrims visiting Knock Shrine. It has since evolved from a one-dimensional, purpose-built, functional building to one that suggests endless possibilities for Knock Shrine, the wider community and the West of Ireland.
The Basilica originally held the title 'Church of Our Lady, Queen of Ireland', however it was raised to the status of Basilica during the Papal visit of 1979.
"It gives me great pleasure to announce that in honour of Our Blessed Lady, on this Centenary Year at Knock, the new Church recently built in her honour will from this day forward be known under the title of the Basilica of Our Lady Queen of Ireland"
Saint John Paul II, 30th September, 1979
The coinciding visit of the Archdiocese of Boston, led by Cardinal Seán O'Malley is perfectly providential in echoing the dream of Monsignor James Horan to bring pilgrims to Knock from all over the world. The Boston group, accompanied by the Mayor of Boston, Marty Walsh, will arrive in to Knock Airport on Thursday 14 July and are to spend a week taking in the delights of the West of Ireland.
Commenting on the Boston Archdiocesan pilgrimage, Father Richard Gibbons, Parish Priest, Knock, said, "We are delighted to see the second organised pilgrimage coming in from the States, as we has the Archdiocese of New York last year with Cardinal Dolan which was wonderful for Knock. We are anticipating crowds similar to the 15 August, which is traditionally a very busy day in Knock."
A commemorative booklet will be launched on the day of the re-dedication which promises to showcase beautiful images of the new interior and interesting details around the refurbished elements as well as the impressive new mosaic, comprised of over 1.5 million tiny mosaic tiles. Úna Nolan, Director of Music at Knock has been busy composing new pieces for the event which will include guest instrumentalists and combined senior and junior choirs in Knock. All are welcome to attend the special Mass of Rededication at 3.00pm on Saturday 16 July.
For further information visit: www.knockshrine.ie/pilgrimageseason.
ENDS