Diocese of Meath welcomes newly ordained priest Father Conor McGee
See pictures below from yesterday's Ordination Mass
Father McGee to celebrate his first Mass today in Tullamore at 18.30
Bishop Michael Smith, Bishop of Meath, has welcomed the newest priest to the Diocese of Meath following the ordination in Tullamore parish yesterday of Father Conor McGee.  Another new priest, Reverend Warren Collier, will be ordained next month.
A native of Sandyford, Co Dublin, Father McGee's mother Anne was originally from Tullamore, Co Offaly, where the new priest will now spend the summer months before receiving his first appointment in the Diocese of Meath.  Among those in attendance at the ordination were Father McGee's sisters and their families, as well as forty priests from the dioceses of Meath, Dublin and elsewhere.  Father McGee's sisters, Ms Ursula O'Dwyer and Ms Christine McGee, presented the chalice and paten to Bishop Smith, while Sister Brid Geraghty and Father Jack Finnegan vested Father McGee in his priestly vestments during the ceremony.
Bishop Smith paid tribute to Father McGee for his generosity and faith in following his vocation.  "It takes huge courage to give your life today as a priest", Bishop Smith said.  "It is a really radical statement, being willing to put the service of people and the service of God at the centre of your life".
In 2010 Father McGee began his studies for the priesthood in the national seminary, Saint Patrick's College, Maynooth.  The seminary was represented at the ordination by Father Paul Prior, Dean of Formation.  After the ceremony, Father McGee thanked all who guided him along the path to priesthood, "In particular, I wish to acknowledge the generosity of Bishop Michael Smith, who made this possible for me when he opened the door and accepted me as a candidate and he has supported me throughout my seminary years", he said.  Today, at 6.30pm, Father McGee will celebrate his First Mass in the Church of the Assumption, Tullamore, in the Diocese of Meath.
ENDS
Photo1: Fathers Conor McGee (left) with Ronan Drury (right) after the Ordination Mass in the Church of the Assumption,  Tullamore
Photo2: Ursula O'Dwyer and Christine McGee presented the offertory gifts to Bishop Michael Smith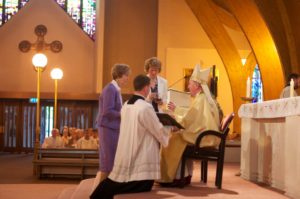 For media contact: Catholic Communications Office Maynooth: Martin Long 00353 (0) 86 172 7678 and Brenda Drumm 00353 (0) 87 310 4444