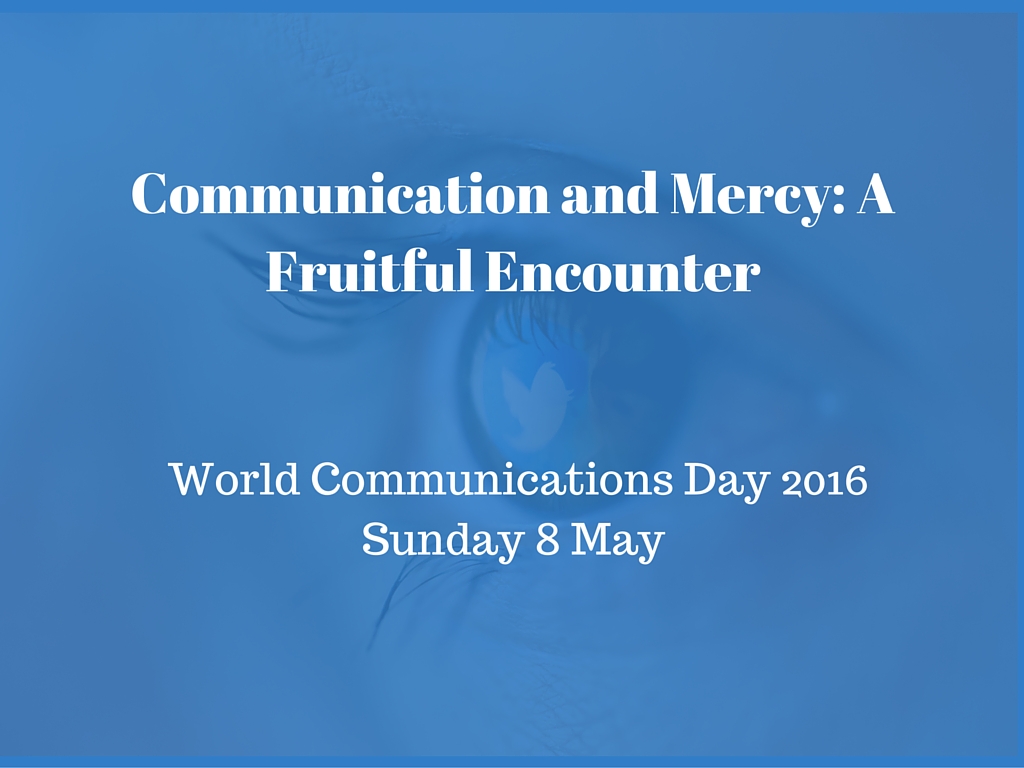 The 50th World Day of Social Communications Day will be formally celebrated on 8 May 2016 – the Solemnity of the Ascension of the Lord – which falls on the Sunday before Pentecost Sunday. Pope Francis has chosen Communication and Mercy: A Fruitful Encounter as the theme for 2016.
Welcoming this year's message, Archbishop Eamon Martin, Archbishop of Armagh and chair of the Council of Communications of the Irish Catholic Bishops' Conference, said: "When Pope Francis announced that 2016 would be a Holy Year he said that the mercy of God would be at its centre. The Pope said, 'It will be a Holy Year of Mercy. We want to live in the light of the word of the Lord: 'Be merciful, even as your Father is merciful' (cf. Lk 6:36).'
"As this Extraordinary Jubilee Year of Mercy continues to unfold through initiatives in Rome and at home, I warmly welcome this year's World Communications Day message Communication and Mercy. Such guidance is timely for our society here in Ireland, as well as for families, communities and States around the world. It complements this special year for the Universal Church which, Pope Francis tells us in his message, 'is called to practise mercy as the distinctive trait of all that she is and does … Our primary task is to uphold the truth with love.' We are also reminded that to communicate in an authentic manner we must be able to 'listen' to, rather than merely 'hear', when we encounter another."
Archbishop Eamon said, "In part this year's message follows–on from Communicating the Family: A Privileged Place of Encounter with the Gift of Love of 2015, as it asks us to show mercy and tolerance within our families and 'to build bridges, to enable encounter and inclusion' with words of love. But the reach of Communication and Mercy goes much wider as it urges politicians and diplomats to use language 'inspired by mercy, which never loses hope'. I encourage everyone to read this short, thought provoking and inspiring message."
Some of the key points from this year's World Communications Day message are:
· If our hearts and actions are inspired by charity, by divine love, then our communication will be touched by God's own power.
· As sons and daughters of God, we are called to communicate with everyone, without exception.
· Christians ought to be a constant encouragement to communion and, even in those cases where they must firmly condemn evil, they should never try to rupture relationships and communication.
· Our political and diplomatic language would do well to be inspired by mercy, which never loses hope.
· Mercy can help mitigate life's troubles and offer warmth to those who have known only the coldness of judgement. May our way of communicating help to overcome the mind-set that neatly separates sinners from the righteous. We can and we must judge situations of sin – such as violence, corruption and exploitation – but we may not judge individuals, since only God can see into the depths of their hearts.
· Our primary task is to uphold the truth with love
· Listening is never easy. Many times it is easier to play deaf. Listening means paying attention, wanting to understand, to value, to respect and to ponder what the other person says.
· It is not technology which determines whether or not communication is authentic, but rather the human heart and our capacity to use wisely the means at our disposal. Social networks can facilitate relationships and promote the good of society, but they can also lead to further polarisation and division between individuals and groups.
· I pray that this Jubilee Year, lived in mercy, may open us to even more fervent dialogue so that we might know and understand one another better; and that it may eliminate every form of closed-mindedness and disrespect, and drive out every form of violence and discrimination.
· In a broken, fragmented and polarised world, to communicate with mercy means to help create a healthy, free and fraternal closeness between the children of God and all our brothers and sisters in the one human family.
Please click here for the full text of this year's World Communications Day message.
The World Day of Social Communications, which the Church celebrates on 8 May 2016, is the only World Day established by the Second Vatican Council. In 1963 the Council issued the Decree on the tools of social communication, Inter mirifica, which included the proposal that the Church should celebrate a day dedicated to social communications.
Resources for World Communications Day 2016 
For the Church throughout the world:
For Pope Francis, Church leaders and Christians everywhere.
May they communicate the Good News of Jesus Christ
with courage and conviction.
Lord, hear us.
For all involved in the work of communications and media:
that their work may serve the cause of truth and justice
and bring real benefits to all.
Lord, hear us.
For a desire to be faithful witness to the Gospel:
That people everywhere may hear
God's good news for the world.
Lord, hear us.
Prayers for Communications and Media
Prayer for Communicators
Lord, let the good news of your marvellous deeds fall on every ear,
and let all tongues rejoice in your wisdom,
your compassion, your faithfulness,
and your love.
Make me bold and let me share your Word
with those you desire to reach.
As my heart overflows with your love,
speak through me.
Let me proclaim your glory and your majesty,
and tell of the kindness you have shown your people.
This I ask, through Jesus Christ our Lord.
Amen.
Prayer of Saint Francis de Sales
Be at Peace
Do not look forward in fear to the changes of life;
rather look to them with full hope as they arise.
God, whose very own you are,
will deliver you from out of them.
He has kept you hitherto,
and He will lead you safely through all things;
and when you cannot stand it,
God will bury you in his arms.
Do not fear what may happen tomorrow;
the same everlasting Father who cares for you today
will take care of you then and everyday.
He will either shield you from suffering,
or will give you unfailing strength to bear it.
Be at peace,
and put aside all anxious thoughts and imagination.
St. Francis de Sales (1567-1622)
Patron of Journalists, Writers, Editors and the Catholic Press.
Prayer for Journalists
Almighty God, strengthen and direct, we pray,
the will of all whose work it is to write what many read,
and to speak where many listen.
May we be bold to confront evil and injustice:
understanding and compassionate of human weakness;
rejecting alike the half-truth which deceives, and the slanted word which corrupts.
May the power which is ours,
for good or ill,
always be used with honesty and courage,
with respect and integrity,
so that, when all here has been written,
said and done,
we may, unashamed,
meet Thee face to face, through Jesus Christ our Lord,
Amen.
Social Media Prayer
Christ has no online presence but yours
No blog, no Facebook page but yours,
Yours are the tweets through which love touches the world,
Yours are the posts through which the Gospel is shared,
Yours are the updates through which hope is revealed.
Christ has no online presence but yours,
No blog, no Facebook page but yours.
By Meredith Gould
Official hashtag being used by the Vatican
The Vatican has announced a special hashtag for this year's World Communications Day and they have asked those tweeting and sharing online to use it where possible so as to amplify and encourage discussion and reflection on the theme developed by Pope Francis in this year's World Communications Day message. The hashtag is #ComMisericordia50.
Archbishop Eamon Martin's 10 tips for engaging on the digital highway
Be positive and joyful. Offer 'digital smiles' and have a sense of humour. Remember that it is the 'joy of the Gospel' that we are communicating, so, as Pope Francis says: no 'funeral faces' or 'sourpusses'!
Strictly avoid aggression and 'preachiness' online; try not to be judgemental or polemical – goodness knows, there is enough of this online already! Instead, try Pope Francis' approach of 'tenderness and balm'.
Never bear false witness on the internet.
Remember 'Ubi caritas et amor'. Fill the internet with charity and love, always giving rather than taking. Continually seek to broaden and reframe discussions and seek to include a sense of charity and solidarity with the suffering in the world.
Have a broad back when criticisms and insults are made – when possible, gently correct.
Pray in the digital world! Establish sacred spaces, opportunities for stillness, reflection and meditation online.
Establish connections, relationships and build communion. Church has always been about 'gathering'. In this, it is worth considering an ecumenical presence for the Christian churches online. The internet tends to be a place of ethical and intellectual relativism, and often of aggressive secularism. The scandal of disunity among Christians can be easily exploited and exaggerated. Therefore we must seek to share resources so that we can have a powerful Gospel witness. Wouldn't it be wonderful if people started noticing online: 'See how these Christians love one another'.
Educate our young to keep themselves safe and to use the internet responsibly.
Witness to human dignity at all times online. Seek, as Pope Benedict once said, to 'give a soul to the internet'. We are well aware of the pervasive prevalence of pornography on the internet which can 'pollute the spirit', destroy and degrade human sexuality and relationships, reduce persons to objects for gratification, draw millions into the commodification and commercialisation of sex, feed the monster that is human trafficking.
Be missionary, be aware that with the help of the internet, a message has the potential to reach the ends of the earth in seconds. In this regard, let us foster and call forth charisms in younger committed people who understand the power and potential of the net to bear witness.
New 'news' source of the Irish Catholic Bishops' Conference
The Catholic Communications Office has launched a new "news" website for the Irish Catholic Bishops' Conference on www.catholicnews.ie.  It  has been closely modeled on www.news.va.  The new site offers news and features for the Catholic Church in Ireland. Content will be a mixture of material from the Bishops' Conference, Intercom magazine, dioceses, parishes, and other Church sources.  The site has been designed to be simple and unfussy with material available as long reads (features) and short reads (news articles). There is also an In Focus section which will highlight Church initiatives such as Choose Life, Vocations etc.  The Bishops' Conference original site www.catholicbishops.ie remains online in order to act as a repository for public material relating to the Irish Episcopal Conference.
ENDS