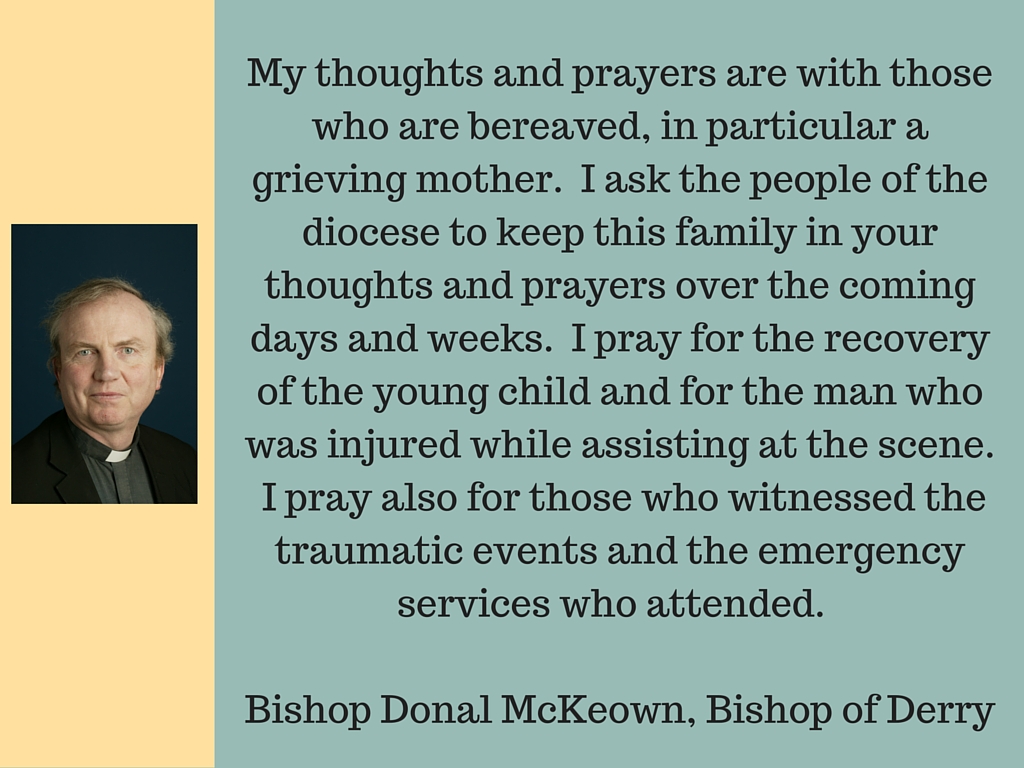 Bishop Donal Mc Keown, Bishop of Derry has issued the following statement on the tragedy at Buncrana Pier which claimed the lives of five members of the same family:
As we enter Holy Week, the thoughts of Christians turn to the death of Christ on the Cross on Calvary.  Suffering, which is so evident during Holy Week, can be a very challenging part of our experience of human life and of our lives as Christians.
We are coming to terms today with the news of the tragic events in Buncrana.  I have visited expressing sympathy, on behalf of the people of this diocese, to a local woman and family circle who have lost so many family members.  There are no adequate words in the face of such pain.
My thoughts and prayers are with those who are bereaved, in particular a grieving mother.  I ask the people of the diocese to keep this family in your thoughts and prayers over the coming days and weeks.  I pray for the recovery of the young child and for the man who was injured while assisting at the scene.  I pray also for those who witnessed the traumatic events and the emergency services who attended.
We depend upon the emergency services each day, above all in such tragic circumstances.  We owe a debt of gratitude to those who assisted at Buncrana.
May Christ, who suffered on the Cross on Calvary, be with all those touched by this painful event.
ENDS
Buncrana, County Donegal, where the tragedy occurred, is within the Diocese of Derry.
All the deceased lived in Derry city, which is within the Diocese of Derry.