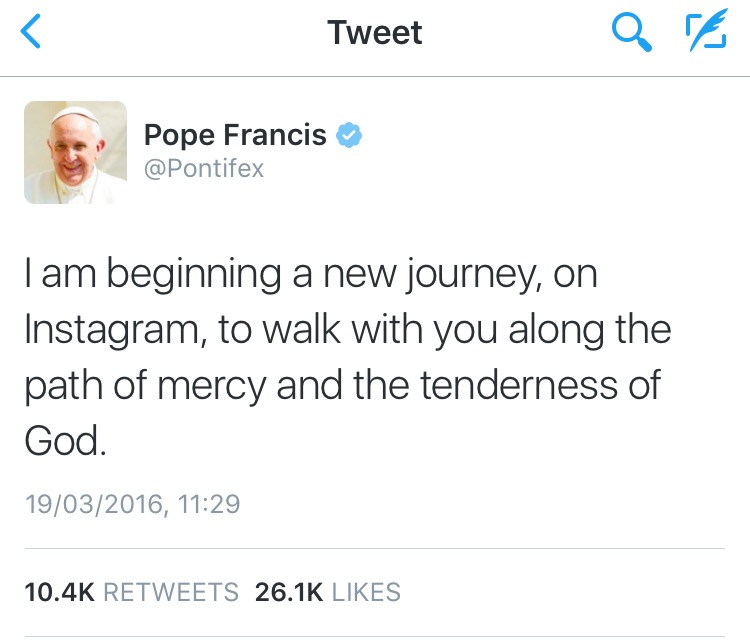 Pope Francis today launched his new Instagram account with a tweet in which he said: "I am beginning a new journey, on Instagram, to walk with you along the path of the mercy and tenderness of God."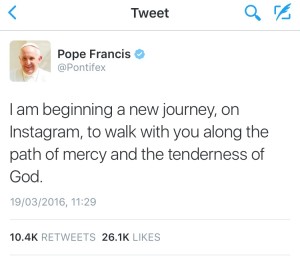 It was Pope Francis himself who inaugurated his account, called "Franciscus," from his residence at the Casa Santa Marta. He also posted his first image, a picture of himself in prayer.
To create his startup profile, the Holy Father was assisted by Kevin Systrom, the CEO and co-founder of Instagram, and Msgr. Lucio Adrian Ruiz, secretary of the Secretariat for Communication.
Founded in 2010, Instagram has approximately 400 million users worldwide and shares photos and videos with a community of followers. The launch of the Pope's Instagram account will increase his substantial presence on social media platforms. His Twitter account, with the hashtag "@Pontifex," has more than 26 million followers.
Speaking earlier this week with Vatican Radio, the Prefect of the Secretariat for Communications, Monsignor Dario Viganò said the decision to open an Instagram account arises from the Pope's conviction that pictures can reveal many things that words can't. The aim of this papal Instagram account, he said, is to tell the story of the Pontificate of Pope Francis through images.
During his first hour of going live on Instagram, Pope Francis had 100,000 followers. A few hours later that number had increased to almost 700,000.
You can follow Pope Francis on Instagram at 'Franciscus'.
Source: Vatican Radio