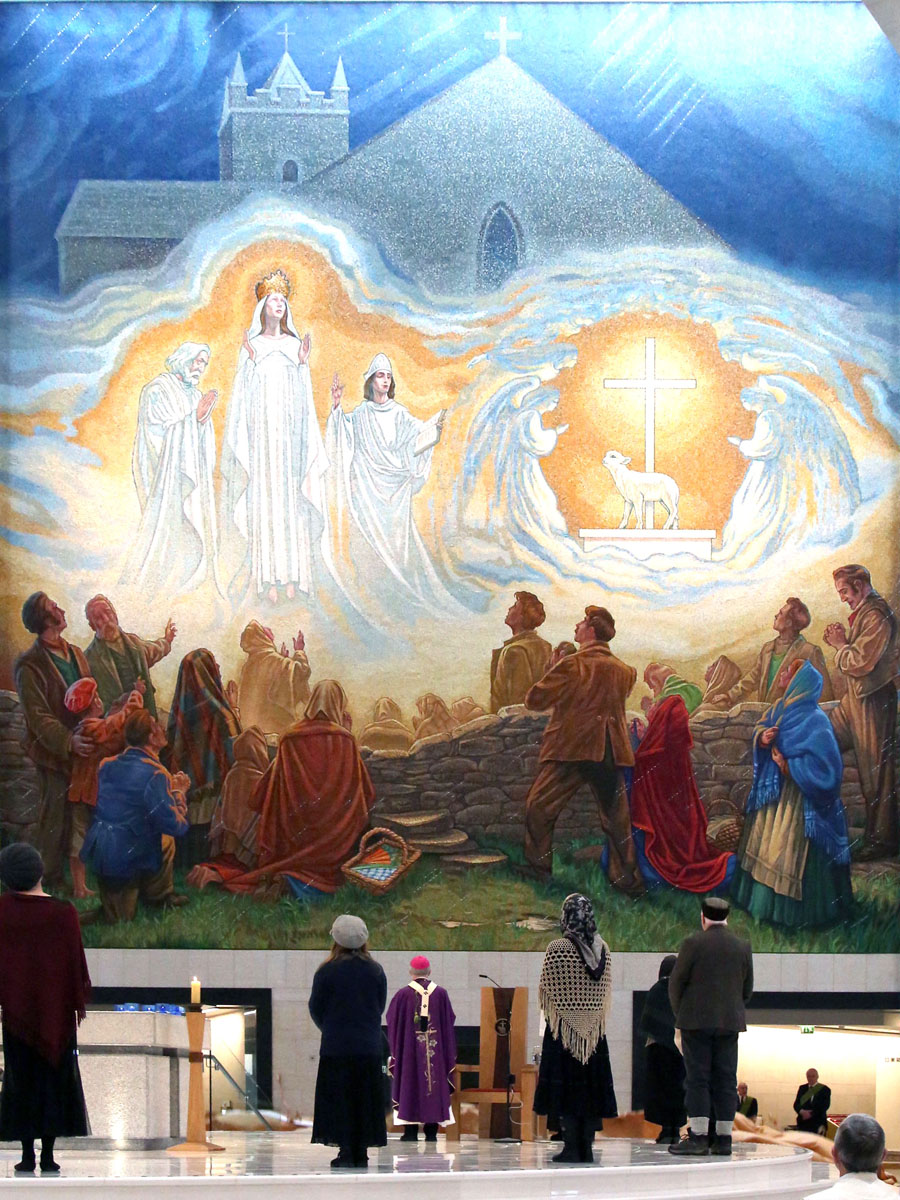 Click here to read homily of Archbishop Michael Neary which was preached at the unveiling Mass.
A spectacular mosaic depicting the Apparition at Knock in 1879, was unveiled at Our Lady's Basilica at Knock Shrine on Sunday 28 February. The mosaic, illustrated by well-known Irish artist PJ Lynch, depicts in incredible detail the Apparition scene, as described by the 15 official witnesses.
It has been crafted by a team of some of the best mosaic artisans in the world – Travisanutto Mosaics. The artisans, from Spilimbergo, near Venice, Italy, worked on the mosaic for eight months in their workshop before transporting it to Knock in sections during January. A team of artisans came to Knock to install the huge artwork, which measures 14 metres x 14 metres.
The mosaic is understood to be one of Europe's biggest pieces of mosaic on a flat surface. It was crafted from some 1.5 million individual pieces of mosaic. It has been inlaid on the wall behind the sanctuary in the newly refurbished Basilica at Knock.
Travisanutto Mosaics have already worked on some of the best known religious sites around the world, such as the Church of the Holy Sepulchre in Jerusalem, and the Basilica at the National Shrine of Immaculate Conception in Washington DC, the largest Catholic church in the US.
The mosaic is the final stage of a major refurbishment at Knock Basilica over the past two years months.It is part of a renewal project at Knock, called 'Witness to Hope', which was launched by Fr Richard Gibbons, PP, rector of Knock Shrine.
See below some images of the unveiling which were taken by Father Stephen Farragher of Tuam Archdiocese.