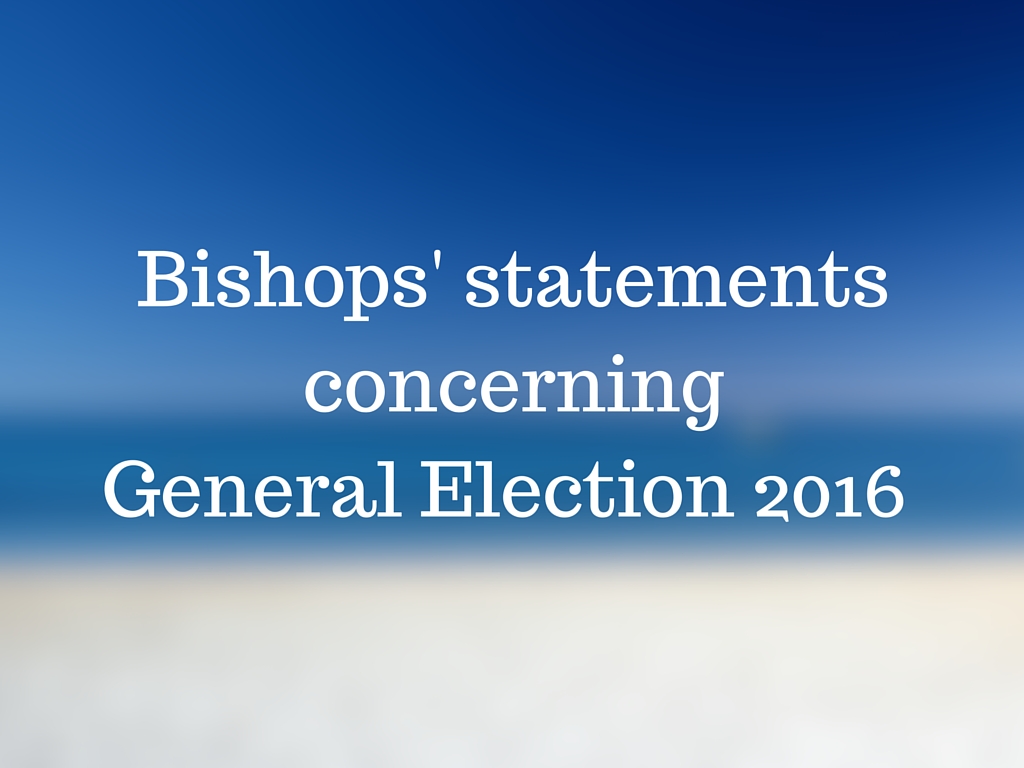 Please see below excerpts from and links to statements from bishops concerning General Election 2016:
18 February 2016: Pastoral Statement of the Catholic Bishops of Ireland on the Upcoming General Election
Democracy is fundamentally about people working and walking together to foster the common good. Democracy is damaged by indifference and by a splintering of society or a fixation on individual interests.  A general election is a moment in which all citizens, and not just political parties, should reflect and take stock of the health of the nation and especially on how we respond to the plight of the most vulnerable.

Democracy flourishes when it is rooted in a shared social ethic.  To succeed, good social policy requires economic stability and sustained growth.  But economic growth on its own does not necessarily generate social equity.   Social equity has a logic of its own which must be worked on to achieve its aim. Our comparatively wealthy Ireland has still a long path to travel in this task.

We share the anxiety of many citizens in Ireland at the fact that there is an uncertain social climate in the country regarding vital sectors of people's lives, especially regarding health, homes, education, security, the fostering of a solid human ecology, and international responsibility.
Click here to read the full statement.
18 February 2016: Pastoral Message from Archbishop Eamon in preparation for the forthcoming General Election
Please ask those who seek your vote:

To what extent can you, in contemporary Ireland, support Family and Life, freedom of education and conscience, and a proper work-life balance, which respects the role of mothers and fathers?

What will your economic and social policies say to poorer families in Ireland, particularly those policies which impact directly on the family: the needs of children and the elderly; tackling the proliferation of drugs, alcohol, gambling and other addictive behaviours which can destroy home and family life?

How will your welfare policies and benefit programmes support families who are most in need and who are so easily targeted and exploited by loan sharks and other criminal elements?
How will you better assist young people who wish to establish a family, mortgage a home, take out insurance, but who may sometimes be convinced by economic policy to remain single?

Most importantly, because the right to life is the most fundamental right of all, ask them:
Will you continue to support the equal right to life of a mother and her unborn child as enshrined in the eighth amendment of the Constitution?
Click here to read the full message.
16 February 2016: Bishop Ray Browne calls us to cast our vote
Election-time is a good time for all, politicians and voters, to recommit themselves to working together for the good of all citizens. The election can be conducted in a good spirit that lifts the morale of the whole nation. We can be united, 'one for all and all for one'.  Is it happening among us that "the rich get richer and the poor get poorer"? Every citizen ought to have the opportunity to live a fulfilling life, pursuing their God-given calling.

A key Gospel phrase comes to mind –  "love one another, as I have loved you". How often in the Gospel Jesus looked after the poor and the needy and urged his followers to do the same.  A healthy wholesome country is one in which there is a basic civic spirit of care for all fellow citizens, especially the sick, the poor and the vulnerable. This is our Christian desire for Ireland. Draw strength from the example of all those who have served our country so well in the hundred years since the 1916 Easter Rising which we commemorate this year. May election 2016 renew the spirit of our country.
Click here to read the full statement from Bishop Browne.
16 February 2016: Recognising One Another as Persons – A pre-election 2016 statement from Bishop Kevin Doran, Bishop of Elphin
The right to life is a fundamental human right. Respect for life is one of the key indicators of a civilised society. In 2013, the Government passed legislation which permitted direct abortion in certain circumstances. In recent months there has been talk of removing the right to life of the unborn from the Constitution. This talk tends to focus on babies with life-limiting conditions and, in the public debate, much of what is presented as fact is actually quite misleading. Some babies who are seriously ill only live for a very short time, while others live significantly longer. For a Christian, however, there is no such thing as a life without value. For as long as they live, children with life-limiting conditions are entitled to be loved and cared for like any other childand their parents are entitled to the support of proper peri-natal hospice services.

Some of the political parties and some individual candidates have made no secret of the fact that they favour the widespread availability of abortion, while others have begun to talk about "assisted suicide". Pope John Paul II wrote: "To claim the right to abortion, infanticide and euthanasia, and to recognize that right in law, means to attribute to human freedom a perverse and evil significance: that of an absolute power over others and against others. This is the death of true freedom." (The Gospel of Life, 20). We need to convince our politicians of the importance of supporting and promoting a culture of life that recognises the unique value of every human person, and we need to actively support those who do. Meanwhile, I find it very difficult to see how any Catholic could, in good conscience, vote for a candidate or a political party whose policy it is to legalise abortion.
Click here to read the full statement from Bishop Doran.
16 February 2016: Statement by Archbishop Michael Neary concerning the equal protection of the right to life of mothers and unborn children
Of critical importance in any society is the unique value placed on each human life from the moment of conception to natural death.  If life is not fully respected and protected then the very basis of our society is weakened.  The Eighth Amendment guarantees the right to life of the unborn and the equal right to life of the mother.

Regrettably, some of those standing for election have declared their intention to work to remove this protection from our Constitution and laws.  This simplistic approach to the most significant of issues is not only an outright attack on the unborn, but an affront to the charter of human rights enshrined in Ireland's basic law.

If an unborn child has a life-limiting condition, it would be inhumane to withdraw the protection of the Constitution to their right to life.  In this most significant of centenary years it is more pressing than ever "to cherish all the children of the nation equally" whether unborn or born, and irrespective of a child's health status.
Click here to read the full statement from Archbishop Michael Neary.
13 February 2016: Statement by Bishop John Buckley concerning election 2016
It is sad that a child's life-limiting condition is being used to promote the agenda of those who seek to legalise abortion on much wider grounds. Candidates in the election should be questioned politely but firmly, not just on their future intentions but on their past record
There is no moral justification for a lack of housing. It is an issue that demands investment
The vast majority of refugees are good and law-abiding people. Refugees must respect the values, laws and traditions of the host countries. Ireland and Europe must address the refugee crisis as a matter of urgency.
Click here to read the full statement from Bishop Buckley.