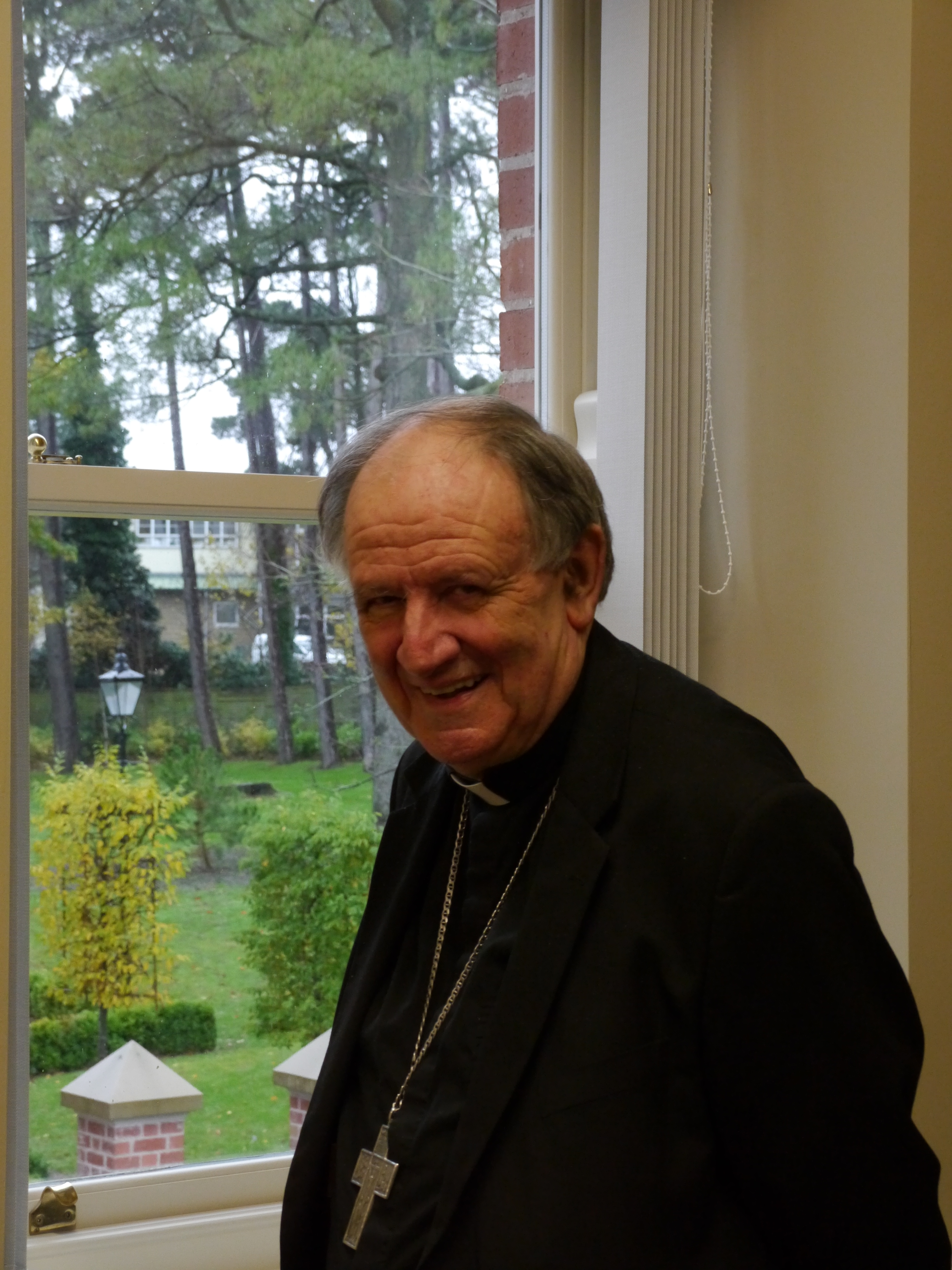 Pope Francis has today accepted the resignation on age grounds of the longest serving bishop in the country – Bishop Anthony Farquhar, Auxiliary Bishop of Down and Connor diocese. Bishop Farquhar was appointed Auxiliary Bishop of Down and Connor in 1983 and many of his years since his priestly ordination have been sent against the backdrop of the Troubles.
Bishop Farquhar was ordained a priest on 13 March 1965 and his first appointment in the Diocese was to the parish of Dunsford and Ardglass that following September. In March 1966, he was appointed as Chaplain to Musgrave Park Hospital alongside Chaplaincy to Forster Green Hospital and St Patrick's Training School, Glen Road. In September 1966, Bishop Farquhar was appointed to the staff of St MacNissi's College, Garron Tower where he taught until 1970 before taking up an appointment as Assistant Chaplain at Queen's University Belfast. In 1975, he became Chaplain and Lecturer to the New University of Ulster as well as Chaplain to the Dominican College in Portstewart. On 15 May 1983, he was ordained as an Auxiliary Bishop of Down and Connor.
Bishop Farquhar has confirmed approximately 70,000 young people and would probably be best remembered for these ceremonies.  He often spoke to the young people of his motto: Sapientia Proficere (Increase in Wisdom) or as he would frequently translate it for the young people: Grow up and Wise Up.
Bishop Farquhar's work outside the diocese was mostly in the field of ecumenism and he enjoyed a wide range of ecumenical friendships particularly that with the late Reverend Ray Davey who founded the Corrymeela Community which, coincidentally, also celebrated its Golden Jubilee this year.
Bishop Farquhar served as an appointee of the Holy Father as a member of the International Anglican Roman Catholic Commission on Unity and Mission (IARCCUM). Again he served as Roman Catholic Co-Chairman of the Dialogue between the Pontifical Council for Promoting Christian Unity (PCPCU) and the World Alliance of Reformed Churches (WARC). Bishop Farquhar chaired the Commission on Ecumenism of the Irish Episcopal Conference when he steered it to take up its associate membership of Churches Together in Britain and Ireland (CTBI). He served as one of the Roman Catholic representatives at the most recent Lambeth Conference of Anglican Bishops from around the world (2008). In 2008 his ecumenical work was acknowledged in an ecumenical Festschrift with contributions from leading ecumenists in these islands and around the world including a contribution by Cardinal Walter Kasper.
Commenting on his retirement, Archbishop Eamon Martin, Archbishop of Armagh said: "On behalf of the Irish Catholic Bishops' Conference I wish to express best wishes to Bishop Anthony Farquhar whose resignation as Auxiliary Bishop of Down & Connor was accepted by Pope Francis today. I know from first-hand knowledge that Bishop Farquhar is held in great affection by people throughout the country.  He has touched many lives since his priestly ordination in 1965, and episcopal ordination in 1983, as a teacher, lecturer, chaplain and in the area of inter-Church and inter-faith relations. At Bishop Conference meetings we shall miss Bishop Tony's intelligent and informed contributions.  A profoundly spiritual pastor, he has an innate understanding of the human condition, and his God-given gifts of warmth, wisdom and empathy leave a lasting impression on all with whom he comes in contact."
Bishop Noel Treanor, Bishop of Down and Connor said: "On behalf of the Diocese of Down and Connor I pay tribute to Bishop Tony Farquhar on this occasion of his retirement. Bishop Tony has served the Diocese of Down and Connor and the Irish Episcopal Conference faithfully for over 30 years, being one of the youngest bishops ever ordained in Ireland back in May 1983. He has greatly contributed towards and will be best remembered for his involvement in the field of ecumenism and the promotion of understanding and reconciliation both nationally and internationally. Indeed, it was within this ecumenical context that I first had the pleasure to meet Bishop Tony along with the late Dr David Stevens, former leader of the Corrymeela Community, having invited them both to address the European Conference of Bishops in Brussels on the subject of the role of the churches in reconciliation and peace building.
"Over the past seven years of my ministry with him as bishops of Down and Connor, from the first moment of my arrival into the Diocese, I have experienced his warm support, pastoral wisdom, guidance and insightful knowledge of the diocese. His many and impressive connections with the world of sport and the opportunities that these friendships have opened up for him were personal talents that I deeply appreciated as part of his pastoral vision.
"On this day when the Holy Father, Pope Francis accepts the retirement of Bishop Tony, together with the priests and laity of the diocese and its parishes, I thank him for his years of faithful ministry and I pray that he will have many years of good health to enjoy his time of retirement during which he will continue to grace the parishes of the diocese with his smiling and hope-filled presence."
Speaking on the occasion of his retirement Bishop Farquhar said: "I would be the first to acknowledge the support and encouragement of the late Cardinal Daly, as Auxiliary to whom I was appointed at the same time as Bishop Patrick Walsh. I worked closely with Bishop Walsh for 25 years when the pastoral challenges that we faced together forged a close friendship which has remained. I acknowledge the support of Bishop Michael Dallat RIP, alongside whom I subsequently worked; of Bishop Donal McKeown and of course in more recent times of Bishop Noel Treanor. It is to the great family of Down and Connor, Bishops, Clergy and Laity that I would wish to acknowledge my greatest debt, to my native parish of Holy Rosary and of course to the deceased members of my family and my sister, Anne. I am pleased that I have been able to maintain my interests and hobbies – perhaps most of all my interest in student sport and university football in particular."
Archbishop Eamon concluded by assuring Bishop Farquhar of his prayerful support and wishing him "the best of health, a long retirement and God's blessing now and always". Archbishop Eamon said "Bishop Tony's loss to the Bishops' Conference is the gain of Irish sport as he will have more time now in his roles as president of Queens University Association Football Club and as patron of the Irish Universities Football Union, not to mention his beloved Dundee United!"