· Bishop Nulty commends work of Accord members in the context of tomorrow's first canonisation of a married couple Blessed Louis and Zèile Martin
· Accord's activities in 2014 involved the agency working with over 60,000 people across Ireland
Bishop Denis Nulty, Bishop of Kildare & Leighlin and President of Accord, the Catholic Marriage Care Service, today published the 2014 figures for Accord's main activities, which involve:
– Marriage preparation;
– Marriage counselling (see table below of main problems presented); and,
– Schools' programme.
Bishop Nulty said, "Tomorrow Pope Francis will canonise the first married couple in the history of the Church: Blessed Louis and Zèile Martin. Their relics, along with those of their daughter Saint Thérèse of Lisieux, are being venerated in Rome during these days of the Synod on the Family. To mark this special weekend for married couples everywhere, I wish to commend Accord's members for their support for marriage and family life here in Ireland. In particular I am thinking of their vital roles in preparing couples for the Sacrament of Marriage and, separately, with individuals and couples experiencing tensions and difficulties in their marriages and relationships.
"Accord 2014 work returns show that we met with just over 60,000 men, women and children, face-to-face, across the island. This is an extraordinary figure and demonstrates the relevance and value of Accord for our society today, as well as the high esteem and trust in which we are held by the Irish people. This 60,000 figure breaks down as: 15,504 persons in marriage preparation courses; 9,233 clients availing of 46,656 marriage counselling hours (38,880 sessions); while 35,997 people attended our schools' programme. I am also glad to report that Accord's counselling service benefited 6,300 families, including 13,832 children up to the age of eighteen years old."
Bishop Nulty continued, "Blessed Louis and Zèile Martin are to be the first married couple canonised together in the history of the Church. Although they lived one hundred and fifty years ago, in many ways they exemplify a contemporary couple. Louis was a watchmaker and a socially committed Catholic. He was one of the earliest members of the Society of Saint Vincent de Paul. Zèile, as well as being a homemaker, had her own lace-making business. They experienced many of the difficulties that married couples face. They had nine children, some of whom died during childhood. Zèile herself died of breast cancer after only nineteen years of marriage.
"Tomorrow Blessed Louis and Zèile Martin are being canonised as saints because, through their married life, they grew together in love and holiness. While living a normal life, they showed their children what it is to be selfless and gave them space to become what God was calling them to be. Today, more than ever, we need role models in family life. Especially at this time I ask that families pray together the following:
God of love you called Louis and Zèile Martin to holiness through their married life.
Through their intercession we ask you to bless family life in Ireland.
Show us our place in this world as channels of your love.
Bless and strengthen our love for each other.
Give to us the gifts of respect, empathy and understanding.
Help us to appreciate the value of family life and to live in harmony with all whom we come in contact.
Encourage us, we pray, to act justly, love tenderly and walk humbly with the Lord always. Amen."
Notes to Editors
· Accord, established by the Irish Catholic Bishops' Conference, is an all-island body committed to supporting stable family relationships and assisting with providing a healthy and safe home environment for individuals, couples, parents and their children to grow and flourish in. Its first centre was established in Belfast in 1962. Today Accord has over nine hundred committed members working in fifty five local centres (forty-six in the Republic and nine in Northern Ireland).
· Accord's main areas of work involve: (i) Marriage Preparation Courses; and (ii) Counselling (Marriage & Relationships). These are delivered by professionally trained part-voluntary/part-paid facilitators and counsellors. In 2014, 56% of Accord's services were delivered on a voluntary basis. Accord offers all its services to people based on their needs and not on their ability to pay. In addition, approximately 36,000 students participate annually in Accord's Relationship and Sexuality Education schools programmes.
Marriage Preparation Courses
Building on the concept of education, prevention and early intervention, Accord believes that marriage preparation has a positive and constructive impact on couples as they embark on what is the most important and biggest commitment of a lifetime. The Accord Marriage Preparation Course is entitled Marriage, A Journey not a Destination. In 2014, Accord's 314 trained course facilitators delivered 694 marriage preparation courses to 15,504 individuals. Couples contributed approximately €120 – €200 towards the cost of marriage preparation courses, depending on location. These courses are multi-sessional and are of nine hours duration. They can be delivered over two days, or four nights, and focus on family of origin and self-awareness, barriers to good communication, how to manage conflict effectively, understanding commitment and the Sacrament of Marriage, sexuality and intimacy, and good parenting. Accord considers its investment in marriage preparation courses akin to a capital investment from which significant returns flow for the participating couples and their children. By investing in relationships families are strengthened, parents become better at parenting, children benefit, their self-esteem is enhanced, they grow in self-confidence, their rights are promoted and respected, and therefore all of society benefits.
Counselling (Marriage & Relationships)
In 2014, ACCORD delivered 46,656 counselling hours (38,880 sessions) to 9,233 clients. Over 6,300 families were impacted by Accord's counselling service, with those attending for counselling being parents to 13,832 children within the age range up to eighteen years old. Accord's 331 counsellors are trained to professional standards to work with individuals and couples experiencing difficulties in their marriage and relationships. When a couple comes to Accord they are often very distressed. The problems they present with (see table below) comprise a broad range of issues including communication difficulties, conflict, domestic abuse, financial pressures, childcare and family stresses, intimacy issues, infidelity, addiction and sexual issues. Accord counsellors support individuals and couples to develop new insights about themselves and their relationship, how to manage conflict, and how best to challenge issues in a constructive manner. The objective is to support their relationship, and to bring the ensuing benefits to their children and to their family life. Conscious of the existence of domestic abuse in society, Accord trains all of its counsellors to identify and work appropriately with individuals and couples where domestic abuse is an issue, in the interests of the safety of children and adults. Accord also recognises that the safeguarding of children is paramount and any concern regarding the safety and welfare of a child is reported promptly to the civil authorities. Accord operates a robust Child Safeguarding Policy and this involves our members undergoing garda vetting, on-going training and receiving regular updates on best practice. In 2014, Accord dealt with over one hundred and forty child safeguarding issues.
· Accord income and value for money
Each year the Catholic Church in Ireland provides important support for the delivery of Accord's services. This support includes funding obtained from diocesan collections, and the provision of low or rent-free premises in some dioceses, alongside other benefits-in-kind. This is calculated to be in the region of €1.2m. Accord is grateful to the bishops of Ireland their on-going generous support. In 2010, Accord in the Republic received Government grant aid of €3.456 million from the Family Support Agency (now Tusla, Child and Family Agency). In 2014, the grant aid received was €1.992 million – a cut of over 42%. In 2014 Accord Northern Ireland received £157,080 grant aid. Accord wish to acknowledge, with gratitude, the financial support it receives from Tusla, Child and Family Agency, the DHSSPS NI and various Trusts in Northern Ireland.
Value for money
A report published in January 2014 entitled Relationship Support Interventions and Evaluation, conducted on behalf of the UK Department of Education, commended UK government investment and commitment to relationship support interventions, recognising that providing support for parents' relationship, and preventing breakdown where possible, will produce financial and emotional benefits for their children as well as themselves. Accord contends that a similar picture would emerge here in Ireland if such a study were to be undertaken.
https://www.gov.uk/government/uploads/system/uploads/attachment_data/file/275240/RR315_-_Relationship_Support_Interventions_Evaluation_210114.pdf
Another report, again conducted in the UK, entitled Counting the Cost of Family Failure 2014 Update, researched by the Relationships Foundation, Cambridge, cites the cost of each failed relationship for every current UK taxpayer to be £1,562 per year. The overall cost to the UK government is incredibly high, at £45.76 billion annually http://www.relationshipsfoundation.org/category/publications/reports/
Accord is committed to continuing to provide a vital community service in the area of marriage care. Its voluntary input, together with significant infrastructure, robust oversight and professionally trained members, enable it to offer local support to vulnerable families and children in an efficient, professional and cost effective manner.
· Marriage & Relationships Counselling – Presenting problems in 2014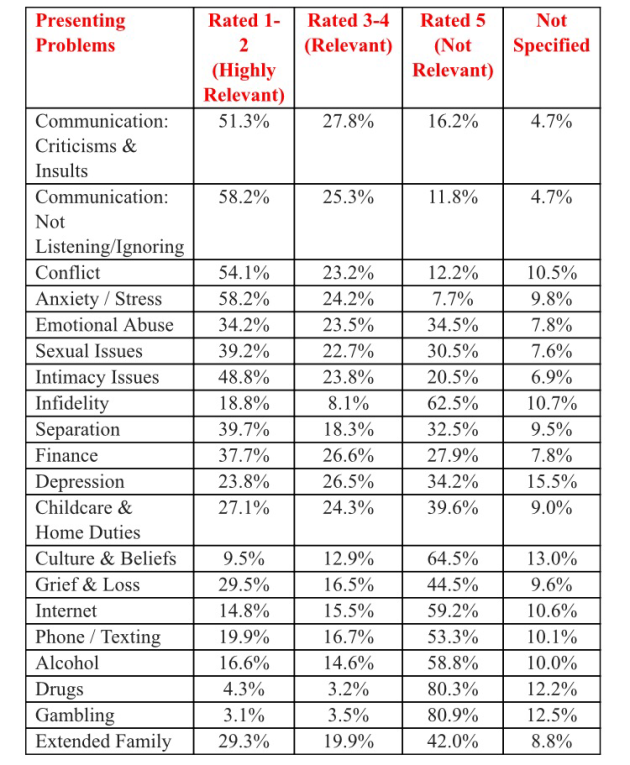 ENDS
For media contact: Catholic Communications Office Maynooth: Martin Long 00353 (0) 86 172 7678