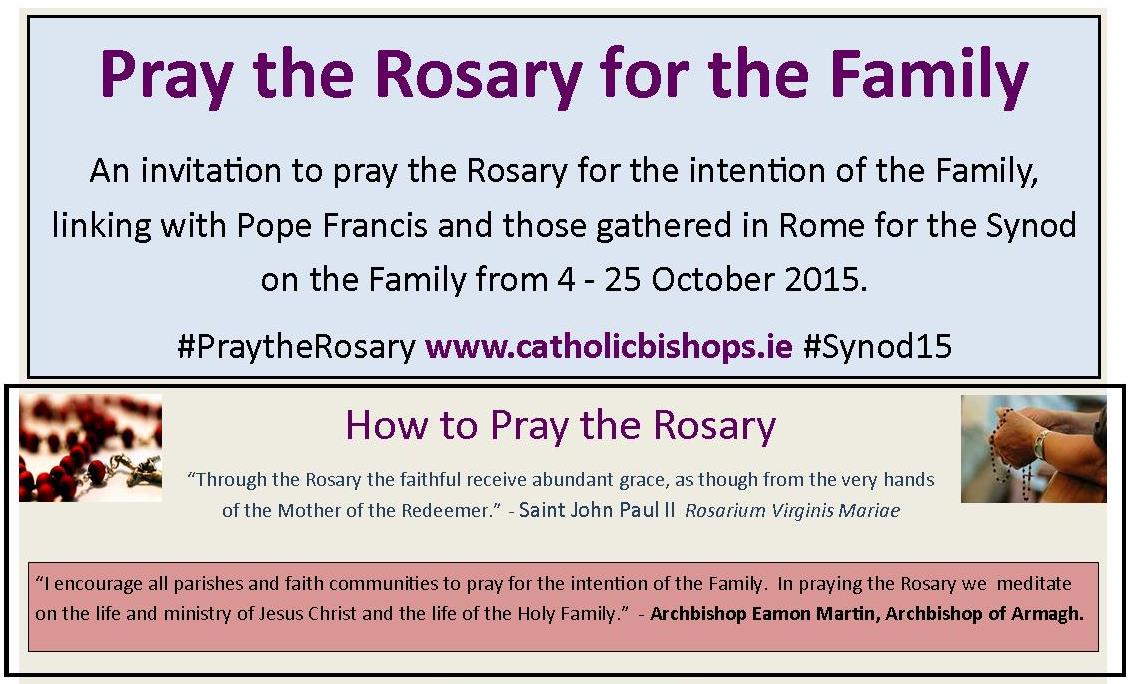 Wednesday 7 October is the Feast of Our Lady of the Rosary, a day on which we are urged to meditate on the mysteries of Christ, following the example of the Blessed Virgin Mary who was in a special manner associated with the incarnation, passion and glorious resurrection of the Son of God. October is the month of the Holy Rosary and the month during which the Synod of Bishops on the Family is taking place in Rome.
The Feast of Our Lady of the Rosary is an invitation to people at home, in religious orders, in parishes, in schools, to pray the Rosary for the intention of the Family, linking in with those gathered in Rome for the Synod on the Family. The once-common tradition of the family Rosary links very well with the theme of the Synod on the Family which is taking place from 4 – 25 October.
Archbishop Eamon Martin, Archbishop of Armagh, who is participating in the Synod in Rome, said, "I encourage all parishes and faith communities to pray for the intention of the Family. In praying the Rosary we meditate on the life and ministry of Jesus Christ and the life of the Holy Family. In a particular way we pray that the Gospel of the Family will be proclaimed faithfully and joyfully by all who turn in prayer to the Mother of God."
Click here to download the resource Pray the Rosary for the Family 2015 which gives an overview of how to pray the rosary.