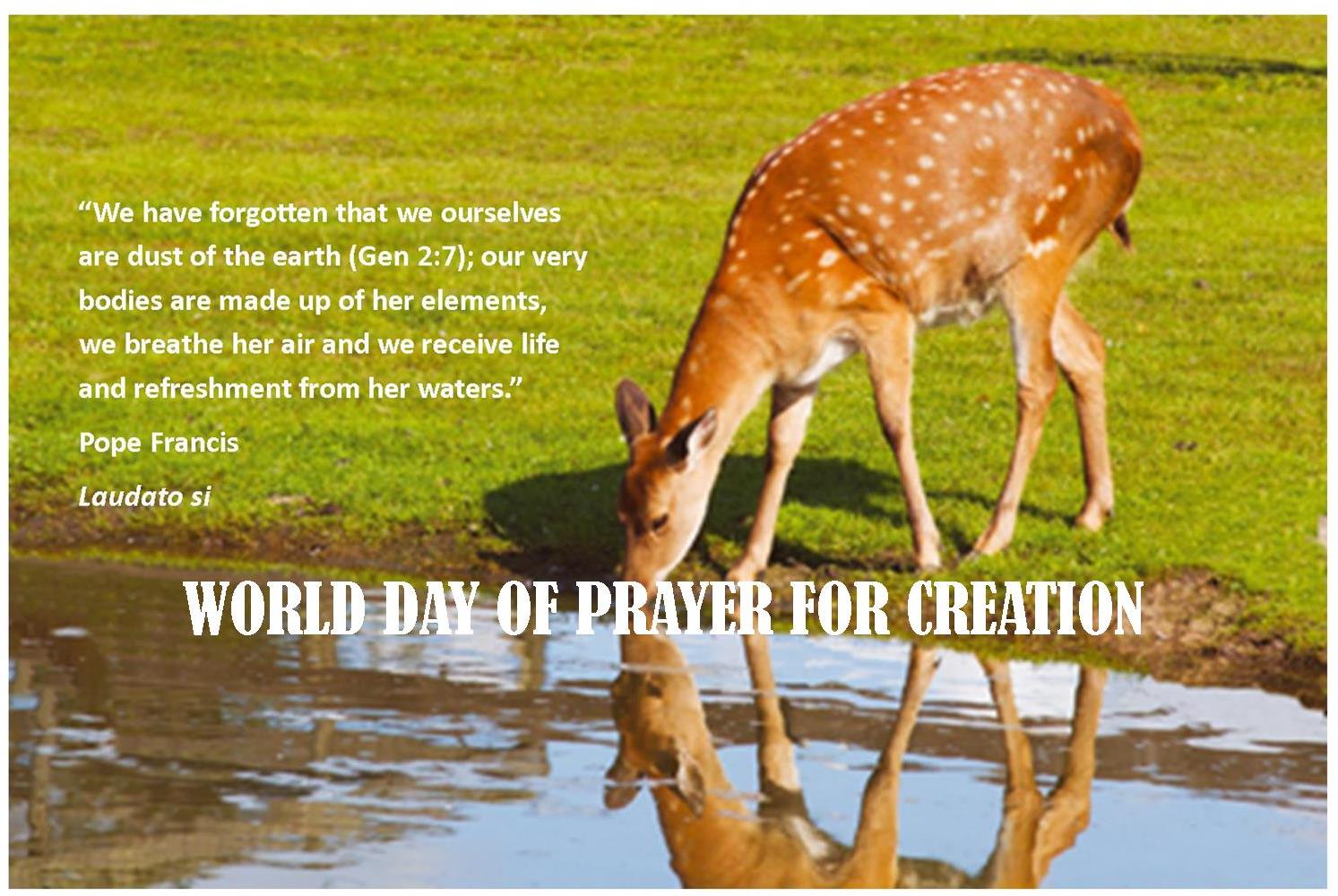 Pope Francis has decided to set up a "World Day of Prayer for the Care of Creation" which will be celebrated on September 1st annually.The Pope made the announcement in a letter released on 6 August in which he said:
Sharing with my beloved brother the Ecumenical Patriarch Bartholomew his concerns for the future of creation (cfr Encylical Letter. Laudato Si, 7-9) and taking up the suggestion by his representative, the Metropolitan Ioannis of Pergamum who took part in the presentation of the Encyclical Laudato Si on the care of our common home, I wish to inform you that I have decided to set up also in the Catholic Church, the "World Day of Prayer for the Care of Creation" which, beginning this year, will be celebrated on the 1st of September, as the Orthodox Church has done for some time now.

As Christians we wish to offer our contribution towards overcoming the ecological crisis which humanity is living through. Therefore, first of all we must draw from our rich spiritual heritage the reasons which feed our passion for the care of creation, always remembering that for believers in Jesus Christ, the Word of God who became man for us, "the life of the spirit is not dissociated from the body or from nature or from worldly realities, but lived in and with them, in communion with all that surrounds us." (ibid., 216). The ecological crisis therefore calls us to a profound spiritual conversion: Christians are called to "an ecological conversion whereby the effects of their encounter with Jesus Christ become evident in their relationship with the world around them." (ibid., 217). Thus, "living our vocation to be protectors of God's handiwork is essential to a life of virtue; it is not an optional or a secondary aspect of our Christian experience."(ibid).

The annual World Day of prayer for the Care of Creation offers to individual believers and to the community a precious opportunity to renew our personal participation in this vocation as custodians of creation, raising to God our thanks for the marvellous works that He has entrusted to our care, invoking his help for the protection of creation and his mercy for the sins committed against the world in which we live. The celebration of the Day on the same date as the Orthodox Church will be a valuable opportunity to bear witness to our growing communion with our orthodox brothers. We live in a time where all Christians are faced with identical and important challenges and we must give common replies to these in order to appear more credible and effective. Therefore it is my hope that this Day can involve, in some way, other Churches and ecclesial Communities and be celebrated in union with the initiatives that the World Council of Churches is promoting on this issue.

Whilst I look forward to the widest possible cooperation for the best start and development of the World Day of Prayer for the Care of Creation, I invoke the intercession of Mary, the Mother of God and of St. Francis of Assisi, whose Canticle of the Creatures inspires so many men and women of goodwill to live in praise of the Creator and with respect for creation. I support this pledge along with my Apostolic Blessing which I impart with all my heart to you, my dear Cardinals, and to all those who collaborate in your ministry.
Noting that local churches around the world are planning events to reflect on the ways our lifestyles impact the environment, Pope Francis has confirmed that he will be joining bishops, priests, religious and lay people from 5.00pm (Rome time) in St Peter's Basilica for a special Liturgy of the Word, which local people and visiting pilgrims are warmly invited to attend.
Prayer Service Text
The Pontifical Council for Justice and Peace in the Vatican has invited churches and parishes to host a prayer service for the World Day of Prayer for Creation and they have provided a text for use which can be downloaded below. The text suggested below is for a one-hour Eucharistic Adoration using themes from iLaudato Si – the Pope's Encyclical Letter.
World Day of Prayer for Creation prayer service text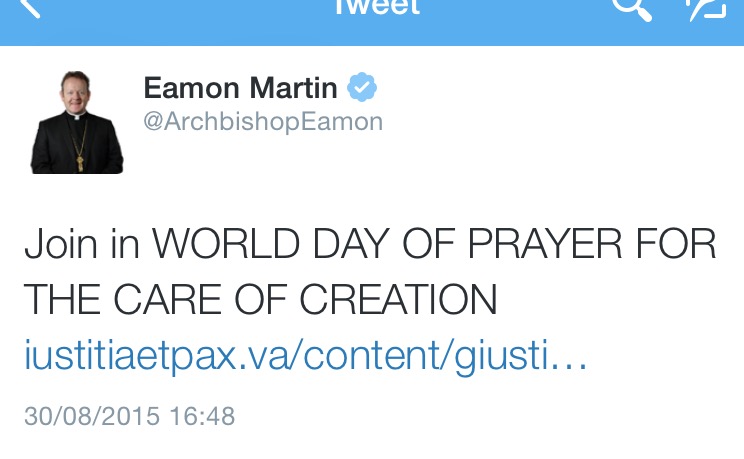 World Day of Prayer for Creation in the Archdiocese of Dublin
Christians from all denominations in Dublin have been invited by Archbishop Diarmuid Martin to respond to Pope Francis' call, with Orthodox Patriarch Bartholomew of Constantinople, to celebrate a World Day of Prayer for all Creation.
Archbishop Martin and leaders of Christian Churches in Dublin will come together to mark this unique occasion in prayer, music and reflection. Tuesday evening's ceremony in Dublin will include readings and reflections on Laudato Si, with music from Vivaldi's Four seasons, with Ellen Cranitch and Denise Kelly, Psalms of Praise for Creation and Thanksgiving as the Harvest approaches. The Day of Prayer for All Creation takes place at 7:30pm on Tuesday 1 September in Holy Cross Church, Holy Cross Diocesan Centre, Clonliffe Road, Dublin 3.
Diocese of Kerry
There will be a gathering for prayer at the Fountain of Tralee Town Park on Tuesday Tues September at 10.45am to mark the World Day of Prayer for Care of Creation
Prayers and Resources
Click here for the text and some resources on Laudato Si, the Encyclical Letter of Pope Francis on care for our common home
Click here for Drop in the Ocean, a video about Ireland and climate change from Trócaire, the overseas development agency of the Catholic Church in Ireland
Prayers – see below some prayers for use on the World Day of Prayer for Creation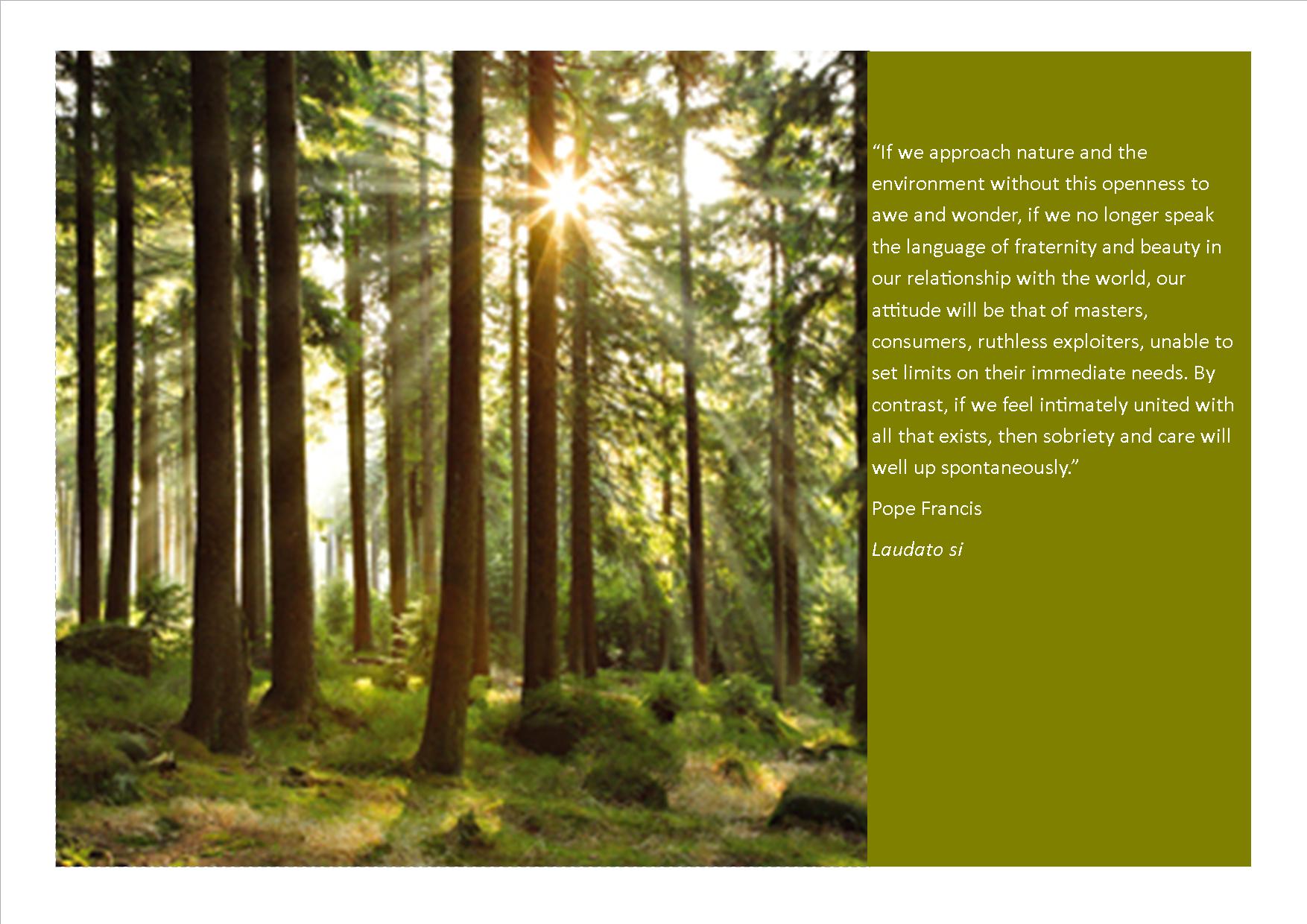 A prayer for our earth
All-powerful God, you are present in the whole universe and in the smallest of your creatures.

You embrace with your tenderness all that exists.

Pour out upon us the power of your love,

that we may protect life and beauty.

Fill us with peace, that we may live as brothers and sisters, harming no one.

O God of the poor,

help us to rescue the abandoned and forgotten of this earth, so precious in your eyes.

Bring healing to our lives,

that we may protect the world and not prey on it,

that we may sow beauty, not pollution and destruction.

Touch the hearts of those who look only for gain at the expense of the poor and the earth.

Teach us to discover the worth of each thing,

to be filled with awe and contemplation,

to recognize that we are profoundly united with every creature

as we journey towards your infinite light.

We thank you for being with us each day.

Encourage us, we pray, in our struggle for justice, love and peace.
(Prayer is taken from Laudato Si)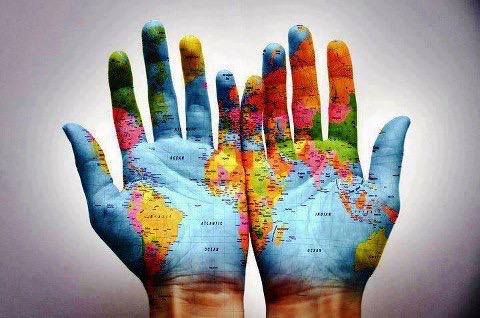 A Christian prayer in union with creation
Father, we praise you with all your creatures.

They came forth from your all-powerful hand;

they are yours, filled with your presence and your tender love.

Praise be to you! Son of God, Jesus, through you all things were made.

You were formed in the womb of Mary our Mother,

you became part of this earth,

and you gazed upon this world with human eyes.

Today you are alive in every creature in your risen glory.

Praise be to you! Holy Spirit,

by your light you guide this world

towards the Father's love and accompany creation as it groans in travail.

You also dwell in our hearts and you inspire us to do what is good.

Praise be to you! Triune Lord, wondrous community of infinite love,

teach us to contemplate you in the beauty of the universe,

for all things speak of you.

Awaken our praise and thankfulness for every being that you have made.

Give us the grace to feel profoundly joined to everything that is.

God of love, show us our place in this world as channels of your

love for all the creatures of this earth, for not one of them is forgotten in your sight.

Enlighten those who possess power and money

that they may avoid the sin of indifference,

that they may love the common good,

advance the weak, and care for this world in which we live.

The poor and the earth are crying out.

O Lord, seize us with your power and light,

help us to protect all life,

to prepare for a better future,

for the coming of your Kingdom of justice, peace, love and beauty.

Praise be to you!

Amen.
(Prayer is taken from Laudato Si)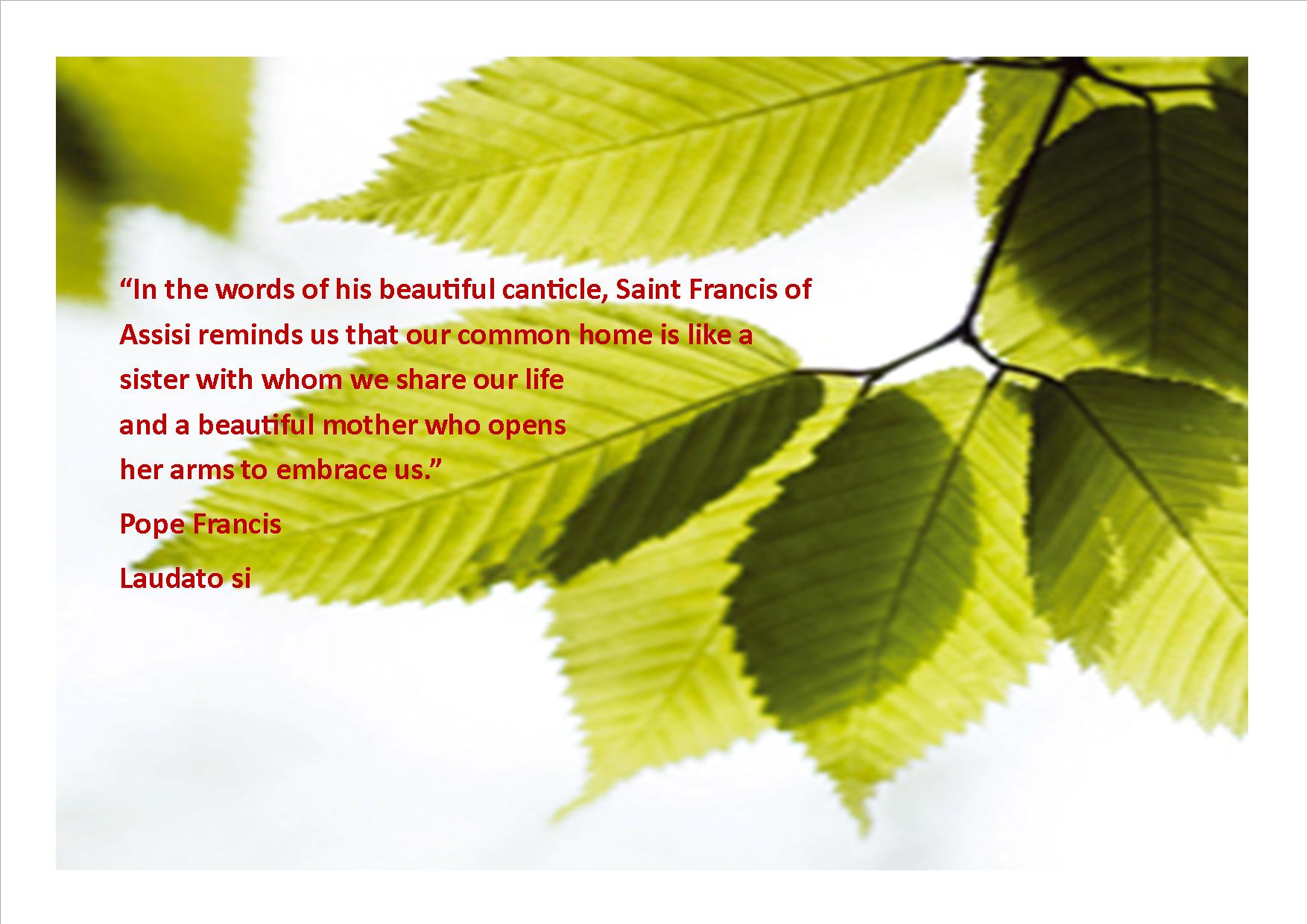 The Canticle of the Creatures – Saint Francis of Assisi
Most High, all-powerful, good Lord,
Yours are the praises, the glory, and the honor, and all blessing,
To You alone, Most High, do they belong,
and no human is worthy to mention Your name.
Praised be You, my Lord, with all Your creatures,
especially Sir Brother Sun,
Who is the day and through whom You give us light.
And he is beautiful and radiant with great splendor;
and bears a likeness of You, Most High One.
Praised be You, my Lord, through Sister Moon and the stars,
in heaven You formed them clear and precious and beautiful.
Praised be You, my Lord, through Brother Wind,
and through the air, cloudy and serene, and every kind of weather,
through whom You give sustenance to Your creatures.
Praised be You, my Lord, through Sister Water,
who is very useful and humble and precious and chaste.
Praised be You, my Lord, through Brother Fire,
through whom You light the night,
and he is beautiful and playful and robust and strong.
Praised be You, my Lord, through our Sister Mother Earth,
who sustains and governs us,
and who produces various fruit with colored flowers and herbs.

Praised be You, my Lord, through those who give pardon for Your love,
and bear infirmity and tribulation.
Blessed are those who endure in peace
for by You, Most High, shall they be crowned.

Praised be You, my Lord, through our Sister Bodily Death,
from whom no one living can escape.
Woe to those who die in mortal sin.
Blessed are those whom death will find in Your most holy will,
for the second death shall do them no harm.

Praise and bless my Lord and give Him thanks
and serve Him with great humility.