·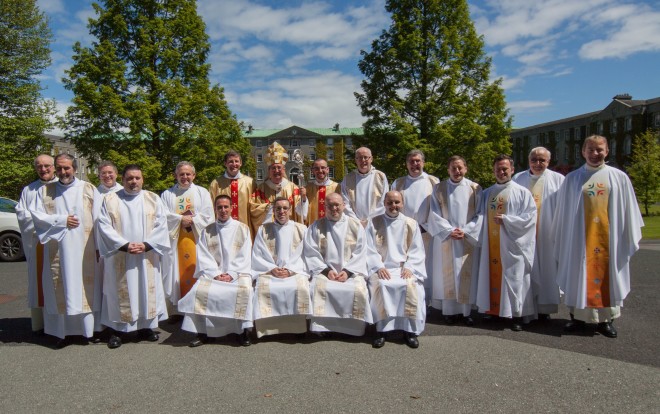 Fourteen ordinations to the priesthood have or will take place in the coming weeks
Nine men reached a milestone in their priestly formation today, Trinity Sunday, when they were ordained deacons by Archbishop Diarmuid Martin, Archbishop of Dublin and Primate of Ireland, during a Mass celebrated in College Chapel of the national seminary, Saint Patrick's College, Maynooth. The congregation, of approximately five hundred people, was made of family, friends, seminarians, deacons and priests.
Commenting on the celebration today, Monsignor Hugh Connolly, President of Saint Patrick's College, Maynooth, said, "The entire community here in Saint Patrick's College is truly delighted that the formation and seminary year has culminated in such a joyful and moving celebration. We wish our nine new deacons well as they embark upon their ministry and complete their formation for priesthood. Taken with the fourteen ordinations to priesthood which have or will take place in these next weeks, this has really been a remarkable year for our college. I ask the faithful to join me in prayer for these men, and I wish them well as they embark upon this phase of their service to the Gospel and to the people of God.
"Let us pray too that others inspired by their witness will discern a similar call to service within their hearts and respond with courage and generosity," Monsignor Connolly said.
Ordination as a transitional deacon generally occurs after a seminarian has completed at least three years of study in theology. In addition to their assignments as transitional deacons, the nine will spend the next year completing their priestly formation in Maynooth. Transitional deacons exercise the very same ministry as permanent deacons, as such they are now ordinary Ministers of Baptism; are able to preside at weddings; assist the priest at Mass; proclaim the Gospel and preach, as well as preside at wakes and funeral services. The following deacons were ordained today in Maynooth:
Archdiocese of Armagh Damian Quigley
Diocese of Clogher Kevin Malcolmson
Diocese of Cork & Ross Patrick Nugent
Diocese of Derry Christopher McDermott
Diocese of Down & Connor James O'Reilly
Diocese of Galway Michael King and John O'Halloran
Diocese of Meath Conor Magee and Noel Weir
For media contact: Catholic Communications Office, Maynooth, Martin Long 00353 (0) 86 172 7678