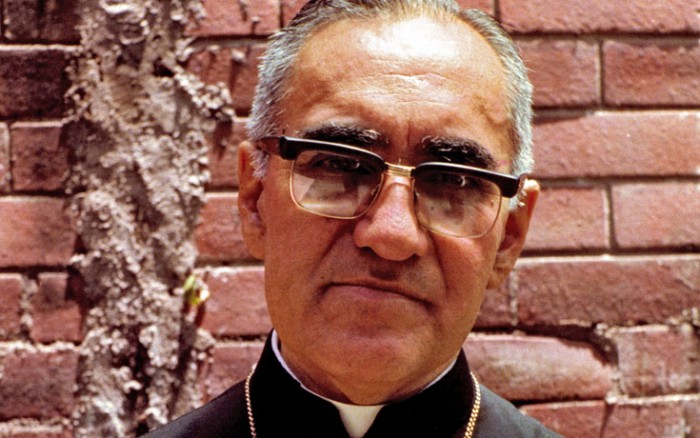 "What good are beautiful highways and airports, beautiful buildings full of spacious apartments, if they are only put together with the blood of the poor, who are not going to enjoy them?" – Archbishop Oscar Romero
Archbishop Oscar Romero will be beatified on 23 May. The ceremony will take place in San Salvador, at the city's Divine Savior monument.
Oscar Romero was born on 15 August 1917 in Ciudad Barrios, El Salvador. He was ordained to the priesthood on 4 April 1942 in Rome. In 1974 he was appointed Bishop of Santiago de Maria, El Salvador. He became the fourth Archbishop of San Salvador on 3 February 1977. He spoke out against poverty, social injustice, assassinations and torture. He was assassinated on 24 March 1980 while celebrating Mass in a small chapel in a hospital in San Salvador, El Salvador.
In 1997, Pope John Paul II bestowed upon Oscar Romero the title of Servant of God, and a cause for beatification and canonization was opened for him. The cause stalled, but was reopened by Pope Benedict XVI in 2012. He was declared a martyr by Pope Francis on 3 February 2015, paving the way for his beatification on 23 May 2015.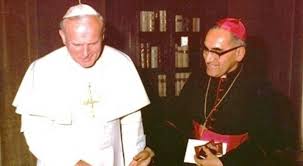 Speaking ahead of the beatification Archbishop Eamon Martin, Archbishop of Armagh and Primate of All Ireland said: "In this year of the fiftieth anniversary of the conclusion of the Second Vatican Council, the universal call to holiness as taught in Lumen Gentium is something that we all need to hear again and again. The beatification of Archbishop Oscar Romero in San Salvador gives us some really important expressions of this 'call to holiness'. To be holy must also include a concern for the poor and the marginalised. Our care for those who suffer from injustice and rejection is a critical part of the journey to sanctity. Archbishop Romero's beatification as a martyr also reminds us that we must be prepared to endure opposition if we are to truly live as Jesus called us to live. My prayer is that this declaration of a new Blessed will encourage all of us in Ireland to respond ever more fully to that universal call to holiness."
Archbishop Diarmuid Martin will celebrate Archbishop Romero's beatification at the Festival of Peoples Mass in Saint Mary's Pro Cathedral, Dublin at 6.30 pm on Sunday 24 May.  President Michael D. Higgins will attend. The Annual Festival of Peoples Mass celebrates the gifts our local Church has enjoyed from the thousands of people who have come to live in our city and county in recent years from all over the world.  The Sunday celebration will include Irish and global music from massed choirs with many ethnic groups attending in traditional dress. Everyone is welcome to attend this special occasion.
"But it is not God's will for some to have everything and others to have nothing. That cannot be of God. God's will is that all his children be happy" – Archbishop Oscar Romero.
Trócaire and Archbishop Romero
Trócaire, the overseas development agency of the Catholic Church, has long been affiliated with Oscar Romero and worked alongside him in El Salvador in the 1970's. In 1979 they began funding the El Salvador Human Rights Commission, which had been founded by the Archbishop, in response to the unlawful killing of 8,000 people. In 1980 he wrote to Trócaire thanking them for their support of the Archdiocesan radio station which he used to educate the largely illiterate population about their rights. "I would like once more to thank your kindness and preoccupation for our country and our Church and the kindness of the Irish Bishop's Conference and Trócaire's" he said.
"Aspire not to have more but to be more" – Archbishop Oscar Romero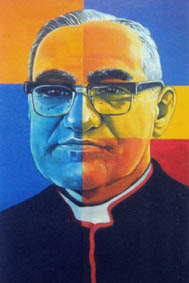 Prayer for Oscar Romero
God and Father of all,
you gave us your servant Oscar Romero
as a faithful and zealous pastor
whose great love for your Church
was shown in a special way
by his love for the poor and those most in need.
Grant that we too may reflect in our living
the Gospel of Jesus your Son.
Graciously honour your servant Oscar
and grant me through his intercession
the favour I ask of you…….
Through Christ our Lord, Amen.
"There are many things that can only be seen through eyes that have cried" – Archbishop Oscar Romero
Prayers of Intercession
1. God our Father, you inspired your servant Oscar Romero to be an instrument of Peace, a voice for the voiceless and strength to those who are persecuted. We pray in thanksgiving for his recent beatification and in the hope of a better world for all, especially persecuted Christians in our world.
2: We pray for the People of El Salvador as they endeavour to recover from the aftermath of a brutal civil war. We pray especially for those who risked their lives to defend the human rights of others. May the Lord of justice and courage continue to inspire them in their fight for what is right and true.
Prayers courtesy of Trócaire resource on Oscar Romero which can be downloaded in full here
The Irish Catholic newspaper has a 40-page special on Arcbishop Oscar Romero and his beatification in this week's issue. Please see below a link to a new iCatholic video in which Greg Daly gives a preview of this week's beatification issue.
Click here for video.