Click here for latest statements and Bishops' guidance on the marriage referendum 
Below please find links to a pdf version of The Meaning of Marriage in English and Irish, a word version and prayers for marriage and the family:
The Bishops' pastoral statement The Meaning of Marriage advises the faithful that "to redefine the nature of marriage would be to undermine it as the fundamental building block of our society.  The Church seeks with others to reaffirm … that marriage should be reserved for the unique and complementary relationship between a woman and a man from which the generation and upbringing of children is uniquely possible."
Bishops encourage everyone to read The Meaning of Marriage which is available in churches in more than 1,300 parishes throughout the island.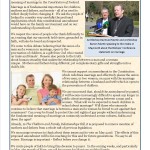 Marriage is important – Reflect before you change it (pdf)
Please also read the statement of the Irish Bishops, issued during their Spring General Meeting on 10 March by clicking on the image to the left or the link above.
Please visit www.meaningofmarriage.ie which will host relevant material which has been published by the Irish Episcopal Conference, its councils, and by individual bishops.
Prayers for Marriage and Family
God's Plan for Our Marriage and Family
As we answer God's call
in our vocation
in the Sacrament of Marriage
to follow Christ and to serve
the kingdom of God in our married life,
we ask, in and through the concreteness of
events, problems, difficulties and circumstances
of everyday life, that God will come to us,
guiding us and enlightening us as we share
Christ's love with one another, in our family life,
at work, in our neighbourhood, in our
contributions to society
and in the life and worship of our parish.
AMEN
Inspired by John Paul II, Familiaris Consortio (51),
from The Family Prayer Book
Pope Francis' Prayer to the Holy Family 
Jesus, Mary and Joseph,
in you we contemplate
the splendor of true love,
to you we turn with trust.
Holy Family of Nazareth,
grant that our families too
may be places of communion and prayer,
authentic schools of the Gospel
and small domestic Churches.
Holy Family of Nazareth,
may families never again
experience violence, rejection and division:
may all who have been hurt or scandalized
find ready comfort and healing.
Holy Family of Nazareth,
may the approaching Synod of Bishops
make us once more mindful
of the sacredness and inviolability of the family,
and its beauty in God's plan.
Jesus, Mary and Joseph,
graciously hear our prayer.
AMEN
Pope Francis provided the prayer for the Synod of Bishops on the Family in his Angelus address on the Feast of the Holy Family 29 December 2013.